Welcome to my About page!

IN A FEW WORDS
All that's Jas is a website dedicated to sharing comfort food from around the world made simple and accessible while preserving their true flavors.
MORE
There are so many dishes in other countries that you would never try if you do not travel. Traveling somewhere new opens your eyes and your taste buds to a whole new range of authentic flavor profiles and foods that you wouldn't have otherwise.
But what if you can't travel outside your country?
Nothing compares to homemade food, anyway. It almost feels like magic when you prepare a delicious meal yourself. It is also THE best way for bonding with family and friends and such an ego booster.
Whether you're new to cooking or don't have the time (trust me, we all wish we had more time) my goal is to help you learn a few tricks and skills to create new family favorites without traveling the globe.
I believe know that you can make quick and tasty meals with only a handful of ingredients. There's nothing better than experiencing new food with others who are just as ecstatic about it as you are. You'll bond over the amazing new foods you try. Food makes friends and they can help you decide what you should try next. Food is also meant to be enjoyed, but I believe moderation is the key to a healthy lifestyle.
So what you'll find here is a diversity of foods, but you won't find showy ingredients. No caviar (gross anyways) or food I can't even pronounce. You'll find recipes, tips, and resources to help you experience and explore food from all over the world using simple local ingredients.
Although I love when a meal comes together quickly I also love when I spend half the day in my kitchen to create a delicious dinner for my family. Variety is the spice of life and is healthy for you, too. Be ADVENTUROUS! Try new foods. Life is too short to only have apples and peanut butter & jelly.
A kitchen is a place where you can travel to any country without having to ever leave your house, so get cooking, friends! If you can't travel, bring the world to you!
THE TOUR
ABOUT JAS
Jas is a writer, cook, photographer, and an avid cheesecake lover. She's a mom and grandma who absolutely adores her granddaughters, her biggest kitchen helpers. They don't do the dishes yet but are really good at stirring ingredients and even keeping some of it in the bowl.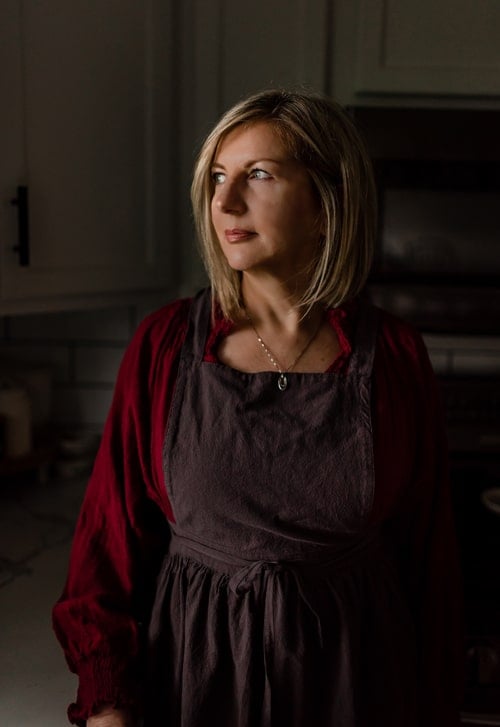 I'm a Bosnian expat living in Northern Indiana since the summer of 1998 following a six-year exile in Germany.
I grew up in a traditional European family, the kind of family that sits together for big weekend lunches. Those lunches always began with some kind of soup. It isn't a big lunch unless you begin it with a spoon.
Based on my blog now, you'd never know that as a child I barely ate. Food didn't interest me in the least and actually disgusted me. I would eat enough just to survive, and even then it would be just a few things such as bread and soup….rather, broth. And there better not be anything floating in it, or I wouldn't touch it.
As a matter of fact, gagging was pretty common with most foods. My mom tried just about everything to get me to eat, including bribery. Endless doctor visits, blood tests, MRI, CT scans, spoonfuls of fish oil in the middle of the night, but no matter what they'd try, I wouldn't touch food. Not even all the teasing from schoolmates and name-calling (stick, skeleton, just to name a few) helped me like food.
I suffered from anorexia throughout my childhood, but not because I had issues with my weight. It's not that I didn't WANT to eat food, I just physically couldn't. I can't even say that I actually ever felt hungry.
Anorexia has two definitions:
an·o·rex·i·a
ˌanəˈreksēə/
noun

1. a lack or loss of appetite for food as a medical condition [me]
2. an emotional disorder characterized by an obsessive desire to lose weight by refusing to eat. noun: anorexia nervosa [not me]
Besides not feeling hungry, most foods made me gag. Researches now call the extreme picky eating a food neophobia or Selective Eating Disorder (SED). Some psychiatrists attribute it to anxiety around past traumatic experiences such as choking on food with a particular texture. I have no recollection of ever choking on food.
This promptly changed when I became pregnant with my daughter. I don't have medical confirmation, but I believe that my pregnancy hormones changed something within my body, which in turn affected my metabolism.
Suddenly, I found myself ravenously hungry and loving everything, the flavors exploding in my mouth. What had I been missing out on? Soon after, the war in Bosnia started, and now that I wanted to eat… there was no food. Everything was scarce, and meatless bean soup (grah) would be our only meal for many days in a row.
Nevertheless, I was changed. And vowed that once we escaped the war, food would be my medicine. I started exploring with flavors, and fortunately (or unfortunately as she'd tell you), my daughter was my guinea pig for many new creations.
A seed was planted and the American Dream realized once I was able to pursue blogging full-time from home. Now my family will often see me flittering (or rolling…making up for those lost pounds) through my kitchen most of the day. And it's something I truly enjoy doing – it's my happy place and my escape. Hopefully, my joy of cooking shows through these pages on your screen and I hope that you truly enjoy trying new foods and exploring new flavors.
I share my home with my husband Rob, a fire investigator by day (and sometimes at night) with a side job of being my taste tester and with our two furry friends who always compete for that job.
IN A NUTSHELL
World cuisine doesn't have to be expensive. By simplifying the dishes a little, you CAN get the same great taste for LESS money. I strive to teach you how to make quick and easy meals your family will love.
My promise to you: I will never share anything I don't trust or haven't tried myself. If I don't like a recipe I won't post it, although tastes are different and I can't make you love or hate something I do. You just have to try it for yourself. 😉
MAKING CONNECTIONS
See my CONTACT page.
BRAGGERY AND AWARDS
As seen on:
All that's Jas has been featured on: Dishing with Delishes Podcast, BuzzFeed, Eat, Darling, Eat, and Chef Knives Expert, among others.
Jas is an author of Balkan Comfort Food cookbook.
Thanks for stopping by and reading about me. I hope you'll say hello and stick around.
Thank you!
Hvala!
Danke!
Love,