With this Balkan Comfort Food cookbook, I'm dusting off old recipes and preserving the art of creating dishes that many generations before me have enjoyed. Thus you'll find these pages filled with nostalgia, smells, and tastes of my childhood.
Although displaced from the Balkans, my heart is still there, hidden in the fog of mountain peaks and gliding atop the mist of green rivers.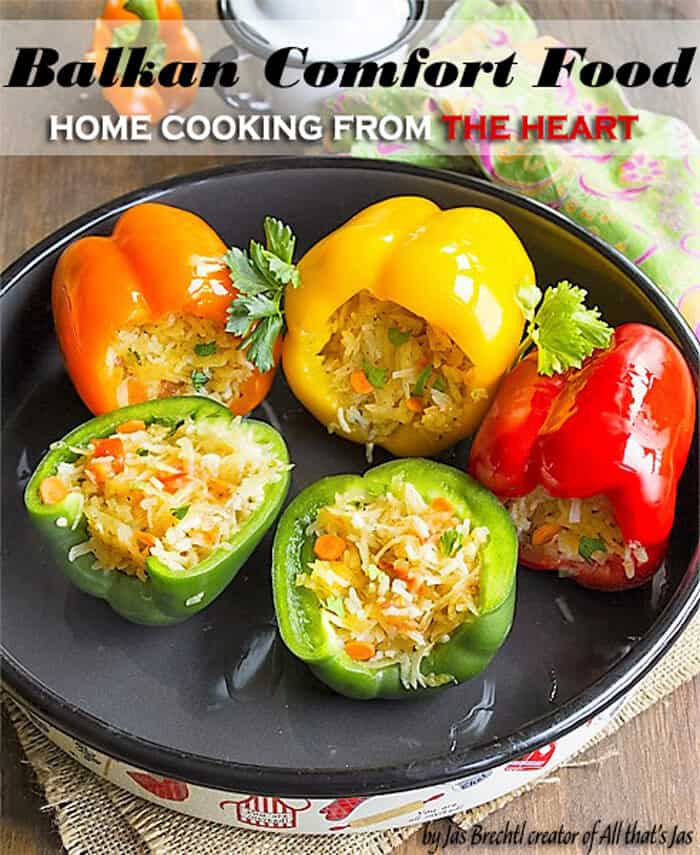 This book (available as an ebook and in paperback format) collects 50+ flavorful recipes with mouth-watering photos of favorite dishes from the Balkan region.
Whether you are familiar with this cuisine or not, here you will find a dish that you'll fall in love with, guaranteed! So grab a copy and discover the mix of flavors from Bosnia & Herzegovina, Croatia, Slovenia, Serbia, Macedonia, Montenegro, Albania, Kosovo, Bulgaria, Greece, Romania, and European Turkey.
Balkan Comfort Food - Home Cooking From The Heart
TESTIMONIALS:
If you are not already familiar with this multi-talented dynamite of a woman, mother and a grandma of 2, Jas is a bit of a celebrity chef, a humanitarian, an avid photographer as well as the wonderful and humble creator behind All That's Jas. I also found out through our behind the scene correspondences that she's quite the OCD who loves to unpack suitcases!

As I read each and every page of her book, I am fascinated by the plethora of recipes she has put together…recipes that ooze nostalgia of her childhood before her 6-year exile in Germany. She now lives in Indiana.

In each recipe, I can almost feel that sense of comfort in smells, taste and colors of childhood nostalgia filled with longing familiarity of the distant past…

….memories that keep a family together as they bond over profoundly unique traditional cuisines served at big weekend lunches.

…things that you grow up with, cognizant with deep impressions of flashbacks that were left behind yet never forgotten.

From all sorts of stews to stuffed vegetables to delightful desserts, Jas's book is all about dusting off old recipes and preserving the art of creating dishes that many generations before her have enjoyed.

A Balkan at heart, Jas has now put all those memories into a precious compilation of culinary treasures with the mix of flavors from the Balkan Region for the next generation to relish. - by Ann @ Grubs 'n Critters
Now that I live away from home, I crave the kind of food I grew up eating. I knew I needed this book the instant I read the title, and it definitely lives up to its name! I made the beef stew (Bosanski lonac) and it was delicious- just like my mom makes it. As far as I can tell it's got all the staples. Can't wait to try the other recipes. If you're curious about Balkan cuisine and love hearty, filling food I would definitely recommend this cookbook. - by M.Z.
This is not your ordinary cookbook. The pictures in this book are amazing, as are the recipes. I highly recommend the Eggplant Parmesan and the Beef Stew. So good! I am quoted as saying the Eggplant Parm was the best thing I have ever tasted. I could not stop eating it. There are many other recipes that we cannot wait to try. Add this cookbook to your collection, you won't be sorry! - by Amazon Customer
I grew up in a Russian/Italian home. When we weren't eating pasta for dinner we were eating many dishes very similar to the ones in this book. Very well written and all finished products expertly photographed. Well done Jas! - by Amazon Customer
I have this cookbook on my kindle app. It's amazing and I love all of the recipes. It is great to have step by step instructions to many of the recipes I grew up on, so I just bought a copy as a bridal shower gift! - by Amazon Customer
Like I used to eat in old times, thank you Jas! There are some recipes that I will have to try, or you just say when are you making them and I'm on my way! - by Zoran Dodo
Excellent cookbook! These are authentic Balkan recipes and they turn out so delicious! I would recommend buying Vegeta if you buy this cookbook. It is a Balkan spice that you can use instead of salt and it makes such a difference! Overall, these recipes are so flavorful and easy so I highly recommend it. - by Micah Macey
Tried the chicken paprikash recipe last night. Absolutely wonderful! Loaded with bell peppers and onions as well as a great sauce. Thanks for sharing this recipe. - by Dale
Hi, I just bought your Balkan Comfort food as a part of the wedding gift to my Mexican friends, but will order another one for myself too! I swear, every and i mean EVERY recipe brings me back to my chilhood as that is the food my mom would cook or my grandma (mom was born in croatia, grandma is from bosnia and herzegovina). I love it!! i actually know how to cook them all, but to have this book means so much! it means it will stay here with me, even if i forget...

Love this book! Loove it! Thank you for writing it! + with a book my friends will get Vegeta too! - by Tanja O.
Browse out home page for more comfort food from around the world.