I think I am done stuffing stuff for a while or at least until the next wave of homesickness submerges me.
This dessert is very popular in Bosnia, yet this is the first time I made it. Know why? Because I was homesick and nothing says home like walnuts and sugar.
By the way, have you ever had baklava? Baklava is another traditional walnut and sugar treat.
Also, my lovely out-of-town sisters-in-law were visiting and I needed a light, simple dessert that comes together quickly. I don't know how many calories this translates to, but it's made with apples and in my head that is a healthy dessert.
If you're on a diet, you know what they say: The best way to lose weight is to close your mouth. At my age, food has even taken the place of romance (if you know what I mean). In fact, I just had a mirror put over my kitchen table. 😉
Ingredients:
Serves 6
6 medium size Apples (Golden Delicious)
2 cups Sugar
1 cup ground Walnuts
2 tablespoons Lemon Juice
2-4 cups Water
1 package Vanilla Sugar (substitute with 1 tsp sugar and 1 tsp vanilla extract)
¼ teaspoon Cinnamon
2 tablespoons Milk
Whipped Cream and Brandied Cherries for garnish
Directions:
Peel and core apples. Place in lemon water to prevent browning.
In a pan large enough to hold all the apples, mix together sugar, lemon juice and enough water to cover the apples. Cook apples on medium heat until tender but still firm, about 10-15 minutes.
Carefully remove apples from the water and leave them on a rack to cool, reserving the poaching liquid.
Mix ground walnuts, cinnamon and vanilla sugar with hot milk until smooth. Fill the cooled apples with this mixture.
Serve chilled or at room temperature. Pour reserved poaching liquid over the apples and top with whipped cream. Garnish with brandied or candied cherries.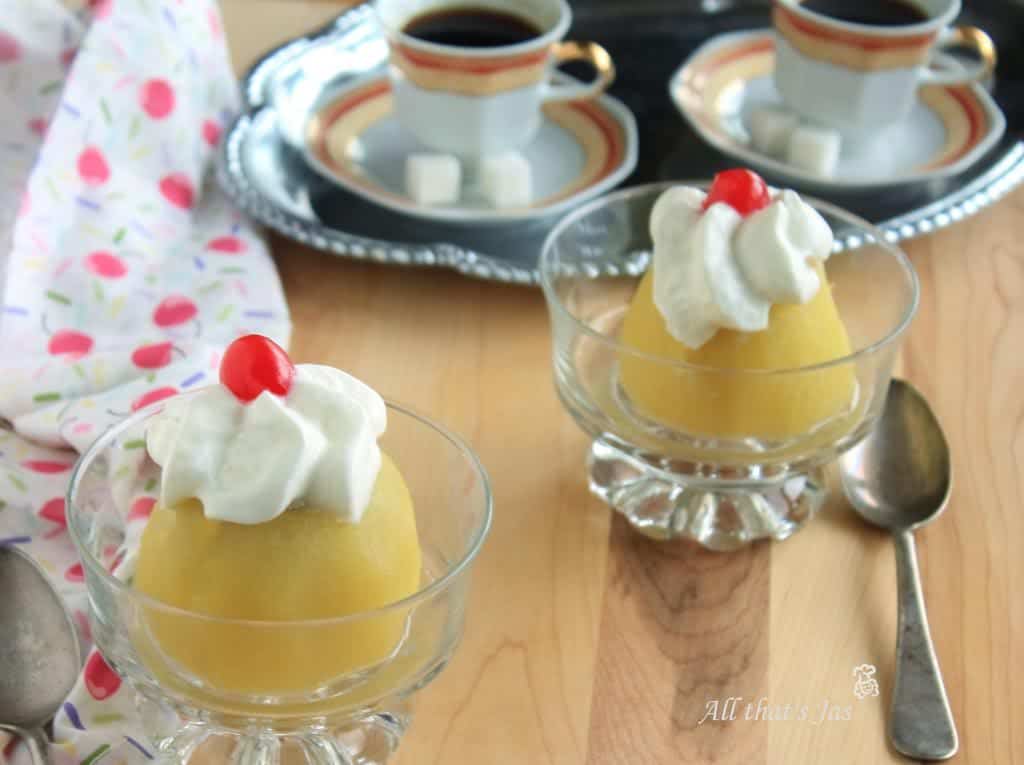 PRINTABLE RECIPE