You know how you wish to lose weight but you don't want to give up any of the food groups? This UN Diet (United Nations diet), which is more a meal schedule than a diet, does just that.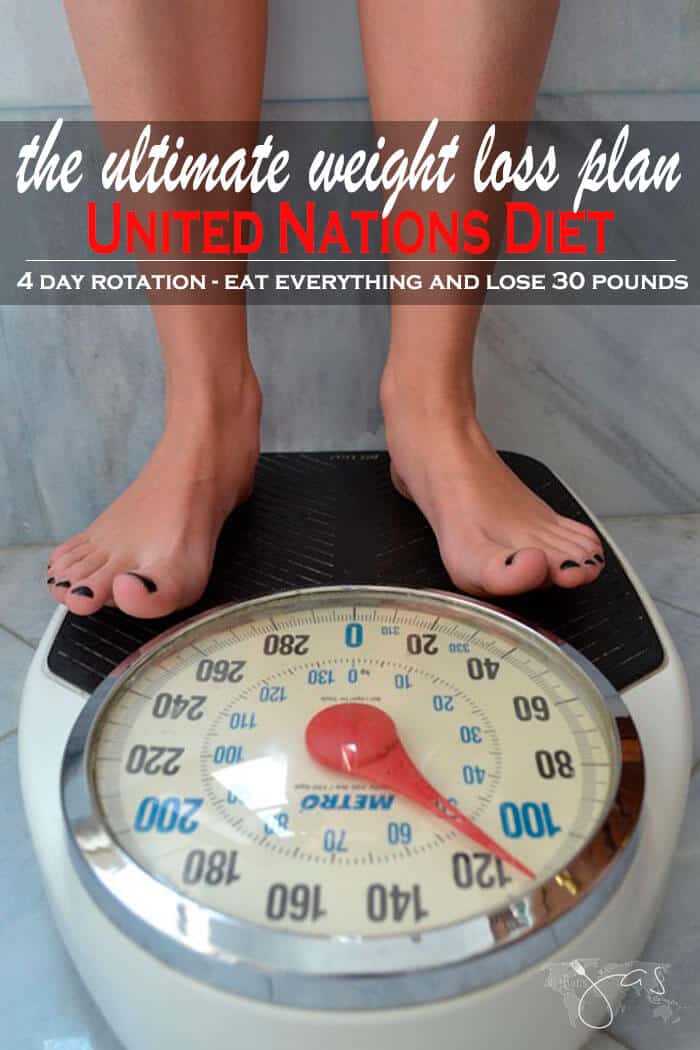 I only dieted once in my life and looking back, I really didn't need to. But I read about this UN diet (not to be confused with UnDiet, which also has a great approach) and wanted to give it a try.
Why? It's a diet that claims to change your metabolism if you stick with it for 90 days. Best of all, you can eat everything. Yep, you heard me right! Everything!
Why am I telling you this?
I have a confession to make: while I was preaching to you how all the food is healthy food if we take it in moderation, I was actually practicing the opposite. My food intake has been anything but reasonable. I miserably failed even at sticking with healthier dessert options.
Don't get me wrong, my no-bake power bites are super delicious, but you remember what happened. I came clean about my lack of self-discipline while I shared that healthy recipe with you.
And I've got nobody to blame but myself. Not my husband who brings me treats I can't say no to. Not the people who invite me to their dinners, celebrations, and parties. They don't shove all that food down my throat. I do!
My younger self is laughing at me now (*insert dumb voice): "Do you remember when you wore two pairs of pants to hide how skinny you were? How will you hide that muffin top now?" Shut up, me!
Although we agree that paying attention to our health is very important, we also agree that dieting stinks. It takes too much time, money, effort, and patience. We want instant results and when we don't see them, we go back to stress-eating. Sound familiar?
Back then I have lost 11 pounds in 29 days and then stopped the diet. Hence, my metabolism didn't change. So I'm going back after 4 years. Who's with me?
Disclaimer
I'm not a health professional. I'm not claiming this diet will change your life but I need some accountability and it's always fun to diet with friends. Ultimately, you make your own decision.
Every diet works differently on different people and this one worked for me that one time. I'm hoping it will work again this time around. But I hate the day #4 of the diet, you guys. Like REALLY HATE it.
However, I love my body enough to treat it right and I am sticking with it. My goal with this diet is not only to quickly shed the pounds but to adopt a healthier lifestyle. Of course, even light exercise helps.
Remember: imperfect action beats perfect inaction every time. Dance, walk, run, or jump - do any of it for even 10 minutes a day and you'll see the results faster.
How To Lose 30 Pounds With UN Diet - The Ultimate Diet Plan
UN Diet - Introduction
This diet is based on the principle of separation of certain groups of foods in order to accelerate the metabolism and thus promote digestion.
Strict implementation of this diet leads, in addition to weight loss, to a metabolic change so the lost weight doesn't yo-yo back. The diet should be carried out for 90 days during which a weight loss of up to 30 pounds is predicted.
People who want to lose fewer pounds can interrupt their diet after reaching the desired body weight, but there will be no change in their metabolism.
The UN diet is designed to divide food into four days. It always starts with a protein day, followed by a starch day, a carbohydrate day, and a fruit day. The order of four consecutive days is repeated and must not be skipped or changed.
And now let's see how this diet is practically implemented (menu example to follow).
UN diet plan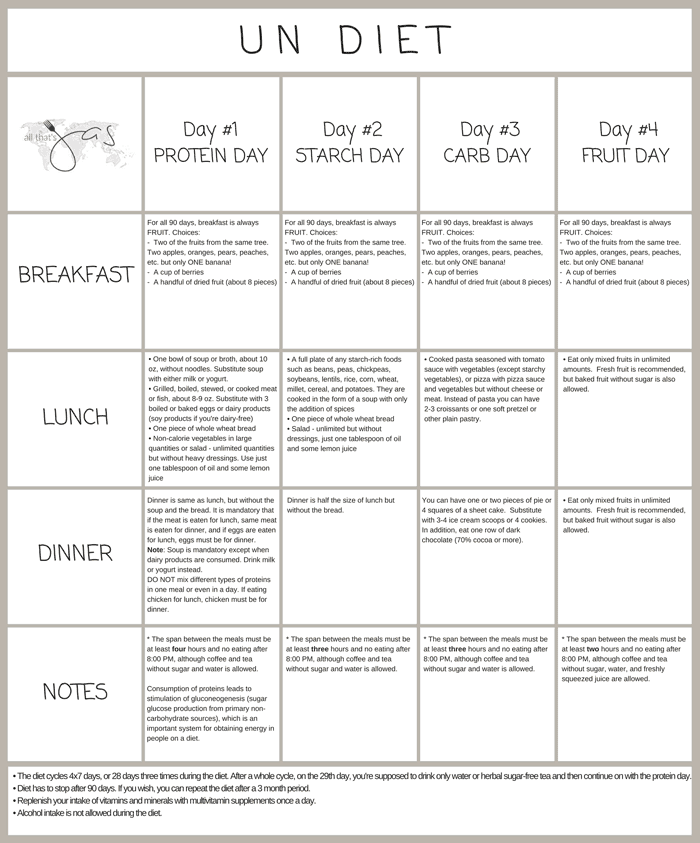 Breakfast:
For all 90 days, breakfast is always fruit. Choices:
- Two of the fruits from the same tree. Two apples, oranges, pears, peaches, etc. but only ONE banana!
- A handful of dried fruit (about 8 pieces)
UN Diet - First Day - Protein Day
Breakfast:
Fruit
Lunch:
One bowl of soup or broth, about 10 oz, without noodles. Substitute soup with either milk or yogurt.
Grilled, boiled, stewed, or cooked meat or fish, about 8-9 oz. Substitute with 3 boiled or baked eggs or dairy products (soy products if you're dairy-free)
One piece of whole wheat bread
Non-calorie vegetables in large quantities or salad - unlimited quantities but without heavy dressings. Use just one tablespoon of oil and some lemon juice
Notes: Soup is mandatory except when dairy products are consumed. Drink milk or yogurt instead.
DO NOT mix different types of proteins in one meal or even in a day. If eating chicken for lunch, the chicken must be for dinner.
Dinner:
Dinner is the same as lunch, but without the soup and the bread. It is mandatory that if the meat is eaten for lunch, the same meat is eaten for dinner, and if eggs are eaten for lunch, eggs must be for dinner.
The span between the meals must be at least four hours and no eating after 8:00 PM, although water and tea without sugar is allowed.
Consumption of proteins leads to the stimulation of gluconeogenesis (sugar glucose production from primary non-carbohydrate sources), which is an important system for obtaining energy for people on a diet.
UN Diet - Second Day - Starch Day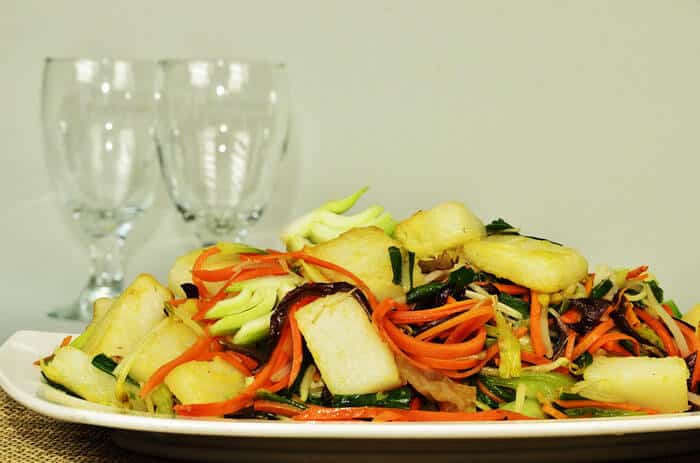 Breakfast:
Fruit
Lunch:
A full plate of any starch-rich foods such as beans, peas, chickpeas, soybeans, lentils, rice, corn, wheat, millet, cereal, and potatoes. They are cooked in the form of soup with only the addition of spices
One piece of whole wheat bread
Salad - unlimited but without dressings, just one tablespoon of oil and some lemon juice
Dinner:
Dinner is half the size of lunch but without the bread.
The span between the meals must be at least three hours and no eating after 8:00 PM, although water and tea without sugar is allowed.
UN Diet - Third Day - Carbohydrate Day
Breakfast:
Fruit
Lunch:
Cooked pasta seasoned with tomato sauce with vegetables (except starchy vegetables), or pizza with pizza sauce and vegetables but without cheese or meat. Instead of pasta, you can have 2-3 croissants or one soft pretzel or other plain pastry.
Dinner:
You can have one or two pieces of pie or 4 squares of a sheet cake. Substitute with 3-4 ice cream scoops or 4 cookies. In addition, eat one row of dark chocolate (70% cocoa or more).
The span between the meals must be at least three hours and no eating after 8:00 PM, although water and tea without sugar is allowed.
UN Diet - Fourth Day - Fruit Day
Breakfast:
Fruit
Lunch and dinner:
Eat only mixed fruits in unlimited amounts. Fresh fruit is recommended, but baked fruit without sugar is also allowed.
The span between the meals must be at least two hours and no eating after 8:00 PM, although water and tea without sugar is allowed.
Coffee and tea (preferably without sugar and cream) can be consumed in unlimited quantities. You can also drink fresh-squeezed juices.
Additional notes:
The diet cycles 4x7 days, or 28 days three times during the diet. After a whole cycle, on the 29th day, you're supposed to drink only water or herbal sugar-free tea and then continue on with the protein day.
Diet has to stop after 90 days. If you wish, you can repeat the diet after a 3 month period.
Replenish your intake of vitamins and minerals with multivitamin supplements once a day.
Alcohol intake is not allowed during the diet.
Benefits of the UN Diet
The diet is very applicable and it is not difficult to follow. This is one of its greatest advantages. Also, the strict distribution of foods that are present with the UN diet will be much more motivating than a flexible diet.
The practice has shown that the UN diet helps significantly with weight loss, which acts as a motivation.
Disadvantages of the UN Diet
The UN diet does not follow nutritional recommendations on quality nutrition and does not provide the foundation for shaping proper eating habits. The goal of this diet is to permanently change the metabolism and to not gain the lost weight back, but this cannot be done if you are going to eat after the diet with old habits, which is very common.
Also according to the user's reports, the diet can cause monotony due to its menu. To avoid this, find different ways of preparing the food.
FAQ
1. I cheated. What now?
Everybody breaks the diet at least one time. What to do if you eat a piece of cake on a starchy day? Do not be discouraged; continue with the right day tomorrow and not from the beginning.
2. Fruit Day - is it permitted to consume pumpkin seeds, peanuts, almonds...?
"The fourth or fruit day is reserved for fruits, fresh juices, baked fruits, dry fruit, nuts, and seeds."- quoted from the UN book. But do not overdo it. The maximum amount of these foods should not exceed 3.5 oz because they are very caloric and divided into several meals. Candied fruit is NOT ALLOWED !!!
3. Fruit Day - do I have to have three meals or can I have fruit several times a day?
A pause between meals is a minimum of 2 hours. The quantities of fruits are not limited, but limit bananas and other fruits rich in sugar to two a day.
4. Allegedly, with the UN diet, you can lose 20-30 pounds, but most people claim they lost 6-8 pounds in a month or two. What depends on how many pounds will I lose?
Depends on many factors:
How much extra weight we have - the greater the surplus, the easier it is to take off in the initial period,
From the physical activity and its frequency,
From the reaction of the organism to carbohydrates. Some people react to it, and some do not, and thus it's harder to lose the extra pounds,
From not following the diet. Many people often violate the diet and complain about its inefficiency. If you cannot sustain a single cycle then you can't claim that the diet is ineffective.
5. Can I eat meat for lunch and fish for dinner?
No, the types of protein should not be mixed in either the meal or even in one day.
6. Can I drink alcohol and carbonated drinks?
Alcohol and carbonated drinks are forbidden. The reason - they slow down the weight loss process.
Conclusion
I find this diet fairly easy to use, except on day #4. After fruit for breakfast, I'm done with the fruit, lol. I like veggies more so this day is tough for me.
But the good thing is I don't even have to cook separate meals for my husband and me. Whatever I would normally make (meat, veggies, and side) I just eat on separate days. I always look forward to dinner on day #3. Hello, cake!
It does get tricky going out to eat. I once only ate the bread rolls at a restaurant on day #3. I wasn't hungry but did feel a little odd.
If you would like to try this challenge but aren't sure what to eat, you can download Free recipes for a cycle. Let's do this! Love your body 🙂
Obviously, it is your choice. I am not claiming it will work for you, but it worked for me, so please don't shoot the messenger 😉
Liked this post? Leave a ⭐⭐⭐⭐⭐ rating and/or a review in the comments section. Your feedback is always appreciated! Stay in touch through Pinterest, Instagram, and Facebook! Don't forget to sign up for my email list below too!