Amazing Bavarian apple oatmeal streusel cheesecake with oatmeal cookies for the crust, creamy filling, and a crunchy top to start your day off right!
Do you fancy an apple pie, crumble cake, and cheesecake at the same time? If yes, then this recipe is for you! It combines three cakes in one, just right if you don't want to decide.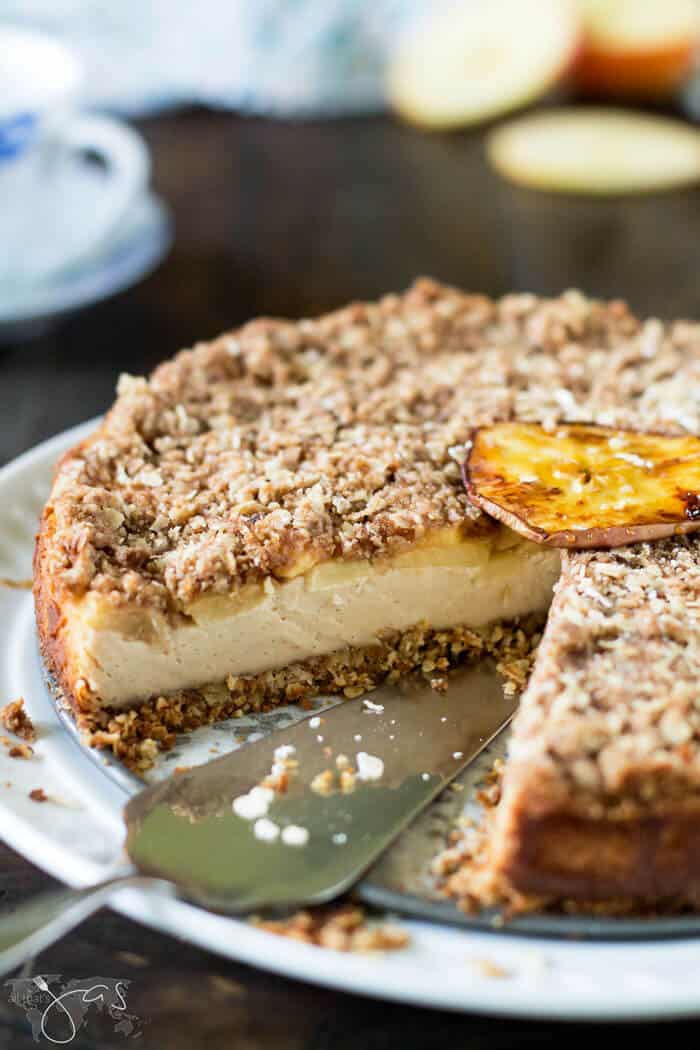 Oatmeal cookies for the base, apples with cream cheese in the filling, and the crunchy streusel on the on top make this cake perfect for any occasion - whether you are celebrating a birthday, holiday, or just having a slice with your morning coffee.
We all know apple pie is an autumn must-have dessert and we also know how addicted I am to cheesecakes. By the end of this post, you'll learn how to combine these two recipes, because you need to be addicted to cheesecakes too so we can be best friends.
After all, why would you have it for dessert when you can treat it like an entire meal?
What's in this Bavarian Cheesecake?
Oatmeal - we used Flahavan's
Hard oatmeal cookies (I used Lil' Dutch Maid brand)
Cream cheese - full fat
Rodelle pure vanilla extract
Rainier Honeycrisp apples
Butter
Sugar
Brown sugar
All-purpose flour
Cornstarch - you can use the potato starch
Cinnamon
My husband's favorite pie is apple pie but he doesn't care much for cheesecakes. One bite of this goodness with oatmeal cookies for a crust and he was sold.
In fact, we ate the entire cake in one day. There was nothing left to start our next morning with and it kind of set the (sad) tone for the rest of the day.
With this in mind, you might need to make two batches so you have some for the next morning. There's nothing better to go with your first hot cup of joe than this Bavarian apple pie cheesecake. Trust me on this.
Don't forget to let me know how much you loved it, so we can hang out 😉
How to make Bavarian Apple Oatmeal Cheesecake:
*Keep scrolling to get the full (printable) recipe, ingredient amounts, and more tips.
Make the Crust - Combine the crushed oatmeal cookies with oatmeal flakes and melted butter. Press the crumb mixture into the springform pan, then bake for about 12 minutes.
Make the Filling - Beat the cream cheese, then add cornstarch, vanilla, cinnamon, and sugars; mix until well combined. Pour the cream cheese mixture evenly over the cooled crust and top with apple slices.
Make the Topping - Combine flour, sugar, and cinnamon. Using a pastry blender or fork, cut in the butter until fine crumbs form. Sprinkle evenly over the apples.
Bake - Bake in a 350 F preheated oven, about 40-50 minutes; cool completely., then refrigerate.
Products tips for this cheesecake recipe:
What other apple desserts should I try?
#AppleWeek roundup recipes:
Save
Save