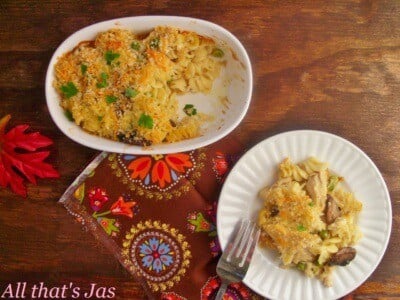 Only a couple of days left until Thanksgiving and I've been looking forward to it for the past several weeks. We don't celebrate this holiday in Europe and that fact is still strange to many Americans. Read up on your history people! Nevertheless, one can give prayers of thanks for different reasons and thankful I am.
However, my favorite part is stuff-your-face-until-you-explode part. There is just something special about eating turkey on Thanksgiving, I don't know why. And as there are many different preferences when it comes to preparing the bird, we all end up with the same question: what to do with leftovers?
Well, Thanksgiving is celebrated for two days so there is your answer. But what do you do with bits and pieces still attached to the carcass? Sure, you can make soup if you haven't already made it with the neck and giblets. You could feed your dogs and cats for days, or throw it away. I'll tell you what I do. First, I feed our dogs (it's a special occasion, right?).
Then I make this delightful casserole, the king of all casseroles according to my husband. Tetrazzini is just a fancy name for a casserole, by the way. The rest of the meat gets packaged and frozen for future casseroles (you'd be surprised how much meat is hanging onto the bones. Nothing gets thrown away in my household, except the bones). You can totally use chicken for this recipe too. I've made it numerous times and it got the same reviews. Delicious!
Ingredients:
Serves 4-6
12 oz uncooked Egg Noodles (or any pasta you like)
3 cups chopped cooked Turkey
4 cups Mushrooms, sliced
1 cup frozen Peas
½ cup unsalted Butter
¼ cup Flour
1 ½ cups of Milk
2 cups Chicken Broth
¼ cup Heavy Cream
¼ cup Dry White Wine
1 cup grated Parmesan Cheese, divided into ½ and ½ cups
2 tablespoons Lemon Juice
½ teaspoon Nutmeg
½ cup Bread Crumbs (or Panco)
Salt and Pepper
Freshly chopped Parsley for garnish (optional)
Directions:
Bring a large pot of salted water to a boil for your noodles. Cook noodles to al dente. Preheat a large, deep skillet over medium-high heat. Add 3 tablespoons of the butter and cook mushrooms, stirring, until all of the liquid from the mushrooms has evaporated, 5-10 minutes. Set mushrooms aside.
Preheat oven to 375 degrees Fahrenheit. Melt ¼ cup of the butter in the same skillet. Stir in the flour, and cook over low heat, stirring, for 4 minutes then slowly whisk in the wine, milk, broth, and cream. Bring to a bubble and cook, stirring constantly for 5-8 minutes.
Stir in the lemon juice and ½ cup parmesan cheese. Add salt and pepper to taste and nutmeg. Mix in the cooked and drained noodles, mushrooms, peas, and turkey. Transfer the mixture to a buttered 3-quart casserole, or use individual small casserole ramekins just for fun. Mix remaining ½ cup parmesan cheese with bread crumbs and sprinkle evenly over the tetrazzini. Dot the top with remaining 1 tablespoon butter, cut into bits. Bake for 30 minutes in the middle rack of the oven until it is bubbling and the top is golden. Remove from oven and garnish the tetrazzini with chopped parsley.
Happy Thanksgiving and day after Thanksgiving and don't forget to give thanks, always! You know the saying: "what if you wake up today with only the things you thanked God for yesterday?"