Indulge in our creamy polenta dish topped with sweet sautéed peppers and onions - it's a flavorful, hearty dish that can be a perfect side or double as a main meal! Add some delicious Italian sausage or crispy bacon for extra richness.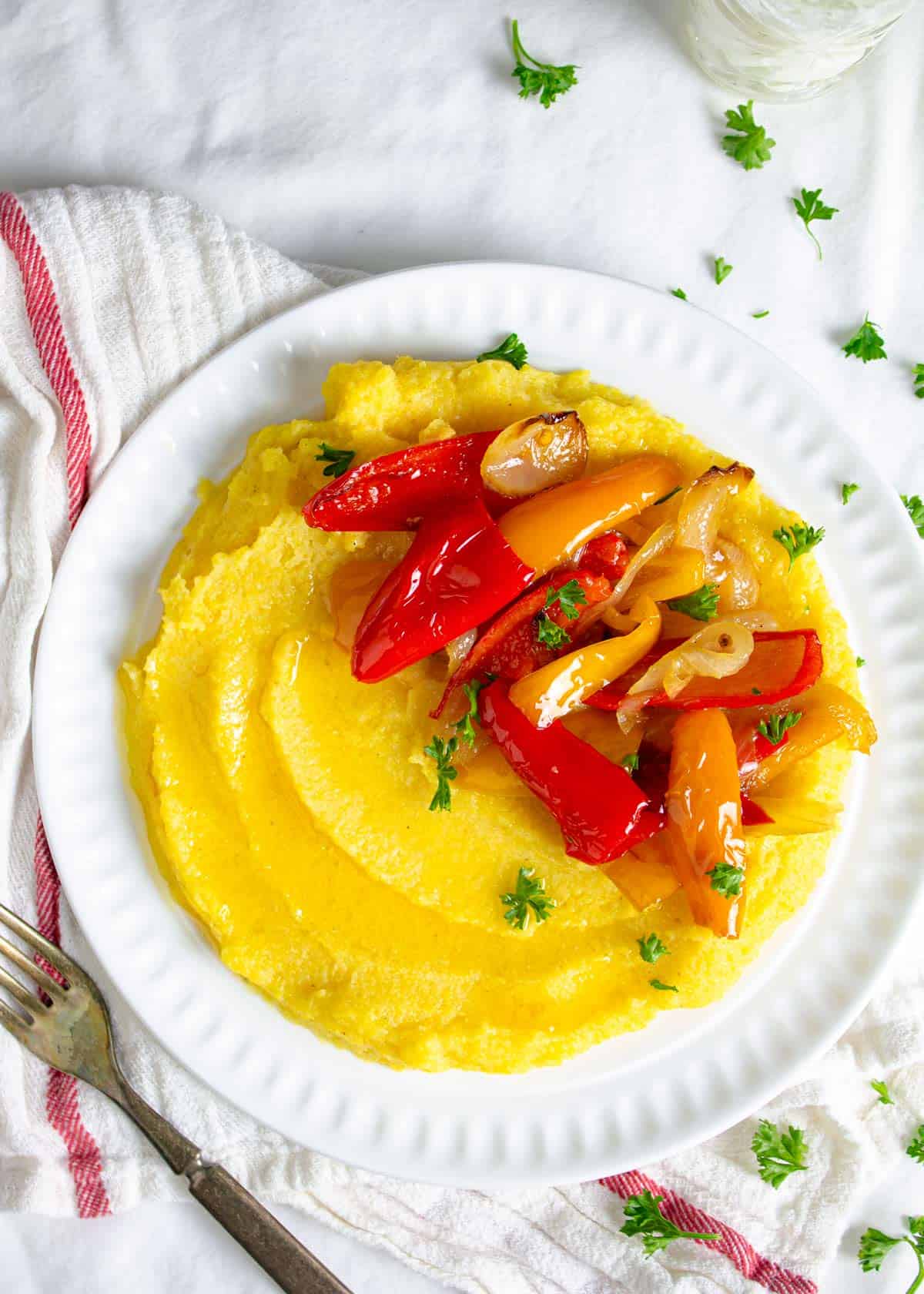 Polenta is more than just a comfort food - it's a staple food with a rich history dating back to ancient times.
Traditionally considered "poor people's food" polenta is affordable and filling. Yet, despite its humble beginnings, polenta has remained a beloved dish across regions and is worth adding to your culinary repertoire.
🤔 What is polenta?
It's a gluten-free dish (very similar to grits) made from boiled cornmeal that has been boiled into a porridge-like consistency. We love to serve creamy polenta in various ways - for breakfast, as a main, or as a side to other dishes.
If you've never experienced the creamy goodness of soft polenta, you must try it with sautéed peppers and onions or pair it with this meaty German stew for a dining experience that will leave you craving more.
❤️ What we love about this vegetarian polenta recipe
✔️ It's budget-friendly
✔️ You'll only need a few basic pantry ingredients
✔️ It's quick and easy to make
✔️ It's delicious and filling
✔️ Gluten-free and vegan-friendly
🛒 Ingredients you'll need
🌽 Cornmeal: This is flour made from ground corn. It is available in different textures, such as fine (sometimes labeled as corn flour - not to confuse with cornflour, which is British for cornstarch), medium, and coarse.
🧅 Onion: Yellow onions (Spanish onions) work best for sautéing, but you can use any onion variety you have on hand.
🫑 Peppers: Red bell peppers add sweetness and color to the dish. You can use other bell pepper colors or even substitute it with other vegetables like zucchini, mushroom, or eggplant.
In addition, you will need oil to sauté the onions and peppers. We use extra-virgin olive oil, but you can substitute it with vegetable oil, canola, or butter.
🔪 Step by Step Instructions
Step 1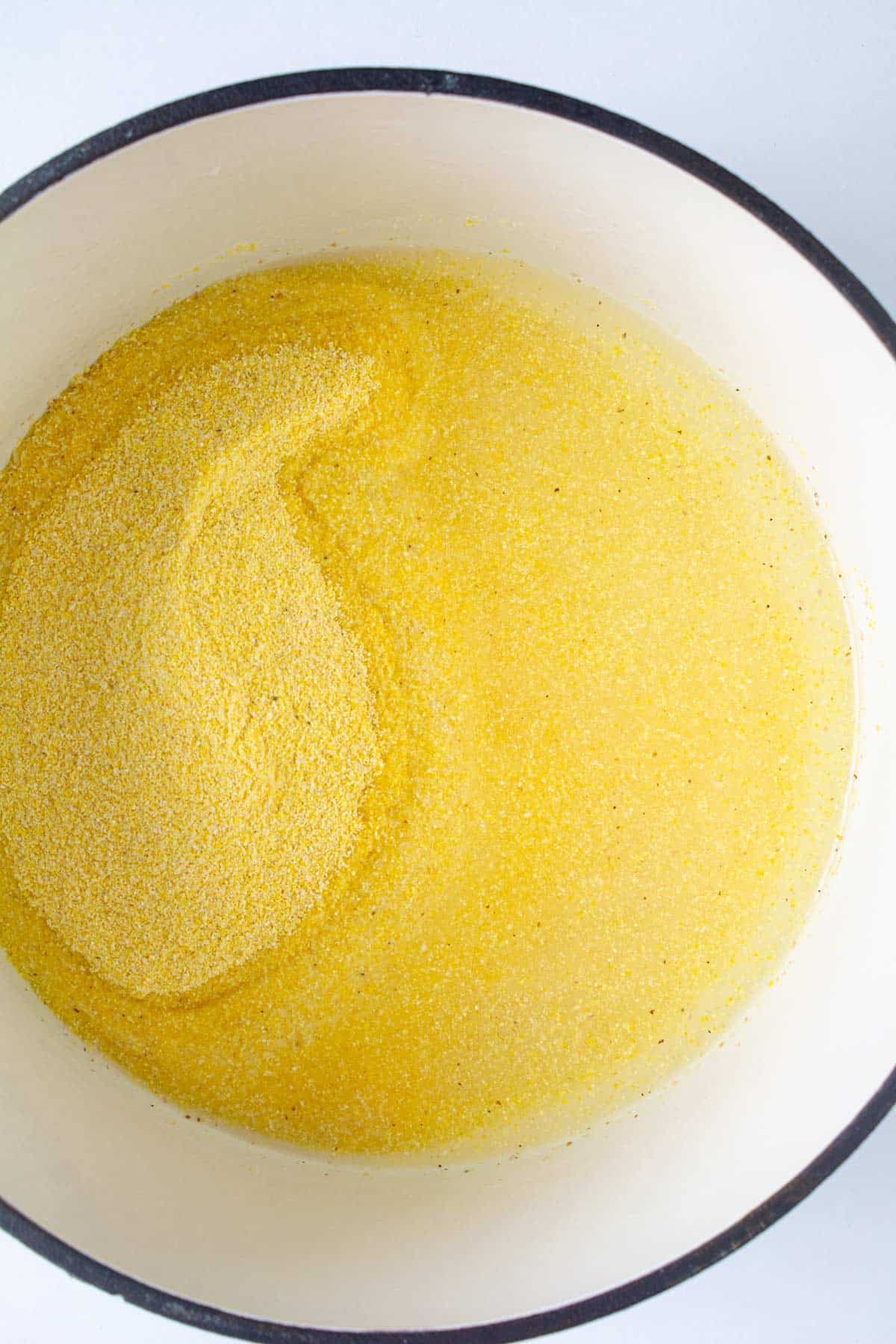 Mix cornmeal, water, oil, and salt in a saucepan.
Bring to a boil, then gently simmer, continually whisking until thickened to desired consistency.
Step 2
Meanwhile, sauté

onions and peppers in oil until caramelized. Serve with cooked polenta.
💡 Top Tip
Cook onions and peppers low and slow over an extended period of time. It will make the natural sugars in the onions caramelize. To speed up the caramelization process and give it a nice nutty brown color, sprinkle vegetables with a pinch of sugar.
What is the best cornmeal for polenta?
Polenta can be fine, coarse, or a mix. Fine to medium-fine grain sizes are best suitable for creamy polenta but you can make the coarse mix creamier by increasing the amount of water.
My pantry is always stocked with Quaker cornmeal. The cooking instructions suggest a 1:4 cornmeal to water ratio, but I think a 1:3 ratio achieves the best soft and not overly mushy polenta.
Medium-fine to coarse grains are intended for cut-resistant polenta.
This Chilean polenta recipe teaches the difference between cornmeal, corn flour, cornstarch, and maize.
👩‍🍳 Helpful Tips for making creamy polenta
Use the correct liquid ratio to polenta - I prefer 1:3, but for creamier polenta, use a ratio of 4 parts liquid to 1 part polenta. A mix of milk and water will yield a richer flavor.
Whisk constantly - The key to achieving creamy and smooth polenta. Keep whisking for around 20-30 minutes until it is cooked through. This will help to create a velvety texture.
Use a cast-iron skillet or non-stick pan with olive oil for perfectly caramelized onions and peppers.
To make the polenta richer and creamier, stir in some butter or cheese at the end.
Polenta cooking methods
"Making polenta is a real tough job," my Italian neighbor tells me, shaking her head sympathetically. That's not precisely true unless you want to go old-school with your recipe:
"Classic" method: Italian original - untreated corn grits are slowly sprinkled into boiling salt water and stirred, stirred… and stirred, clockwise, for at least 1 hour and without a break because the corn grits burn in no time. Without this preparation, the corn grits are difficult to digest.
"Suitable for everyday use" method: If all of this is too tiring for you, I have good news: You can usually buy it pretreated in the supermarket. This means that the fine granules are pre-steamed and ready for the plates after only 15-20 minutes.
"Turbo" method: OK, for the very impatient, there is always the instant version, which is ready after 5 minutes.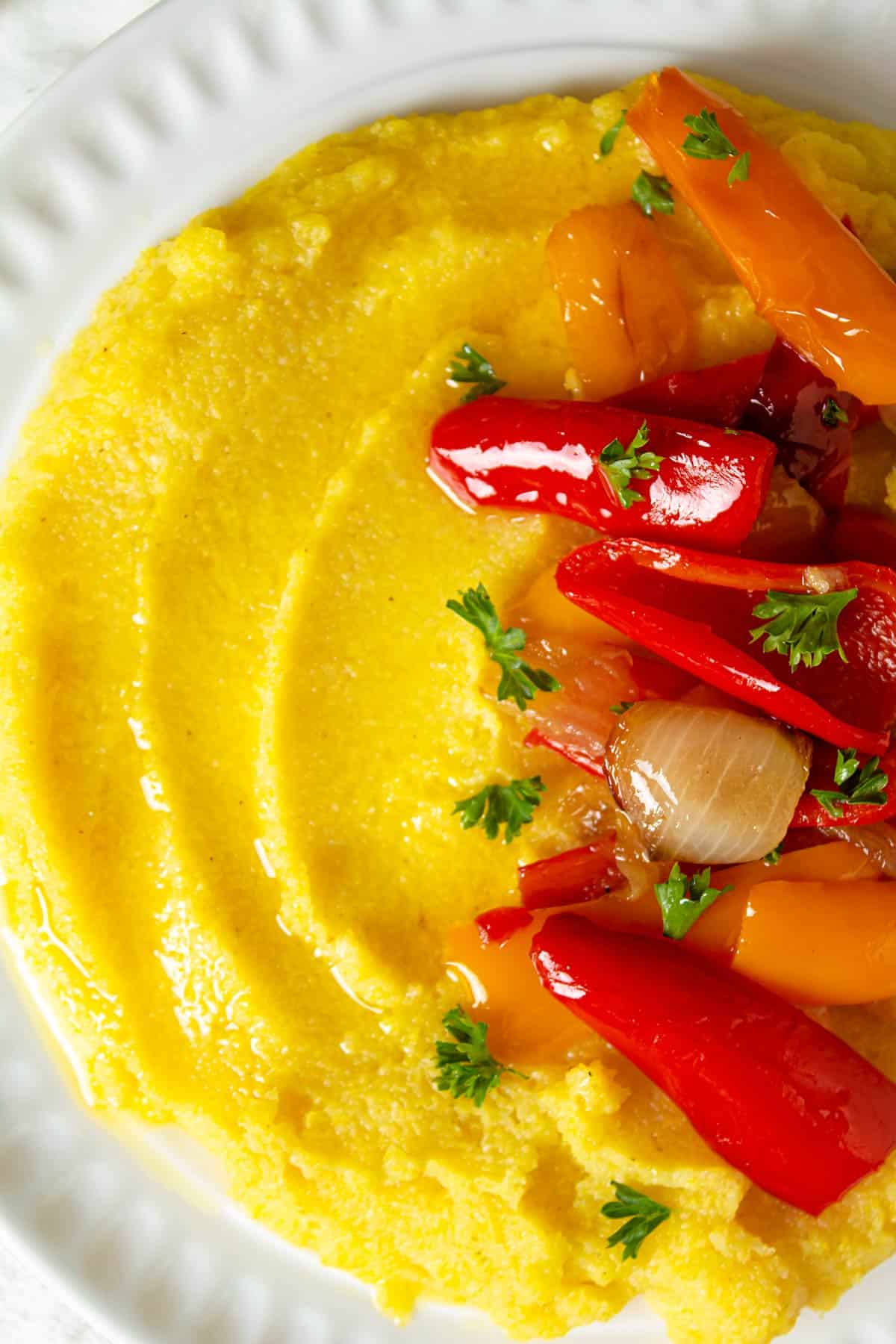 👉 Variations
Make it in a slow cooker.
Make it in a pressure cooker.
Try it with sautéed mushrooms and stinging nettle or spinach.
In addition to this Bosnian version with caramelized onions and peppers, we love topping polenta with crispy fried bacon (including the bacon grease), sauerkraut, and feta cheese. Yum!!!

Cook cornmeal in chicken or vegetable broth.

Add garlic.

Season the cooked cornmeal to taste with grated parmesan, parsley, butter, salt, and pepper.

Slice cold polenta and

quickly sear in butter for 2-3 minutes on each side

until

brown and crispy.

Serve with maple syrup alongside eggs for breakfast.

Or go for a dessert and make it with milk, cinnamon, apples, and pecans. It's so versatile!
🗄️ Storage Instructions
Refrigerate: Store leftovers in an airtight container for up to 3 days, preferably separate from sautéed onions and peppers.
Freeze: I wouldn't recommend it. Frozen polenta will release water and lose its shape and texture.
Reheat soft polenta in the microwave with ¼ to ½ cup water, stirring periodically, until warmed through.
Leftovers taste especially good if you cut polenta and fry it crispy in the pan. You can toss fried pieces with your favorite salads or add them as a topping for a chili or burrito bowl.
❓ Frequently Asked Questions
How much polenta per person?
For the main course, you'll need about 3 oz. of cornmeal per person and about 1.5 oz. if making it as a side dish.
Help, my polenta won't set!
Cook until the cornmeal has absorbed all the liquid and thickened.
Can I make it in advance?
Make it fresh, as it doesn't take long to cook, but if you must, you can make it a day or two ahead. Add ¼ to ½ cup water to the microwave-safe dish, cover, and reheat polenta in the microwave or warm it in a double-boiler (water bath) over low heat.
What to serve with polenta?
Polenta is a welcome change to rice, potatoes, and pasta. It goes well with roasted Mediterranean vegetables, spicy tomato sauces, and seafood.
Serve alongside vegetable ragù, stew (goulash), fish, braised meat, sausage, liver, and other hearty meat dishes.
More delicious polenta recipes to try
🧡 LIKED THIS RECIPE? Leave a ⭐⭐⭐⭐⭐ rating and/or a review in the comments section. 😋 HUNGRY FOR MORE? Subscribe to my Newsletter and follow along on Facebook, Pinterest, and Instagram for the latest updates.
📖 Recipe
Creamy Polenta with Sautéed Onions and Peppers
Enjoy creamy polenta with sautéed onions and peppers - a tasty side or vegetarian main dish perfect for any meal. It's hearty, flavorful, and sure to become a new favorite.
EQUIPMENT
Non-stick saucepan

whisk

Skillet
Ingredients
Creamy polenta
1

cup

yellow cornmeal

3

cups

of water

1

tablespoon

oil

,

divided

1

teaspoon

salt

,

divided
Sautéed peppers and onions
1

tablespoon

oil

,

*see notes

1

medium onion

,

sliced

1-2

bell peppers

,

any color, sliced

1

teaspoon

freshly ground black pepper

1

teaspoon

salt

1

pinch

sugar

,

optional

To garnish: chopped fresh parsley

,

optional
Instructions
Mix cornmeal, 3 cups water, 1 teaspoon salt, and 1 tablespoon oil in a medium-sized saucepan. Bring to a light boil over medium-low heat, whisking occasionally. When polenta starts to bubble, lower the temperature to low and constantly whisk, keeping the cornmeal from lumping up and sticking to the bottom of your pan until desired consistency is reached, about 10-20 minutes. You want to be able to lift it with the fork, so it should be pretty thick but not too thick.

Meanwhile, heat 2 tablespoon of oil in a large skillet. Add sliced onion, bell pepper(s) and sauté over medium heat until vegetables are softened, about 5-10 minutes. Add 1 teaspoon of each salt, pepper, and sugar (optional) and cook for 5 more minutes.

To serve, scoop the caramelized vegetables over polenta and sprinkle with parsley if desired.
Notes
The instructions on the cornmeal package suggest a 1:4 ratio - one part cornmeal to 4 parts water. However, a 1:3 ratio is just the right amount for me.
The cooking time may vary depending on the variety of the cornmeal. The correct cooking times are noted on the package instructions, or do as I do - cook until it's done. 🙂
An essential part of perfect polenta: constantly whisk so that it does not burn. Don't use a wooden spoon; a whisk breaks up clumps and makes a creamier polenta.
Constant slow cooking and low heat are vital to a smooth consistency.
Not a fan of big chunks of sliced onions and peppers? Chop them as small as you wish instead.
*We use extra-virgin olive oil, but you can substitute it with vegetable oil, canola, or butter.
To speed up the caramelization process and give it a nice nutty brown color, sprinkle onions and peppers with a pinch of sugar.
Serve it with a side of fresh salad. Top with sour cream or buttermilk, or add feta cheese.
For the best results, read additional tips in the post above.
Nutrition information is approximate and meant as a guideline only.
Storage:
Refrigerate in an airtight container for up to 3 days.
Soft polenta is not suitable for freezing.
Nutrition
Calories:
235
kcal
(12%)
|
Carbohydrates:
34
g
(11%)
|
Protein:
5
g
(10%)
|
Fat:
9
g
(14%)
|
Saturated Fat:
1
g
(5%)
|
Polyunsaturated Fat:
2
g
|
Monounsaturated Fat:
6
g
|
Sodium:
1167
mg
(49%)
|
Potassium:
238
mg
(7%)
|
Fiber:
5
g
(20%)
|
Sugar:
3
g
(3%)
|
Vitamin A:
935
IU
(19%)
|
Vitamin C:
40
mg
(48%)
|
Calcium:
14
mg
(1%)
|
Iron:
1
mg
(6%)
Update Notes: This recipe was originally published in June 2020. It was updated in April of 2023 with new photos and recipe tips.