Looking for a delicious and easy way to use up your leftover turkey? Try our turkey gyros loaded with Mediterranean flavor! Tender, juicy slices of turkey are topped with fresh veggies, feta cheese, and a tangy tzatziki sauce, all wrapped in a soft pita.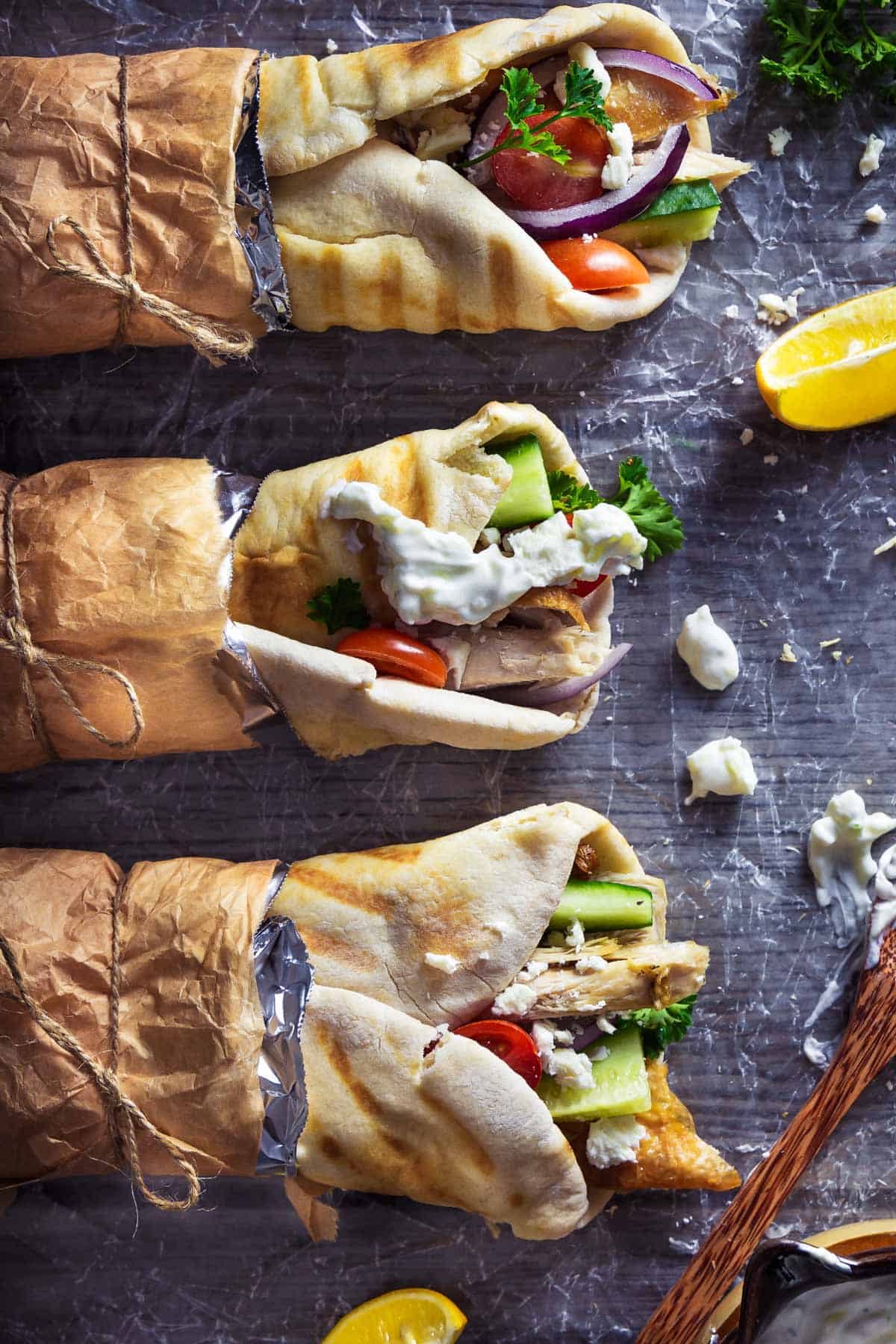 Best of all, these gyros with leftover Thanksgiving turkey come together in just minutes! This recipe is perfect for any time of year and will please even the pickiest of eaters.
Estimated reading time: 7 minutes
Thanksgiving leftovers are the best! There's nothing quite like waking up the day after a big holiday meal and diving into all of the holiday dishes.
One of my favorite ways to use Thanksgiving leftover turkey meat is to make gyros and tacos. They are always a hit with my family. I always freeze leftovers in batches with these recipes in mind.
So if you're looking for a fun way to repurpose your leftovers, try this recipe.
🙋‍♀️ What is a gyro?
Gyros are popular street food in Greece and are commonly found in Greek restaurants worldwide. This traditional Mediterranean dish typically features shaved lamb, pork, or beef from a vertical rotisserie wrapped in pita bread with vegetables and fried potatoes.
However, our turkey gyros are a fantastic way to enjoy your leftover turkey in a new and delicious way.
🥙 Why you'll love this gyro recipe
✔ More Flavorful - Your turkey roast had cooked longer and had time to absorb all of the spices and flavors from the marinade or seasoning you used. Much tastier than turkey gyros at Arby's.
✔ Less Expensive - If you are on a budget, leftover turkey meat is a great way to save money while enjoying a delicious meal. Forget Arby's turkey gyros!
✔ Quick and Easy - The turkey is already cooked, so all you need to do is slice or shred it and add it to the pita bread. The perfect meal for those days when you don't want to spend hours cooking.
✔ Healthier - Turkey is lower in fat and calories than lamb and beef, which makes it a healthier choice for those watching their weight or trying to eat a healthy diet.
✔ Versatile - Forget turkey sandwiches! Serve gyros for a quick weeknight meal or a fun weekend dinner party! They are a great crowd-pleaser!
🛒 Ingredients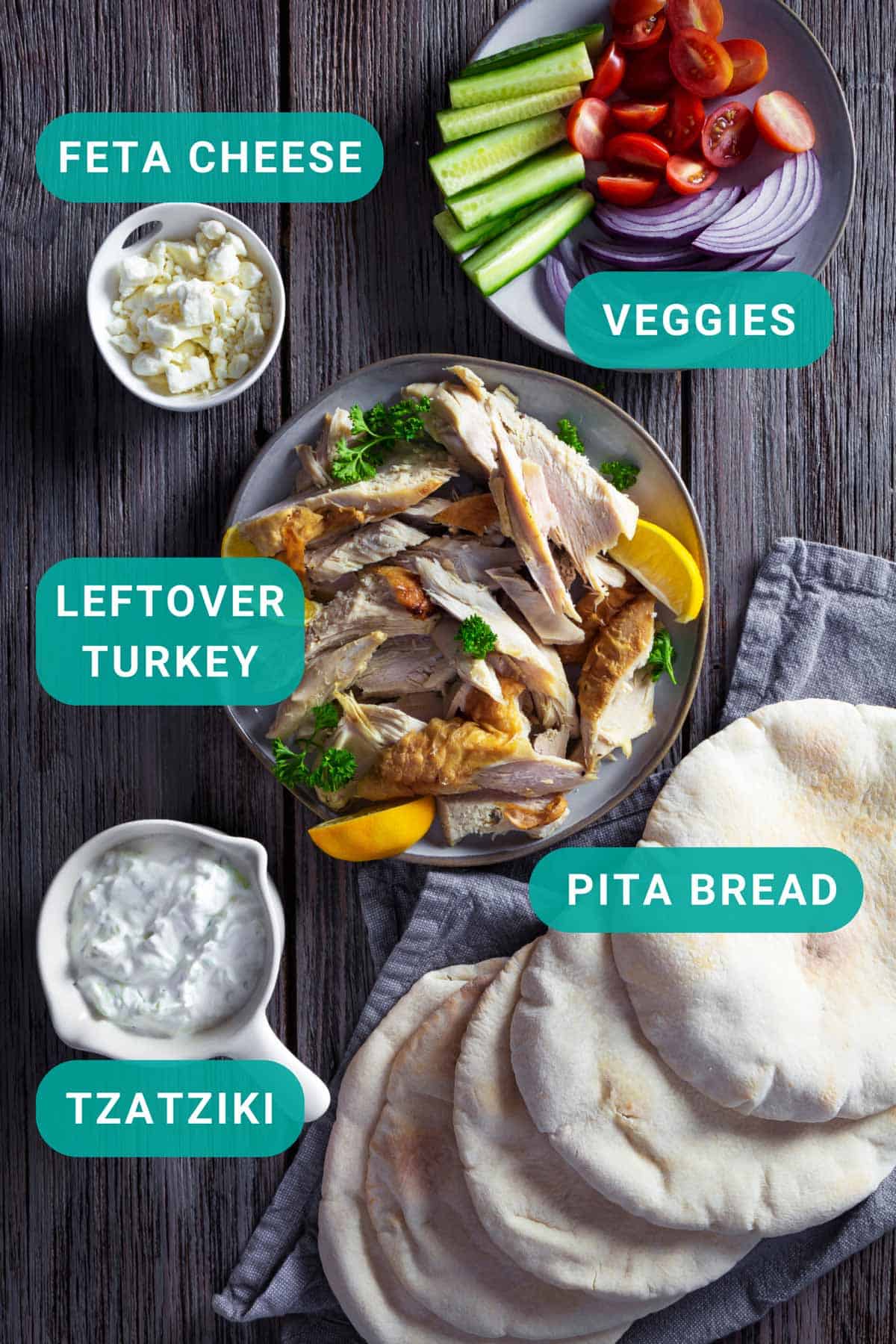 All you need is some leftover turkey, pita bread, and your favorite gyro toppings.
🔄 Substitutions
🍗 Meat
Leftover Thanksgiving turkey bits and pieces are perfect for gyros, but if you don't have leftovers, sub them with these:
Freshly roasted turkey breast
Cooked turkey meatballs
Cooked ground turkey
Thick-sliced deli turkey
Rotisserie chicken (if you must)
🍞 Bread
We love Mediterranean-style pita bread, but any of these will work, too; just make sure to warm them up before assembling the gyros.
Tortillas
Flavorful flatbreads
Naan bread
🥣 Sauce
There is no match to homemade tzatziki sauce; however, feel free to experiment with these:
Yogurt
Ranch dressing
Sour cream
🔪 Instructions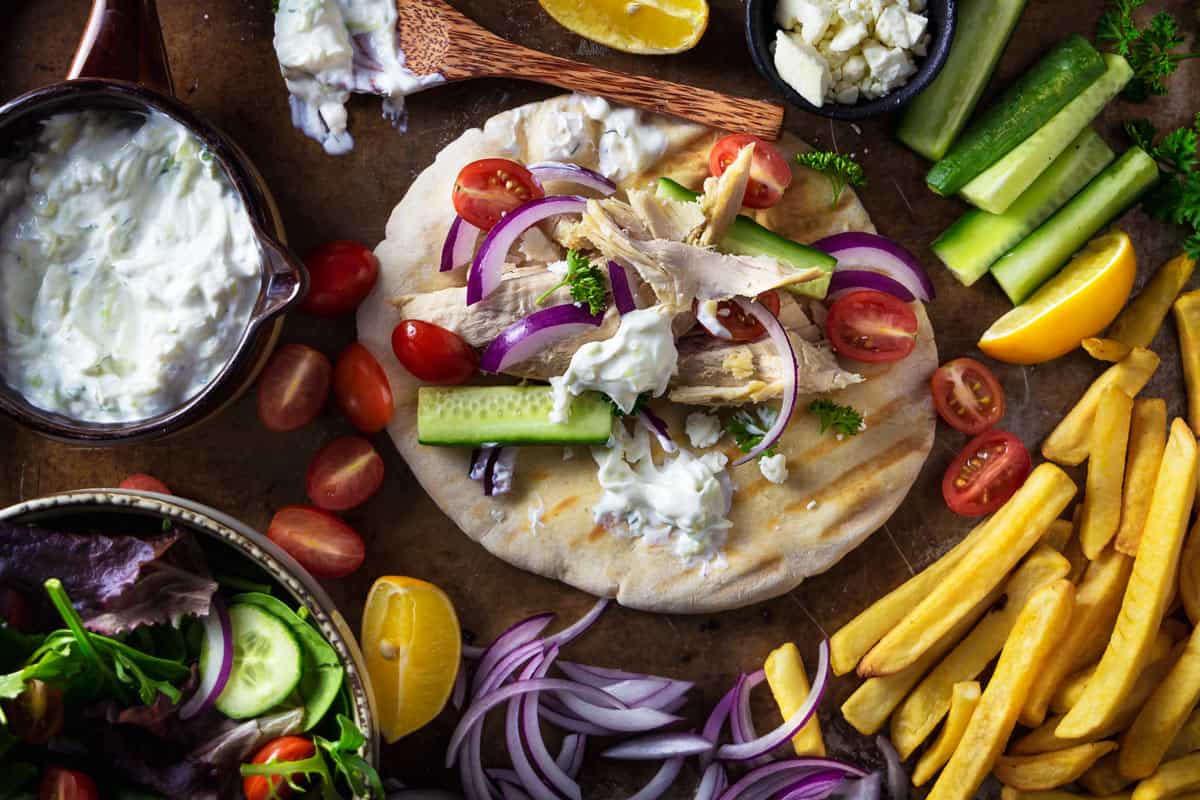 With leftover turkey on hand, there's nothing to cook in order to make these turkey gyros. Instead, you only need to assemble all ingredients on a warm pita.
📝 NOTE: Looking for the FULL recipe to print? Find the complete list of ingredients and detailed instructions in the recipe card below.
👩‍🍳 Expert Tips
You can season the turkey with a Greek spice blend.
How to assemble: you can spread the sauce on the pita before you add the other ingredients, or add ingredients first, then top with a generous dollop of tzatziki sauce.
You can use chopped Roma tomatoes instead of cherry tomatoes. I sometimes line the pita with spinach or spring mix, mainly if I'm not serving it with a side of salad.
💡 Top tip
Pitas are more pliable when warm. Toast pita bread on a grill, griddle, cast iron, or in the oven (place on a baking tray and splash some water on top) for three minutes or until thoroughly warmed. You can also heat the pita in the microwave for 30-60 seconds.
What goes with gyro wrap?
Tzatziki sauce, feta cheese, tomatoes, and onions are all classic toppings, but feel free to get creative. Here are some ideas to put in the wrap or to serve as a side:
Olives
Pepperoncini
Fresh or sautéed bell peppers
Marinated artichoke hearts
Grilled haloumi cheese
Tahini
Greek salad - tomatoes, cucumbers, and onions with oil and vinegar
French fries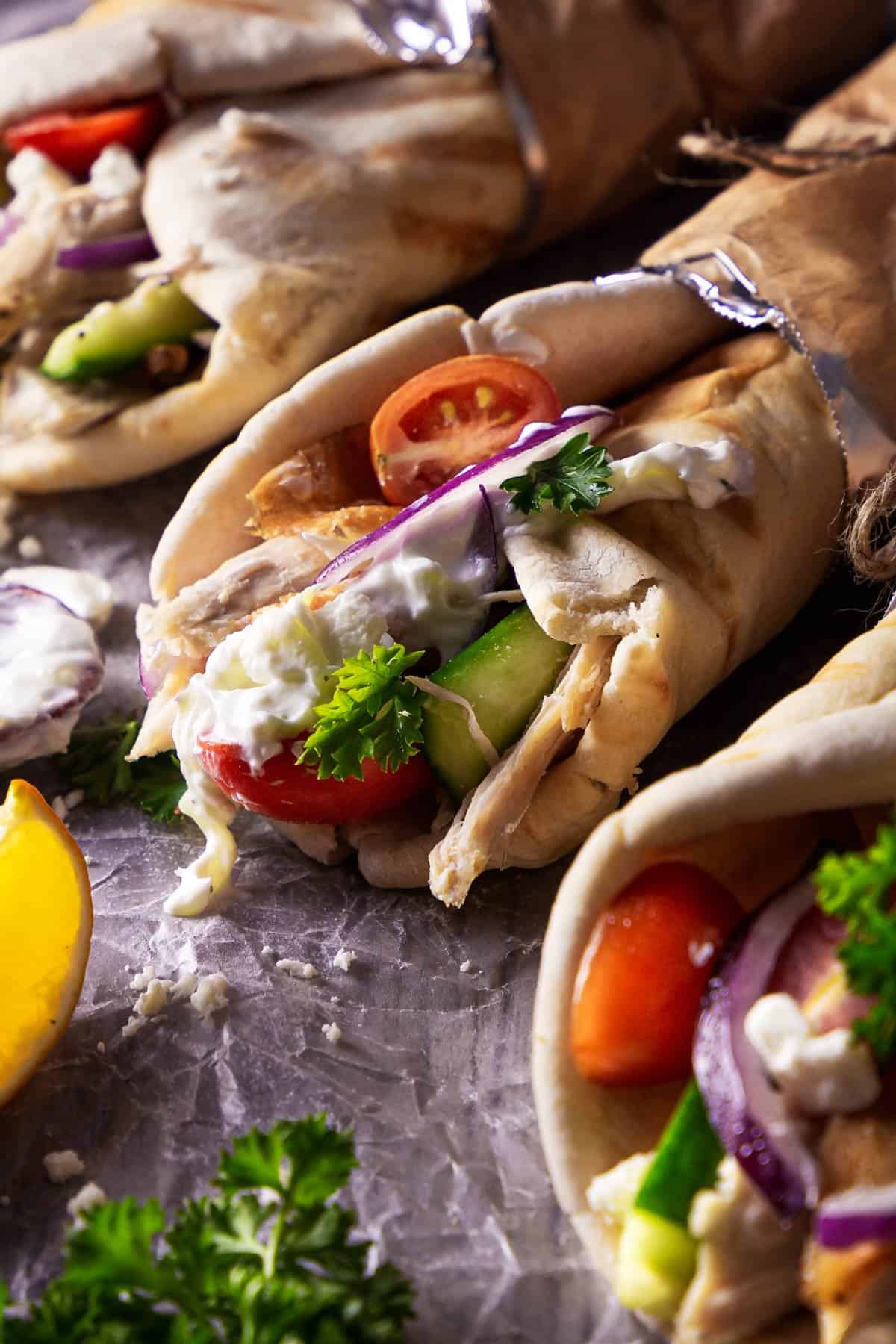 🗄 Storage Tips
Store the wet ingredients (cucumber, tomato, onion, and tzatziki) separately from the pita and turkey in the fridge, and recombine when ready. Suitable for 2-3 days.
Except for the turkey, these ingredients don't stand up well to freezing.
❓ Frequently Asked Questions
What is the difference between Greek and Turkish gyro?
Greek gyro is a Turkish version of Döner, except that you can also find pork gyros. Döners are only made it with lamb, beef, or chicken.
Can I make it gluten-free?
Yes, use GF wraps or omit wraps altogether and serve gyros in a bowl over rice or cauliflower rice. You can add more vegetables like zucchini, squash, mushrooms, and peppers.
Can I freeze it?
Store the sauce and veggies separately in the fridge in airtight containers for up to 2 days. You can store the turkey in the fridge for 3-4 days or in the freezer (if it wasn't previously frozen) for up to 3 months.
✅ Food Safety
If you're using fresh turkey, follow these safety tips:
Cook to a minimum temperature of 165 °F (74 °C).
Do not use the same utensils on cooked food that previously touched raw meat.
Wash hands after touching raw meat.
🦃 Other turkey recipes you'll love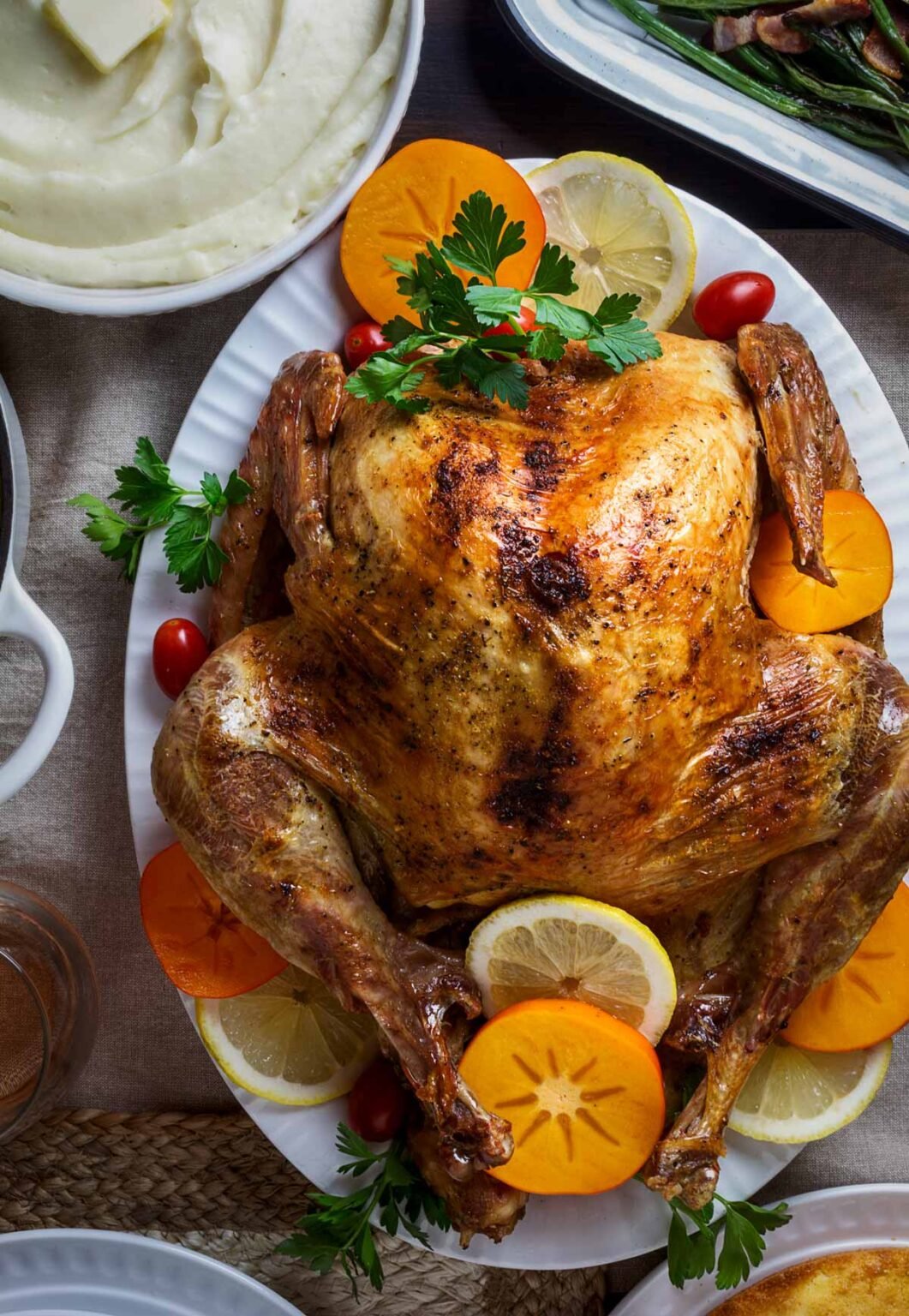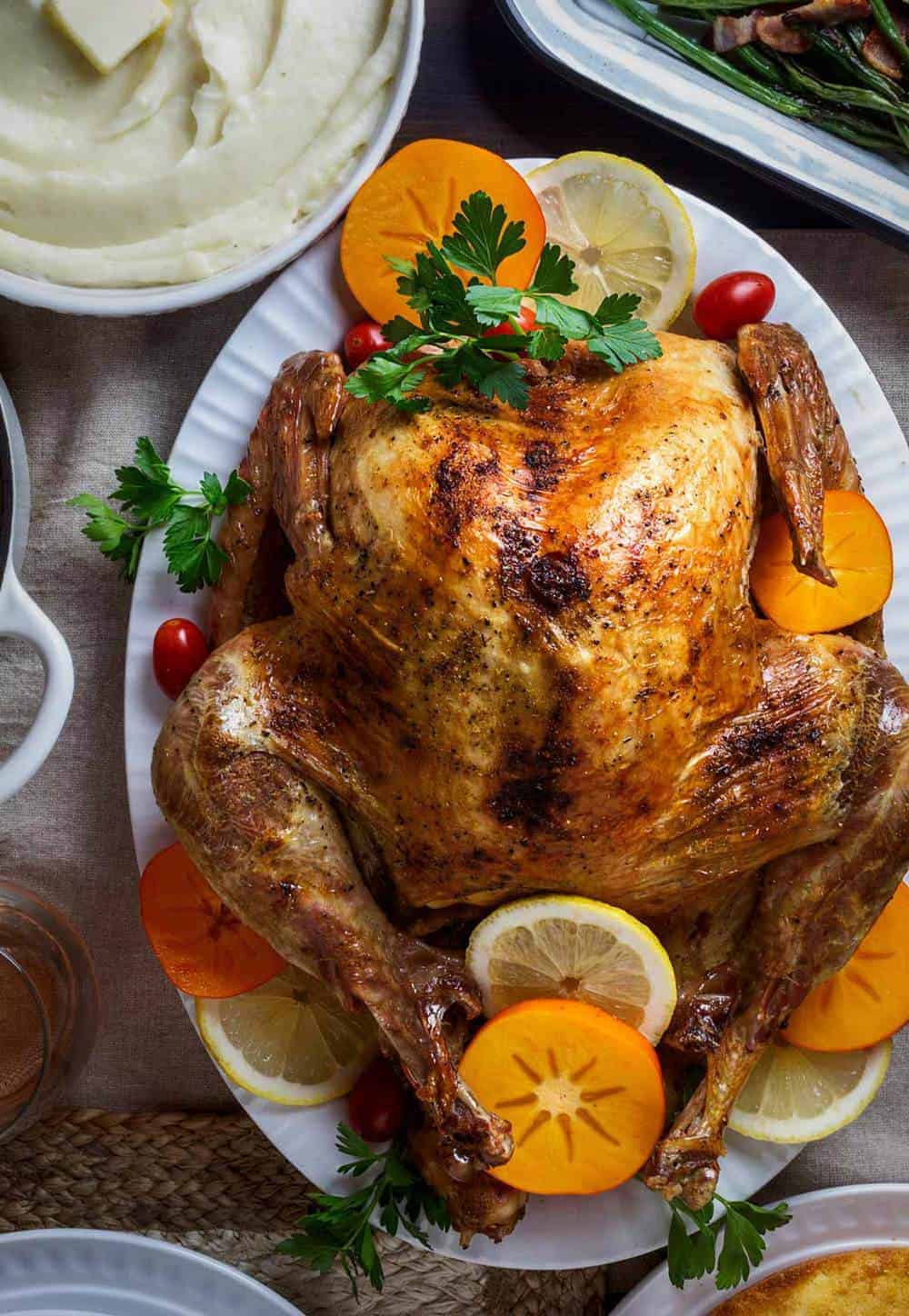 🧡 Liked this recipe? Leave a ⭐⭐⭐⭐⭐ rating and/or a review in the comments section. Your feedback is always appreciated! 👋 Stay in touch through Facebook, Pinterest, Instagram, and TikTok!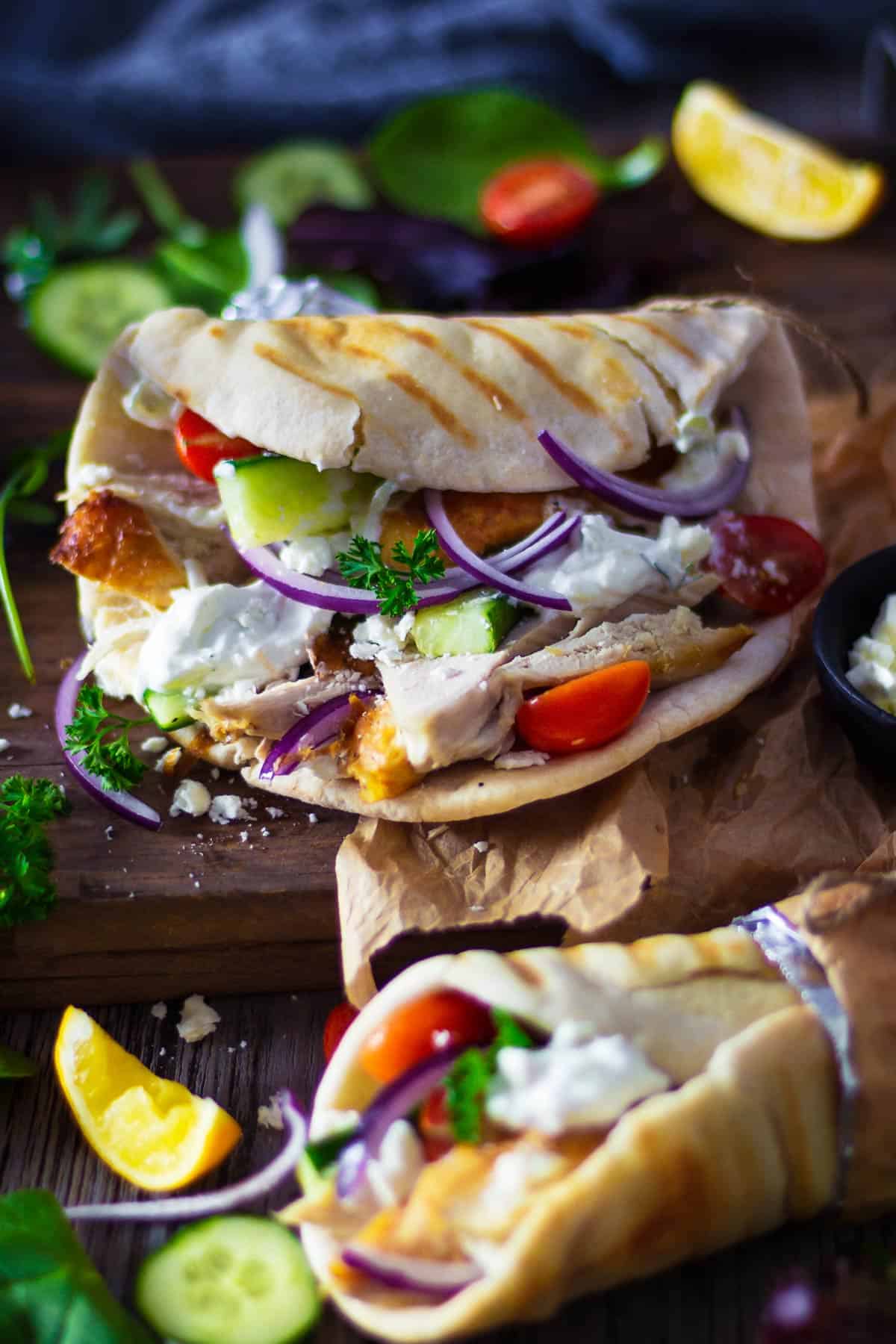 📖 Recipe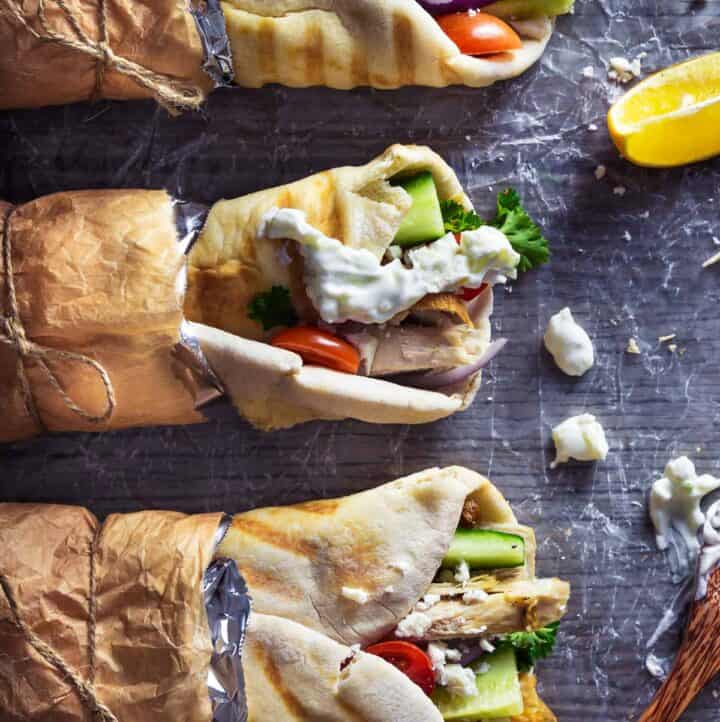 Leftover Turkey Gyros
The easiest way to use up that leftover turkey is by making some tasty gyros with fresh veggies, feta cheese, and tzatziki sauce all wrapped in a soft pita. It only takes 15 minutes, so you can have a fantastic meal full of fresh flavors!
Ingredients
1

pound

leftover roasted turkey meat,

cut into strips or shredded

1

tablespoon

olive oil

3

tablespoons

lemon juice

,

freshly squeezed

4

pita bread

,

warmed

1

cup

cherry or grape tomatoes

,

cut in half

1

cucumber

,

sliced into sticks

1

small red onion

,

thinly sliced into half moons

½

cup

crumbled feta cheese

Fresh parsley

,

dill, or mint to garnish (optional)
Instructions
Heat the turkey: Toss the turkey with lemon juice and oil; place it in a microwave-safe dish and heat it on high until thoroughly warmed (or heat it in a skillet instead).

Warm up the pita: You can do this on the grill, griddle, cast-iron skillet, in the oven, or microwave.

Assemble gyros: Divide turkey evenly among the pitas; top with tomatoes, cucumber, onions, and feta cheese. Drizzle with tzatziki sauce and garnish with fresh herbs if desired.

Roll the pita up or fold it like a sandwich. Serve with a side of French fries, salad, or both. Enjoy!
Notes
You can add some herbs to your leftover turkey roast, like a Greek spice blend or a dash of oregano.
Instead of lemon juice, use a generous amount of lemon-pepper seasoning and add three tablespoons of water when heating the turkey meat.
Pitas are more pliable when warm. Toast pita bread on a grill, griddle, cast iron, or in the oven for three minutes or until nice and toasted: place on a baking tray and splash some water on top. You can also warm the pita in the microwave for 30 seconds.
You can spread the tzatziki sauce on the pita before adding the other ingredients, or add ingredients first, then generously top with the sauce.
Use chopped Roma tomatoes instead of cherry tomatoes.
Add more vegetables (see the post above for suggestions)
I sometimes line the pita with fresh leaf lettuce, mainly if I'm not serving salad as a side.
You can use a regular cucumber, but if you're making my homemade tzatziki sauce that uses half of an English cucumber, use the second half for the topping here.
The nutrition information includes the store-bought tzatziki sauce (approximately 1 cup), so if you use homemade, the estimate will vary.
Storage:
Keep the vegetables, turkey, and sauce in separate, airtight containers in the refrigerator for up to 2-3 days.
Nutrition
Calories:
472
kcal
(24%)
|
Carbohydrates:
42
g
(14%)
|
Protein:
37
g
(74%)
|
Fat:
19
g
(29%)
|
Saturated Fat:
6
g
(30%)
|
Polyunsaturated Fat:
2
g
|
Monounsaturated Fat:
4
g
|
Trans Fat:
0.01
g
|
Cholesterol:
103
mg
(34%)
|
Sodium:
883
mg
(37%)
|
Potassium:
621
mg
(18%)
|
Fiber:
5
g
(20%)
|
Sugar:
7
g
(8%)
|
Vitamin A:
755
IU
(15%)
|
Vitamin C:
15
mg
(18%)
|
Calcium:
215
mg
(22%)
|
Iron:
3
mg
(17%)