This easy turkey roast recipe is perfect for the home cook who doesn't want to fuss with brine or stuffing but still wants a moist and flavorful Thanksgiving dish.
We're going to show you how to roast a turkey with salt and herbs on top with a simple trick to keep the bird juicy - it's easy, it's faster, and the results are simply delicious.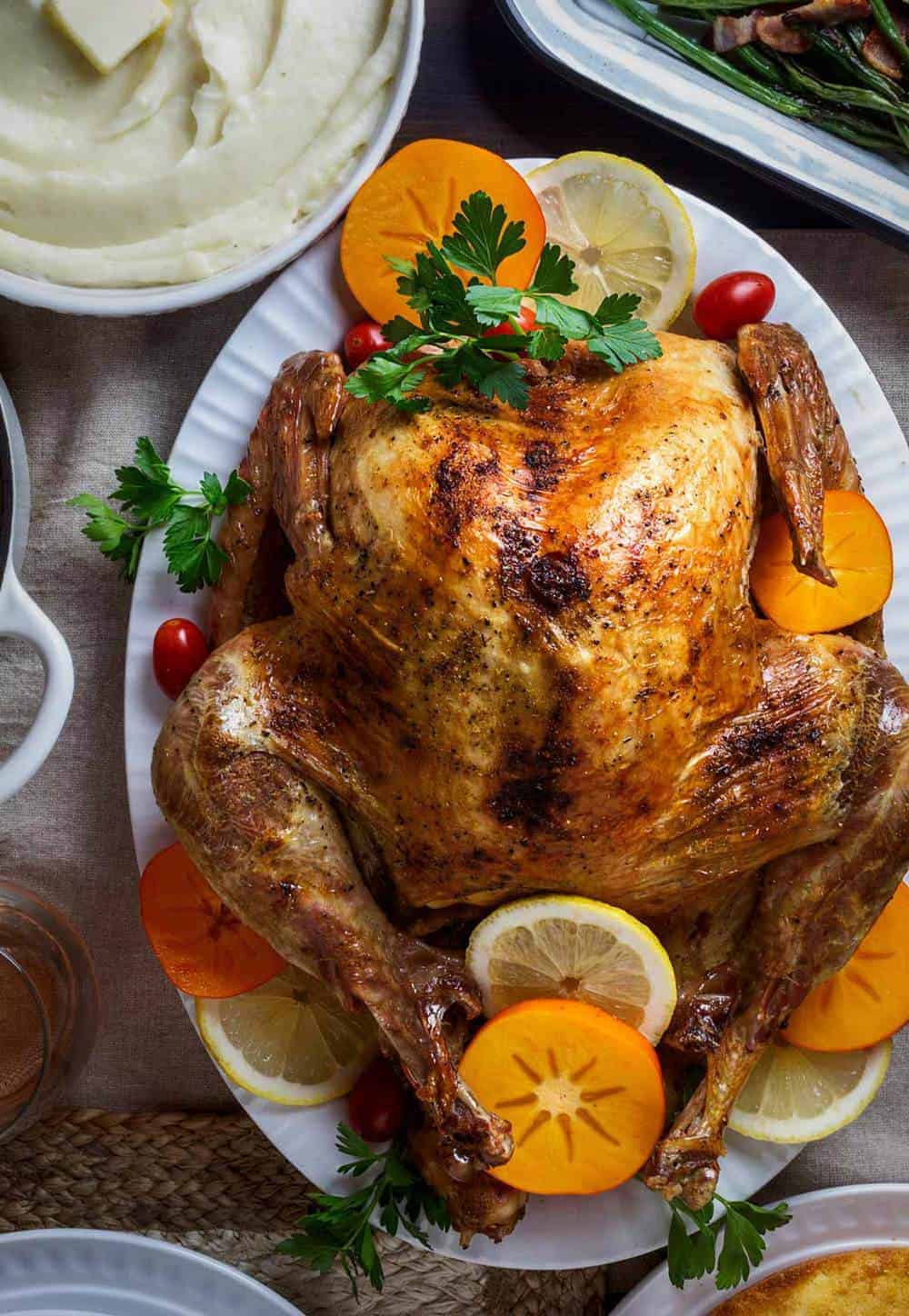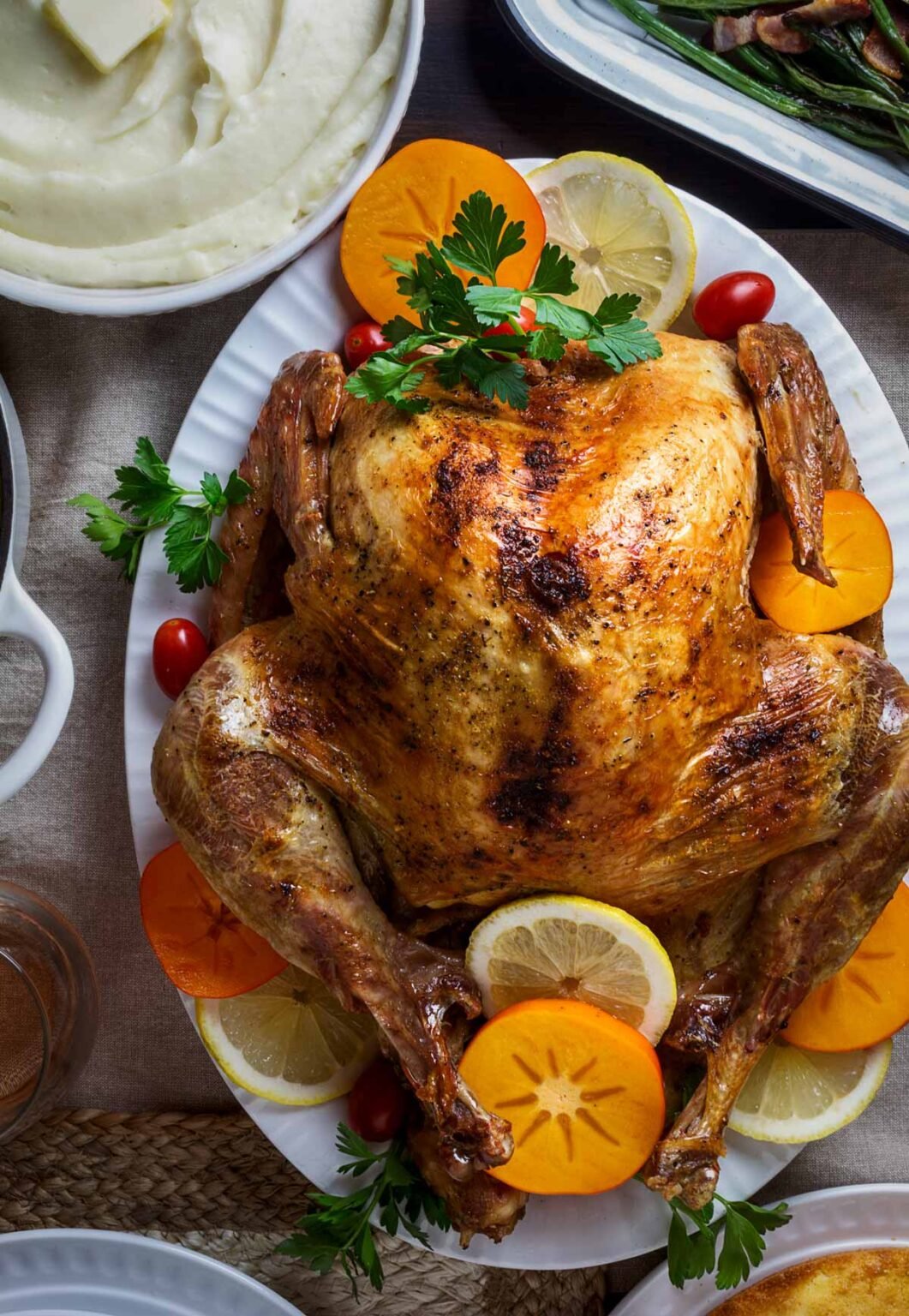 Take the stress out of your family Thanksgiving (or Friendsgiving) dinner with this simple trick that yields the perfect turkey roast - crispy skin and deliciously tender meat.
You will love the leftovers in this cheesy casserole or gyros and tacos!
We have also included a printable roasting chart below.
📃 Why it Works
This is an easy turkey roast recipe with all the flavor without any extra work and made with just a few ingredients.
The best part about this recipe is that you can make it ahead of time, then place it in an oven before guests arrive at your house on Thanksgiving day - without any worries about being overwhelmed in the kitchen.
This simple roast turkey recipe is perfect for those looking for a tested-and-true method of cooking a juicy bird.
It's ideal for beginners - easy to prepare, the instructions are very clear, and there is no way to screw up this Thanksgiving dinner.
We're here today to share our favorite method for preparing a succulent and tasty roast without using any brine or stuffing - it's called dry roasting!
Turkey is one of the most popular dishes for Thanksgiving and Christmas in North America. But have you ever tried roasting the holiday bird without brine or stuffing, as in this Croatian recipe?
Traditionally, Croatians serve roasted turkey with mlinci, homemade baked pasta. If you want a complete experience, you can find the simple recipe for mlinci in my book.
You will also love this roast with a side of warm potato salad or butternut squash barley risotto. And if you don't like the taste of turkey, we recommend this herb-roasted spatchcock chicken.
The secret to the perfect roasted turkey is keeping it simple because who needs crazy methods and exotic ingredients? Give this recipe a try next holiday, and let us know how you think it turned out!
🛒 Ingredients and Notes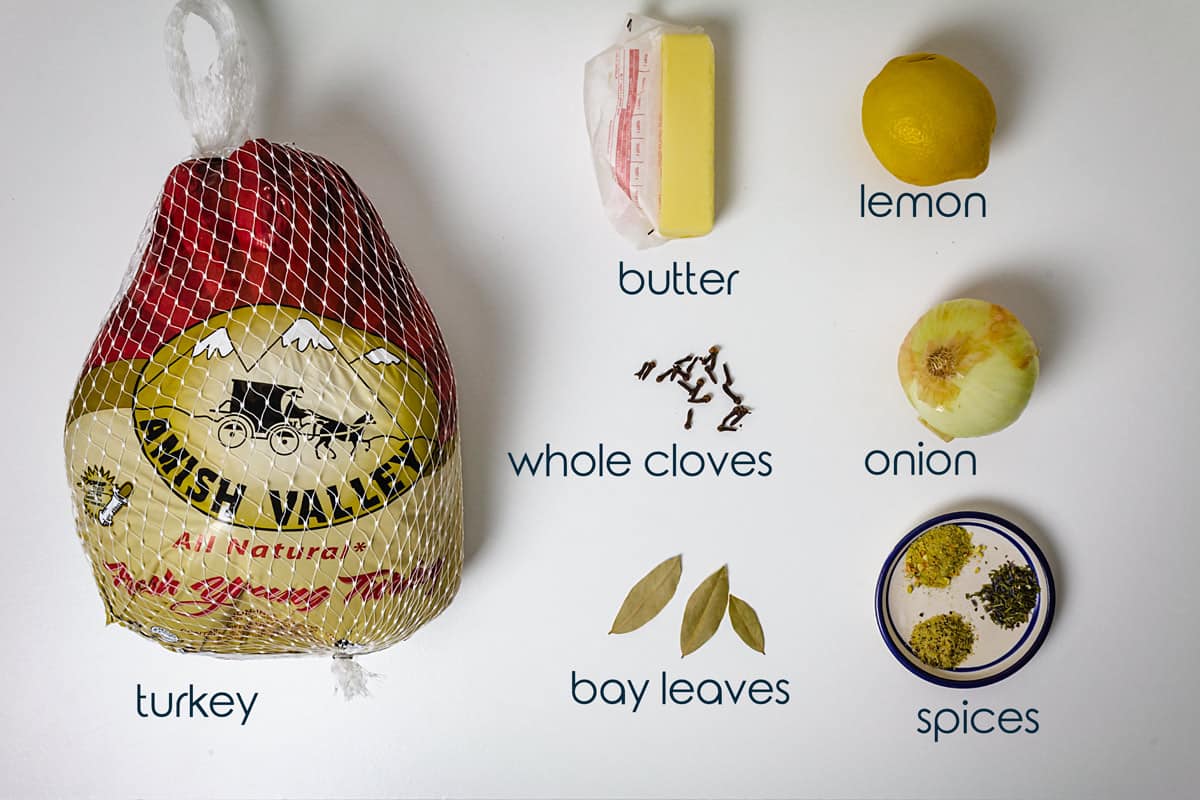 Whole turkey - we love all-natural meat (no GMO and preferably organic) supplied by Amish farmers.
Butter - you can use olive oil if you must, but turkey meat is low in fat, and butter elevates the flavor.
Lemon - It's an age-old tradition to put lemon in turkey, and most people use the gentle acidity of lemon juice to act as a natural meat tenderizer.
Clove-studded onion - we use this little trick to remove some of the gaminess of the meat and add aroma without overpowering it.
Vegeta Natur - use this dry spice mix for the authentic Croatian turkey roast. It's awesome, and we substitute it for salt in almost all dishes. However, you can use salt instead.
Italian seasoning - the seasoning will taste different by various brands. Click on the link to see what kind I use so you can look for it at your local grocer, or for convenience, order it online.
Or make your own Italian seasoning using:
1 tablespoon dried rosemary
½ tablespoon dried sage
½ tablespoon dried thyme
1 tablespoon dried parsley
½ tablespoon dried oregano
½ tablespoons dried marjoram
🔪 Instructions

Peel a small onion and stud it with whole cloves all over.
Remove the giblets and neck out of the turkey (use them to make stock). Then wash the bird inside and out and remove any excess fat and leftover pinfeathers.
Pat the inside and outside dry, then pour hot water over the skin. Pat dry it again with paper towels.

Next, place the turkey on a rack in a large roasting pan and brush the outside of the bird with melted butter.
Rub the herb mixture liberally all over the bird.
Stuff the cavity with the lemon, clove-studded onion, and bay leaves. Cover and roast for about 2½ hours (see the roasting chart below).
The perfectly roasted bird results from good roasting and good preparation and selection of the right bird.
Selection - Although we all know it's best to buy a fresh turkey, you can also get the perfect roast with a frozen one. You'll have to remember that you must defrost it before baking completely. Larger birds can be defrosting for days.
Crispy Skin - Leave the meat uncovered one day before baking, or follow the recipe directions below for crispy skin.
Room Temperature of The Roast - Make sure that the meat stays at room temperature before baking. If you put the cold meat in the oven, it will not bake evenly. Take it out of the refrigerator for at least an hour or two before baking.
Spices, Spices, Spices - It's good to season your meat a few hours before roasting. Then it will be juicier, tender, and more delicious. Rub the bird generously with fresh or dried herbs and olive oil or butter.
Best Cooking Temperature - Baking at higher and lower temperatures has its advantages, but the ideal temperature for baking is about 350-375 degrees F. The meat is done when it reaches 170 degrees Fahrenheit in the breast and 180 degrees in the thigh. If you expect a crowd, you should instead roast two smaller birds.
No Peeking! - Once your roast is in the oven, do not frequently open the door, which will further prolong the cooking time. It's best to bake the bird in a roaster with a rack and a lid. See the list of things you might need in the "equipment needed" section below.
Done, but... - Let the turkey rest, loosely covered with aluminum foil, for 20 minutes before carving. Juices inside will settle, and you won't end up with a pool of liquid on the cutting board. Timing is everything! Use the sharpest knife to carve it.
What to Serve with Roasted Turkey?
A Thanksgiving classic - homemade mashed potatoes are a must, but also consider crispy roasted sweet potatoes or butternut squash as an addition to your sides and this maple cheesecake for your dessert.
Not sure how to use leftovers? My husband loves this delicious kickasserole recipe, and I'm partial to turkey tacos.
How Long to Bake a Turkey?
Download or print this free roasting chart for your reference by clicking on the graphic.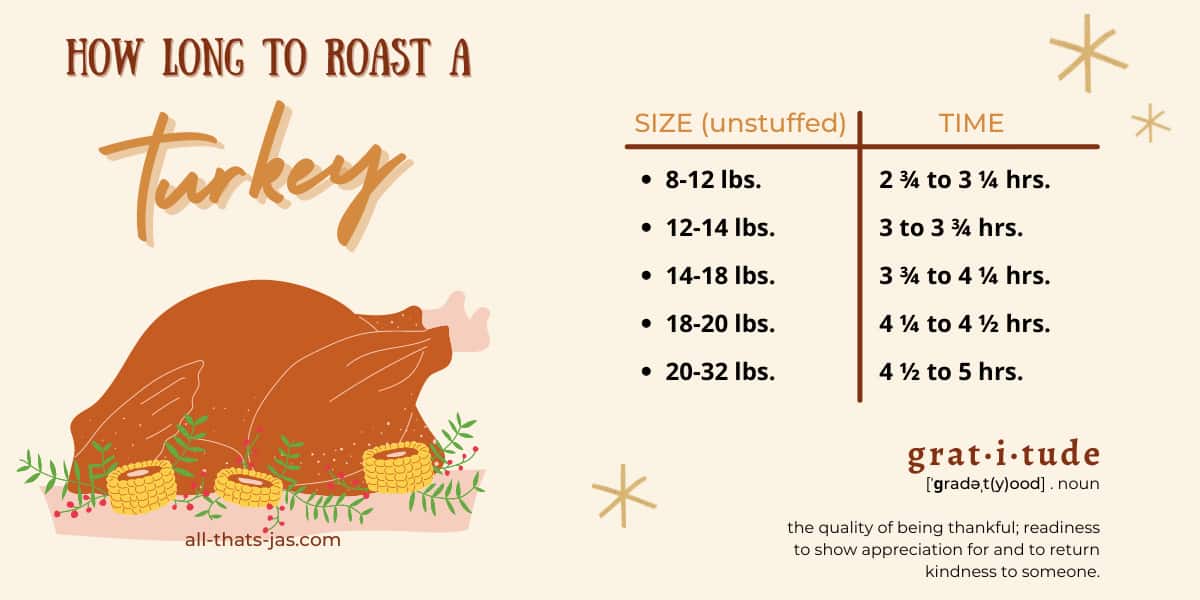 Additional consumer safety tips from the USDA.
5 Most Common Mistakes When Making Oven-Roasted Turkey:
You Don't Defrost Turkey on Time - Because it's much bigger than the chicken, it needs more time to thaw. It is best to store it in the refrigerator for a few days before preparation so that it gradually thaws. As a rule, it takes 14 hours to defrost 5.5 pounds in the refrigerator.
You Bake It at Too High A Temperature - Crispy skin is the tastiest part of roasted poultry. If you bake it at too high a temperature, you will most likely get burnt skin and insufficiently roasted meat. It's best to roast the meat at a constant medium temperature.
You Put It in The Oven Too Early - If you are planning lunch at 3 pm, there is no reason to put a turkey to bake at dawn. As a rule, it takes 13 minutes of roasting for every pound of meat at a temperature of 350 degrees Fahrenheit. Also, don't forget to let it "rest" for at least 20 minutes before cutting.
You Don't Use a Kitchen Thermometer - This kitchen tool is an investment that will surely pay off for you, no matter the level of your experience. Bake it until it reaches a temperature of 170-180 degrees F. (Even if it has a "pop-up" temperature indicator, you should also check the internal temperature in the innermost part of the thigh and wing and the breast's thickest part with a food thermometer, but not touching the bone).
You Don't Use the Pan Drippings - The juices left in the baking tray are liquid gold and have a delicious taste. Use it to make the gravy or toss it with cooked mlinci, so don't throw it away.
Now that you know what to do check out 7 things not to do.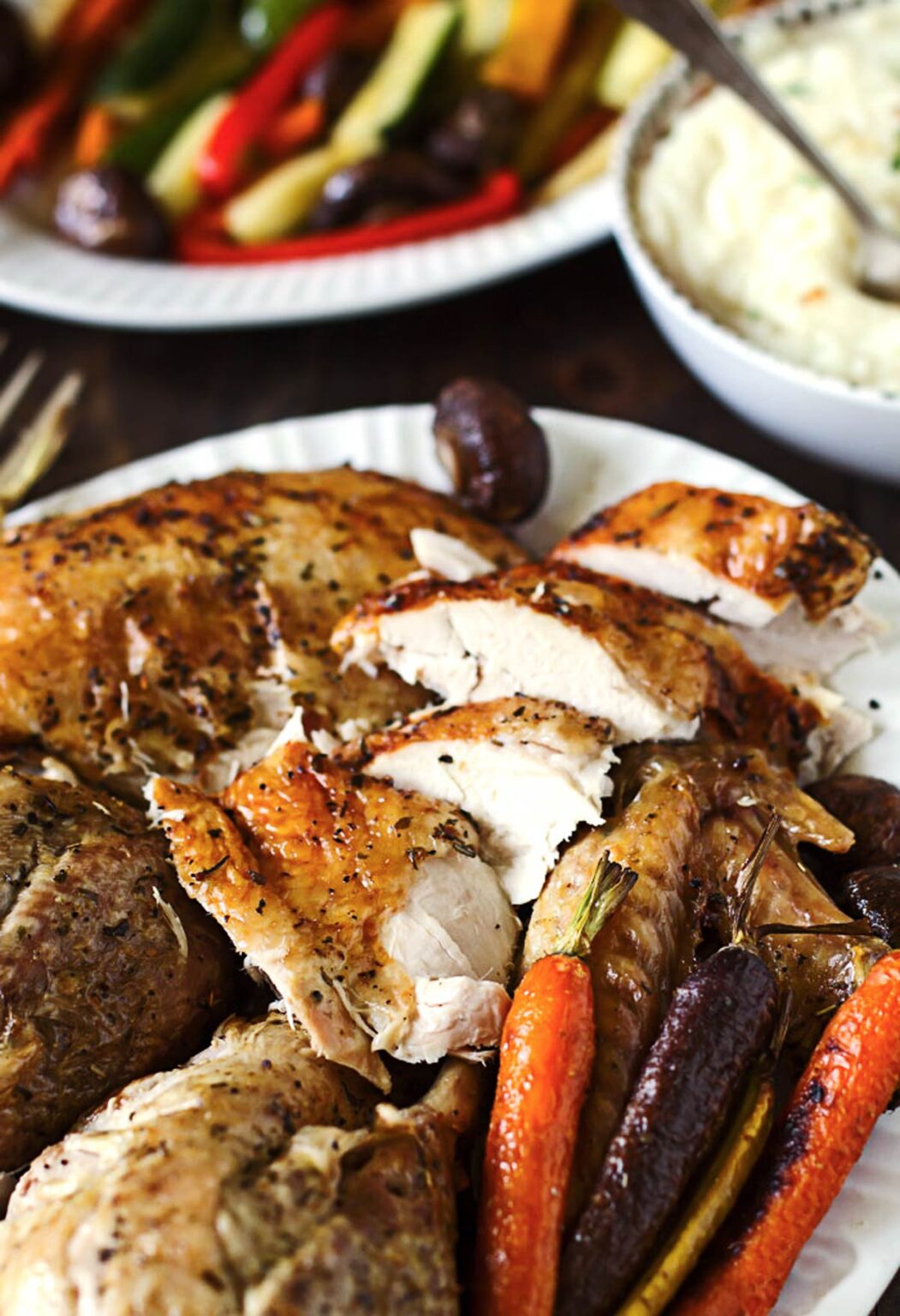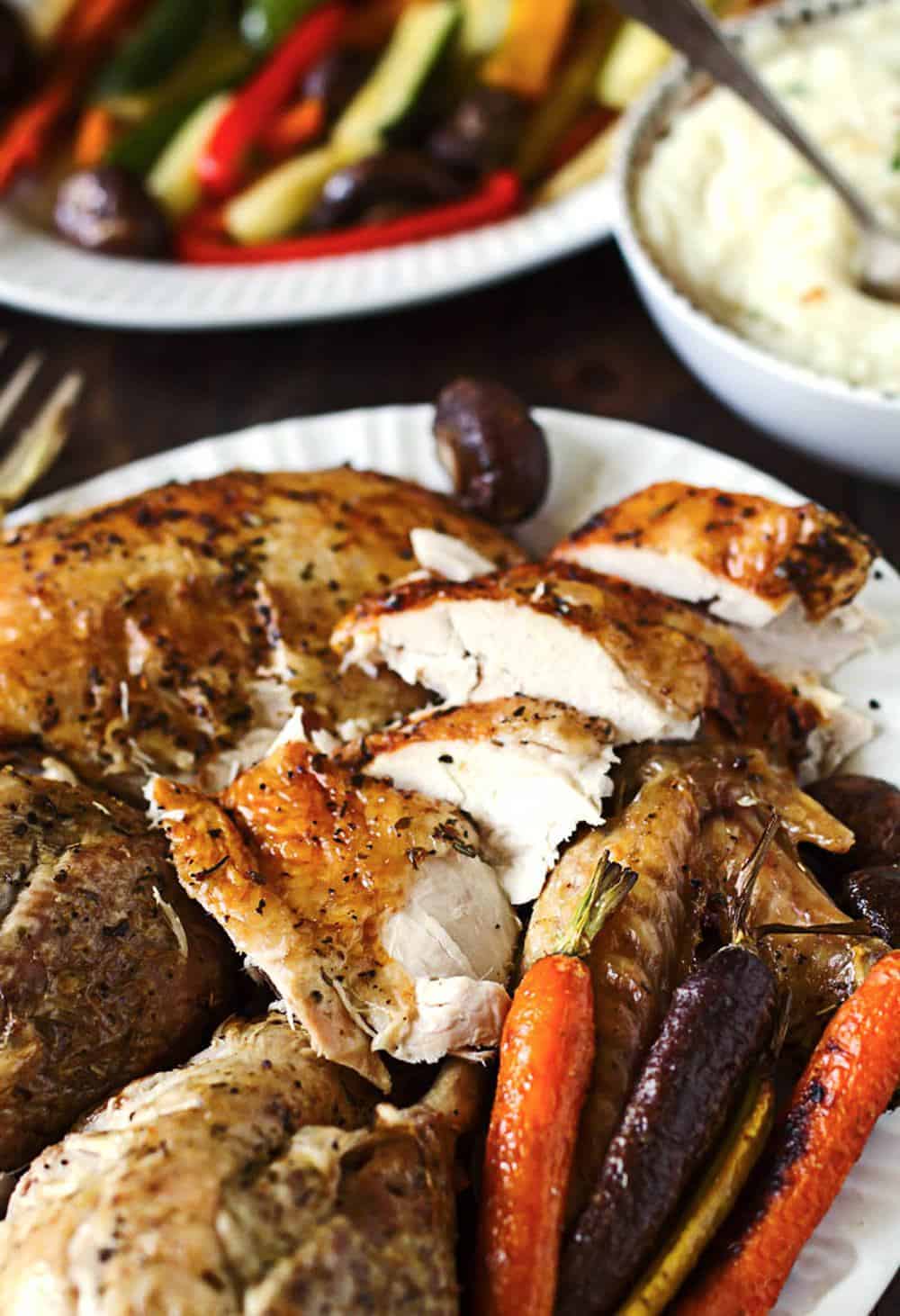 🍴 Equipment Needed
A large roasting pan with a rack and a dome lid makes roasting a breeze, but you can also use the open pan as well and cover it with aluminum foil. Just make sure to leave room around the skin.
Making sure your turkey is cooked through is very important. Thus, a meat thermometer is a must in every kitchen, plus you can use it for BBQ, baking, and any other cooking needs.
Italian seasoning, in case you don't want to make your own blend.
Vegeta Natur is a Croatian additive-free seasoning mix. I put it on everything and couldn't cook without it. It is great to season your meats, soups, stews, and vegetables.
Whole cloves for the spiked (punk) onion. 😉
Remember, a sharp knife is essential, but an electric knife makes carving the meat much easier.
❓ Frequently Asked Questions
How much turkey per person?
Well, we all have different appetites, and you may or may not want leftovers, but it's recommended to allow about 1 pound per person.
How long to roast a turkey?
It really depends on the size of the bird and if it's stuffed or not. Please check out the downloadable chart above in the post for reference.
Why put lemon in turkey?
Citrus adds an acidic flavor that reduces the fat content of meat. In some Mediterranean cultures, it's tradition to marinate meat in citrus for days before cooking it.
How do I store leftovers?
Place leftover turkey meat in a dish with a tight-fitting lid and refrigerate for up to 4 days.
How to reheat roasted turkey?
You can reheat roasted turkey by immersing it in a preheated pot of liquid, such as butter or gravy. You can also microwave the roast at a low temperature for about five minutes per pound, flipping occasionally. The key to perfect reheated turkey is to ensure that you don't overcook it and that the turkey reaches an internal temperature of 165 degrees Fahrenheit. Adding water or other liquids will help keep the breast area from becoming dry while maintaining enough heat for hotter parts like the thighs.
Can you freeze roasted turkey?
Yes, you can freeze a roasted turkey. Here's how to do that: Allow the cooked bird to cool. Place it in a container (or a freezer bag) together with any broth from the roasting pan (if available); freeze for up to 3-6 months.
What do you think? Ready to put these tips into practice in time for November's big day? Do you think that your family would enjoy this easy-to-make dish on Thanksgiving Day?
If you're looking for more recipes like this one, check out our blog on delicious Thanksgiving side dishes we recommend making ahead, so they're ready when dinner time rolls around.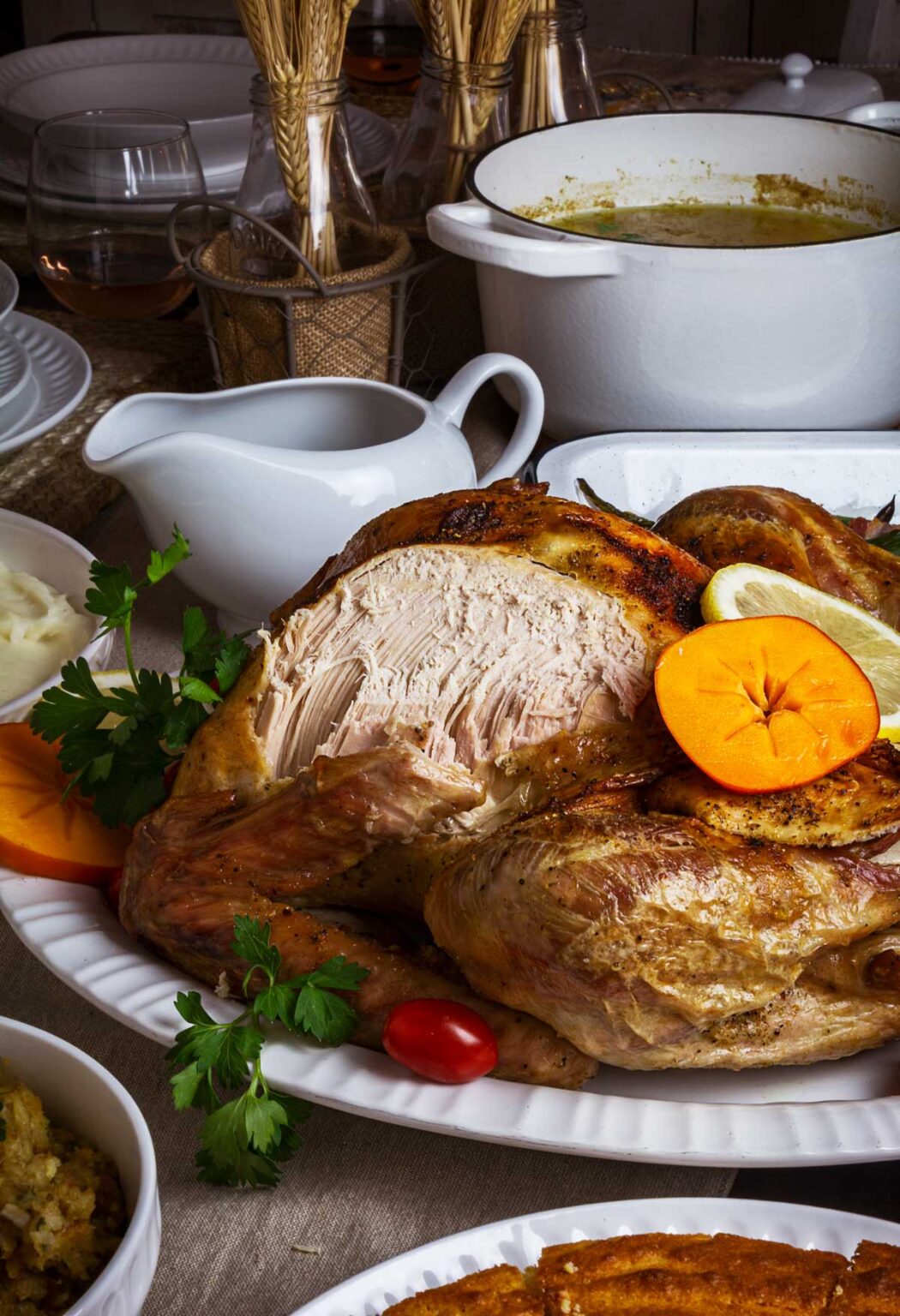 Liked this recipe? Leave a ⭐⭐⭐⭐⭐ rating and/or a review in the comments section. Your feedback is always appreciated! Stay in touch through Pinterest, Instagram, and Facebook! Don't forget to sign up for my email list below too!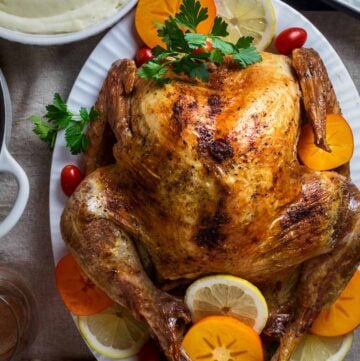 The Best Juicy Turkey Roast - without brine or stuffing
This easy turkey roast is perfect for the home cook who wants to skip the fuss of brining or stuffing but still have juicy and flavorful meat with crispy golden skin.
Ingredients
12-14

pounds

whole turkey

1

stick butter

,

or ½ cup vegetable oil

1

tablespoon

lemon pepper

4

tablespoons

Italian seasoning

2

tablespoons

Vegeta Natur*

,

or salt

1-2

tablespoons

whole cloves

2-3

bay leaves

1

lemon

1

onion
Instructions
Preheat oven to 350 degrees Fahrenheit.

Take the giblets and neck out of the turkey and wash the bird inside and out (use the giblets and neck to make stock). Remove any excess fat and leftover pinfeathers, and pat the inside and outside dry. Then pour hot water over the skin of the turkey. The skin will tighten (this pulls the proteins in the skin together to form a tight surface that crisps up better). Pat dry the turkey again with paper towels.

Place the turkey on a rack in a large roasting pan. Add one cup of water to the bottom of the pan. Brush the outside of the bird with melted butter.

Mix together the Italian seasoning, lemon pepper, and Vegeta or salt.

Rub the herb mixture liberally all over the turkey, spreading a little in the cavity and being sure to season the back, the breasts, and the meaty thighs.

Wash the lemon and peel the onion. Press cloves into the onion. Stuff the cavity with the lemon, clove-studded onion, and the bay leaves.

Tie the legs together with string and tuck the wing tips under the body of the turkey.

Cover and roast for 2½ hours until no longer pink at the bone and the juices run clear. Uncover the turkey, and continue baking until the skin turns golden brown, 30 minutes to 1 hour longer. (The internal temperature should reach 170 degrees Fahrenheit in the breast and 180 degrees in the thigh)

Remove the turkey to a cutting board and loosely cover with aluminum foil. Let rest for 20 minutes.

Carve the turkey with a sharp knife and serve.
Notes
If you can, go for a fresh, not frozen, turkey. Otherwise, make sure to defrost it in the refrigerator way ahead of the roasting day.
For even crispier skin, leave the turkey in the fridge (in a pan to catch any juices that may leak) uncovered overnight.
If you're tight on a schedule, leave the turkey be - don't be opening the oven ever so often, or you will prolong the cooking time.
The minimum internal temperature should reach 165 F for safety, but I always go a safer route and bake it to 170 -180 degrees.
Let the roast stand for 20 minutes before carving to allow juices to set. It will carve more easily.
Storage: Place leftover turkey meat in a dish with a tight-fitting lid and refrigerate for up to 4 days or freeze for 3-6 months.
Read the post above for more helpful tips, equipment needed, and FAQs.
Please keep in mind that nutritional information is a rough estimate and can vary significantly based on the products used.
Nutrition
Calories:
561
kcal
(28%)
|
Carbohydrates:
4
g
(1%)
|
Protein:
84
g
(168%)
|
Fat:
22
g
(34%)
|
Saturated Fat:
6
g
(30%)
|
Cholesterol:
278
mg
(93%)
|
Sodium:
436
mg
(18%)
|
Potassium:
930
mg
(27%)
|
Fiber:
2
g
(8%)
|
Sugar:
1
g
(1%)
|
Vitamin A:
250
IU
(5%)
|
Vitamin C:
7
mg
(8%)
|
Calcium:
84
mg
(8%)
|
Iron:
4
mg
(22%)