This beautiful slow-roasted pork shoulder yields juicy, fork-tender meat and crispy skin. Not only is it delicious, but it also requires only three simple ingredients - meat, salt, and beer.
Believe it or not, this flavor-packed picnic roast (also known as pork butt) might just be our easiest recipe yet. It even beats our easy honey-mustard pork roast.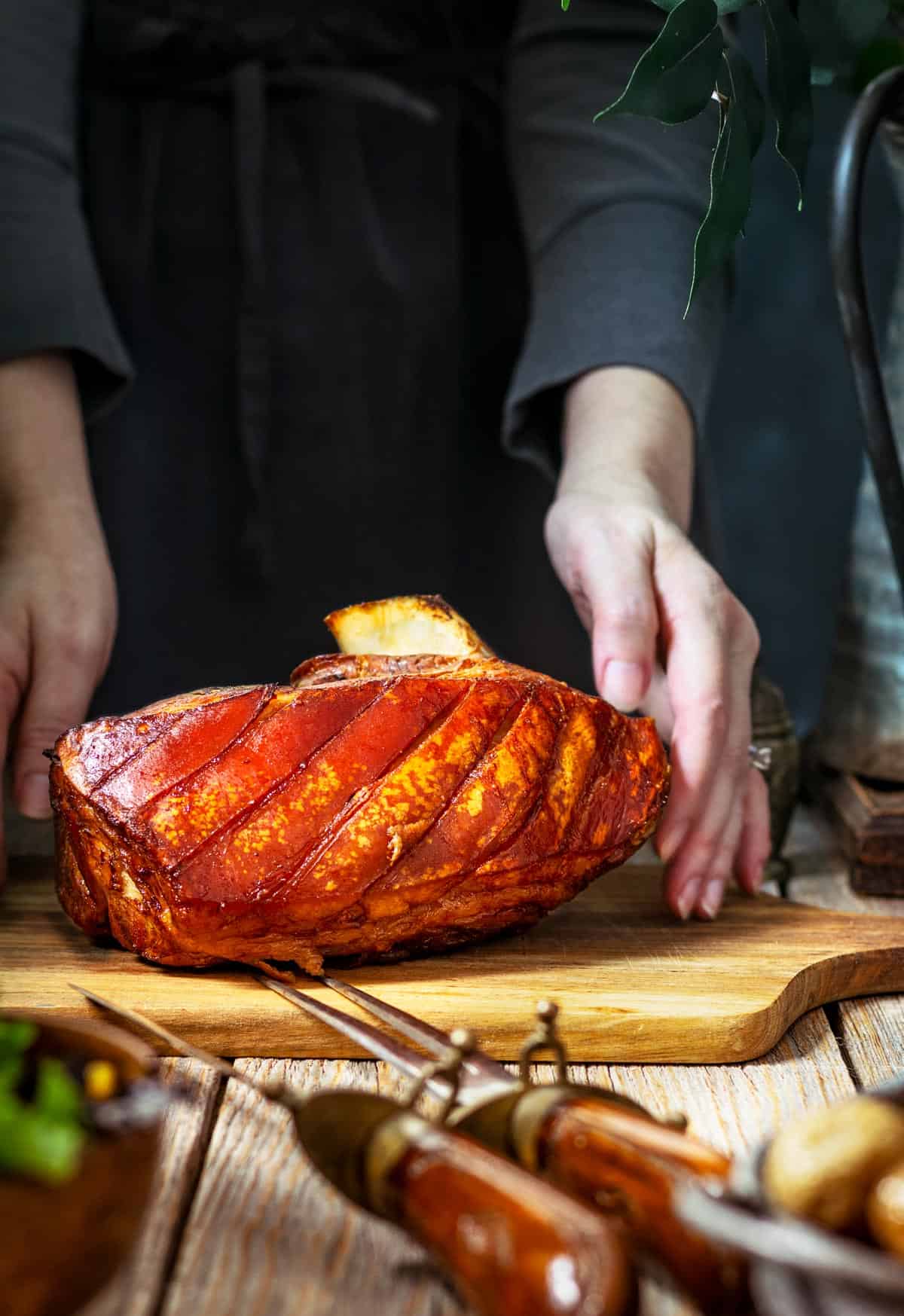 I'm so excited about this pork dish because it is seriously the best roast I've ever made. One of the Serbian Christmas traditions is certainly a whole pork roast, but not everyone has the opportunity to roast a pig on a spit.
With this recipe, you'll get the same results. It is easy to make, and it looks impressive when brought out on its platter.
You can also prepare most of it ahead of time, making for less stress when your friends come over! Who doesn't love that?
📃 Why it Works
Abundant: Pork roasts are always crowd-pleasers.
Simple: This recipe has just three ingredients but delivers big on flavor! You'll find yourself coming back for seconds (and thirds).
No-fuss prep: A delicious Sunday dinner is just a few simple steps away. No waiting hours for the meat to marinate!
Versatile: It tastes delicious, either warm or cold.
Beer-Braised pork shoulder isn't just your average Sunday dinner either; this recipe is perfect for holidays or entertaining guests at home! We love this pork roast equally for Thanksgiving, Christmas, and Easter.
The beer seeps into every bite and makes for a fantastic flavor. Add to that some perfectly crispy skin, and you have a winner!
What better way than getting together over some good old-fashioned Balkan-style cooking?
🛒 Ingredients and Notes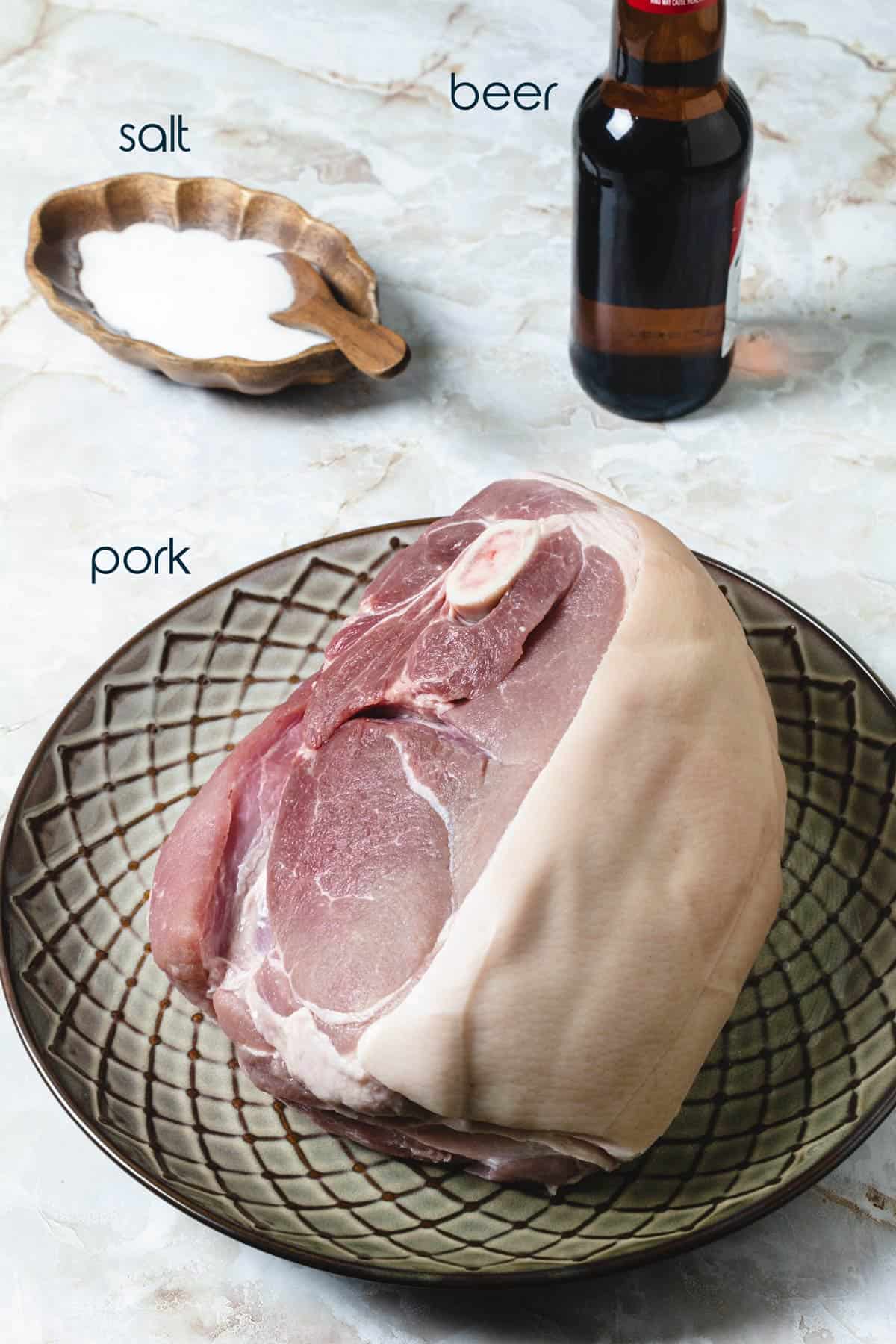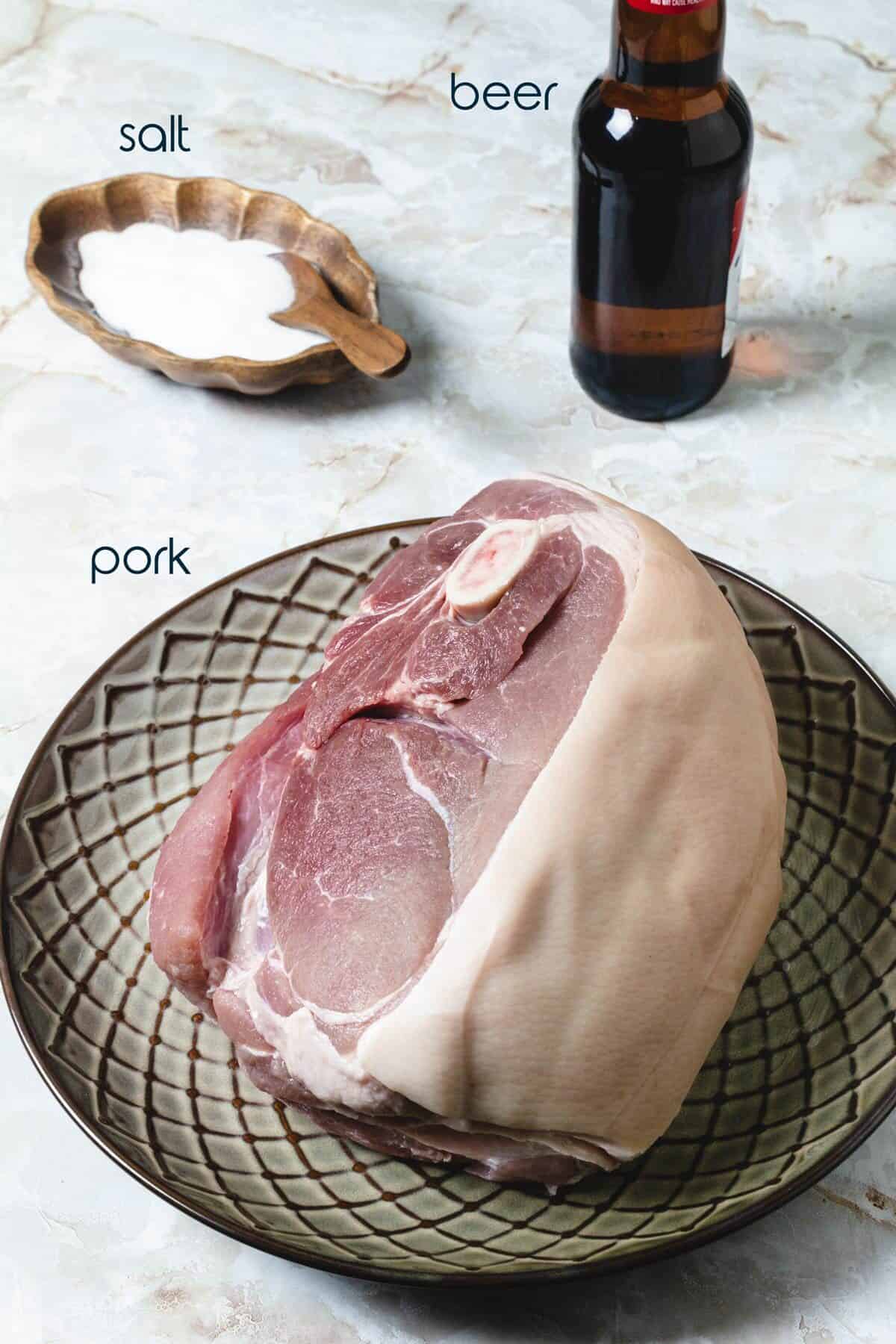 🍖 Meat
For this recipe, we used pork shoulder with skin. You can also use other skinless parts, but you won't get the crispy crackling without the skin. Shoulder options:
The upper part of the shoulder, also called the Boston butt (blade shoulder), shoulder butt, or pork butt. It's meatier and less bony.
The lower part of the shoulder is also called the picnic shoulder or arm shoulder (foreleg of the pig/hog). It's less meaty with a large bone. Because it's near the trotter (hock), it's relatively tough and fatty.
🍺 Beer
As the simmering liquid, beer brings out all the meat's richness, giving the skin a beautiful color. The alcohol evaporates in the cooking, leaving only a delicate flavor to intrigue your palate.
Any light beer will do (Miller Lite, Coors Light, Budweiser). You can use pilseners and pale ales but stay away from IPA and dark beer. If you don't cook with alcohol, you can omit the beer; no substitutions are necessary.
🔪 Instructions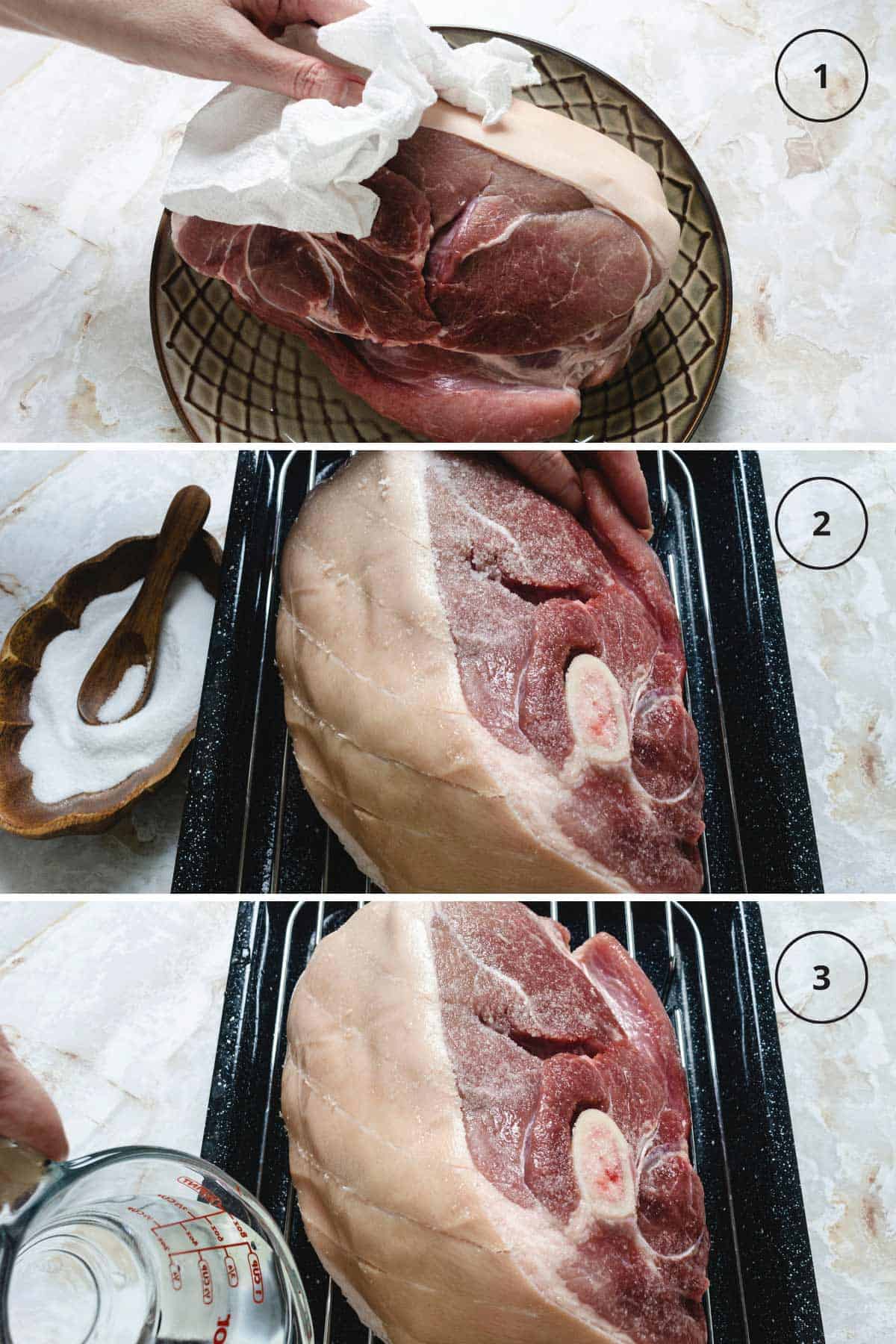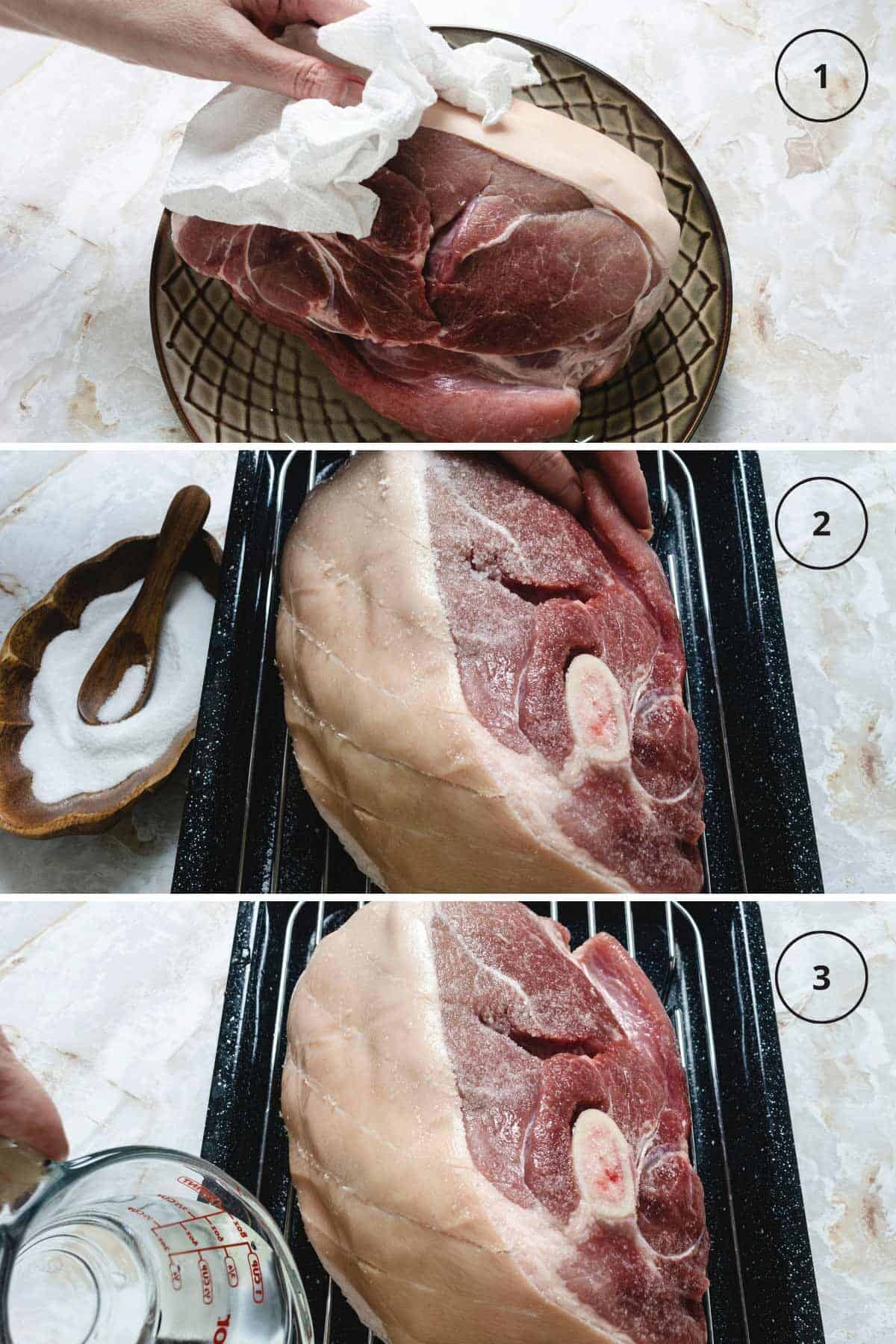 Pat the roast dry. With a sharp knife, score ½-inch wide strips through skin and fat, but not into the meat.
Place a rack over the roasting pan. Place the shoulder on the top and rub it with salt, rubbing it into the skin slits.
Add water to the bottom of the pan. Put in a 480 degrees F preheated oven, then lower to 350 F and bake until skin is crispy and golden in color, about four hours. Pour beer over the roast. Bake 5 minutes longer. Let rest before slicing.
Wire rack: This is the key to achieving that perfect crispy, browned exterior on your pork shoulder. The fat from pork will drip off and get cooked by hot pan juices ensuring every inch of meat has been given its time in this oven-basted dish!
Patience: This is essential to a great dish. The meat will be perfectly tender when cooked low and slow in an oven-proof baking dish for hours. It guarantees a deliciously rich flavor that only time can provide.
Heat: Why put the meat into a piping hot oven but then lower the temperature? Browning is a natural process that occurs when food meets high temperatures (ensures crispy skin). A low temperature helps to cook the roast more evenly and keeps it moist so that shrinkage is reduced. This improves juiciness!
🍽 How To Serve It
Warm roast goes great with dairy-free mashed potatoes, pasta, or rice and your favorite vegetables.
Serve it cold with creamy, mayo-based salads like mock-potato cauliflower salad. An authentic pairing would be Russian salad (aka Olivier salad) for the ultimate Serbian experience. They traditionally serve it on Orthodox Christmas, Slava (patron saint), and one's Name Day.
How to use leftover pork roast?
Leftover pork roast is super versatile! Here are some delicious ideas to use up:
Serve leftovers with your favorite sides or sandwich filling.
Mix it with BBQ sauce and toss it on a bun with coleslaw, or make Cubanos.
Add shredded pork roast to soups such as chili or in casseroles.
Make carnitas tacos or use for nachos and burritos.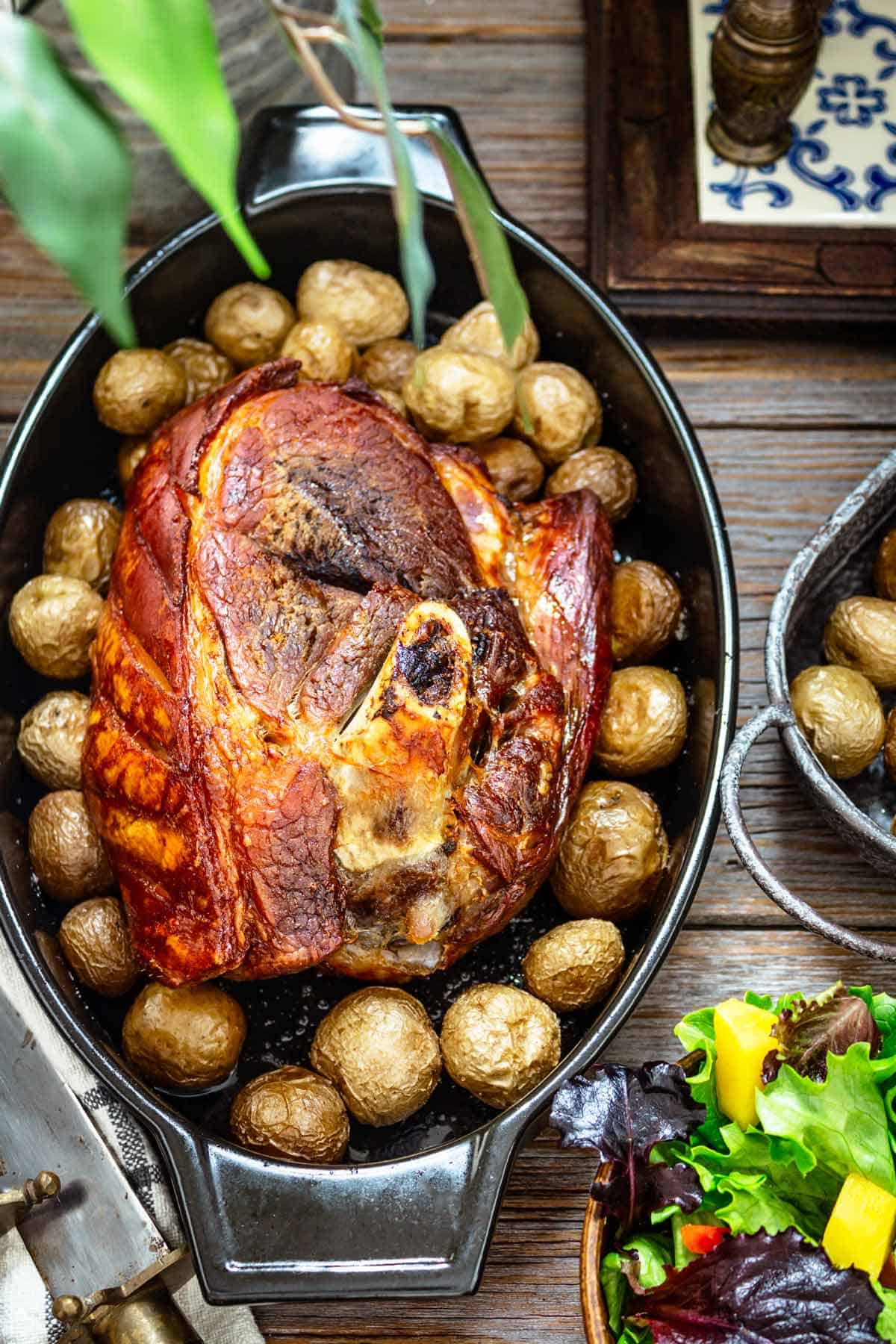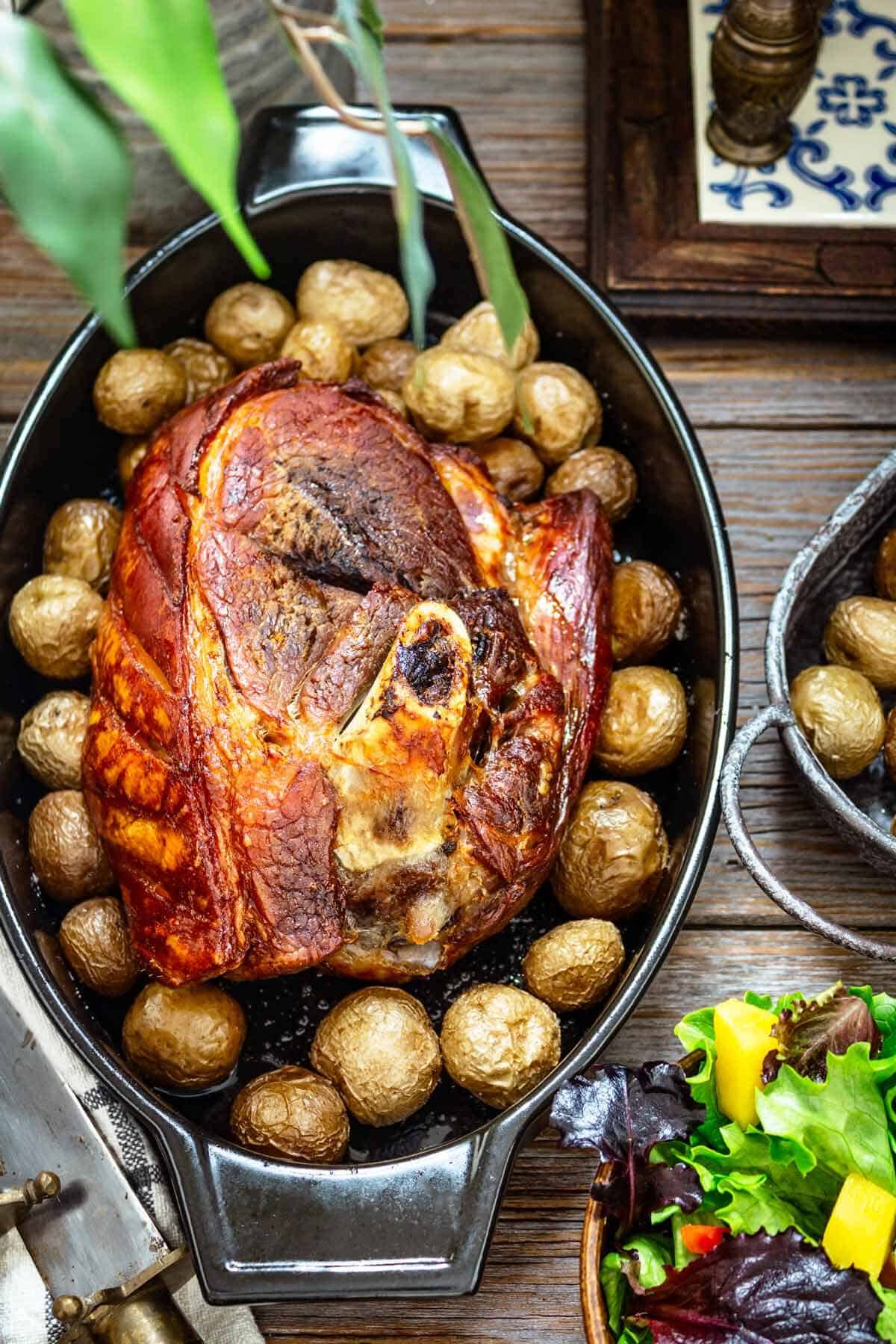 How Much Pork Roast Per Person?
Cookbooks often recommend serving around 4 ounces of cooked pork shoulder roast per person. That's a lot less than other meats, but that should still do the trick for an average-sized household!
So if you have one 3 lb roast, then it will serve 8 to 12 people depending on how much fat is present in your piggy jiggling around outside its skin.
❓ Frequently Asked Questions
Can I use pork loin instead of the shoulder?
Yes, this is a good option for a small dinner party, although it's skinless. But why not make the whole thing and freeze it for later?
How long does it take to cook pork?
For fork-tender shoulder roast, cook until the meat reaches an internal temperature of 180 F to 190 F. Additional consumer safety tips for other pork cuts from the USDA.
How do I store it?
Let the roast cool to room temperature, refrigerate in an airtight container for up to 3-5 days, or freeze for up to six months.
How do I reheat pork shoulder roast?
If frozen, let it thaw in the fridge. For a large cut, put it in a roasting pan with a bit of water or broth. Cover the pan with aluminum foil and reheat at 325 F for 30-40 minutes, or until it reaches an internal temperature of 160 F. Reheat individual portions in a microwave.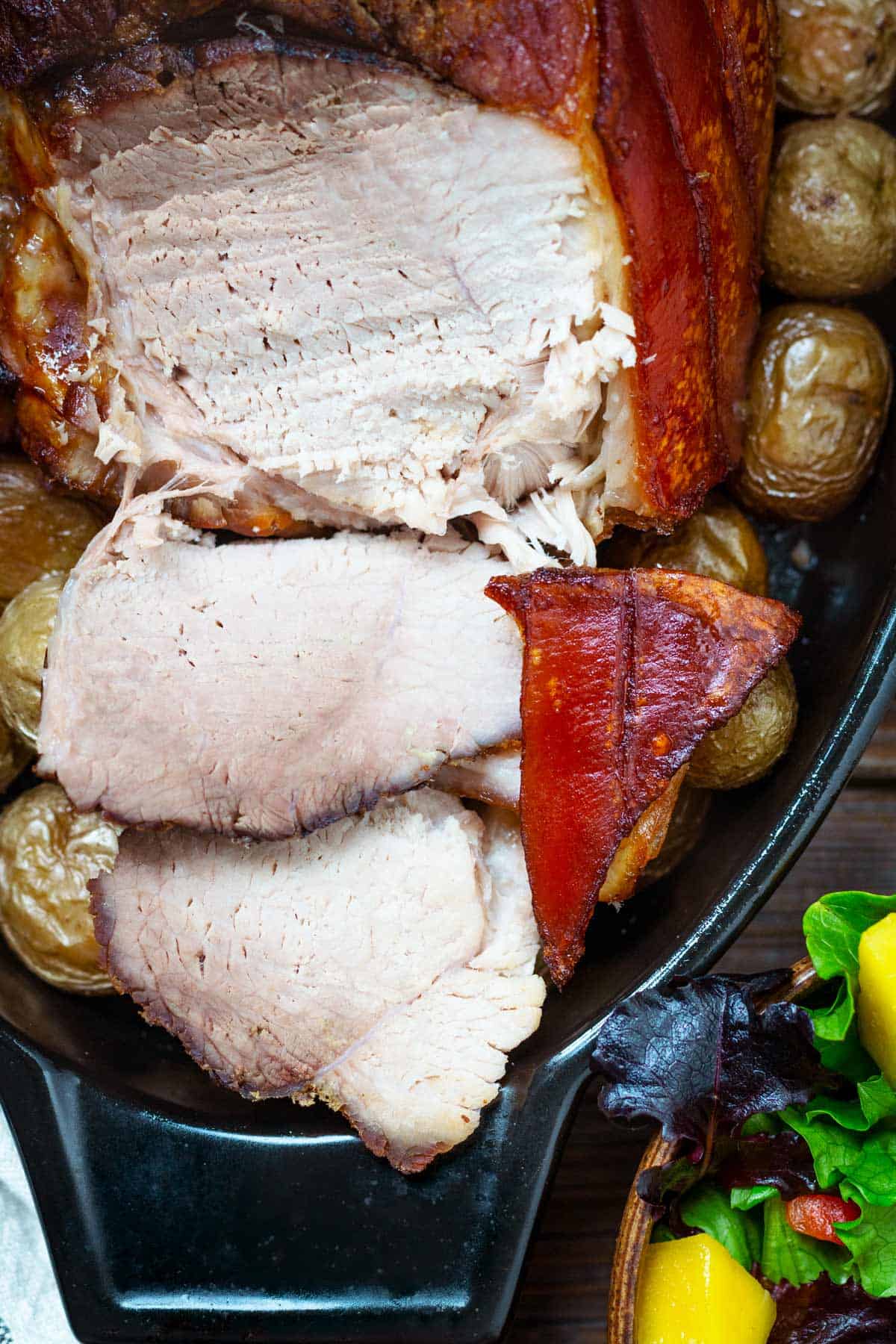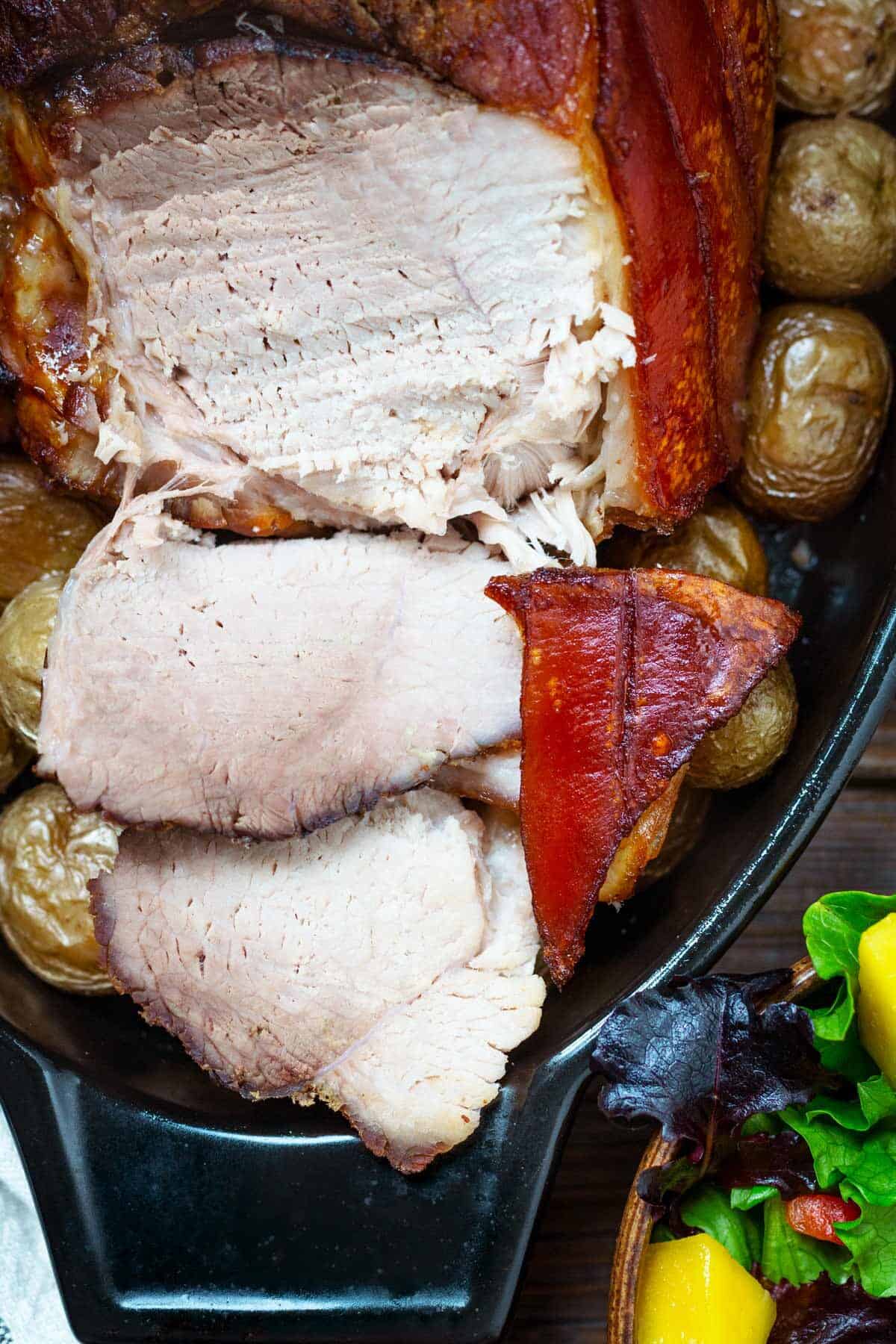 Liked this recipe? Leave a ⭐⭐⭐⭐⭐ rating and/or a review in the comments section. Your feedback is always appreciated! Stay in touch through Pinterest, Instagram, and Facebook! Don't forget to sign up for my email list below too!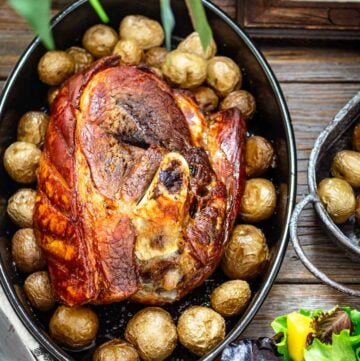 Beer-Braised Pork Shoulder Roast with Crackle
Put a new spin on your holiday spread. This three-ingredient Serbian beer-braised pork shoulder is an easy, flavorful slow-roasted dish that will be the talk of the town!
Ingredients
4-5

pounds

pork shoulder with skin on

1

tablespoon

sea salt

1

cup

light beer
Instructions
Preheat oven to 480 degrees Fahrenheit.

Pat the roast dry. With a sharp knife, score ½-inch wide strips through skin and fat, but be careful not to cut into the meat.

Rub the pork generously with salt all over, adding it also into the slits. Place the pork on a wire rack into a roaster with skin-side up.

Add water to the bottom of the pan. Place the pan into the oven and lower the heat to 350 F.

Bake until skin is crispy and golden in color, about four hours, or until the meat reaches an internal temperature of 180 F to 190 F.

Pour beer over the roast. Bake 5 minutes longer.

Take the roast out of the oven and let it rest for 15-30 minutes before slicing.
Notes
If you plan ahead and have time, refrigerate the salted meat overnight.
Don't forget to take your pork roast out of the fridge and let it sit at room temperature for 30 minutes or so before you are ready to cook.
If your pork roast has a thick layer of fat on the outside, cut all but a thin layer away.
If the piece of meat you are roasting is not the same thickness at both ends, put a slightly crumpled foil on the thinner end so that both ends are the same height (this way, the skin bakes evenly).
Bake on low heat (between 320-350 degrees Fahrenheit, depending on the strength of your oven), 30 minutes per pound.
Be patient! Never increase the heat to speed up the process. It will burn the meat on the outside, and inside will be tough and undercooked. The slow roasting will yield tender pork.
During baking, make sure that the water does not evaporate. If this happens, add a little more.
After you add beer, bake for no longer than 5-10 minutes; otherwise, the beer will turn the meat bitter.
It is important to let the meat rest for at least 15 minutes before slicing.
Find additional ingredient tips and FAQs in the post above.
Please keep in mind that nutritional information is a rough estimate and can vary significantly based on the products used.
Storage:
Let the roast cool to room temperature. Refrigerate leftovers in an airtight container for up to 3-5 days, or freeze for up to six months.
Nutrition
Calories:
213
kcal
(11%)
|
Carbohydrates:
1
g
|
Protein:
27
g
(54%)
|
Fat:
10
g
(15%)
|
Saturated Fat:
3
g
(15%)
|
Polyunsaturated Fat:
1
g
|
Monounsaturated Fat:
4
g
|
Cholesterol:
93
mg
(31%)
|
Sodium:
978
mg
(41%)
|
Potassium:
478
mg
(14%)
|
Sugar:
1
g
(1%)
|
Vitamin A:
8
IU
|
Vitamin C:
1
mg
(1%)
|
Calcium:
21
mg
(2%)
|
Iron:
2
mg
(11%)