This delicious Gypsy dinner recipe is a German skillet dinner made of pork schnitzel, veal, or chicken cutlets paired with onions and fresh peppers and then smothered in a creamy sauce. It's sure to be a huge hit with the whole family!
Skillet Dinner
Summers tend to be super busy for us, and that means I go crazy for skillet dinners. One-pan easy recipes are part of my weekday routine, whether I'm making breakfast lunch or dinner. After all, nobody likes extra washing up.
That's why I converted this traditionally oven-baked dish into a skillet dinner. Germans also bread the meat before combining it with the sauce, but that tends to leave the breading soggy and nobody likes that.
Sadly back in Germany, they use a store-bought gypsy sauce that makes the preparation for this dish much easier. However, it isn't available here in America, which means that you have to use fresh (and much better for you) ingredients to get the same final flavor.
Gypsy Schnitzel - what's in a name?
Of course, the name gypsy could be taken as offensive to the Romani people, I purely kept the name for nostalgic value. After all, this is a dish from my time living there, and I didn't want to change the name as I've always known it as the German Zigeuner (Gypsy) Schnitzel dinner.
It is now also known as Balkanschnitzel or Paprikaschnitzel.
Ingredients:
*Keep scrolling down to the recipe card for a list of FULL ingredient amounts and instructions or click the "Skip to Recipe" card at the top of the page!
Meat - you can use pork, veal, or chicken cutlets depending on what you prefer.
Aromatics - onions and garlic, because every good recipe needs garlic and onions for maximum flavor.
Vegetables - bell peppers (red, yellow, and orange).
Broth - vegetable or chicken.
Heavy cream - you can use half and half.
Herbs - oregano and thyme. Ideally, fresh thyme as it adds such a light, and vibrant touch to the dish. However, dried oregano works just fine.
Spices - chili and black pepper, to add a bit of a kick to the sauce.
Seasoning - salt. Use kosher or sea salt instead of regular table salt as table salt can add a metallic flavor to dishes.
Diced tomatoes - we like Pomi (not an affiliate).
Gouda cheese - for that gooey melted cheese layer on top, but you can use mozzarella if you must.
… and that's just about all! You can always add extra veg like mushrooms or spinach if you feel the need to, but I like this dish with just the peppers and tomatoes.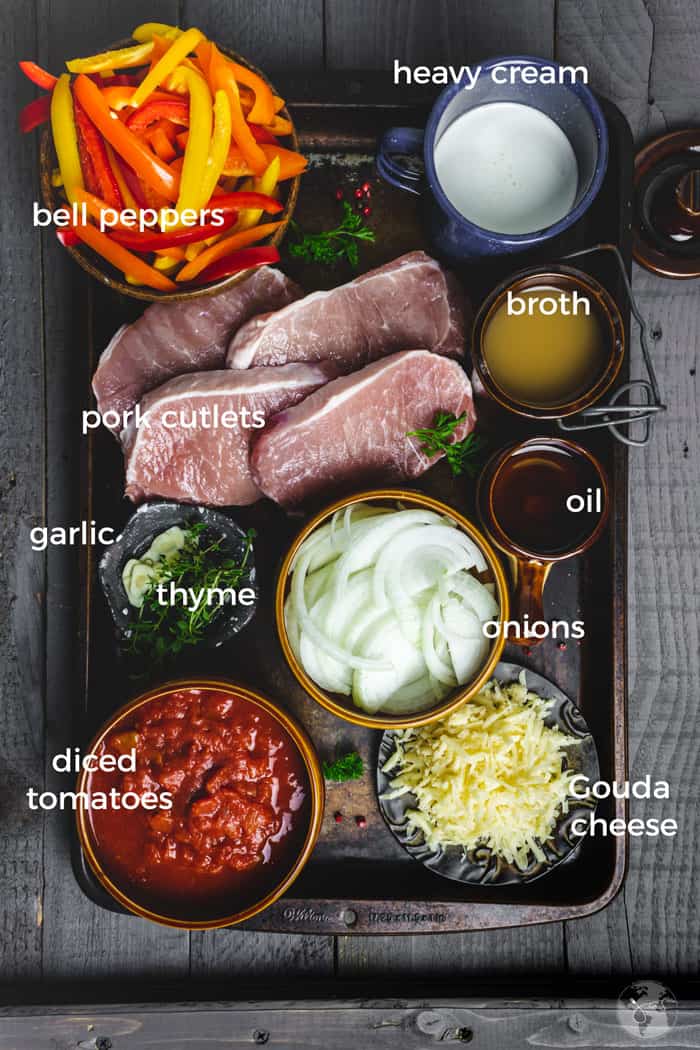 Frequently asked questions:
1. WHAT CAN I SERVE WITH GYPSY SCHNITZEL?
I like to serve it over mashed potatoes, noodles, or rice for the ultimate comfort food. Plus, it's worth having some crusty bread on the side to mop up the excess sauce at the end - even better if it's garlic bread!
2. WHAT TYPE OF MEAT IS BEST FOR THIS RECIPE?
You want a part of the meat that is not too thin and not too thick either. Veal and pork cutlets or boneless pork chops work well for this recipe. If you're using chicken breast fillets, ask your butcher to butterfly them if they're too big.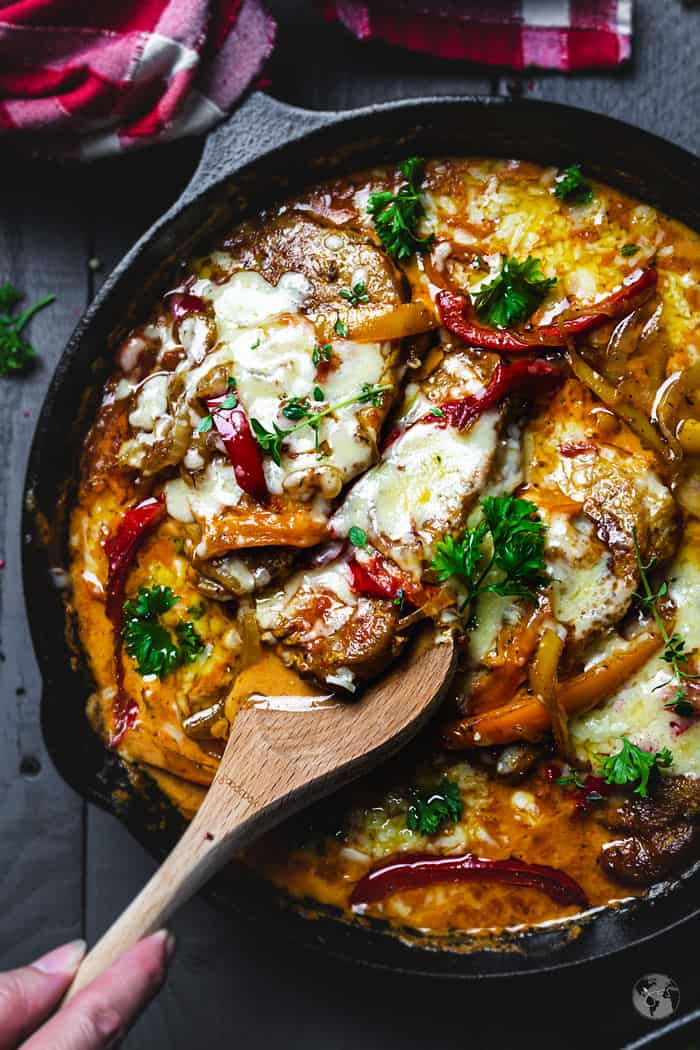 Here's how to make it:
The method here is pretty simple. After all, simple and easy is the point of a good skillet dinner right alongside the minimal washing up bonus!
*A detailed and printable recipe card is available at the bottom of this post.
Prep your ingredients - rinse and pat-dry the cutlets, slice onions and peppers, mince the garlic, and grate the cheese.
Sear the meat - cook the meat over medium-high heat on both sides until browned but not cooked through. Remove from the skillet.
Cook the vegetables - sauté the onions, garlic, and peppers with oregano and chili.
Combine all the ingredients - deglaze the pan with broth and cream, add diced tomatoes, thyme, and cutlets. Cover and simmer for 30 minutes or until the meat is tender and then sprinkle with cheese. Enjoy!
See? Easy! It might not be the quickest, but most of that time is hands-off, so you can go and put your feet up while it cooks!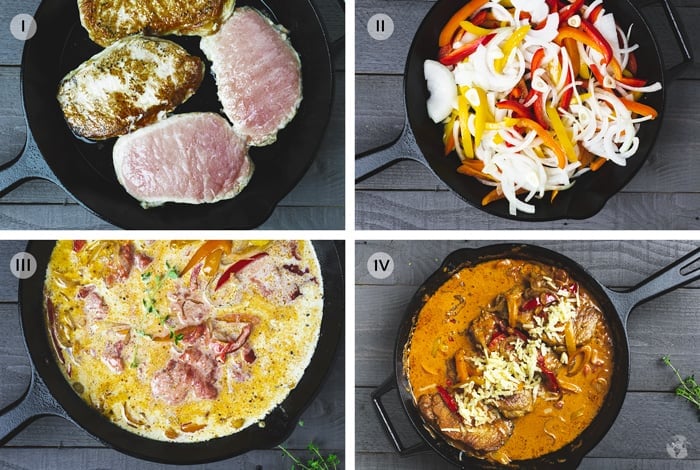 Pro Tips/Recipe Notes:
When cooking in a cast-iron skillet, it's always a good idea to heat the skillet first, then add oil and other ingredients. It performs best when heated and cooled gradually.
Once you put the meat in the skillet, don't fuss with it. It needs a couple of minutes to properly sear and lock in all that yummy flavor. Turn it only when it gets a white border all around, about 1/4 to 1/2 - inch wide [see the first picture in the process photo]. You can also shake the pan and if the meat is no longer sticking, it's ready to be turned.
Make sure your skillet has a fitting lid. The meat will cook faster.
This dish can take the spiciness. If your family likes spicy foods, add hot pepper to your liking or more of the chili powder.
Serve this skillet Gypsy schnitzel dinner over mashed potatoes, noodles, or rice for the ultimate comfort.
More delicious skillet meals: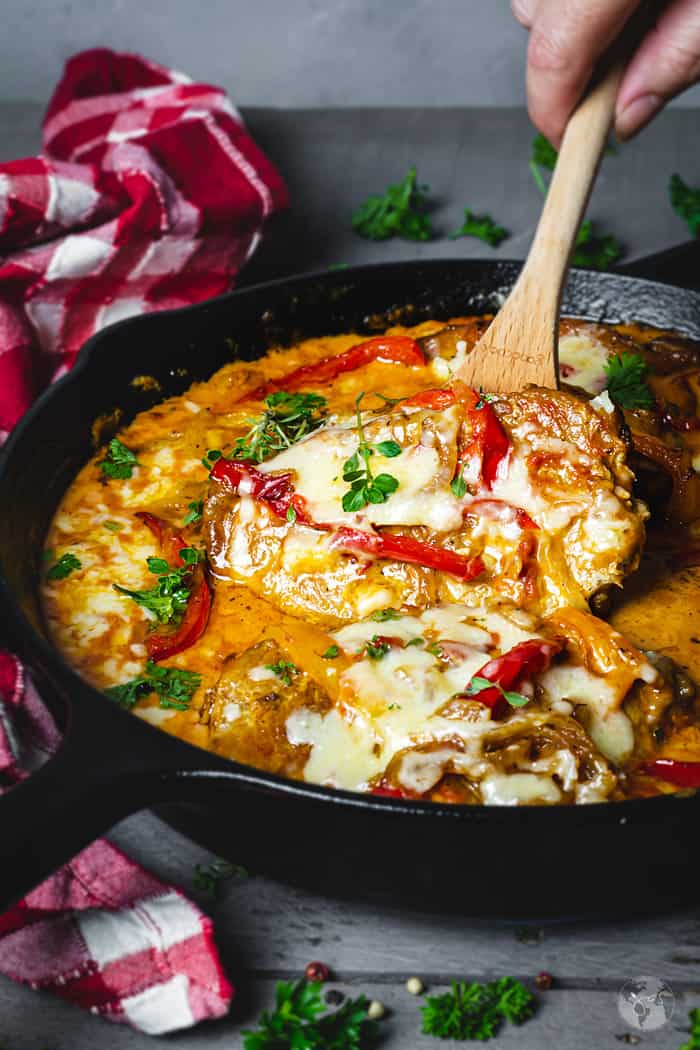 MAKING THIS RECIPE OR OTHERS?
Post a photo on my Facebook page, share it on Instagram, or save it to Pinterest with the tag #ALLTHATSJAS. I can't wait to see your spin on it!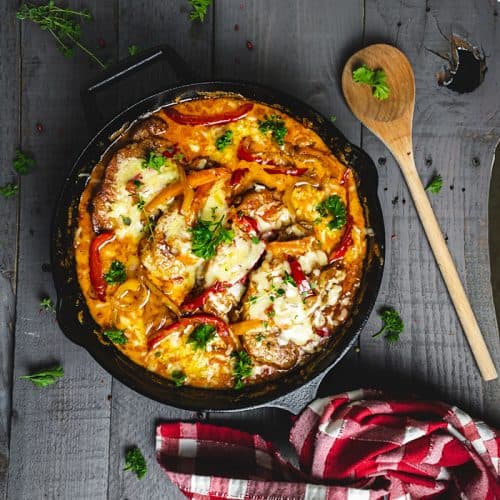 Skillet Gypsy Schnitzel Dinner
Flavorful Gypsy schnitzel with onions, garlic, peppers, and herbs in a tomato and cream based delicious sauce your whole family will love.
Print
Pin
Rate
Equipment
cast iron skillet with a lid

Chef's knife

Cutting board
Ingredients
4

thick pork schnitzel

cutlets or boneless pork chops

3

colorful bell peppers

cut into strips

1

large onion

sliced in half-moons

2

garlic cloves

minced

4

tablespoons

oil

1/2

teaspoon

dried oregano

1

teaspoon

chili powder

or more to taste

Salt and pepper to taste

1/2

cup

vegetable broth

1

cup

heavy cream

10

oz.

diced tomatoes

4

oz.

Gouda cheese

grated

A few twigs of fresh thyme

optional
Instructions
Heat 2 tablespoons of oil in a large cast-iron or non-stick skillet over medium-high heat. Add four schnitzel and sear them about 5 minutes per side (see recipe tips). Remove the schnitzel to a plate and season with salt and pepper.

Pour the remaining two tablespoons of oil to the same skillet. Add sliced onion, three peppers cut in strips, two minced garlic cloves, 1/2 teaspoon oregano, and a teaspoon of chili powder. Sauté until the vegetables start to soften, about 8-10 minutes, stirring often.

Deglaze the skillet with 1/2 cup of vegetable broth and one cup of cream. Stir in 10 oz. of diced tomatoes, a few twigs of fresh thyme if using, and seared cutlets; bring everything to a boil.

Lower the heat and simmer, covered, for 30-45 minutes (depending on the schnitzel thickness). Sprinkle with 4 oz. shredded Gouda cheese and turn the heat off. Let cool for 10 minutes before serving. Garnish with fresh thyme or parsley if you wish.
Notes
I have a few tips to help you get this recipe perfect, so make sure you read them before trying to make it!
Number one would have to be to heat the skillet, then add the oil and other ingredients. It's always best to gradually heat and cool the skillet.
The second one would have to be to avoid fussing with the meat once you add it to the skillet. This is because it needs those few minutes to sear so that the flavor gets properly locked in. You can tell that it's time to turn it when it gets a border around it approximately ¼ to ½ inch wide. You can also try shaking the pan, and if the meat is no longer sticking, then it's ready to be turned.
Make sure that the lid fits your skillet tightly, too, as this will help the meat to cook faster.
This dish can take the chili powder, so try not to reduce it if you can, but if you're a fan of spicy food, then it's worth either adding extra or using hot chili powder instead.
Nutrition
Calories:
657
kcal
|
Carbohydrates:
14
g
|
Protein:
40
g
|
Fat:
49
g
|
Saturated Fat:
21
g
|
Cholesterol:
202
mg
|
Sodium:
458
mg
|
Potassium:
969
mg
|
Fiber:
3
g
|
Sugar:
8
g
|
Vitamin A:
4120
IU
|
Vitamin C:
123.4
mg
|
Calcium:
285
mg
|
Iron:
2.1
mg
Tried this recipe? Rate it below!
Mention @all_thats_jas and tag it #allthatsjas