This blog post will share easy homemade soups and stews recipes with you - some from cultures near home, others not so nearby. But each recipe will be a delicious, comforting dish that will satisfy your appetite and your curiosity!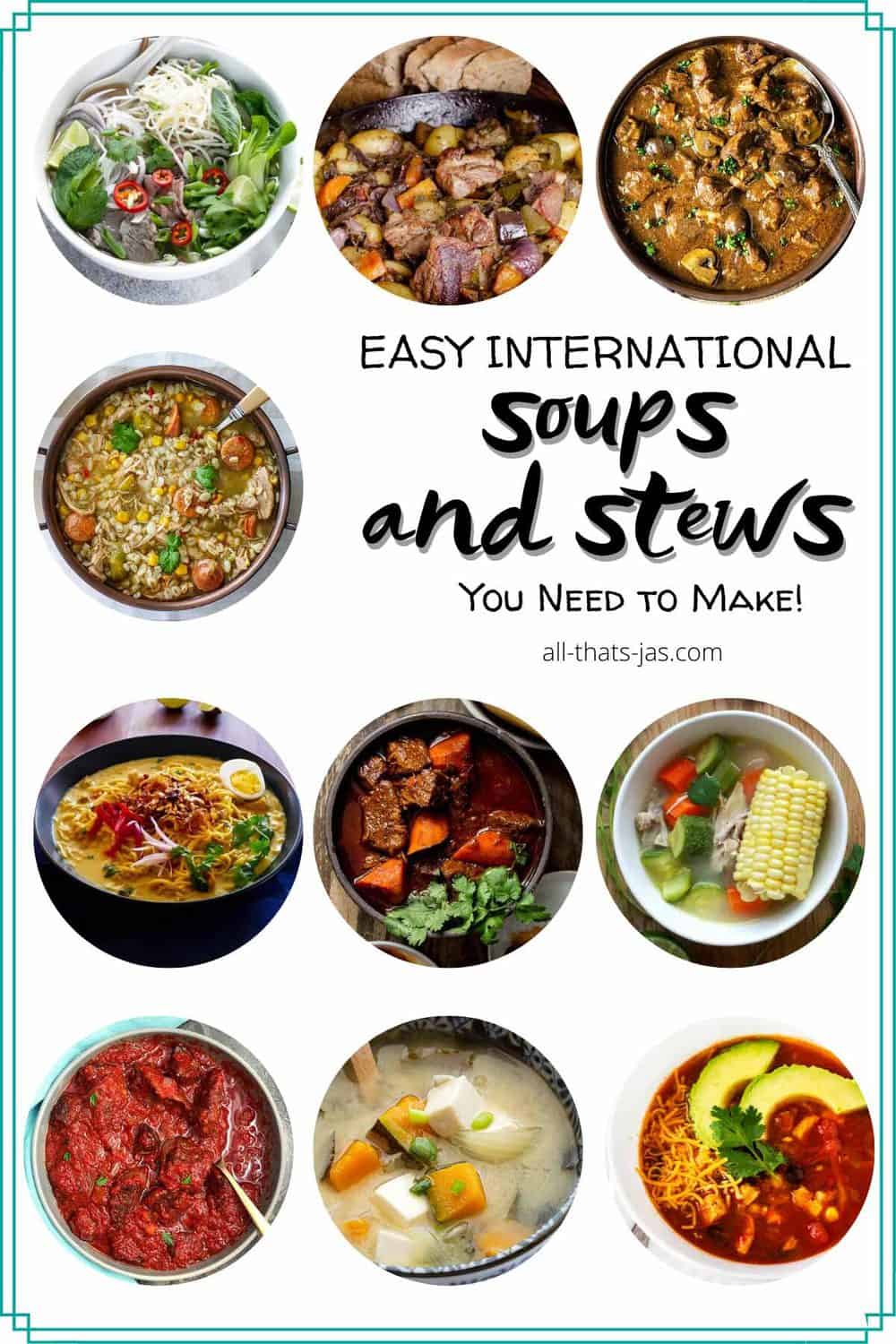 Are you captivated by foreign cuisine? Do you love to explore the world through food?
From Italy, Croatia, and Greece to Burma, Thailand, and China, this blog post focuses on homemade soup and stew recipes from around the world that make a perfect lunch or dinner for any day of the week.
Be sure not to miss our expert tips and tricks (and FAQs) below to help you get the most out of your next meal!
The definition of "soup" is not just limited to liquid. A soup can be a stew as well!
In addition to the classics such as soothing chicken soup, aromatic pumpkin or butternut squash soup, or mushroom soup, which should not be missing in the feel-good repertoire, it is also worth trying out new variants.
📃 Why it Works
Soup and stews are great to make during the winter months, but there is nothing better than a bowl of soup or stew from scratch on any day of the year.
The best part about soup is that it's an all-in-one meal: a bowl of soup can have vegetables, meat, pasta or rice noodles, broth or stock (or both), and even some form of thickener like potatoes or barley!
Soup also makes for great leftovers because you can store it in your fridge for up to five days without any loss in flavor.
Not only do soups and stews taste amazing, but they also provide substantial health benefits!
From clear broth to smooth and creamy bisque, a chunky chowder, to a nourishing goulash, almost every nation has a variety of soups and stews.
We collected 15 international hearty soup recipes and stew recipes with home-style flavors that will have you coming back for more!
Satisfying and warm, they're not just great companions when the temperatures cool down but are delicious for every season.
Why Eat Hot Foods on Hot Days?
There are benefits to eating hot soups and stews during hot summer days. "Fight fire with fire!" means hot soup on a hot day will keep your body in balance.
Hot foods make you sweat, which cools you off more efficiently than ice cream and makes for a cool summer.
But come fall and winter, these hearty dishes are true flatterers of the soul and immediately nourish your body and warm your heart.
What should I consider when cooking soups?
Different ingredients that you use for your soup or stew may also have different cooking times.
Make sure that you put the ingredients with the longest cooking times into the pot first. Gradually, add the other ingredients according to their cooking time.
Always cut the very firm ingredients a little smaller or thinner than the already soft or tender food. So that, in the end, everything is equally soft and not overcooked.
Soup/Stew Recipes Tips and Tricks
If your soup has become too thick, you can easily dilute and stretch it with meat or vegetable stock. If the soup is cream-based, add more cream or milk, then check for seasoning. Note: warm the cream before adding to soup to prevent curdling.
For soups that are too thin, differentiate between clear and thickened: You can add greatly reduced meat broth with clear soups. A 1: 1 ratio of flour-butter is used for thickened soups. Cook for another 15 minutes and season to taste.
To remove excess grease from your dish, put some ice cubes in a cloth or paper towel and hang them in the soup for a moment. The fat will coagulate around the ice cubes and be easier to lift out. Another way is to let the dish cool down to room temperature, then refrigerate until the fat solidifies on the surface.
To keep the soup from boiling over, coat the edge of the pot with oil.
If your stew started to burn, pour it into another saucepan and be careful not to scrape off the sediment with it. Then just let it cook.
Salt sparingly! It's easier to add than to remove extra salt. *See FAQ's category below on handling salty soups.
Soups and stews are best served piping hot!
🍴 Equipment Needed
Regardless of whether you're making international or regional soup recipes with just seasonal vegetables or adding meat - with the right cookware, preparing these well-being meals is all the easier.
Here are some popular options:
Dutch Oven - A good Dutch oven is a perfect investment for those who love soups and stews. I make almost all my meals in one of my trusted Dutch ovens. They are well suited for long, slow cooking. Enameled ovens do not need to be seasoned before use like other bare cast-iron cookware.
Instant Pot - The pressure cooker is handy for many reasons, but it's especially ideal if you like to make soups and stews on the fly. Besides saving time and energy, cooking food in a multi-cooker retains nutrients and vitamins. It replaces up to seven common kitchen appliances and cooks tough meats in half the time (perfect for busy home cooks).
Slow Cooker (Crock-pot) - "Set it and forget it" is the most convenient type of cooking. A slow cooker is a must in every kitchen. It's great because you can set it up the night before or in the morning so that when you come home from work or school there will be hot homemade soup ready to eat without all of the stress.
Stock Pot - No matter how hard you work, your dishes will be ruined if a pot or pan sticks, so choosing a quality non-stick pot is important. This is especially true for cooking stew or thick soup (also known as stoup, as our Rachael Ray dubbed it).
15 Best Soup and Stew Recipes from Around the Globe
The best part about these recipes is that you can enjoy them no matter where in the world you live.
1. Italian Slow Cooker Lamb Ragu
3. Greek Stewed Chicken
4. Bosnian Chicken Paprikash with Dumplings
5. West African Peanut Butter Soup
6. Nigerian Beef Stew
7. Vietnamese Beef Pho
8. Vietnamese Chicken & Shrimp Pho
9. Vietnamese Beef Stew
10. Japanese Miso Soup
11. Chinese Spicy Hot Pot
12. Burmese Khow Suey
13. Mexican Chicken Soup
14. Jamaican Pumpkin Beef Soup
15. Brazilian Black Bean Stew
Want an amazing stew your kids will love? Look no further! This easy Indian Chicken Tikka Masala is done in 30 minutes and is sure to put your favorite take-out joint out of business.
❓ Frequently Asked Questions
We hope you enjoy these recipes for soup and stews from around the world. If you have any favorites not mentioned here, please share them in the comments below.
Liked this post? Leave a ⭐⭐⭐⭐⭐ rating and/or a review in the comments section. Your feedback is always appreciated! Stay in touch through Pinterest, Instagram, and Facebook! Don't forget to sign up for my email list below too!