If you've ever marveled at the delicate, flaky layers of baklava or the crispy crust of a spanakopita, chances are you've encountered this culinary gem - phyllo dough. So, buckle up and prepare for a compelling journey through its origins, versatility, and mouthwatering recipes!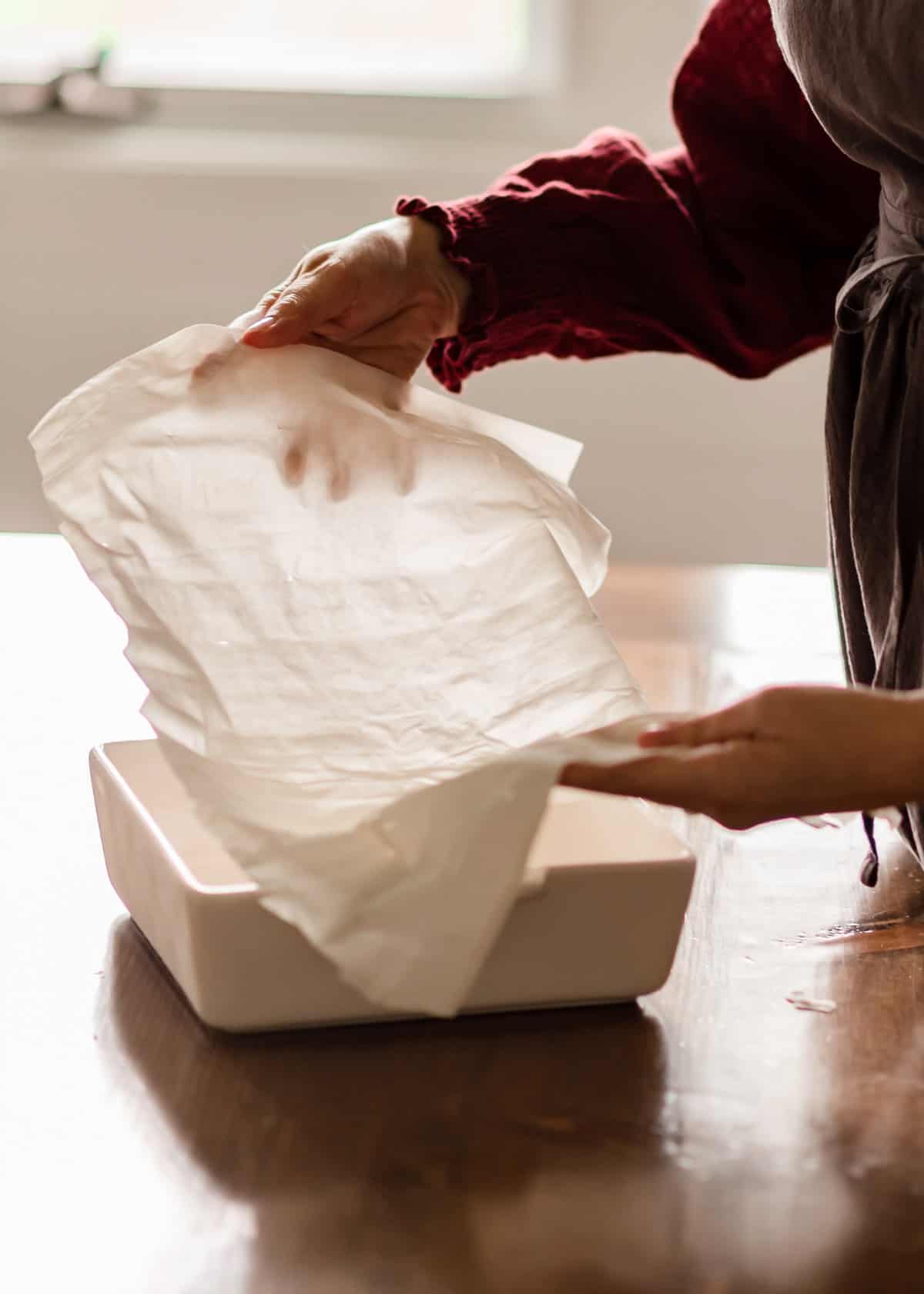 Phyllo, filo, or fillo - no matter how you spell it, this crunchy, thin, and flaky dough is incredible. Note: we'll use those three terms interchangeably.
Working with filo pastry sheets can be challenging, often resulting in sticking or tearing. However, follow our how-tos and tips to turn you into a phyllo pastry pro so you can create a perfect dish that showcases your newfound skills.
Will it be a savory pie filled with spinach and feta or a sweet dessert layered with nuts? Whatever you choose, remember that the key to success is practice, patience, and a willingness to learn from your mistakes.
What is Filo Dough?
Filo dough is no ordinary dough. Filo dough is a thin, unleavened dough made from simple ingredients like flour, water, salt, and oil into thin, practically translucent sheets.
The word "phyllo" means "leaf" in Greek, referring to the paper-thin layers of pastry. Phyllo pastry is versatile, making it a popular ingredient for many dishes.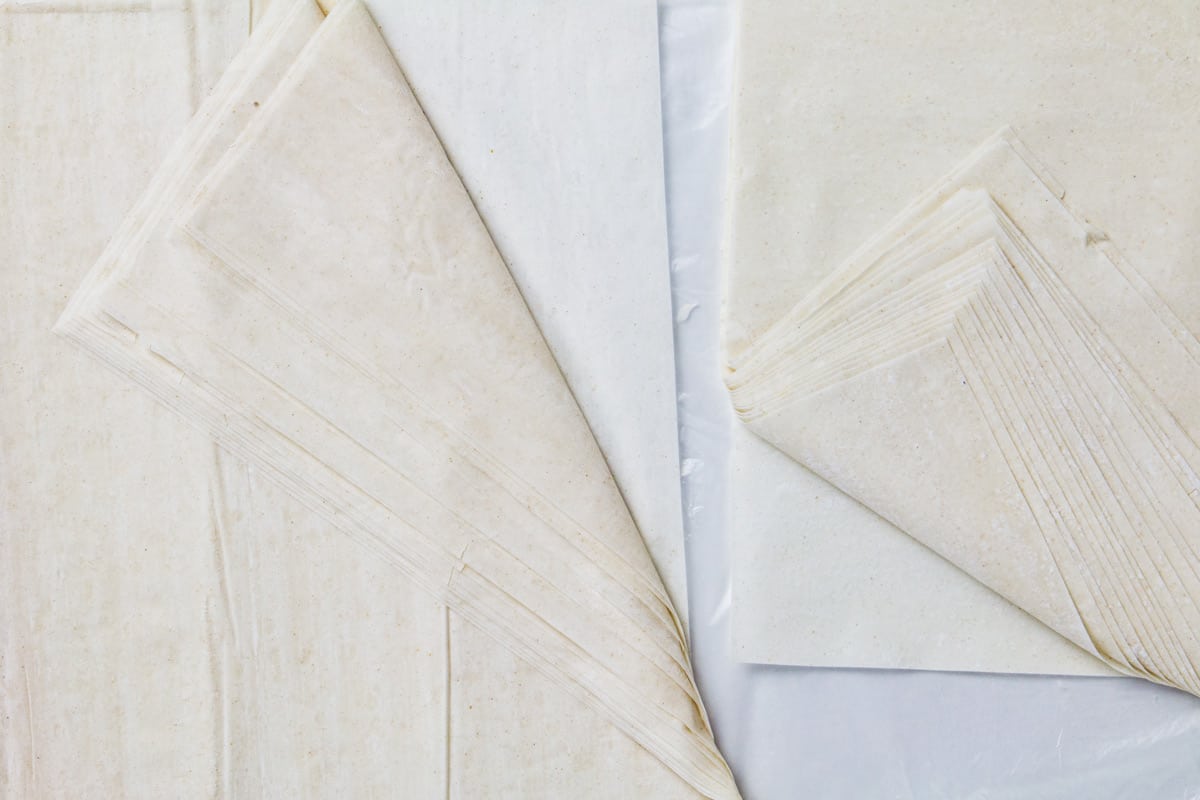 ❤️ Why We Love Using Filo Pastry
So, why should you choose filo pastry for your culinary adventures?
Incredibly versatile and delicious: Whether you're whipping up appetizers, main dishes, or desserts, this thin, stacked baked dough creates a crispy and flaky texture that's hard to resist.
Limitless fillings: You can go from savory delights packed with meats and veggies to sweet sensations filled with fruits and nuts. Talk about a flavor fiesta!
Healthier: If you're mindful of your health, phyllo pastry is relatively low in fat and calories compared to other pastry options. So if you're watching your weight or aiming for a balanced diet, phyllo dough is a wise choice to satisfy your cravings.
Hassle-free: With minimal effort, you can create impressive-looking dishes that will leave your guests in awe.
Unveiling the Origins of Phyllo
The exact origins of fillo dough are unclear, but it has a rich history dating back to the Byzantine era. It has traveled from Greece to Turkey and beyond, enchanting taste buds worldwide.
The word "phyllo" means "leaf" in Greek, referring to the paper-thin layers of pastry.
🛒 Where to Buy Phyllo Dough?
You can find ready-made filo dough in the freezer section of most grocery stores or order them online.
The size and thickness of the fillo dough will vary depending on the brand. I like to use thin pastry sheets when making desserts like baklava or milk pie.
For dishes with wet fillings, as in this ricotta bundt pie, I use thicker sheets that work better, as they're not so delicate and will keep the filling intact.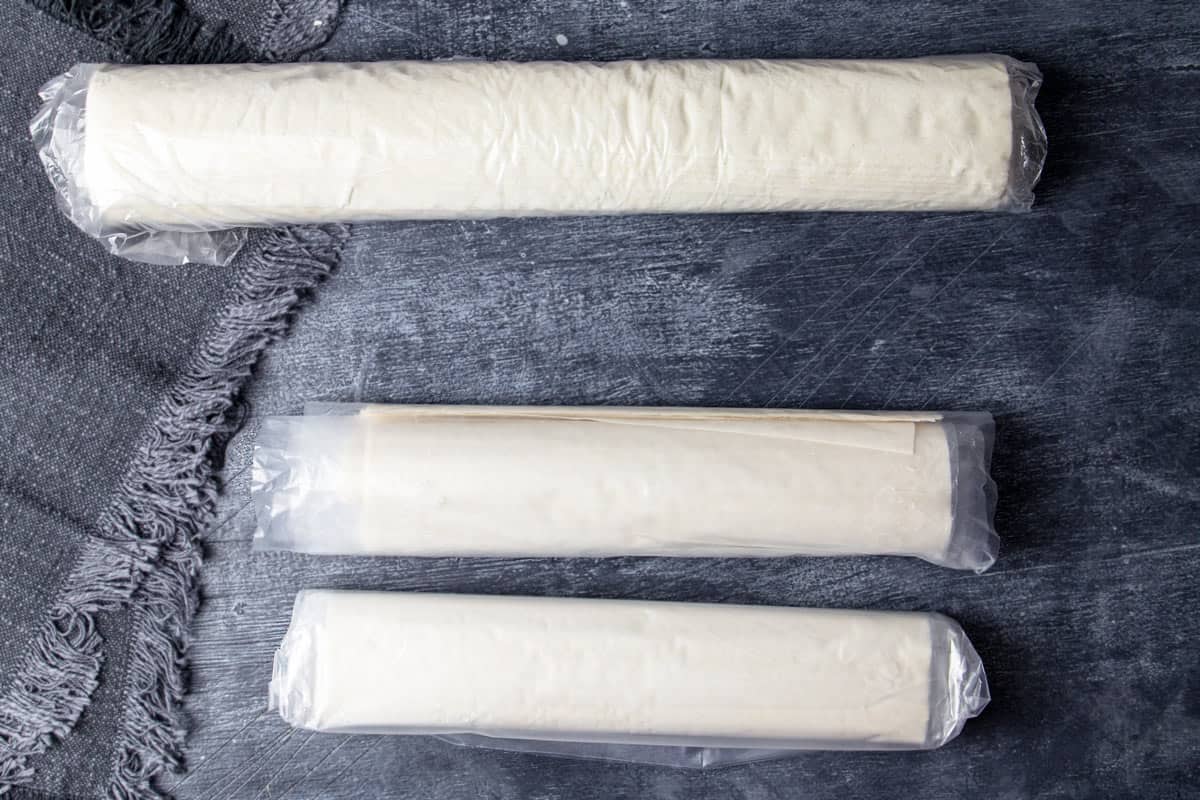 Taming the Filo Beast
Working with filo dough may seem daunting at first, but fear not! We're here to guide you through this flaky adventure.
Remember, patience is vital. Embrace the delicate layers, take your time, and don't be discouraged if a sheet or two tears. Imperfections add character, right?
💭 Top Tip
Thaw the filo pastry until all the sheets are pliable; best in the fridge overnight or for 5-6 hours before using it. Please don't rush the process by thawing it at room temperature, which can cause the sheets to stick together.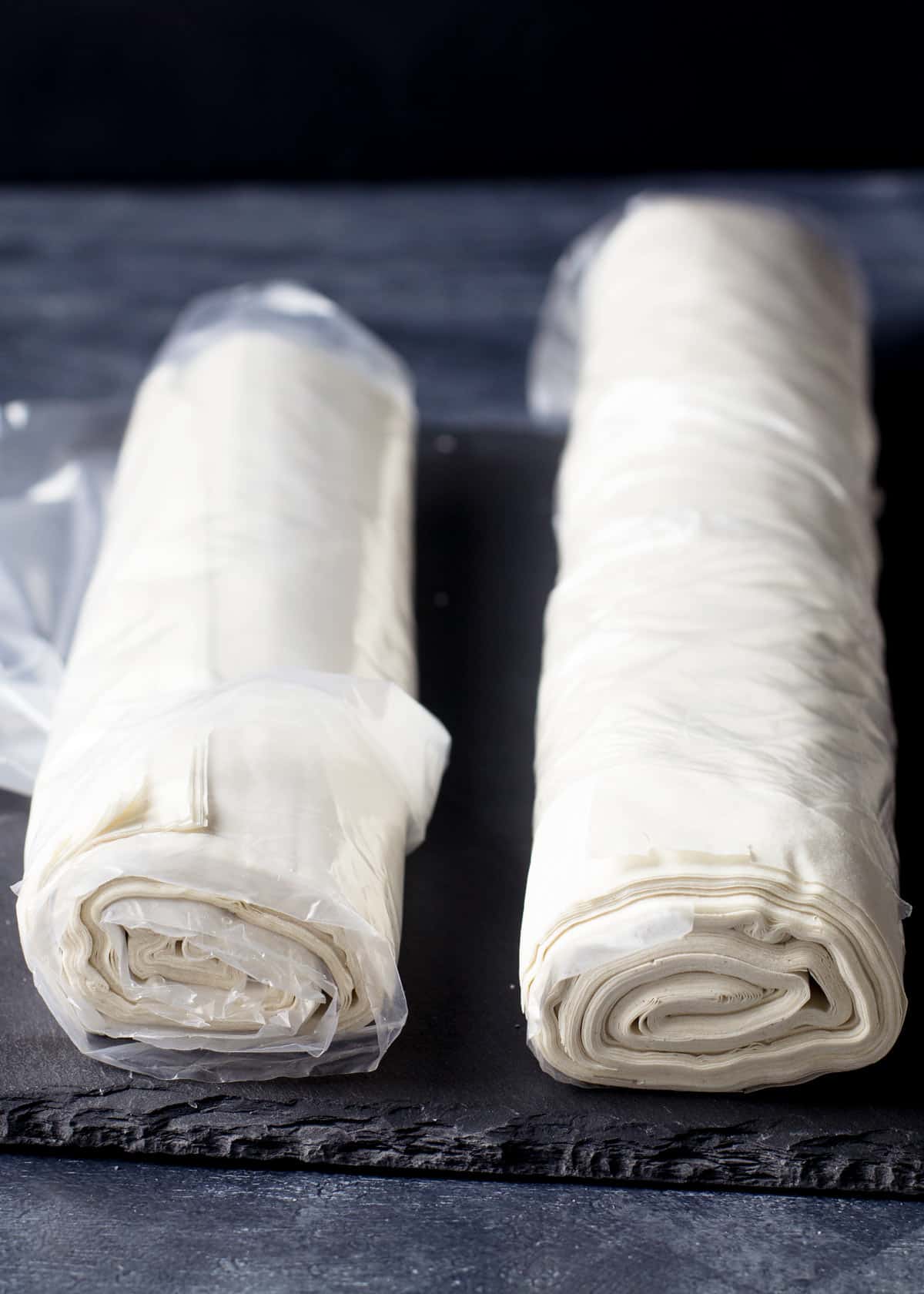 🥣 How to Use Phyllo Dough?
Prepare a clean, dry work surface to roll out the pastry sheets. Don't flour the surface, which can dry the dough and lead to cracks.
Only unroll the pastry sheets when ready to use them, as they dry out quickly. Make sure to gather all your ingredients and prep them beforehand. Chop, mix, blend, and get everything ready to roll (or unroll, in this case!) when it's time to use the fillo.
If you need to leave it out longer, place it between two slightly damp kitchen towels to keep it moist.
Use a sharp knife to cut the pastry into the desired shapes. If a sheet tears or breaks, don't throw it away - use it in the middle of your pie or dessert where it won't be visible.
Butter each filo sheet with a pastry brush to help them stick together during baking. If a sheet is very dry, use a little extra butter.
Remember to butter the top sheet well to give it a nice color and prevent it from burning during baking.
To prevent the pastry from sticking to the pan, butter the whole pan and its sides very well before putting the first sheet, or use non-stick baking paper, depending on your recipe.
Before putting the pan in the oven, carve your pie or dessert on top with a sharp knife. This will allow steam to escape during cooking and serve as a guide for cutting the pieces after baking.
When it comes to fillings, keeping them moist is critical. For instance, for a minced meat filling, use medium-fat ground beef. Add butter, black pepper, and onions when stuffing with potatoes to add flavor, or blend in ingredients like eggs, sour cream, or milk. Oh, and here's a little secret: for those delectable cheese fillings, using full-fat cheese is the way to go!
If you're craving a guilt-free twist on your beloved appetizers and desserts, why not try phyllo pastry? This delightful dough is a heavenly substitute for denser counterparts like puff pastry and heavy dough.
It makes pie crusts, tart shells, and countless other treats delightfully light. Its flaky nature adds a satisfying texture to sweet and savory creations.
🧈 Do You Have to Brush Filo With Butter?
You can use oil instead of butter, but you do have to brush the sheets. It keeps them separate and prevents "clumping," so they bake into flaky layers.
We recommend olive oil for savory phyllo dough recipes and more neutral oils, like vegetable or canola oil, for sweets.
It is best to clarify butter or use already clarified butter, known as ghee.
You can use one of these three methods to apply butter or oil to delicate filo leaves:
With a pastry brush - The most common method - dip the brush into oil or melted butter, gently brush fat over the sheets, or let it drizzle.
With a spray bottle - Use a glass spray bottle to keep it in warm water to prevent the butter from solidifying.
With cooking spray - This is the easiest method if you're just starting to cook with filo. You can get a butter-flavored cooking spray.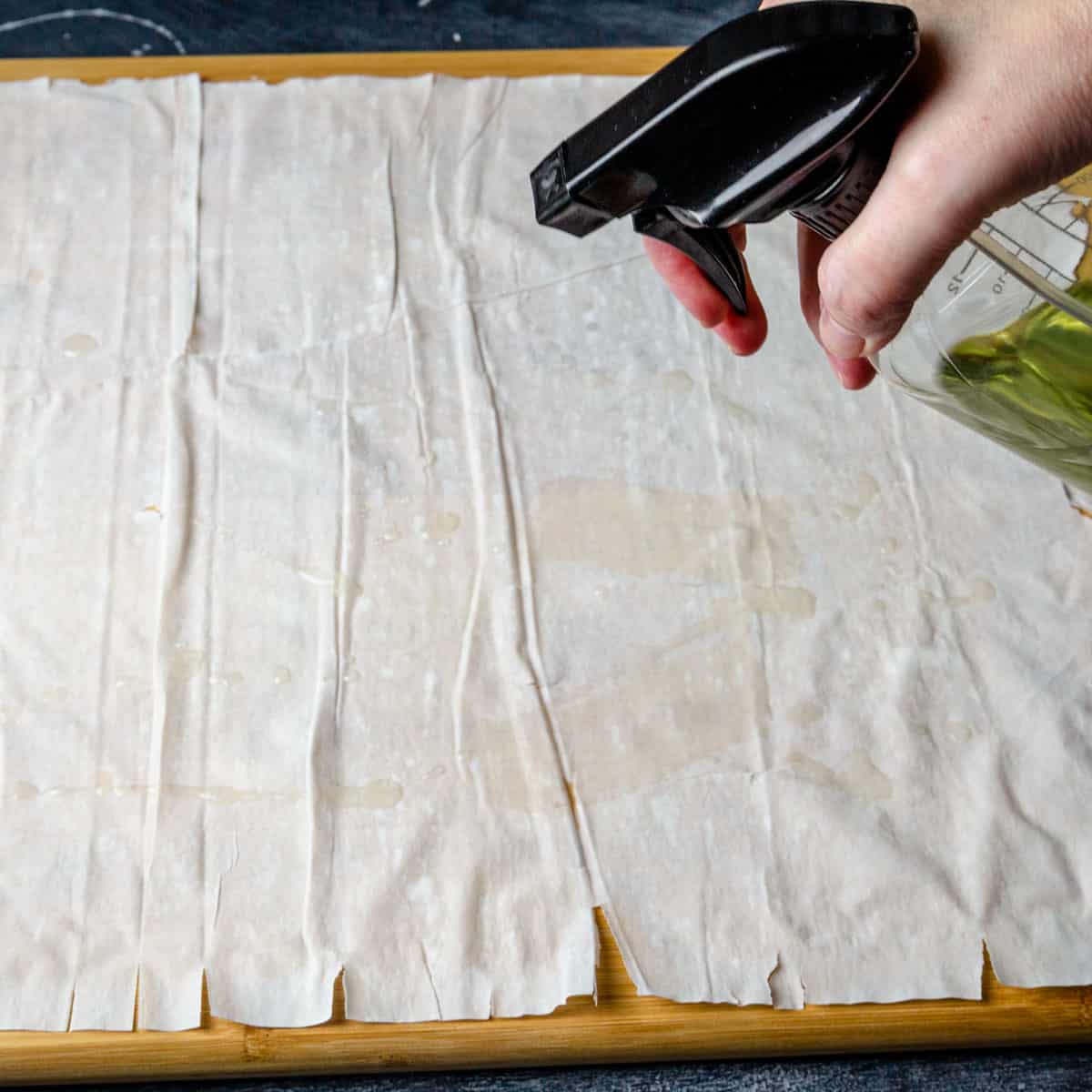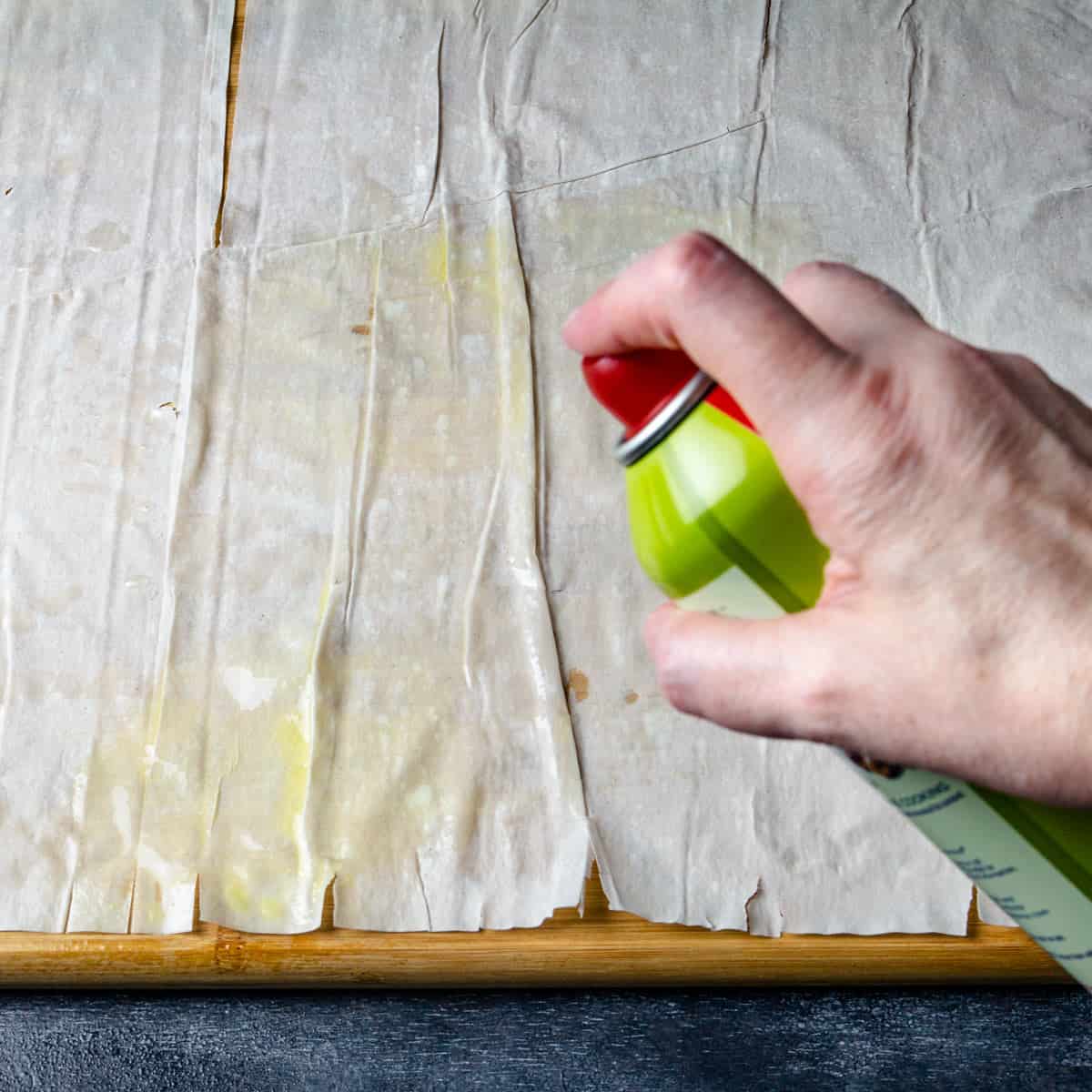 👩‍🍳 Tips and Tricks for Success
Don't let the dough dry out: Phyllo dough dries out quickly, so always keep it covered with a damp towel or plastic wrap when not in use.
Torn filo sheet: Don't worry! You can patch pieces together to use in the middle layer of your dish.
Don't rush the defrosting process: When using frozen phyllo dough, it's crucial to defrost it properly by refrigerating it for about 8 hours or overnight, then leaving it at room temperature for another hour or two until all the sheets are pliable. Jumping the gun will lead to cracks.
Use enough fat: To get golden, individual layers, brush each phyllo dough layer with butter or oil. Use a pastry brush, and remember that each sheet will soak up around one tablespoon of fat, so don't be afraid to use plenty.
How to cut the phyllo dough: It's best to use scissors or a pizza cutter to cut the sheets to the desired size (only use a sharp knife to cut the assembled or baked dish).
⏲️ How do I Know When Phyllo Dough is Done?
There are a few indicators to look for:
Golden Brown Color: When done, Phyllo pastry turns a beautiful golden brown.
Crispy Texture: The phyllo layers should be crispy and flaky when fully baked. Gently touch the top layer or a corner of the dish to see if it feels crisp. It may need more time in the oven if it feels soft or doughy.
Firmness: Check the filling inside the phyllo dish - if it jiggles when you gently shake it, it needs additional baking time until set and firm.
However, we suggest following the recipe's recommended baking time and temperature to help you estimate when the dish should be done. Keep a close eye on it towards the end of the baking, as oven temperatures vary.
💭 Top Tip
Remember to avoid opening the oven door too frequently during baking to prevent fluctuations in temperature and slow the baking process.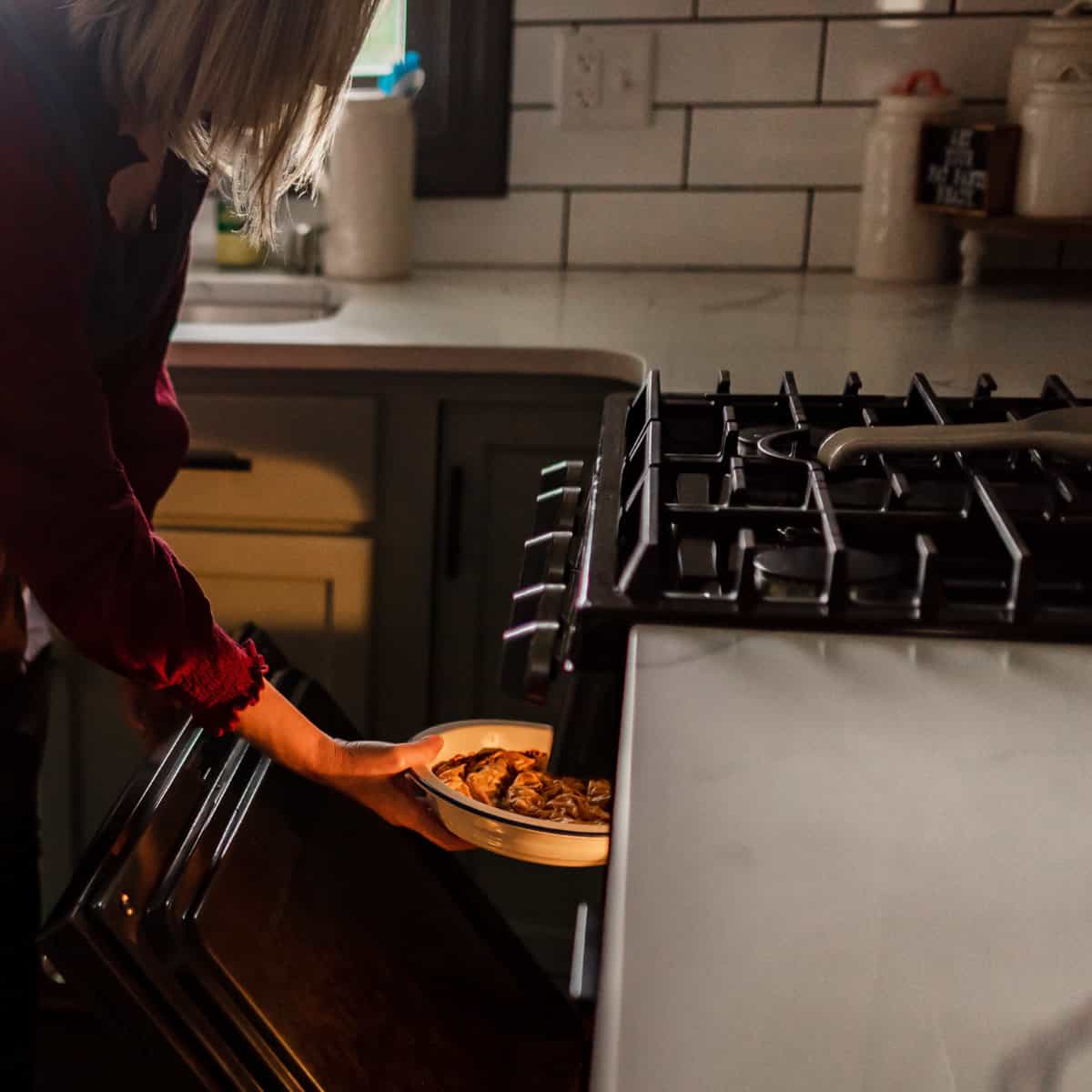 🗄️ How to Store Leftover Phyllo Sheets
If you have leftover sheets, wrap them tightly in cling film, put them back in their original packaging, and store them in the freezer as soon as possible. Use within three weeks.
Remember to let them thaw in the fridge for a few hours or overnight before you need it again.
❓ Frequently Asked Questions
Is filo dough gluten-free?
No, filo dough is not gluten-free, as it is traditionally made from wheat flour. However, you can make your own gluten-free filo dough.
Is filo pastry vegan?
Yes, filo pastry is entirely vegan-friendly.
Can I freeze dishes made with filo dough?
Most baked dishes with filo are freezer-friendly, but follow recipe instructions for storage.
Can you freeze the individual pastries and bake them later?
Yes! If freezing small pastries, pack them side by side in freezer bags to prevent them from sticking together.
Another option is to freeze them lined up (apart) on a baking sheet, then pack them into freezer bags to keep them frozen for up to one month.

When you're ready to cook, bake them directly from frozen, adding 10-15 minutes to the cooking time.
Phyllo vs. puff pastry
Puff pastry is made by layering thin sheets of dough with butter or shortening, resulting in a dough that puffs up when baked, creating numerous flaky layers.
Filo dough is made by rolling out fragile sheets of dough. It does not contain any fat within the dough, while puff pastry has a high-fat content.

In some dishes, fillo makes an excellent puff pastry substitute.
Is kataifi the same as filo dough?
Kataifi dough looks like shredded filo, but its fuzzy texture is made by the batter spun into fine strands, so they are two different products.
And there you have it! Whether you're a seasoned chef or a beginner in the kitchen, this flaky wonder offers endless possibilities.
So, grab your rolling pin, channel your inner kitchen wizard, and let filo dough guide you on a gustatory adventure you will remember. Happy baking!
Disclaimer: No filo dough was harmed in making this blog post. Well, we sacrificed a few sheets for the sake of taste testing. But it was worth it!
📋 Phyllo Dough Recipes
What to make with phyllo dough?
From sweet to savory, there are tons of delicious options. Check out these ideas or browse all our filo dough recipes:
Phyllo dough appetizers
Phyllo dough main dishes
Phyllo dough dessert recipes