Cleaning and maintaining a cast iron pan is easy. In this Ultimate Guide to Cast Iron Care, you can find out what is necessary to ensure that you can retain your cast ironware for a long time.
Cast iron is perfect for preparing delicious and healthy food. The heat is evenly distributed in cast iron cookware, which leads to a beautiful cooking result.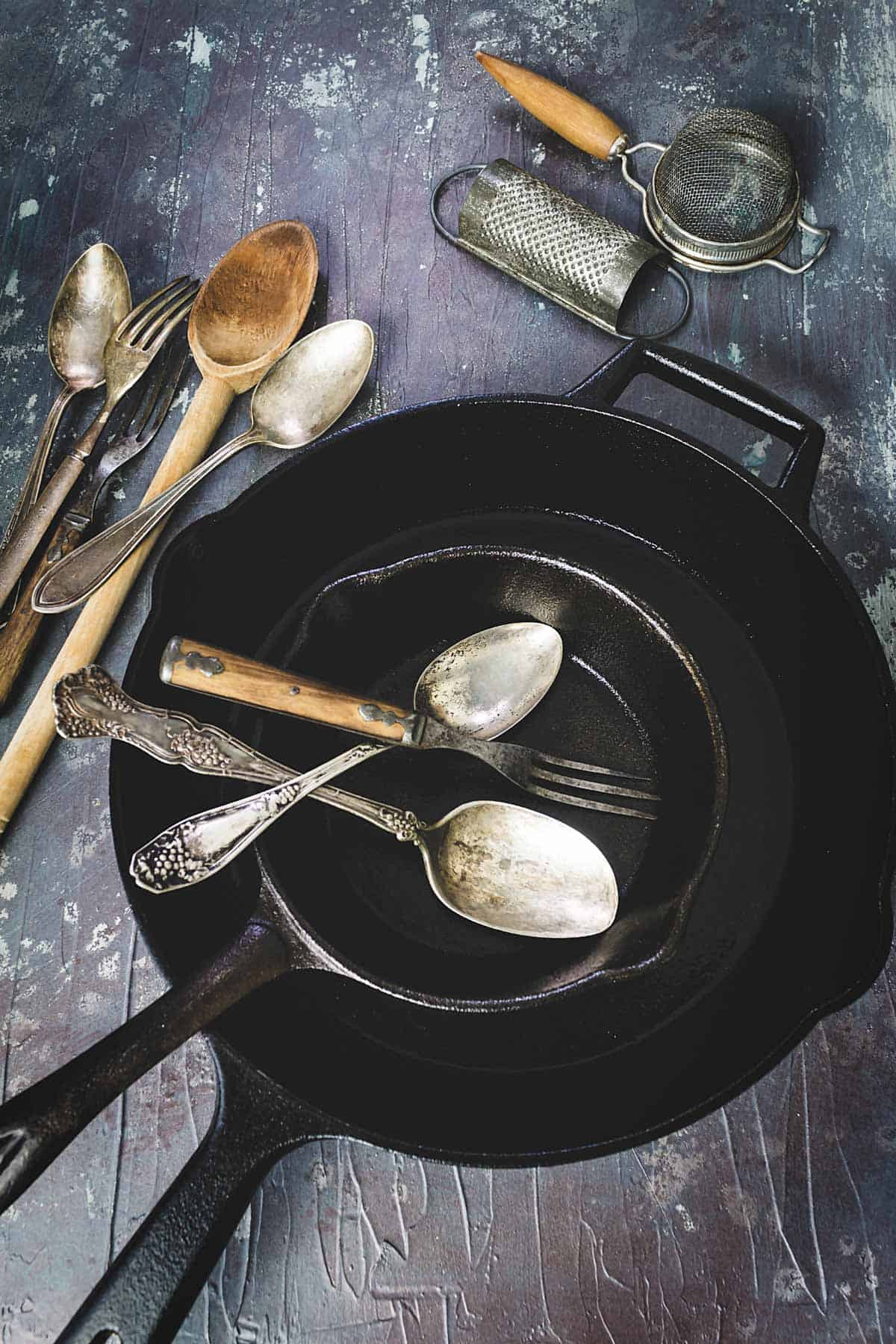 I remember when my daughter excitedly purchased her first cast iron skillet and promptly shoved it into the cabinet, never to see the light of day again. 😄
It took me a while to get my first skillet, but now I cook with it 90% of the time. Check out my recommendations for cookware and recipes at the bottom of the post.
If properly cared for, it is a lifetime investment.
After learning how to care for, wash, and store your skillet, it will soon become one of your most used and cherished kitchen gadgets!
Why use cast ironware?
There are many reasons why I prefer to use a cast-iron skillet, and you should too:
It's versatile – Start something on the stove and finish it in the oven. No need to transfer to another dish. You can even use it atop a campfire! Bonus: fewer dishes to clean.
Cleaning is a cinch – all it needs is a little TLC every once in a while, but if it's properly cared for, wipe it down after use and store it

!

They last forever – If you've just inherited your great-grandmother's skillet, you can attest to this.
They can add iron to your food.
You can use it as a weapon. (Joking, but they are pretty heavy!)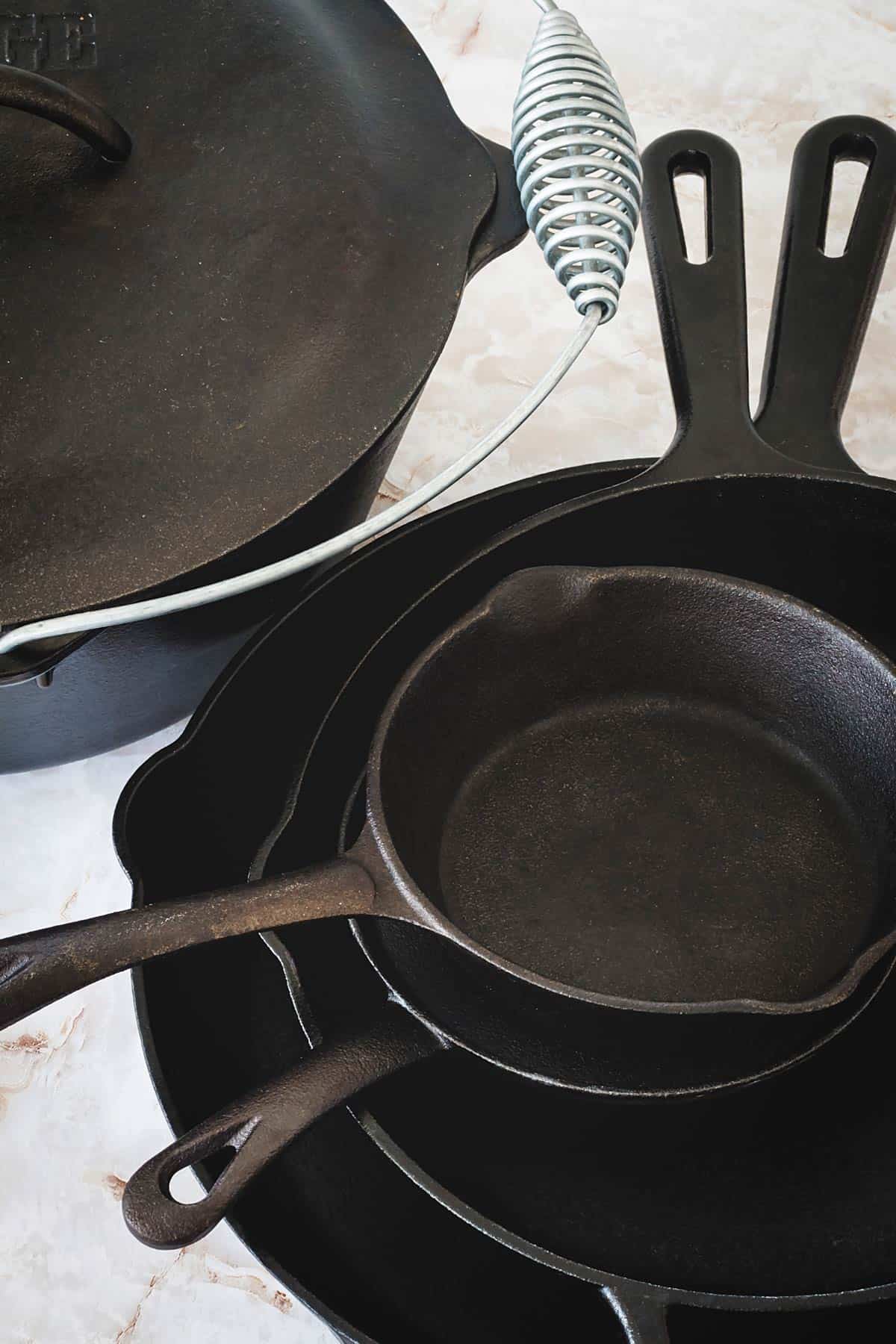 Cast-iron upkeep
Knowing how to use and care for a cast-iron skillet can seem intimidating, which is why I've compiled the ultimate one-stop guide to cast-iron care.
The great thing about caring for it is that you can't mess it up! Even if you've made a mistake or it's acquired some rust, it is very forgiving, and you can usually rectify the problem.
The most important and the most intimidating part of owning CI cookware is seasoning.
Seasoning is lingo for forming a hardened or "polymerized" layer of oil, which will add a non-stick coating to your skillet and prevent it from rusting.
Read on for instructions on how to season your skillet and some other common questions and concerns.
Are you supposed to wash a cast iron skillet?
A few points one must observe when cleaning and maintaining your pans:
It is

not possible

to clean CI pans in a

dishwasher

, as this can result in the loss of their natural protective layer and damage to the patina.

Only use scouring pads to remove flaking or stubborn rust. Don't use it for regular cleaning as this will destroy the patina that gives them their characteristic aroma.

You should avoid deliberately soaking leftovers sticking to your pans in water, as this can also damage the surface.
Never soak your cast iron or wash in a dishwasher!
🧽 Cleaning supplies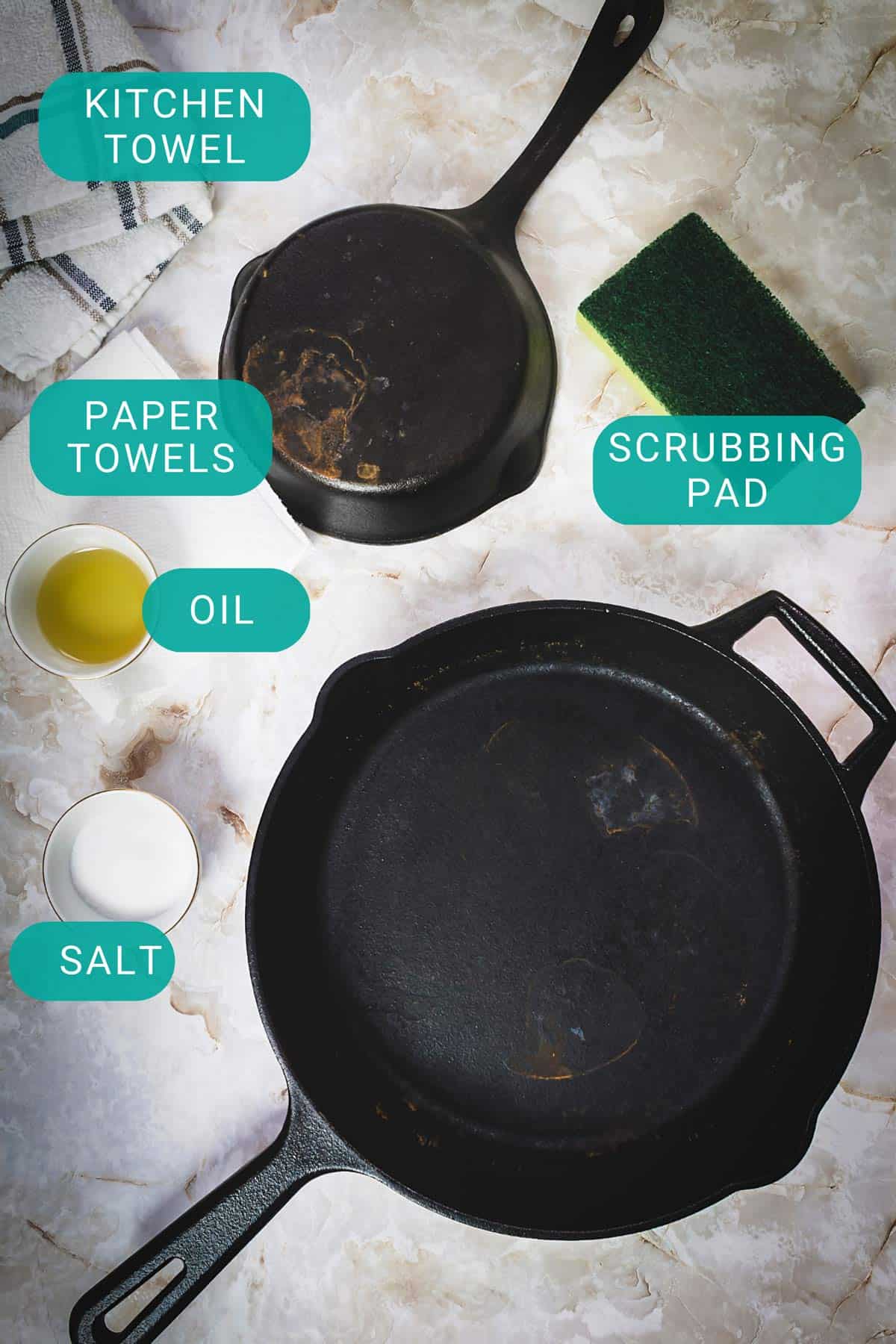 For cleaning and seasoning, you will need just a handful of supplies:
High smoke point oil (check out FAQs section below)
Salt
Paper towels
Kitchen towel (optional)
Scrubbing pad (optional)
General cleaning
It is generally sufficient to

wipe

the

pan

with a

paper towel or soft sponge

immediately after use. After your delicious meal of 15-minute Spanish garlic shrimp, let the pan cool a bit, and then wipe out any leftover oil with a paper towel.
Die-hard ironware fans will tell you to stay away from using soap, but if you need to get rid of harsh food residue, soap is totally fine to use, and here's why: If your skillet is seasoned correctly, the oil is polymerized (hardened).
Dish soap will not remove your seasoning but is not usually necessary to use in the first place. A gentle scrub and wipe, and you're done!
Ensure you're not soaking your pan in the sink, as that will cause rust and, ultimately,

more work to restore it.

Thoroughly dry your skillet after cleaning. If you discover seared food when the pan has cooled down completely, hot water can help to remove dried-on residues.
How to remove rust from my skillet?
Step away from the trash can! Rust is no big deal, and your pan is easily salvageable with a little elbow grease and a little actual grease.
Step 1 - Clean the skillet with warm water and soap if necessary. Wipe it dry with a kitchen or paper towel.
Step 2 - Scrub it thoroughly with a scrubbing pad or steel wool to remove rust. If your skillet is flaking, add a handful of salt to the oil and rub it into flaky and rusty parts.
Step 3 - Grease generously inside and outside the pan and the handle with oil.
Step 4 - Bake in the oven at 350 degrees Fahrenheit for 20 minutes; allow to cool in the oven.
How Do I Season Cast Iron?
Wipe the pan with a paper towel or soft sponge immediately after use. Make sure your skillet is clean and dry.
Pour about 1-2 tablespoons of oil into the skillet (see below which oil to use).
Rub the oil into and around the entire skillet with a clean cloth or paper towel. Remove the excess oil.
Bake upside down for an hour at 400 degrees Fahrenheit. Let cool in the oven.
Rub another skinny layer of oil on the pan before storing it.
You will know that your pan is adequately seasoned if you have a nice shiny non-stick coat. You'll know it's time to re-season when food starts to stick or your pan starts looking dry and dull.
Pro tip: To avoid damage, never "shock" the hot pan with cold water!
Make sure to remove all extra oil from your ironware before "curing". Too much oil develops a sticky residue.
Depending on the state of your skillet, you might need to repeat cleaning it with salt a couple of times to remove rust successfully. Don't forget to "cure" it on the stovetop for about 5-10 minutes on medium heat in between; finish the process in the oven (step 4).
You might want to place a piece of aluminum foil on the rack below the skillet, just in case. It might create some smoke.
Taking care of and maintaining your pans and skillets is easy. You can use the same method to care for cast iron griddles and grill grates.
When it comes to enamel skillets and Dutch ovens, clean them as any other pots and pans you have. No need to "season" them.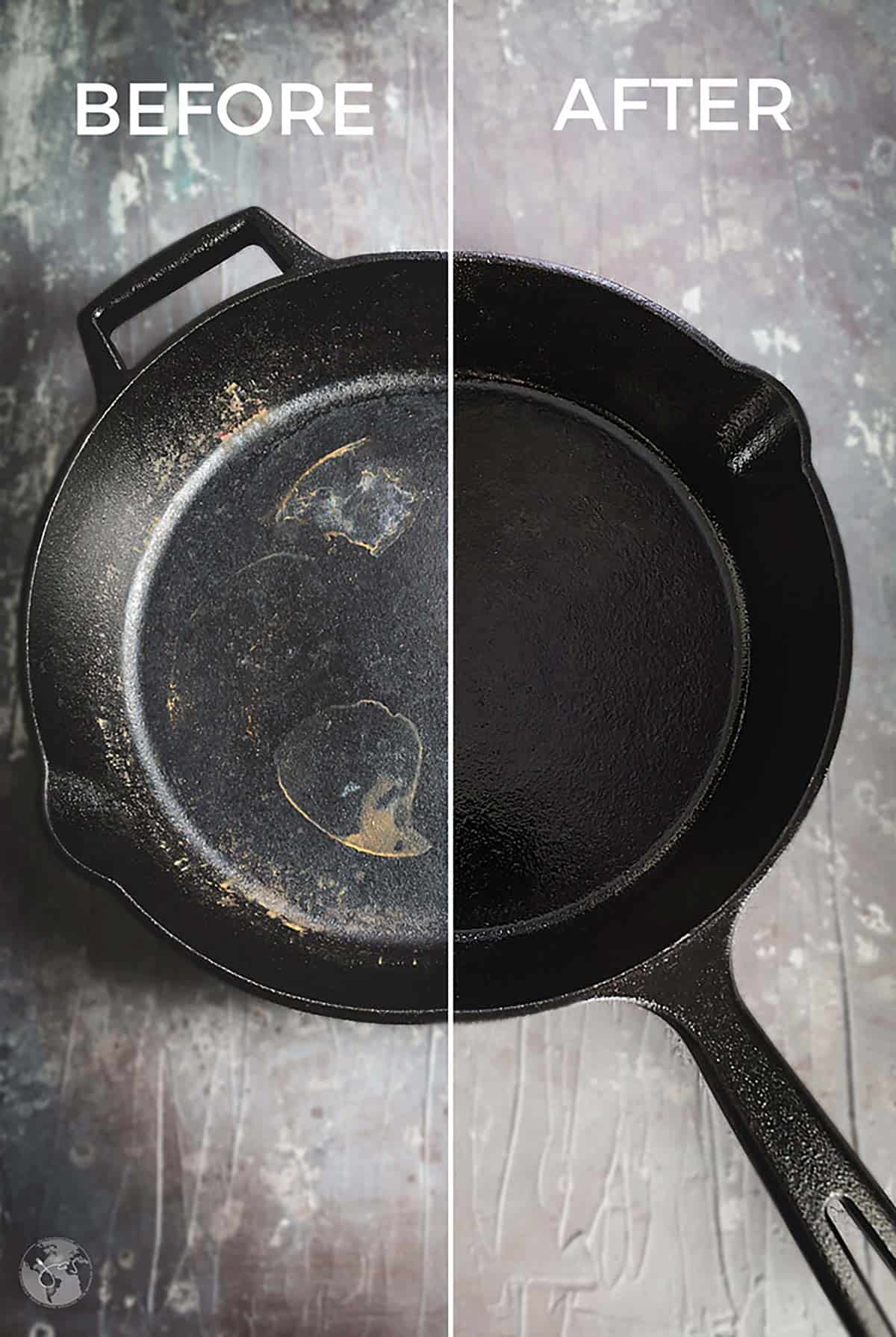 ❓ Frequently Asked Questions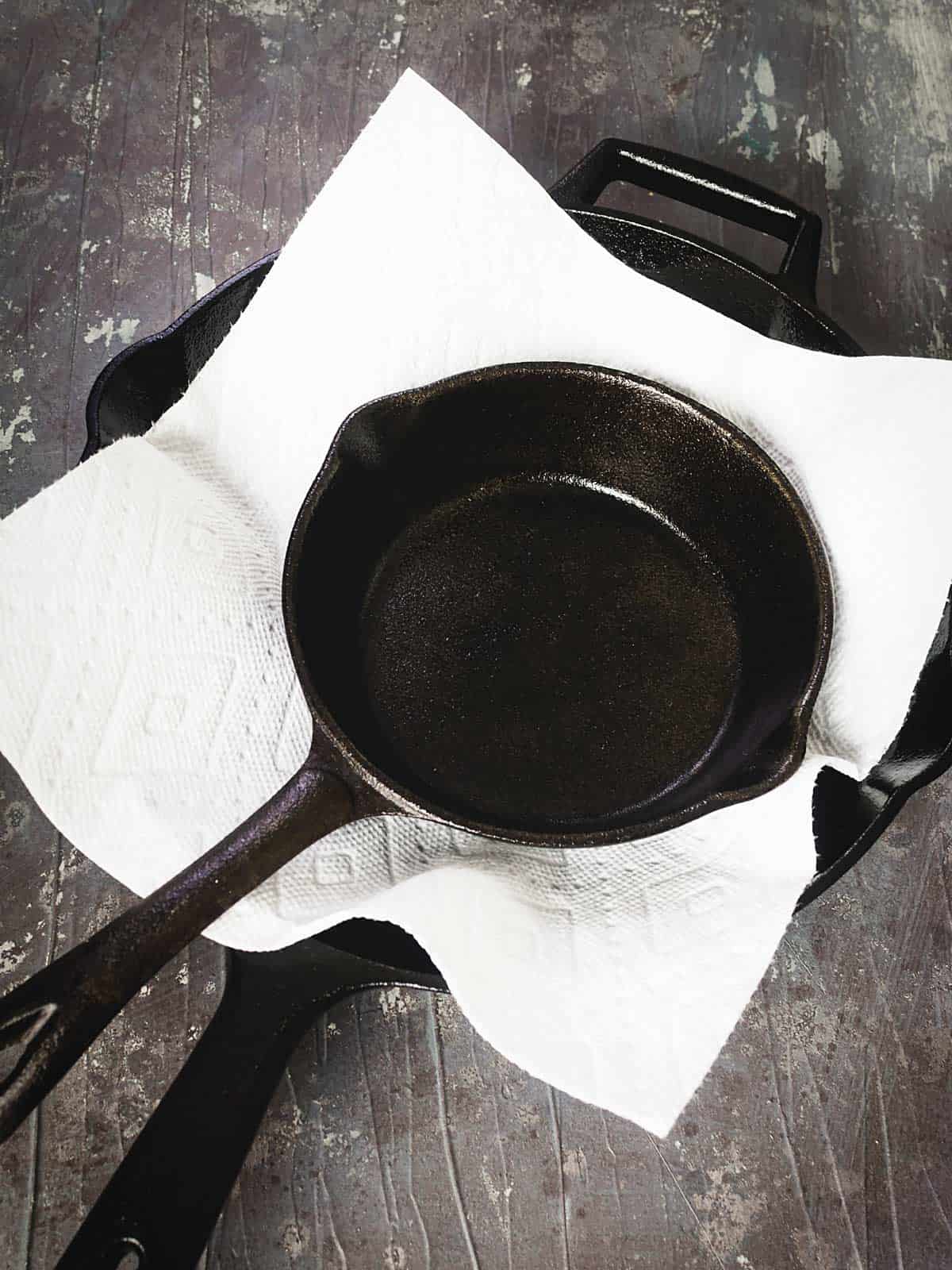 🍳 How to cook in cast ironware?
Cooking in your CI skillet is no different than cooking in any other pan! The trick is not to add food to a cold pan, so make sure you heat your pan through first.
Never place cast iron directly on the heat. Heat the pan gradually.
One thing you should avoid cooking in your iron skillet is tomato sauce. The acidity in tomatoes can damage the non-stick coating or seasoning of your pan.
Always put food in a hot cast-iron skillet!
Cast ironware recommendation and what to cook in it:
Lodge mini skillets are perfect for individual servings. Watch your overnight guests swoon over breakfast frittata in these.
Ten and/or 12-inch skillets are a must-have! Try one of these recipes:
Cast-iron pot with lid and wire bail is ideal for camping, but I made plenty of crowd-feeding soups and stews in mine like these traditional recipes:
Le Creuset enamelware is out of my budget, but this affordable enamel pot is one of my favorites, as is this enamel skillet. Some of my most popular recipes are made in enamel cookware:
Last but not least is the Dutch Oven. From bread to soups and stews, this is one pot every kitchen should have.
You should also try these amazing dishes you can make in your CI:
101 Delicious Reasons to Own a Cast Iron Skillet
This may seem like a lot of information, but I promise you'll be a pro in no time. If you have any other questions about cast iron care, comment below.