Discover 101 delicious reasons to own a cast iron skillet that will make your mouth water! Easy main dishes, sides, desserts, and more!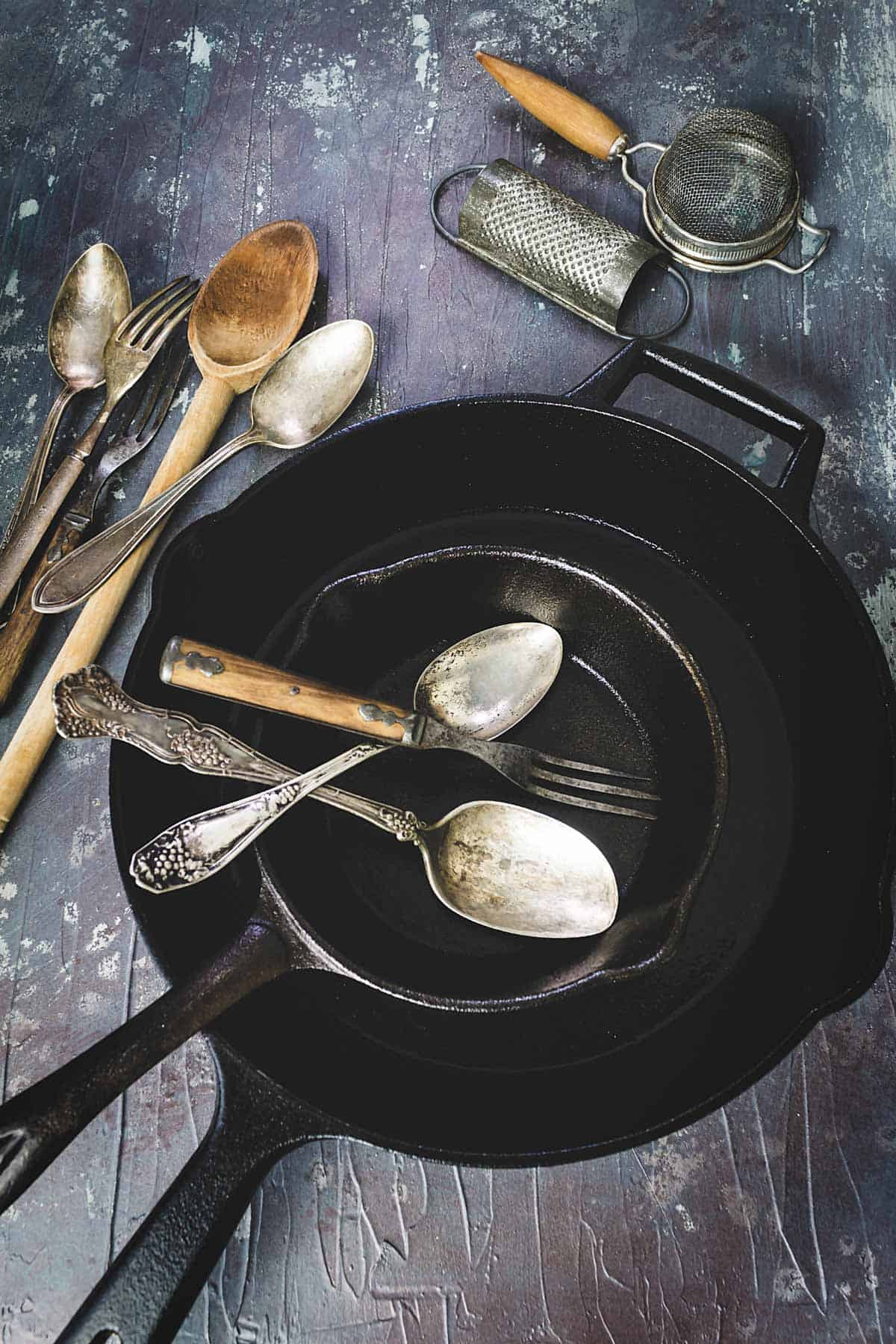 Countless reasons make possession of cast-iron cookware an indispensable must. If you don't cook in a cast-iron skillet, are you really cooking?
Why cook in a cast-iron skillet?
For starters, it's really fun to cook with cast iron. Second, every conventional skillet or pan, and even casserole recipe, succeeds effortlessly in the cast-iron skillet.
If you've cooked with it before, you'll agree, and if you're new to cast iron, you have to trust me.
Take this popular recipe, Paprika Schnitzel, for example. The schnitzel is traditionally fried on the stovetop, then layered in a baking pan with the sauce and baked in the oven - no need for extra steps when you use a cast-iron skillet. And you only dirty one dish - it's a win-win!
Cast-iron skillets, pans, and pots have been around since ancient times. Especially fascinating about them is that you can use them with any heat source.
They're inexpensive.
They're incredibly versatile.
They're virtually indestructible.
It's easy to clean them.
They evenly distribute heat.
They safely go from stove to oven.
Cast-iron cookware was used without significant changes over the years. From the time when we cooked over the open fire to the era of coal and wood stoves, then to gas, electric, or ceramic stoves, and now to the present state-of-the-art induction cookers.
The old tradition and the thought of the cast-iron pots on our grandmothers' stoves make many hearts beat faster.
It is irrelevant for cast-iron cookware whether the food is directly on the bottom of the pan or three layers above it. Everything is heated equally. Once cast iron is hot, it stays that way - for a long time.
Not sure how to clean and maintain your cast-iron cookware? Check out this ultimate guide to CI care.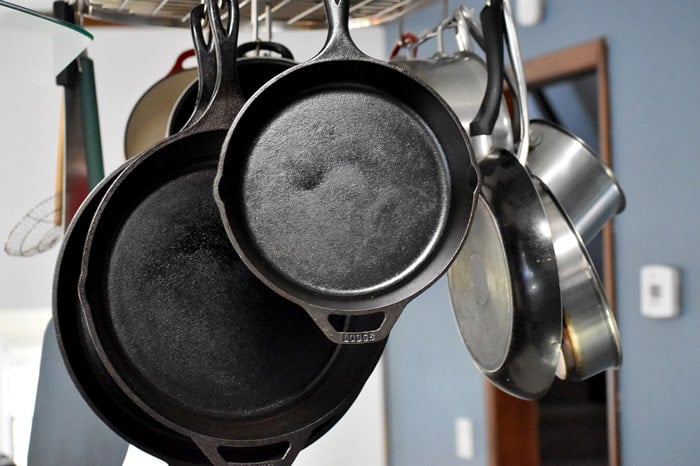 Image by Ernest Roy from Pixabay
Which cast-iron ware should I have?
You might be happy with just one skillet, and for beginners, that's all you need. But once you start cooking with cast iron, you'll want to expand your collection.
If you're not sure which ones to get, these are my recommendations [I own every single one]:
Now that you're a proud owner of a cast-iron frying pan let's put it to good use and get cooking!
Here are 101 delicious recipes to make in your cast-iron skillet:
43 main dish cast-iron skillet recipes
Seafood Recipes
Are you team seafood? This Seafood Paella with clams, mussels, shrimp, and chorizo is going to be your new favorite dish!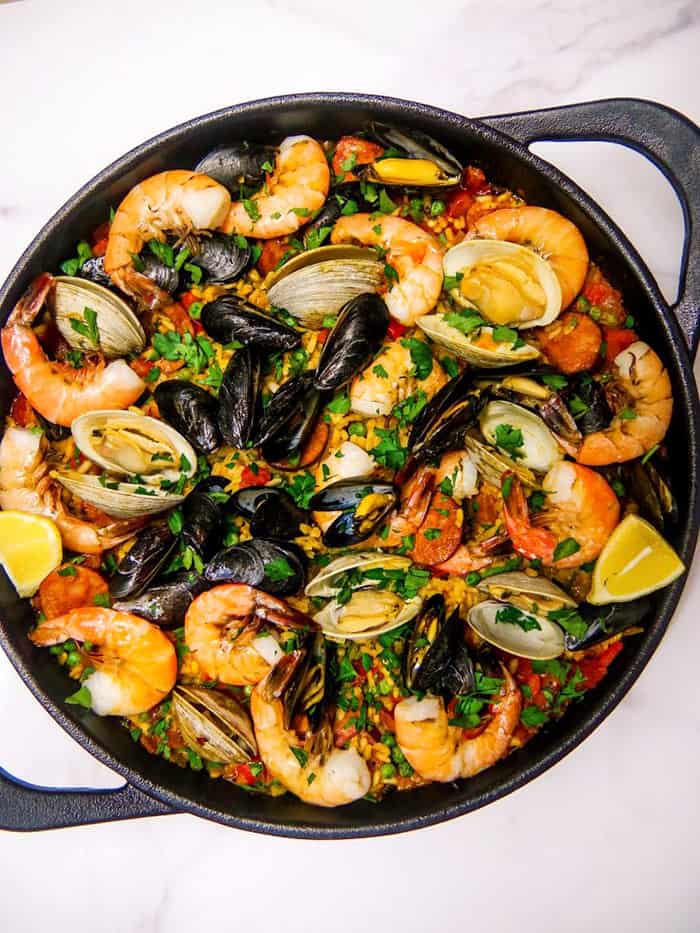 Seafood Paella
In the mood for good Southern food? This South Louisiana Shrimp Creole has that certain 'jena se quois' that puts it in a class all by itself, y'all. I'm in!
Here are more seafood dinners you will love:
Ready in less than 30 minutes, a screaming hot cast iron pan is the key to Healthy Cajun-Style Charred Okra and Shrimp. The flavors of gumbo – thyme, paprika, cayenne, garlic – without the fat-laden roux.
There are two main types of jambalaya: Creole and Cajun, with tomato base being the main difference. Check out Sally's healthy and Authentic Jambalaya Recipe.
This gluten-free Shrimp and Grits Pizza honor the flavors and essence of its classic Southern roots while presenting the components of this time-honored favorite in a deliciously unique way.
This Creamy Lemon Parmesan Shrimp recipe is delicious and can be ready in under 20 minutes! It's the perfect weekday meal.
Poultry Recipes
Chicken is super versatile and is often on our menu, especially when grandkids come over. We try to rotate delicious recipes from around the world and here are some fantastic cast-iron chicken recipes you'll love:
Jackie doesn't think the Chicken and Sausage Jambalaya is visually appealing, but I disagree. It's making me drool all over my screen!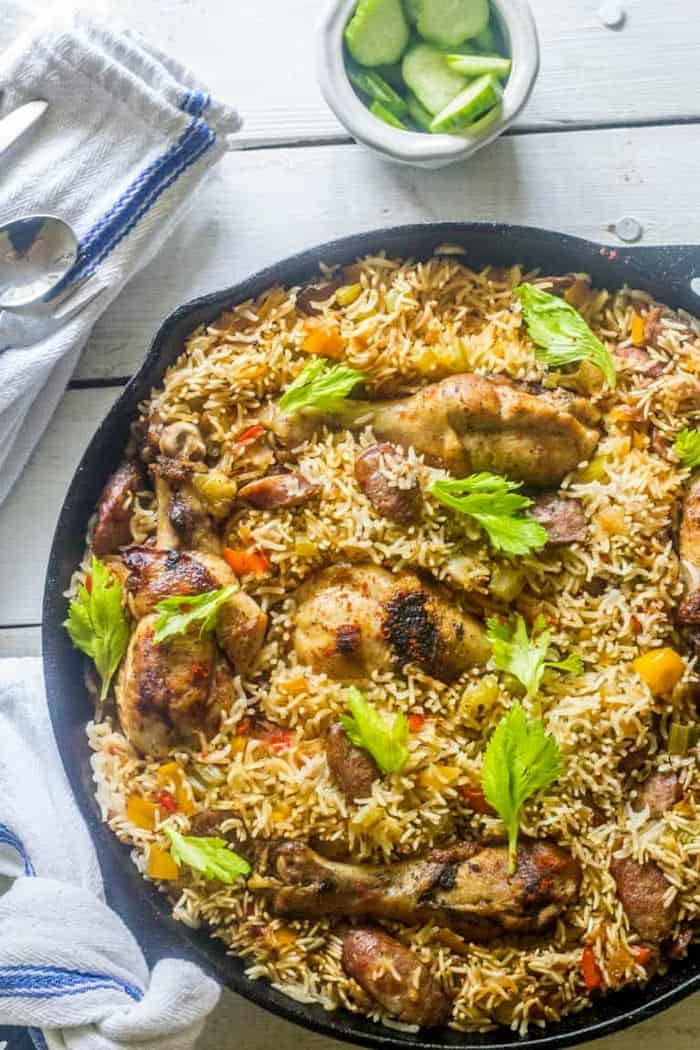 Chicken and Sausage Jambalaya
Also, try these chicken skillet recipes from around the world:
Beef and Lamb Recipes
Don't you love the aroma of freshly made fajitas? These One Skillet Ribeye Steak Fajitas are easy, perfectly seasoned, and delicious with tender, juicy, sizzling Ribeye steak, bell peppers, and onions, and drizzled with a squeeze of lime juice.
Bobbi's Japanese Pepper Lunch Steak and Rice Sizzle is a fantastic dish with sizzling tender sukiyaki beef, pepper, and rice. She serves it with delicious Amakuchi and Karakuchi sauces and makes everything in less than 30 minutes.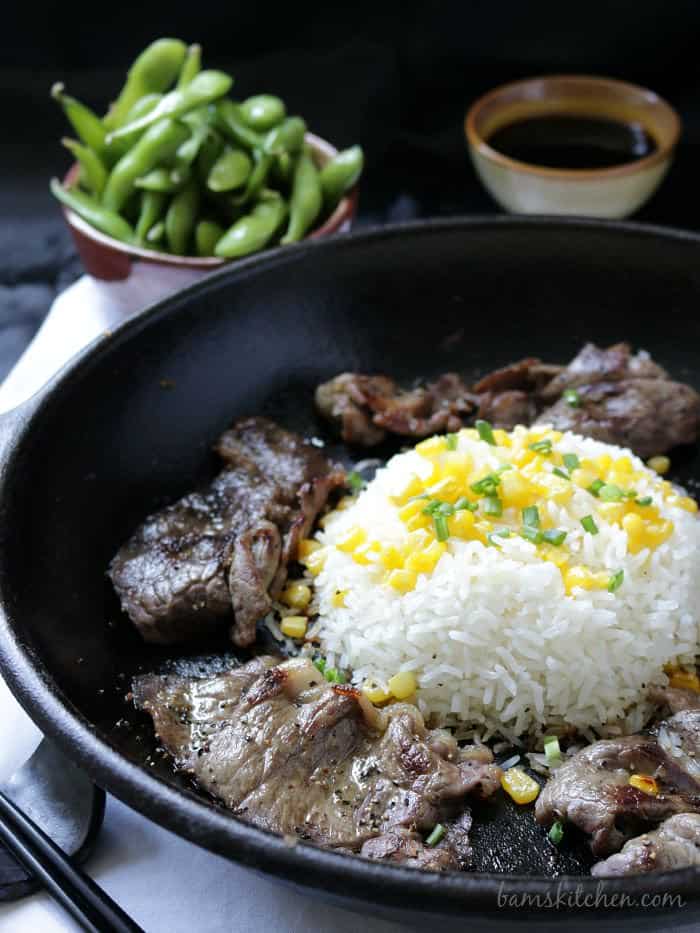 Pepper Steak and Rice Sizzle
You'll want to save these beef meals too:
Plov is Uzbeki originated one-pot meal with tender and flavorful chunks of beef, vibrant carrots, and wonderfully spiced rice on top. Sounds so comforting.
Janette's Homemade Minced Beef and Dumplings are the best British comfort food. A hearty meal served hot and bubbly to warm you from the inside out, and it's all made in one pan.
Get ready to meet the new Minnesota classic: Not Yo Mama's Tater Tot Hotdish! It's gluten-free and dairy-free. Dinner has never tasted so good!
This Healthy Hamburger Helper Beef Skillet is a one-pan meal that is so easy to make and satisfying. It's dairy-free & gluten-free and is a much healthier alternative to the popular boxed mixes.
Thanh shares this tasty and authentic recipe for Swedish Meatballs with Creamy Sauce [with step-by-step photos], which is full of fresh ingredients for maximum flavor. I know you can't wait to try it!
Rich and creamy Skillet Linguine with vegetables and meat sauce smothered in cheese and prepared all in one skillet, in under 30 minutes.
If you love comfort foods, you will enjoy this Spaghetti Bolognaise.
Quick & Easy Skillet Lasagna Pasta with Ground Beef is truly a 30-minute meal!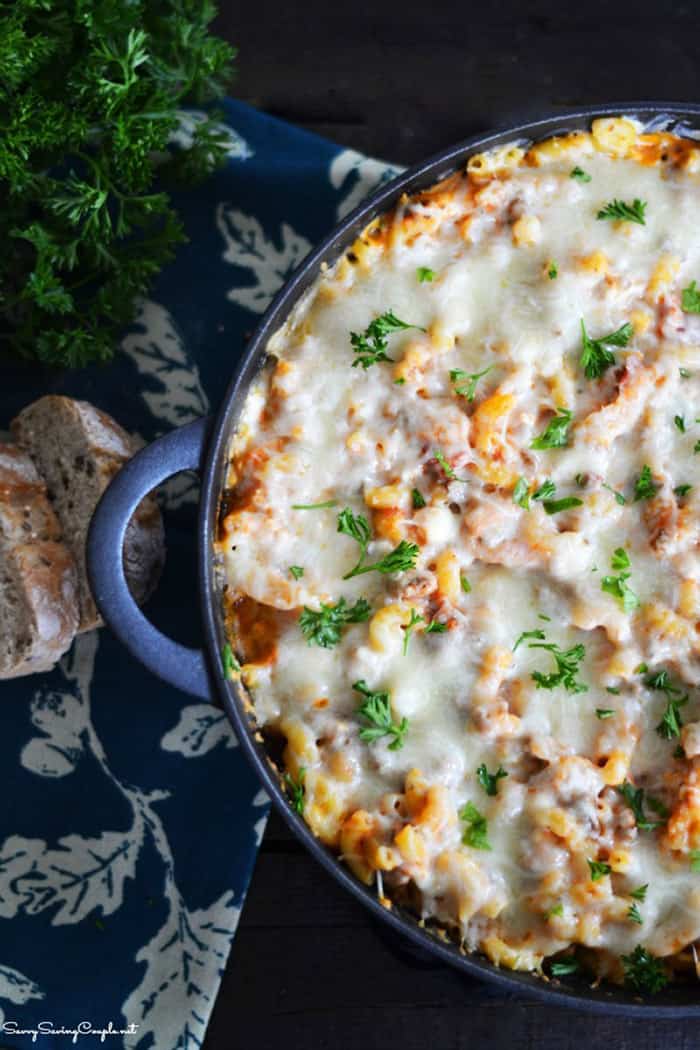 Lasagna Pasta with Ground Beef
Pork Recipes
I agree with Eileen - Pork Chops and Sauerkraut is major comfort food for a fall afternoon and a crowd-pleaser. Growing up in Europe, sauerkraut was a staple food, and it triggers many childhood memories.
More recipes with pork to love: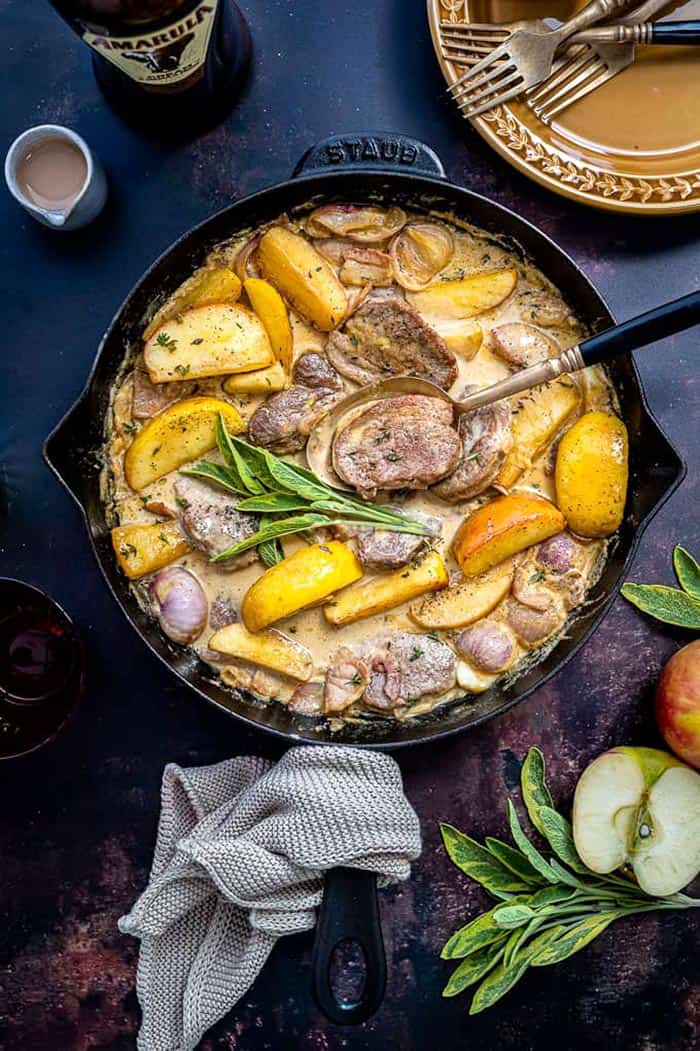 Pork Tenderloin with Apples
Vegetarian and Vegan Recipes
You don't have to be a vegetarian or vegan to love these recipes: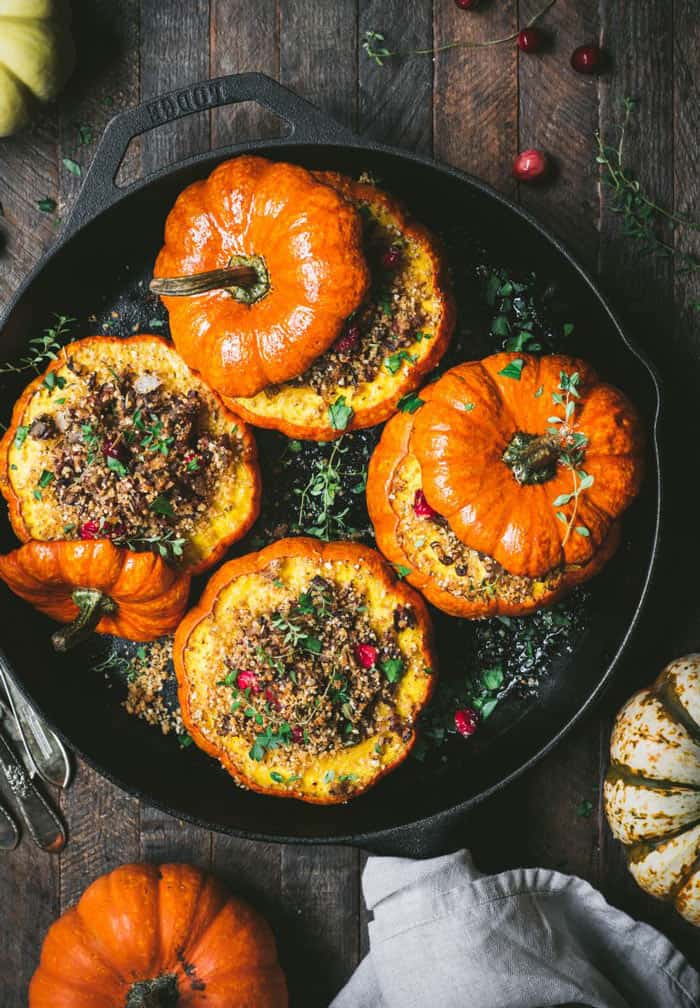 Mini Rice-Stuffed Pumpkins
9 cast iron skillet side dishes:
The best easy recipe for baked beans in a thick sweet and smoky sauce made from scratch in one skillet is this Homemade Maple Bourbon Molasses Baked Beans with Bacon. No BBQ can be good without baked beans.
Try these easy one-skillet side dishes too: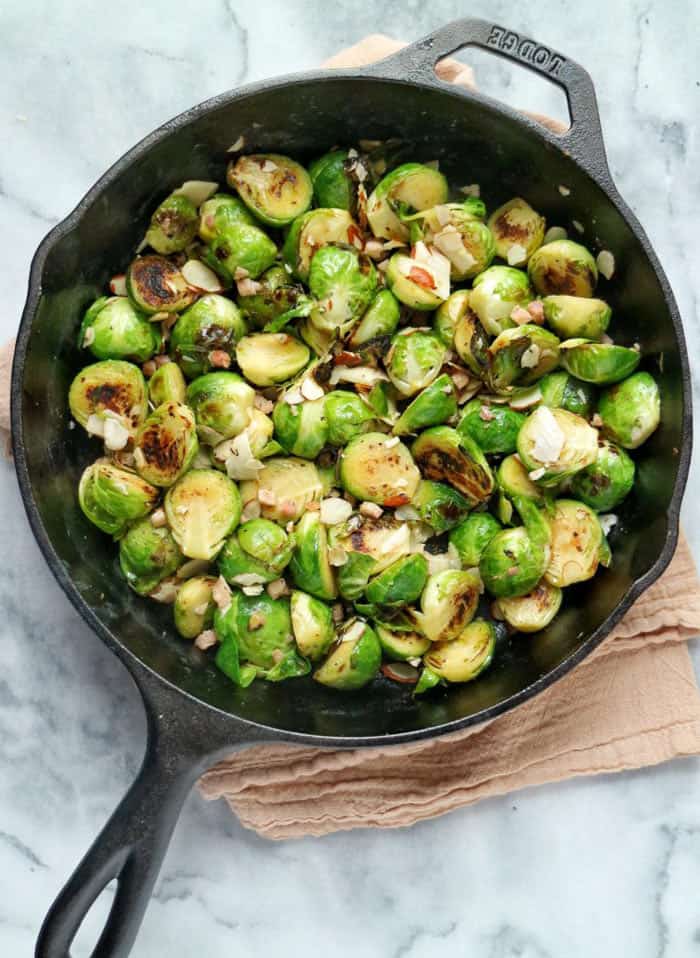 Brussels Sprouts with Pancetta and Parmesan
26 breakfast/brunch recipes:
This Broccoli, Mushroom, and Brussels Sprouts Cast Iron Frittata recipe by Megan is loaded with veggies and packed with flavor. More frittatas to try: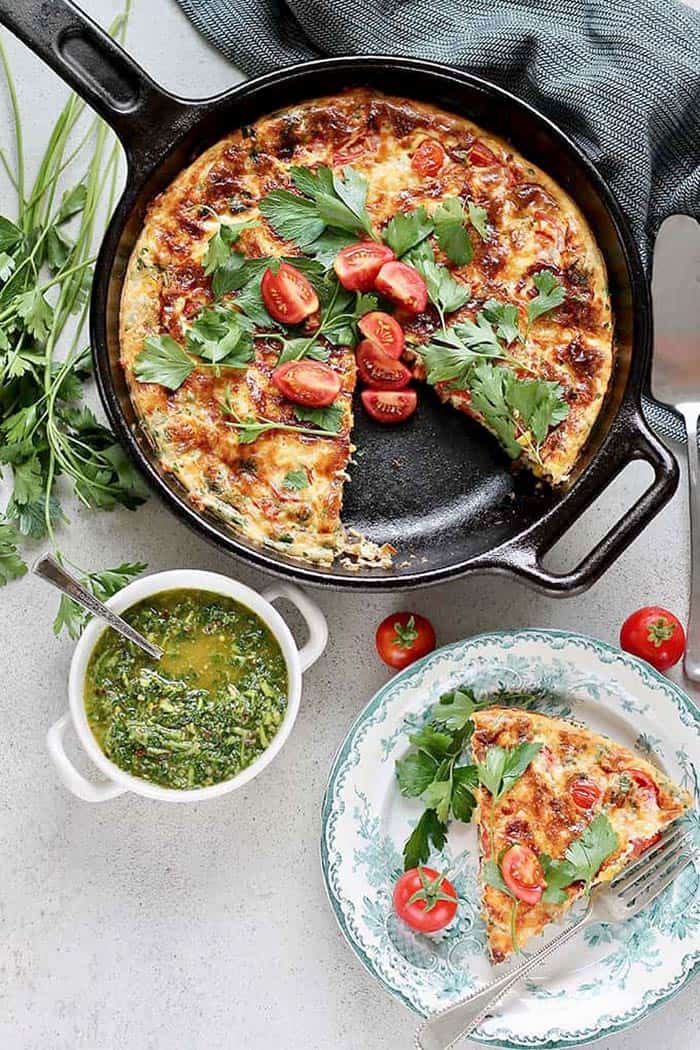 Corn and Tomato Frittata
Also worth trying is this Mexican-style breakfast Chilaquiles Rojos by Isabel! She lightly fried corn tortillas until crispy, then simmered them in salsa, and combined them with scrambled eggs and cheese for a quick and easy breakfast or snack.
Fried or poached skillet eggs with sauces, meat, or other ingredients are demanding the web, and rightfully so. A delicious and nutritious way to start your day, and these are some of my favorite recipes: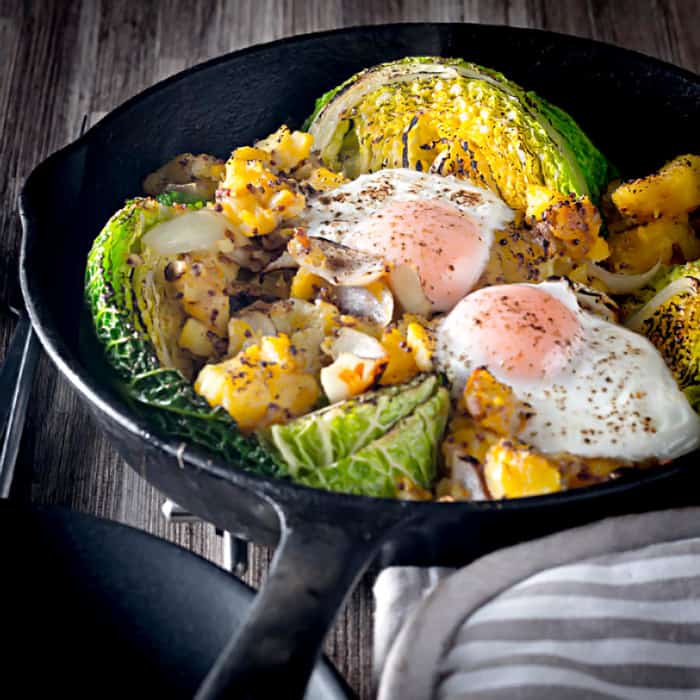 Bubble and Squeak
Another simple hash recipe to try is Rika's Breakfast Potatoes Skillet with Kielbasa Sausage, green bell peppers, yellow onions, fresh corn, and is seasoned with chipotle pepper, coriander, salt, and black pepper.
Replace potatoes with rutabaga, and you'll get Breakfast Rutabaga Rösti. It's a perfectly nutritious and cheap breakfast.
Savory Dutch Baby by Sarah and Pam is made in an iron skillet and has plenty of herbs, tasty cheese, pancetta, and roasted tomatoes.
My favorite breakfast item is cake, but these sweet alternatives are healthier options:
16 skillet desserts:
7 bread recipes:
I love everything about this Pumpkin Cream Cheese layered bread with a creamy surprise inside. The cast-iron skillet gives this pumpkin bread a fun rustic fall feel.
You will love this Mexican Cornbread by Marissa. It's a spicy, cheesy riff on traditional skillet cornbread!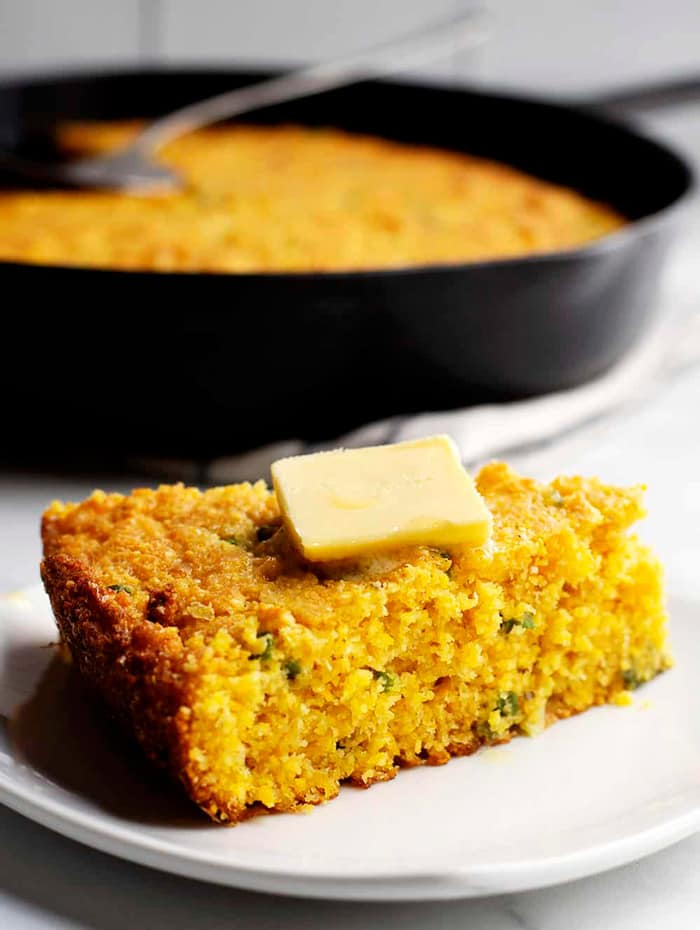 Mexican Cornbread
Also, try these bread recipes:
Bonus recipes:
If you love cooking in cast ironware or you're just starting out, you will appreciate these skillet recipes:
Swiss Skillet Mac and Cheese
This epic mac and cheese recipe, traditional to Swiss Alpine, is a comfort dish you absolutely must try. Plus, skillet dinners make easy cooking and cleaning up.
Get this recipe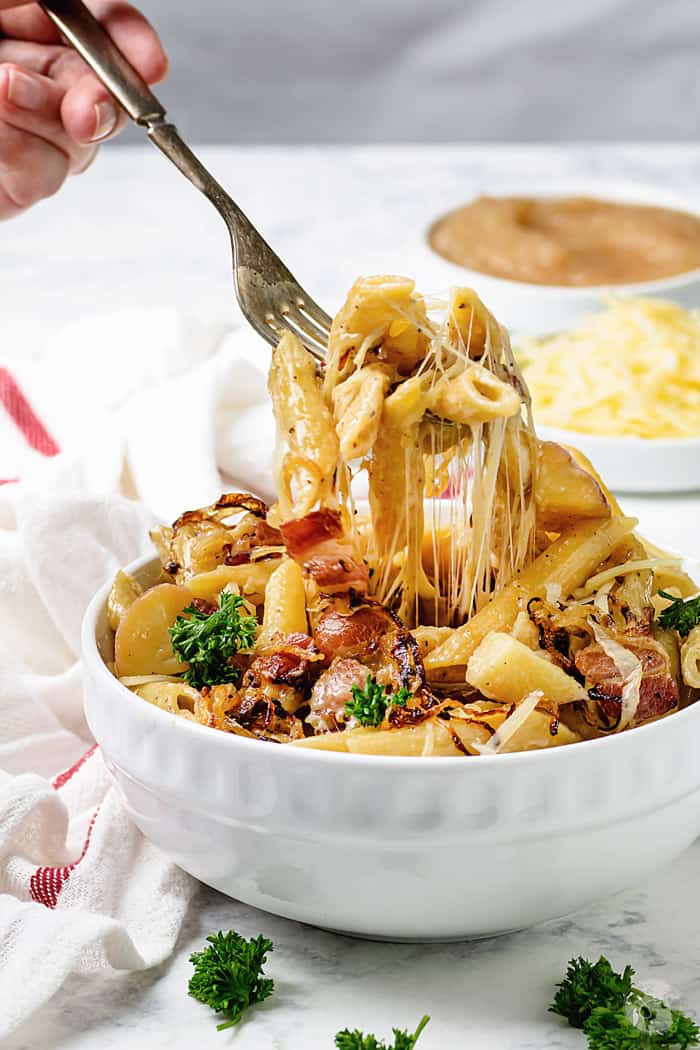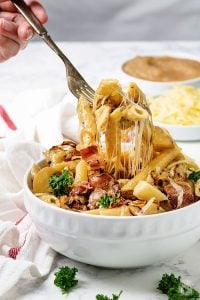 Arroz Atollado - Colombian Pork Risotto
This traditional Colombian risotto with pork and sausage is typically served for special occasions, but you will love its creamy texture with a spicy kick any day.
Get this recipe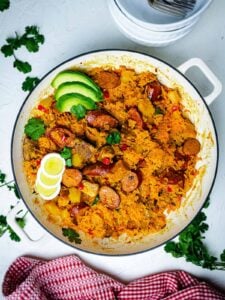 Noodles Cabbage and Bacon - Polish Haluski Recipe
Polish Haluski - a simple comfort dish of noodles, fried cabbage, and bacon that the whole family loves.
Get this recipe
Zucchini Ricotta Spiral Fillo Pie
A creamy, ricotta and zucchini filling is rolled and coiled in delicate layers of fillo dough before baking to a golden brown. It is perfect for a light lunch or supper with a simple salad or served as an appetizer.
Get this recipe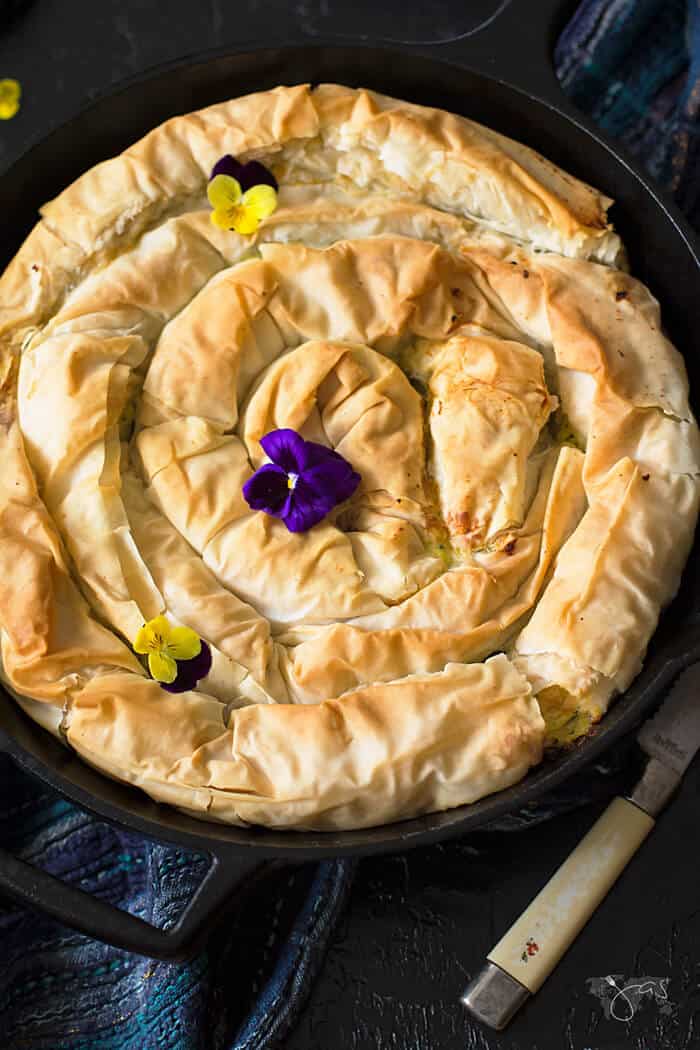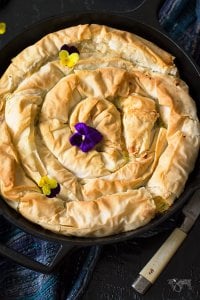 Smoked Salmon Quiche with Gluten Free Crust
This Swedish quiche with smoked salmon, asparagus, and broccoli is gluten-free and makes a wonderful meal for breakfast, brunch or dinner.
Get this recipe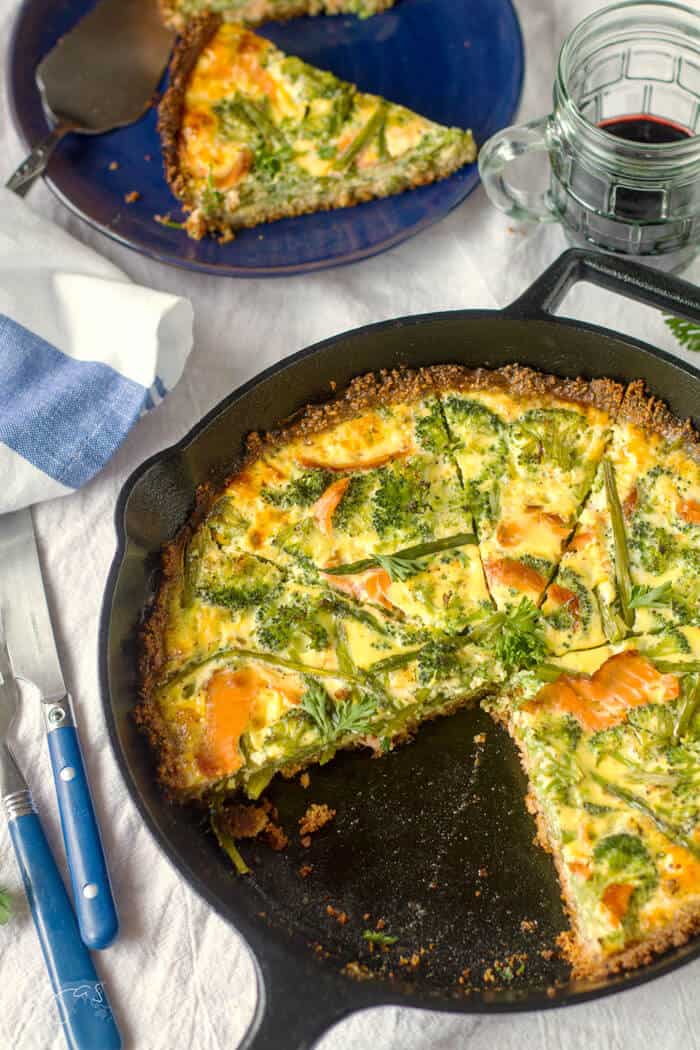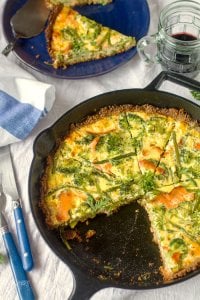 South African One-Pan Bobotie Casserole
Bursting with flavors and simple to prepare, this one-pan bobotie casserole is a perfect dinner solution for your busy weekdays.
Get this recipe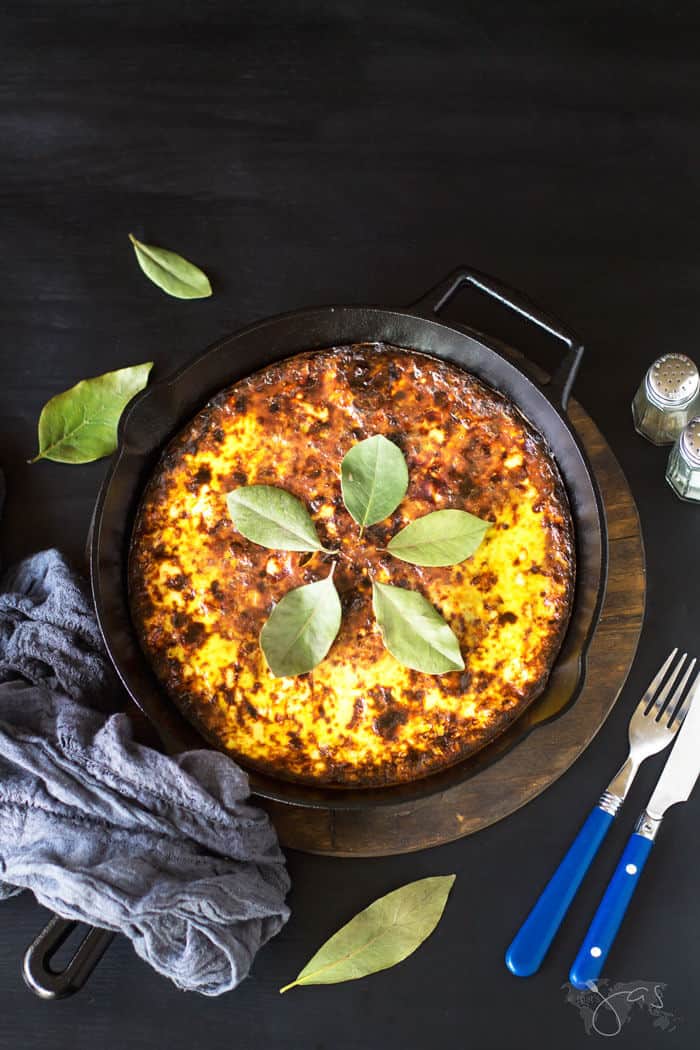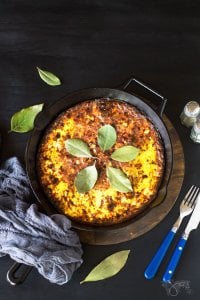 Easy Cheesy Mushroom Pork Chops Recipe
This easy cheesy mushroom pork chops recipe is made quickly and with only a handful of fresh ingredients. The perfect solution for a weeknight dinner your whole family will love.
Swiss Chard and Potatoes – Croatian Blitva Recipe
Croatian simple Swiss chard (blitva) and potatoes recipe is delicious, super easy and quick to make with just a few ingredients. Serve this Mediterranean, gluten-free, vegan, and vegetarian side dish with fish, meat, fried eggs or alone.
Get this recipe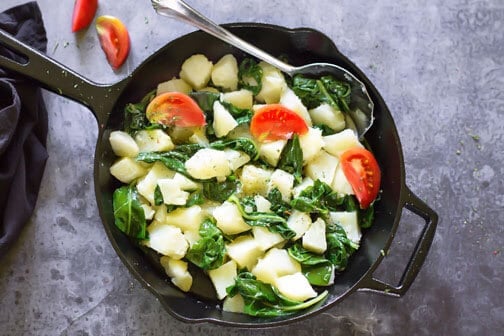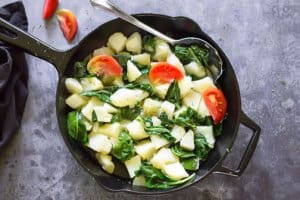 15 Minute Spanish Garlic Shrimp Tapa
It takes about 15 minutes to make this delicious Spanish garlic shrimp but it tastes like you've spent hours in the kitchen.
Get this recipe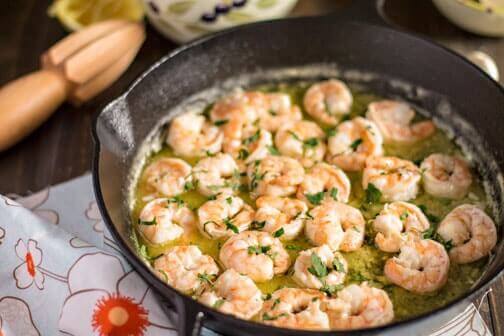 One-Pot Chicken Rice Dinner
This easy one-pot chicken and rice is a crowd-pleasing dinner. It's got carrots, peppers, onions, garlic, and peas. It packs lots of flavors and it's a meal that everyone loves. Best of all, this family-friendly dish is gluten-free and ready in a snap!
Get this recipe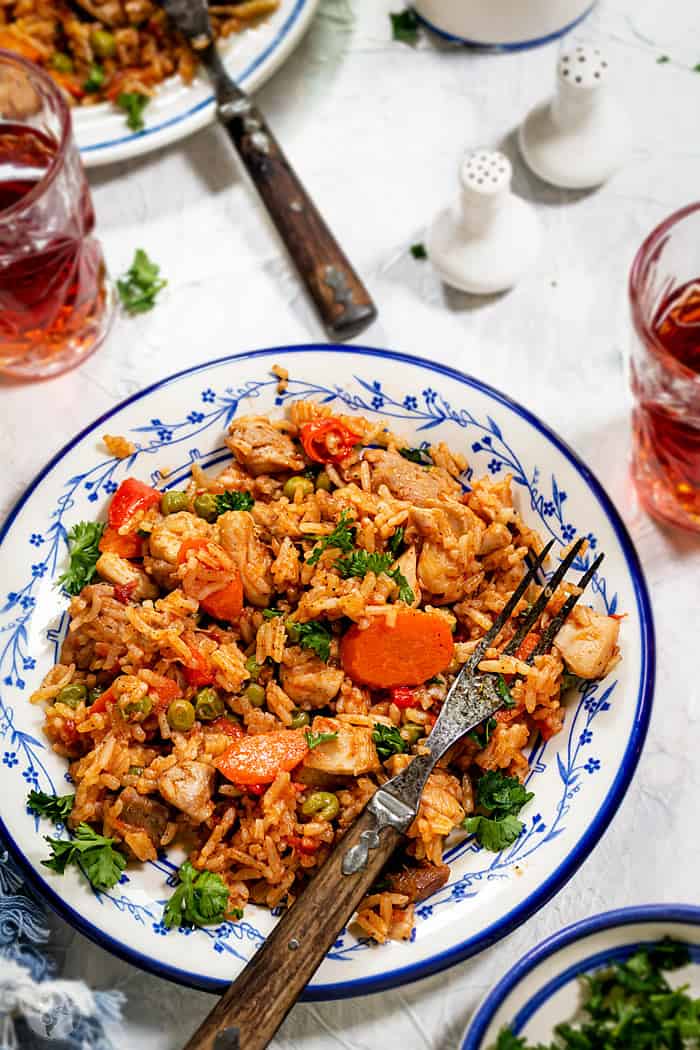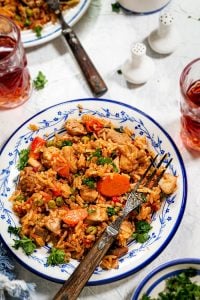 Palestinian-Style Stuffed Savoy Cabbage Rolls
Easy and delicious Palestinian stuffed cabbage rolls with blanched savoy cabbage and seasoned beef in a flavorful sauce is a great make-ahead weeknight meal or for a special gathering.
Get this recipe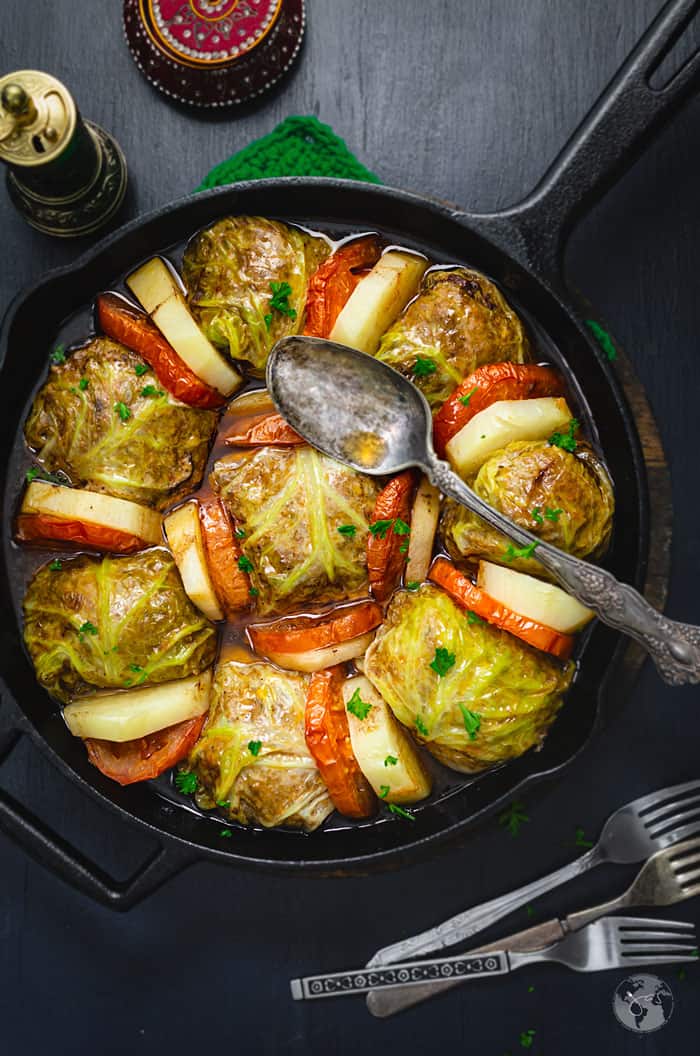 Chilean Skillet Shepherd's Corn Pie
Delicious Chilean beef pie topped with corn mixture in the style of shepherd's pie is bursting with South American flavors.
Get this recipe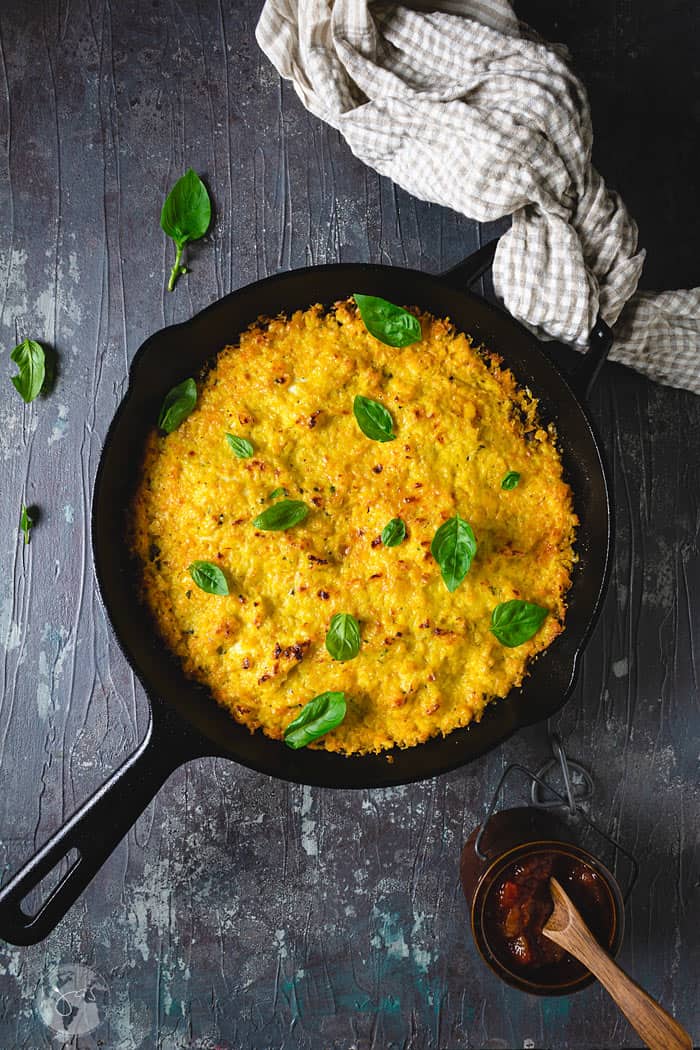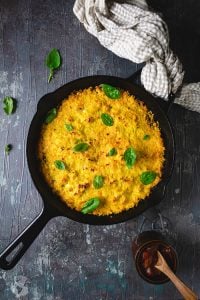 Can you believe how many amazing recipes you can make in a cast-iron skillet? And this is not even the tip of an iceberg. What is your favorite skillet dish?
I'd love to know how you use your cast iron. Let me know in the comments!