If you never had Jewish Kugel, sweet noodle casserole, you need to bookmark this recipe. Cheesy, creamy, rich lokshen kugel with peaches and raspberries will brighten your Yom Kippur [Holy Day], Passover, or any other holiday you celebrate.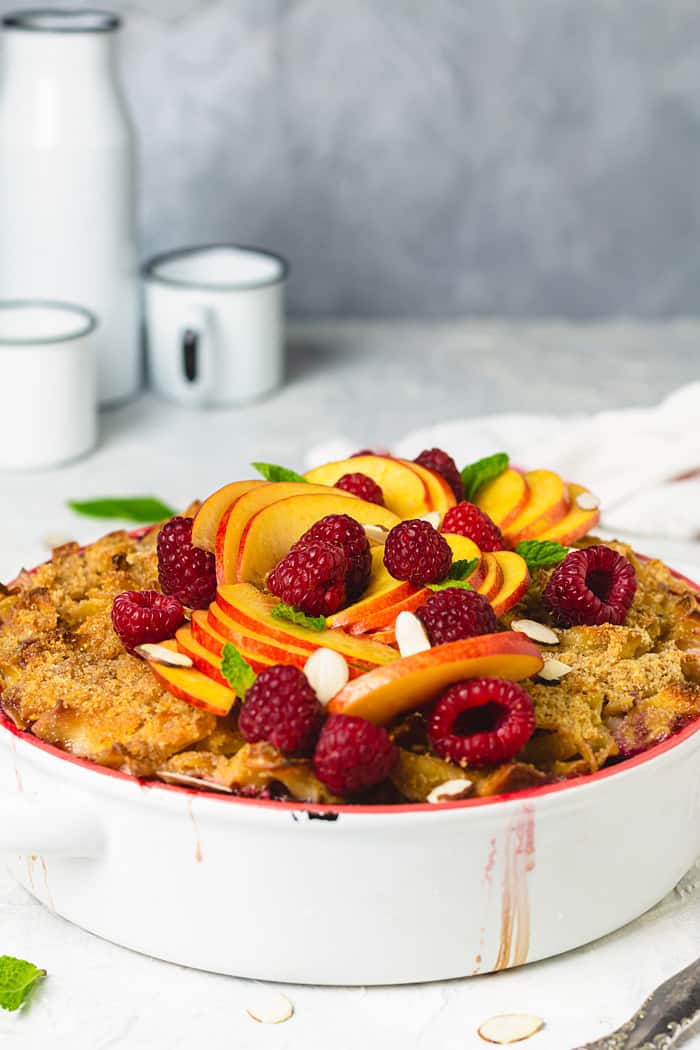 What is Lokshen Melba Kugel?
Lokshen Kugel is Ashkenazi (European) Jewish dish that is traditionally served on the Sabbath and holidays.
What's to love about this sweet noodle casserole?
It's breakfast, main dish, and dessert.

It's not overly sweet.

Noodles are the ultimate comfort food!

You can eat it warm or cold.

It's easy to make.

It feeds the crowd.

You can make it your own.
People also asked:
1. WHAT DOES LOKSHEN KUGEL MEAN?
Lokshen is a Yiddish word for egg noodles.
Kugel is a casserole, aka baked pudding, originated in Germany over eight centuries ago. There are several variations of kugel, sweet or savory, and with a variety of ingredients and textures.
Kugel also means round, ball, and sphere in German. You can certainly use any shape dish to make this sweet noodle casserole.
2. WHAT IS MELBA?
Melba is a dessert of peaches and with vanilla ice cream topped with raspberry sauce. It was invented at the end of the 19th century by the French chef Auguste Escoffier in honor of the Australian soprano, Nellie Melba.
The chef created a few other dishes for the opera singer, but they are lesser-known than Peach Melba and Melba Toast, a very thin crisp toast.
Thanks to Dame Melba, the peach-raspberry combination is favorite in many dessert recipes: Melba cheesecake, Melba trifle, Melba ice cream pie, parfait, cake, cupcake... You get the picture.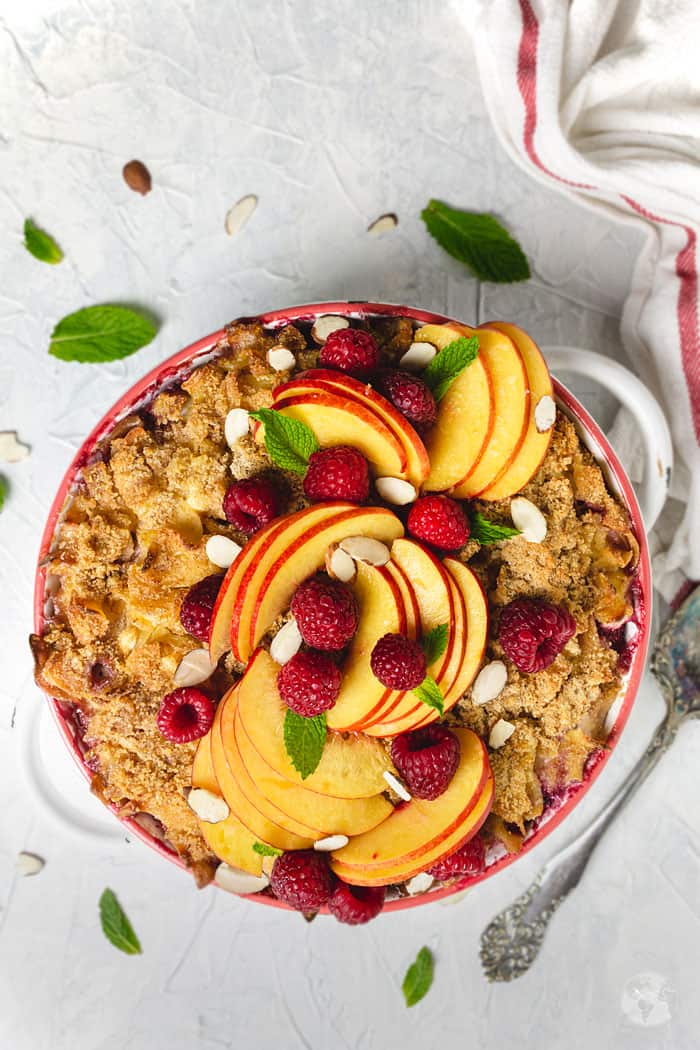 A year of noodles!
Last month, we wrapped up a full year of Noodles Without Borders, and I'm excited to bring you more noodle recipes in the next 12 months and beyond.
If you're new to my page, noodles without borders is a yummy project my friend Bobbi of Healthy World Cuisine and I started last August.
The rule is to each make pasta recipe from somewhere around the world on every first Tuesday of the month. Other than that, there are no rules.
We have shared all kinds of noodles with you over the past year: noodles to slurp, gluten-free, vegetarian, healthy, and not-so-healthy comfort pasta dishes. There's a little bit for everyone and for any time of the day. Do check them all out - the full list included on the bottom of this post!
What's in this recipe?
*Keep scrolling down to the recipe card for a list of FULL ingredient amounts and instructions or click the "Skip to Recipe" card at the top of the page!
Noodles - duh!
Dairy - cream cheese, sour cream, butter, and milk - they make the dish creamy.
Eggs - to bind the noodles together.
Vanilla pudding and extract - give the cake-like flavor.
Maple syrup - is my sweetener of preference. Use sugar, whatever.
Melba fruit - peaches and raspberries.
Bread crumbs and cinnamon - make the crunchy topping.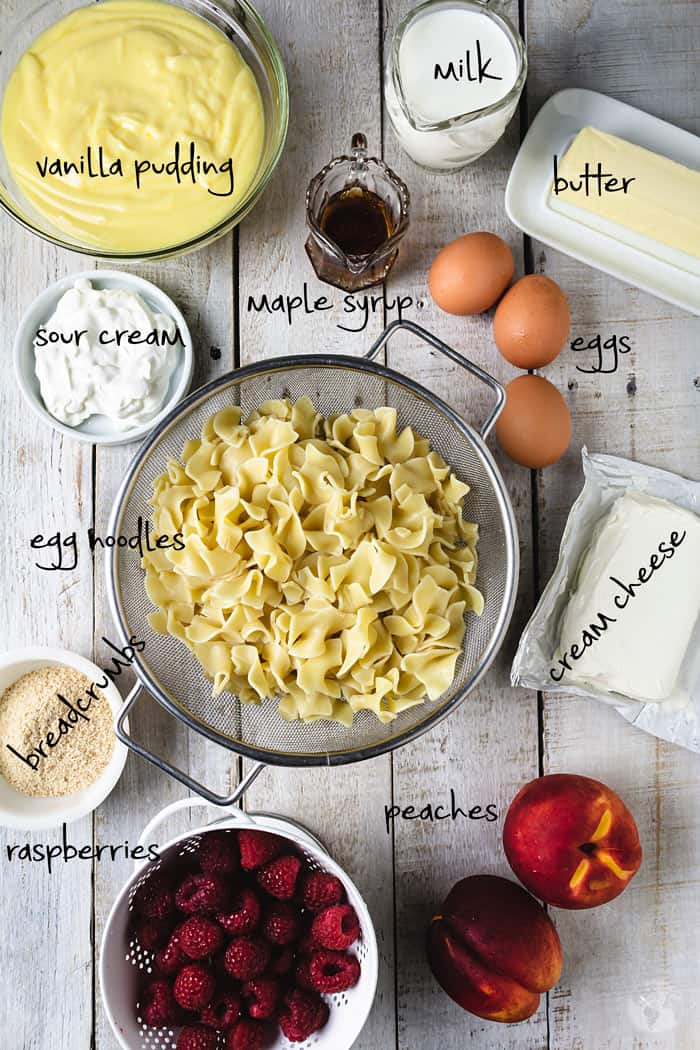 How do you make this Jewish treat?
*Details and the printable recipe are available at the bottom of this post.
Beat the cream cheese and maple syrup. Add the eggs and cream them together.
Mix in the pudding, sour cream, salt, vanilla, and milk.
Stir noodles into the liquid mixture.
Pour half the noodle mixture into a pan. Add peaches and raspberries.
Cover with the rest of the noodle mixture.
Sprinkle with breadcrumbs and bake until golden.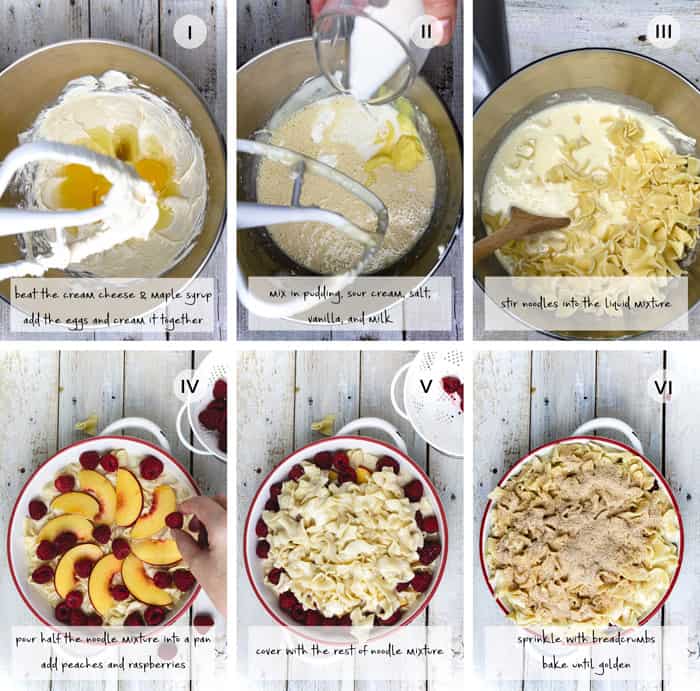 Frequently asked questions:
Can I make this casserole gluten-free?
Absolutely! Use your favorite gluten-free breadcrumbs or cookie crumbs and pasta.
Rice noodles (fettuccine is a good option) would work better than other GF pasta. I wouldn't use corn pasta for this recipe due to its flavor and texture.
Can I use frozen peaches and raspberries?
Yes. However, keep in mind that frozen fruit is full of moisture. You wouldn't want this casserole to turn into a soup, so use less milk. I haven't tried making it with frozen fruit thus can't tell you exactly how much milk to use. Sorry.
What other fruits work well with sweet noodles?
Add any fruits and nuts to create different flavors and textures:
Apples

Cherries

Plums

Pears

Pineapple

Dried cranberries

Dried apricots

Raisins

Fruit cocktail in syrup
Sweet noodle casserole, aka #kugel, with #melba fruit, is a traditional Jewish dish that you can't stop eating! #noodleswithoutborders #casserole #comfortfoodClick to Tweet
How do I store this sweet casserole?
Refrigerate the casserole in an airtight container [or tightly wrapped] for up to 4 days. If you top the kugel with fresh fruit, it won't look so fresh after a day or two, but the casserole will still be delicious.
How do I serve it?
It's traditionally served with the main course. What is magnificent about this casserole though, is that you can have it for breakfast or brunch with a cuppa joe or tea. Kids love it with milk or hot cocoa. We ate it for dinner too with extra fruit on the side.
Can I reheat it?
Yes, but make sure to remove the fruit from the top if you garnished your kugel. You can reheat it up to two days after you baked it. Preheat oven to 300 degrees Fahrenheit and leave the kugel in for 15 minutes or so
Can I make the kugel ahead of time?
Assemble the kugel a day ahead and keep refrigerated — bake before serving.
Can I freeze it?
I wouldn't suggest it but if you must, then make sure it's tightly wrapped in saran and then place in an airtight container or freezer bag.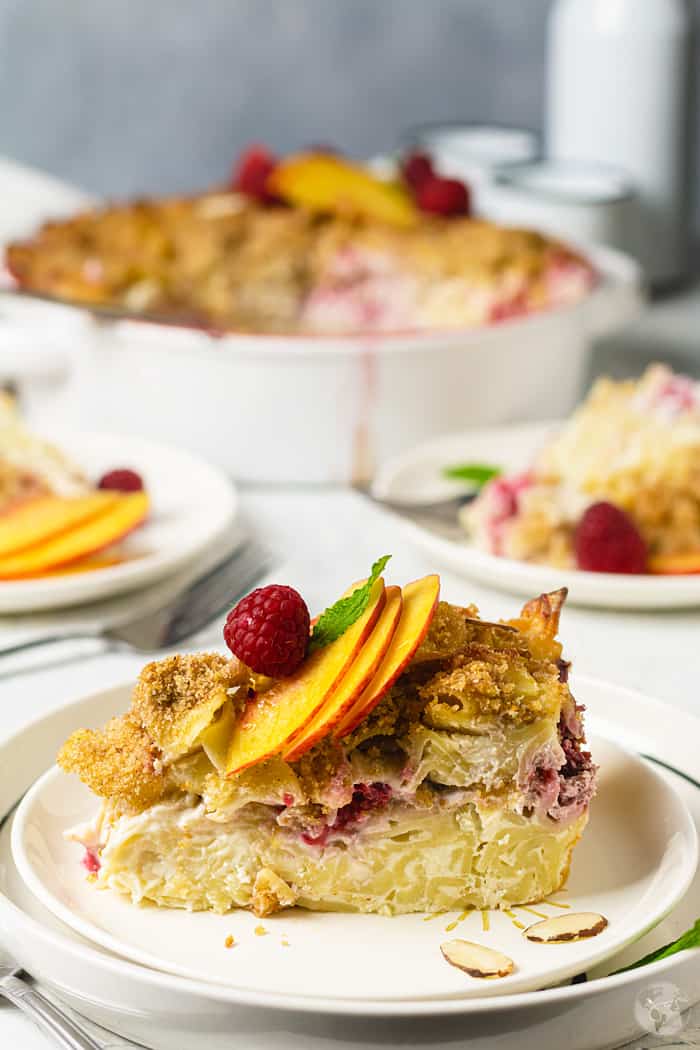 Pro Tips/Recipe Notes
Mix the fruit into the noodle mixture instead of layering.

Cover the kugel loosely with aluminum foil if the topping starts browning too early.

Substitute graham cracker crumbs for breadcrumbs (omit the sugar).

Remember, all ingredients should be kosher.
Use up cooked pudding in this eggnog cheesecake recipe.
MAKING THIS RECIPE OR OTHERS?
Post a photo on my Facebook page, share it on Instagram, or save it to Pinterest with the tag #ALLTHATSJAS. I can't wait to see your spin on it!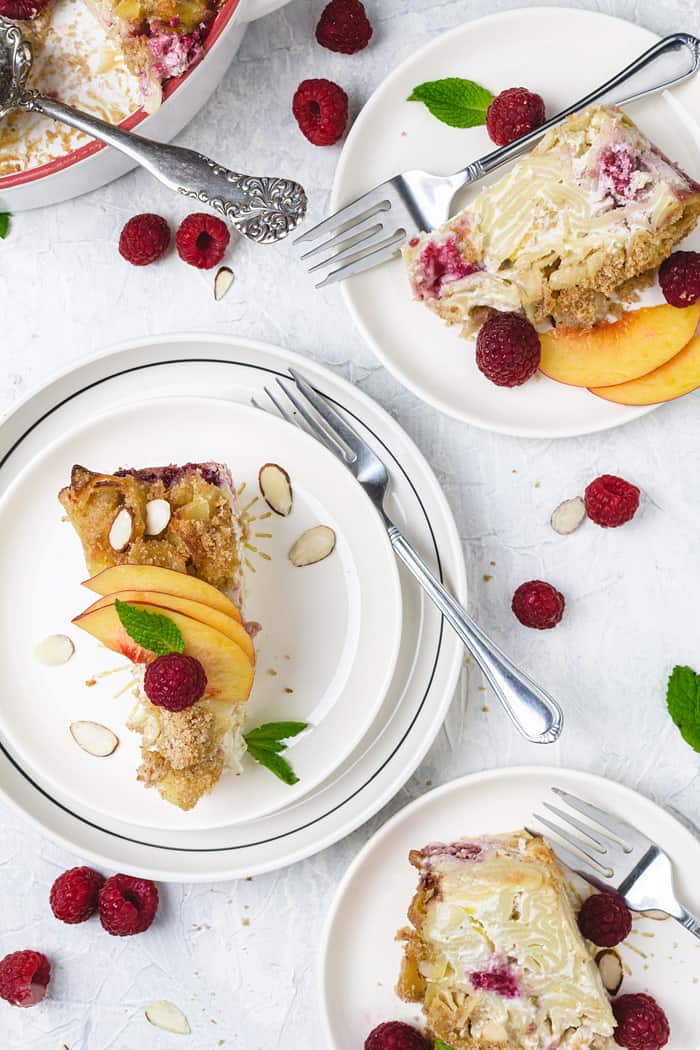 LOVE NOODLES? SCROLL DOWN FOR 26 MORE NOODLE RECIPES FROM AROUND THE WORLD!
A Y E A R O F N O O D L E S
Don't forget to pin and save these 26 delicious noodle recipes. I guarantee you will want to try them all. 🙂
Tag your noodle dish or a dish below you cooked with the #noodleswithoutborders hashtag on Instagram to be featured in our highlights. We'd love to see how you use your noodles! 😉
August 2018
September 2018
October 2018
November 2018
December 2018
January 2019
February 2019
March 2019
April 2019
May 2019
June 2019
July 2019
August 2019
What is your favorite noodle dish? Let us know in the comments below!