This Herb Chicken and Potatoes recipe ticks many boxes for easy dinner: throw it all on a sheet pan - chicken, potatoes, onion, garlic, lemon, and seasonings, and bake it in the oven! Sprinkle with feta and rosemary for the final Mediterranean touch - done!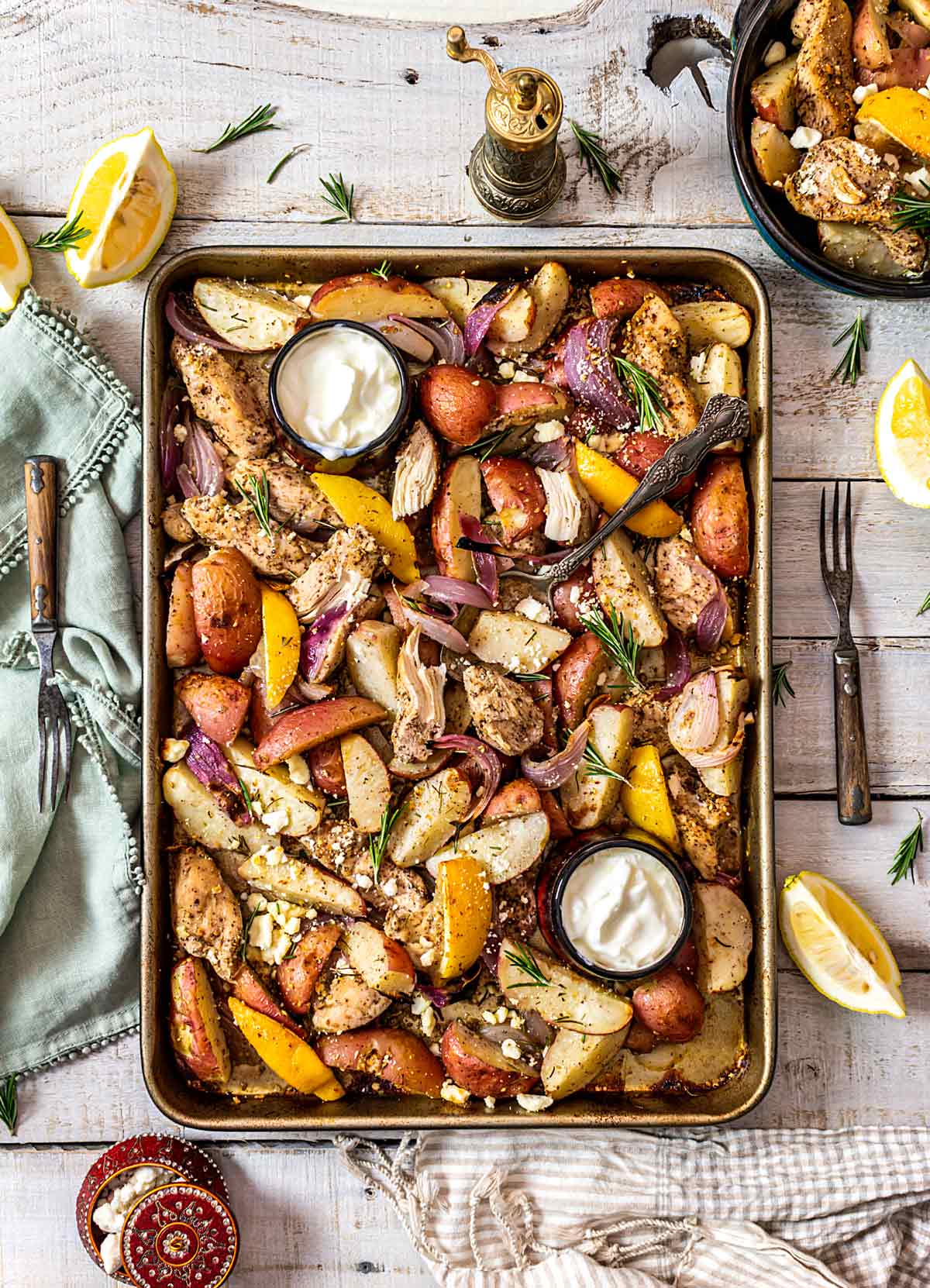 Baked chicken and potato dishes are popular with young and old, and it's a great family meal for the weekend.
Try this delicious healthy chicken and potatoes recipe with tzatziki for a tasty dinner tonight!
The Mediterranean diet is full of flavor and spice. This herb chicken potato dinner combines feta, lemon, and rosemary inspired by Greek cuisine with Middle Eastern seasoning Za'atar. Yum!
Please see the recipe card at the end of this post for the complete list of ingredients and detailed instructions. However, there's important stuff to know before you scroll down.
You will love this Mediterranean chicken meal. It's quick and easy to prep, and the oven does the rest.
For me, oven dishes are unbeatable - put everything on a baking sheet, put it in the oven, and the whole meal is ready in a jiffy.
📃 Why it Works
It has all the makings: delicious flavors combined in one satisfying meal.
No-fuss prep - this easy recipe is also ideal for beginners.
The best part about a one-pan dinner? The easy cleanup!
Plenty of substitutions without sacrificing taste!
This chicken dinner is suitable for your weekly meal plan.
It's delicious and healthy! Win-win.
🛒 Ingredients and Notes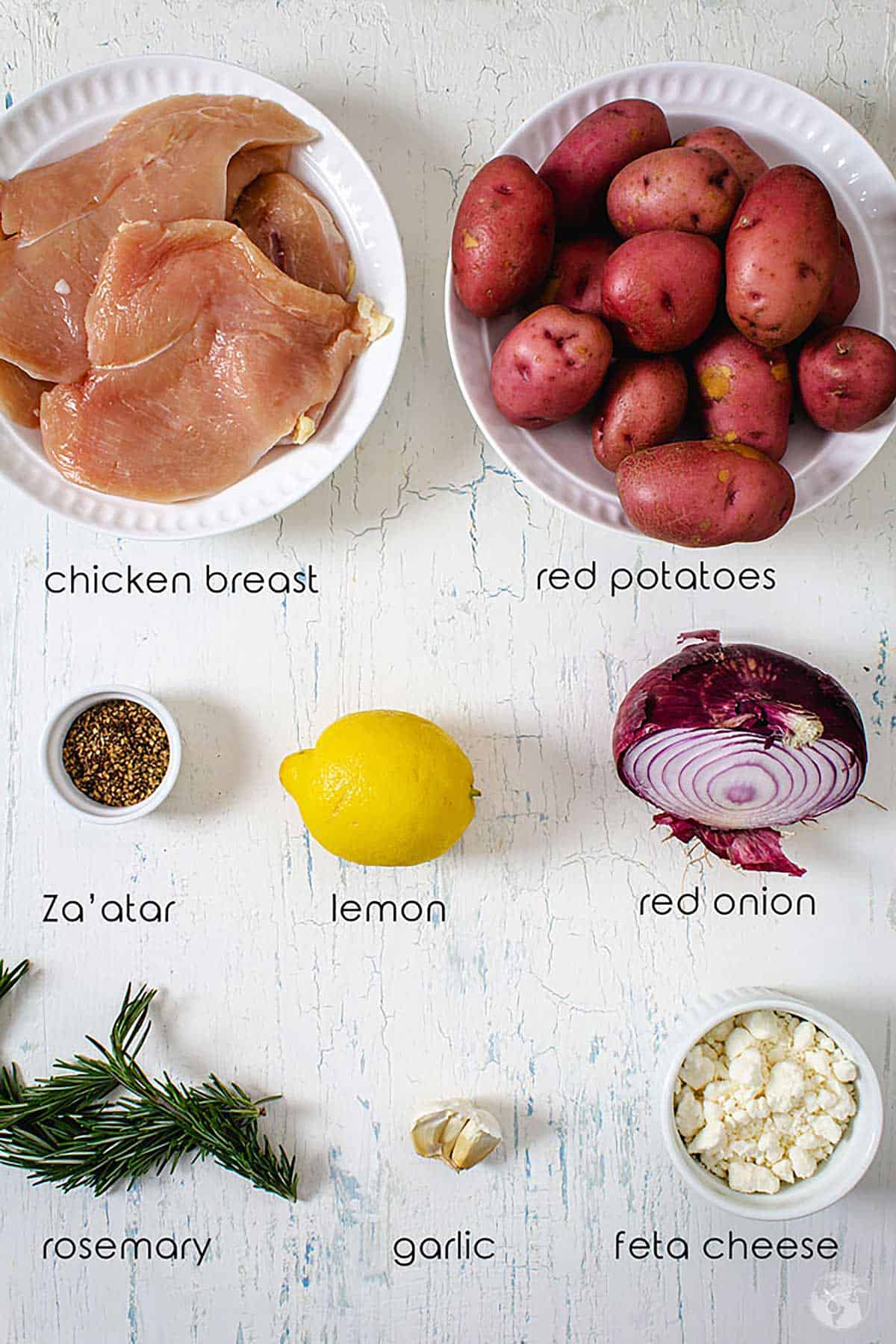 Chicken - You can see above I used thin-sliced boneless, skinless chicken breast (that I later cut into strips). You can also use dark meat if that's your preference. Pre-cut chicken tenders are ideal for this recipe if you want to save on time.
Potatoes - Young (baby) potatoes are the best as they cook faster. I used red; however, any baking potatoes will work if you cut them smaller.
Lemon - You'll need the juice and the wedges. First, cut the lemon into wedges and squeeze them out for the juice. Alternatively, you can use one lemon for the juice and another for the wedges.
Onion - We suggest red (or purple, if you will), but it's OK to use what you have on hand.
Za'atar - this spice blend of the Mediterranean region has a citrusy flavor tone (thus, only one lemon is sufficient for this recipe). You can also make Za'atar seasoning yourself (*see below).
Feta cheese - Queso Fresco is a good substitute if you don't have feta.
What is Za'atar?
Za'atar spice is indispensable in traditional Mediterranean and Middle Eastern cuisine. It is a popular seasoning in Arab and Greek recipes. You can usually find it at your local grocery store, buy it online, or make it yourself.
For homemade Za'atar, mix:
1 tablespoon thyme

1 tablespoon oregano

1 tablespoon toasted sesame seeds

1 tablespoon of

sumac

½ teaspoon salt
Sprinkle Za'atar over homemade hummus or cheese, or mix with yogurt.
🔪 Instructions
You can bake/roast your chicken breast strips with potatoes in these easy steps and know the flavors will be incredible!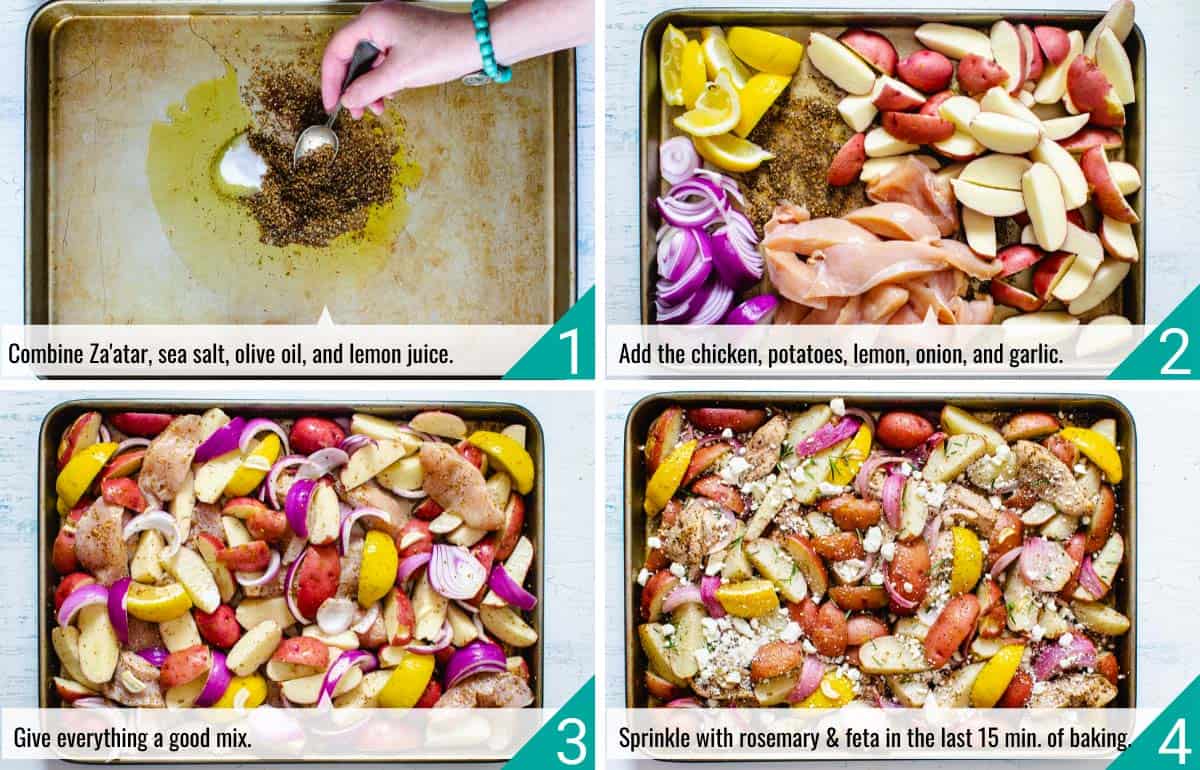 Combine Za'atar, sea salt, olive oil, and lemon juice on a sheet pan.

Add the chicken breast strips, potatoes, lemon wedges, red onion wedges, and garlic to the pan.

Give everything a good mix.

Bake!

Sprinkle with fresh rosemary and feta in the last 15 minutes of baking.
According to the Food Safety Site, cook the chicken to an internal temperature of 165F.
Line the baking sheet with parchment paper for easier cleaning.
Lightly cover the pan with aluminum foil to speed up cooking while preventing it from drying out. Remove for the last 15 minutes of roasting.
Use fresh herbs as much as possible - add them

at the end or after cooking.
🍽 How To Serve It
Take the sheet out of the oven and sprinkle with fresh rosemary, cilantro, or parsley. Put it on the table as a whole so that everyone can use it.

You can transfer it onto a large serving plate if you don't want to put the baking sheet on the table for aesthetic reasons.

Serve with a side of Greek-style yogurt, tzatziki, or yogurt sauce: Mix yogurt with minced garlic, ground cumin, ground coriander, chili, salt, and pepper to taste. Sprinkle with Za'atar spice.
👉 Variations
You can integrate all your favorite vegetables into this delicious oven dish. Here are some ideas for you:
Olives

Zucchini

Squash

Broccoli

Cauliflower

Brussel sprouts

Mushrooms

Bell peppers
In winter, use root and tuber vegetables. Sweet potatoes, carrots, and celery are always part of the oven-roasted vegetables. Supplement with beetroot, pumpkin, turnips, butternut squash, parsnips, and parsley roots.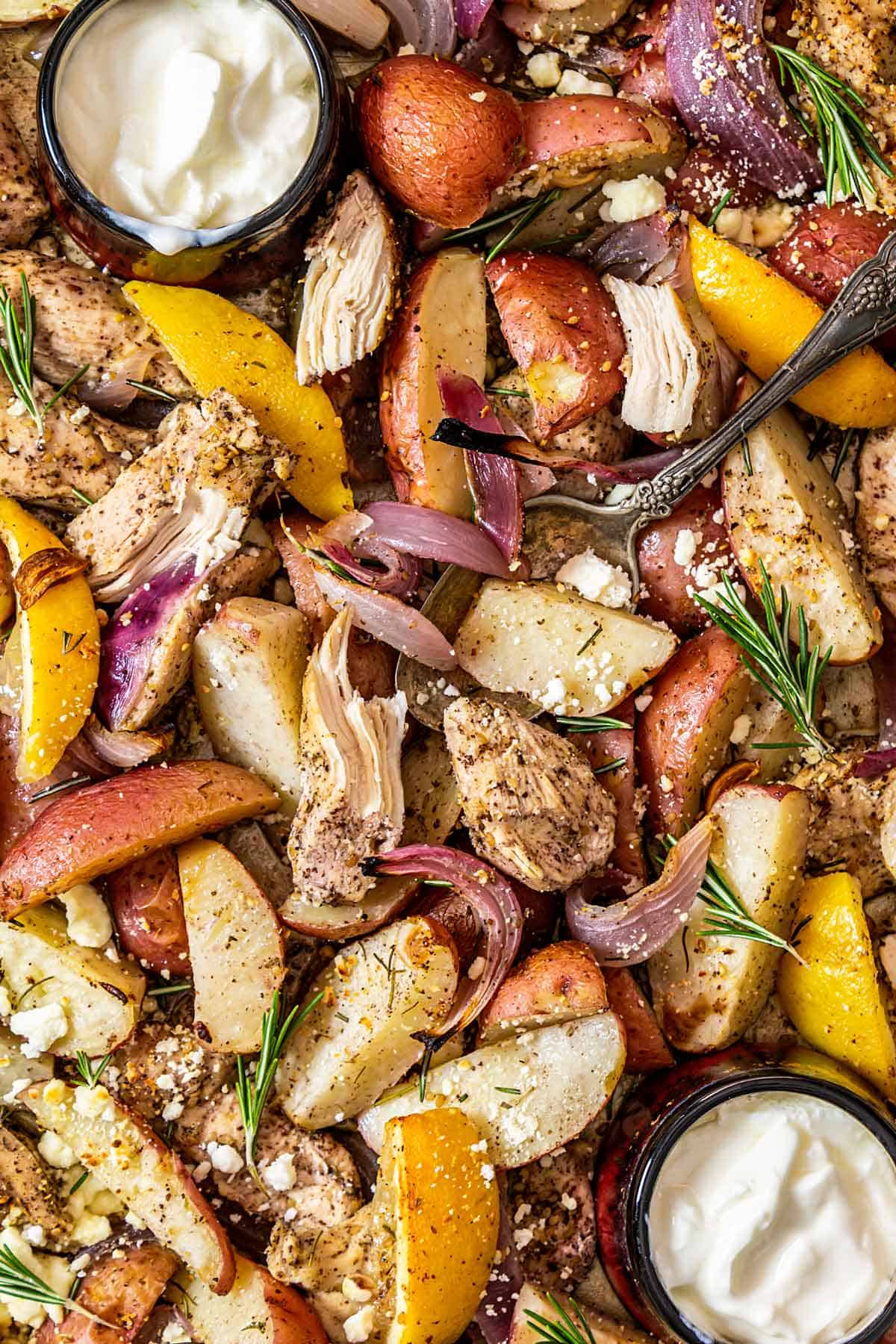 ❓ Frequently Asked Questions
How long to cook chicken and potatoes in the oven?
The cooking time may vary depending on the stove and the size of the individual pieces of meat, but it should take about 40-45 minutes at 375F.
Can you cook raw chicken and potatoes at the same time?
Yes! Cut your potatoes into thinner wedges to cook evenly with the chicken. If you're unsure, you can start them all together and take the meat out when it's done, or you could microwave your potatoes first, then finish them off in the oven until crispy.
How to ensure even cooking?
The thin-sliced chicken will cook fast, so we recommend cutting potatoes into slim wedges to ensure they cook simultaneously. Try not to crowd ingredients in the pan. Keep in mind that the chicken continues to cook as it rests.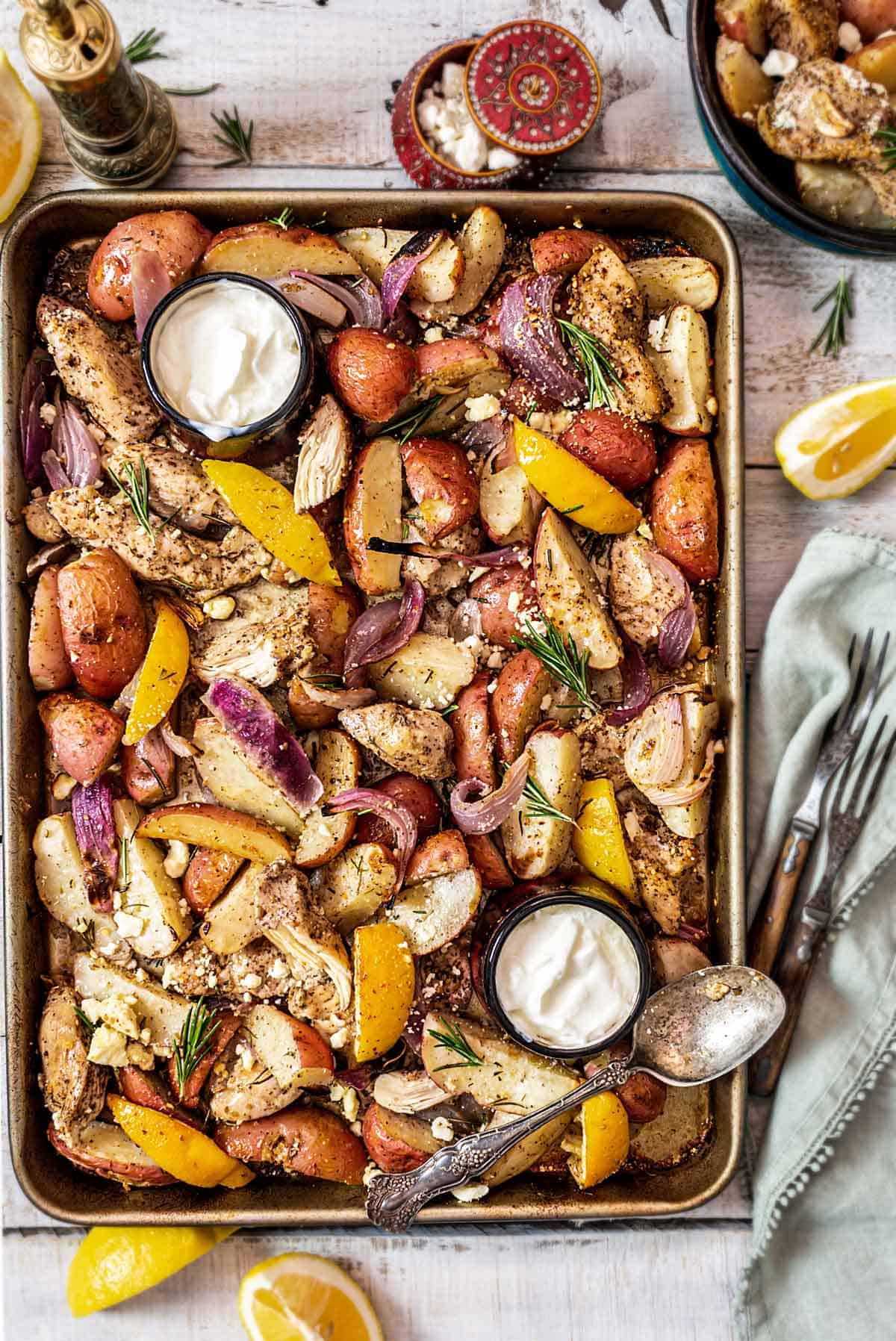 Liked this recipe? Leave a ⭐⭐⭐⭐⭐ rating and/or a review in the comments section. Your feedback is always appreciated! Stay in touch through Pinterest, Instagram, and Facebook! Don't forget to sign up for my email list below too!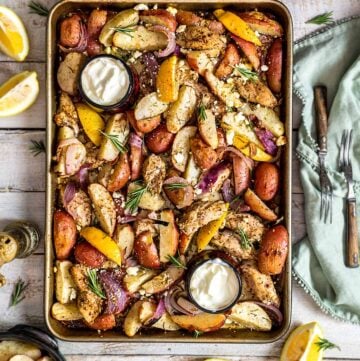 Sheet Pan Mediterranean Herb Chicken and Potatoes
This one-pan chicken and potato recipe is a real crowd-pleaser because it yields high returns with minimal effort! It's got all the classic Mediterranean flavors you love that will have you coming back for seconds!
Ingredients
2

pounds

chicken breast strips

2

pounds

young

,

or baby potatoes, halved or quartered

4

tablespoons

olive oil

2

teaspoons

sea salt

2

tablespoons

Za'atar

1

lemon

,

cut into wedges and juiced

1

large red onion

,

cut into wedges

3

garlic cloves

,

sliced or minced

4

oz

feta cheese

,

crumbled

2

fresh rosemary sprigs

,

stem removed and roughly chopped
Instructions
Preheat the oven to 375 degrees Fahrenheit.

Add the 2lbs chicken strips, 2lbs cut potatoes, sliced red onion, lemon wedges, and 3 sliced garlic cloves, and give everything a good mix.

Place the tray in the oven for 25 minutes. Remove from the oven and sprinkle with 4 oz crumbled feta and chopped fresh rosemary. Bake for another 10-15 minutes, or until the chicken is cooked through and the potatoes are golden.
Notes
I used boneless, skinless chicken breasts for a low-fat meal, but use boneless, skinless thighs instead if you are a dark meat fan.
You can use any potatoes you have on hand; make sure to cut or slice them to a similar or smaller size as your chicken to ensure even cooking.
According to the Food Safety Site, the chicken should be cooked to an internal temperature of 165F.
Line the baking sheet with parchment paper for easier cleaning.
Lightly cover the pan with aluminum foil to speed up cooking while preventing it from drying out. Remove for the last 15 minutes of roasting.
You can easily turn this dish into meal prep.
For the best results, see additional tips in the post above.
Nutrition information is approximate and meant as a guideline only.
Storage:
Store any leftovers into airtight containers, and you have lunch for the next few days! Or mix with brown rice or quinoa to stretch the meal even further.
Nutrition
Calories:
232
kcal
(12%)
|
Carbohydrates:
18
g
(6%)
|
Protein:
4
g
(8%)
|
Fat:
17
g
(26%)
|
Saturated Fat:
6
g
(30%)
|
Cholesterol:
17
mg
(6%)
|
Sodium:
1012
mg
(42%)
|
Potassium:
80
mg
(2%)
|
Fiber:
1
g
(4%)
|
Sugar:
9
g
(10%)
|
Vitamin A:
140
IU
(3%)
|
Vitamin C:
12
mg
(15%)
|
Calcium:
160
mg
(16%)
|
Iron:
2
mg
(11%)