Three cheers for another 30 minutes meal! Shrimp "risotto": a chef-level recipe that you can make any night of the week because it's just that easy. A little pre-cooked shrimp and you've got yourself a beautiful meal in no time.
Why not take a shortcut here and there, right? Spend less time making the food, and more time devouring it. You'll love this quick way to achieve a similar flavor to traditional risotto.
What is risotto?
Risotto is a dish of Arborio rice, originating from northern Italy, that has a rich, creamy consistency. It is cooked in a broth and can contain butter, wine, onion, and cheese. Unlike most rice dishes, risotto requires a lot of attention while you're cooking it.
Unfortunately, you can't just measure out your ratio of rice to water and let it sit on the stove for a period of time until it is done.
Arborio is also not rinsed, washed, or soaked as some varieties of rice are because the starch that causes the creamy texture would be removed. As I said, it needs constant care, kind of like the diva of rice.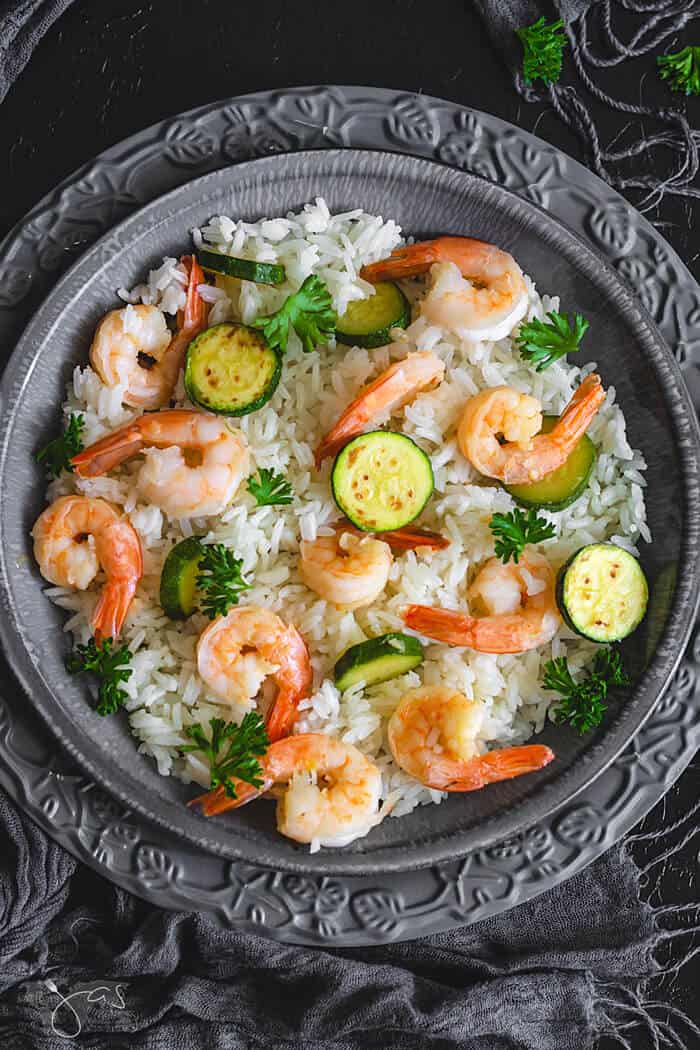 However, I do like my shortcuts and in this risotto inspired recipe, the rice is cooked separately and then mixed into the onion, garlic, and wine sauce for that distinctive risotto flavor.
A creamy texture without using Arborio rice or adding any cream? Magical! Make sure that the dish you serve this in is pretty flat so that the shrimp risotto can spread out and so it won't cook more in its own heat and dry out.
What ingredients do I need?
Rice - Since we want this to cook quickly, we are using white rice. I prefer aromatic grains such as Basmati or Jasmine, but any white rice will do. If you want a healthier dish, make it with brown rice.
Shrimp - I used frozen to make the meal even quicker, but you can use raw ( peeled and deveined) if you wish.
Zucchini - It adds a good amount of vitamin C and some fiber, making this rich dish pretty well rounded.
Onion - White, yellow or use shallots
Oil - Traditionally, this dish is made with olive oil. Substitute with oil of choice or butter for even more flavor.
Garlic - Adjust the amount to your liking.
White wine - Any dry white wine will do. Sauvignon Blanc or Pinot Grigio is an excellent choice.
How do I make it?
First, cook the rice according to the package directions.
Meanwhile, sauté onions, garlic, and zucchini in olive oil until soft.
Next, stir in the wine and shrimp. Cover and simmer.
Finish by adding the cooked rice; season with salt and pepper to taste.
Shrimp benefits:
As you may know, I'm not a big fan of shrimp (except for bang-bang) but absolutely love cooking it. Why? A few reasons: first, I like to spoil my husband who is a shrimp fanatic, and second, I like its versatility, its nutrition profile, and it cooks in only a few minutes.
Shrimp is so easy to make at home, and when you buy it pre-cooked (like I did for this recipe) it becomes effortless. Shrimp has 24g of protein per 100g serving, contains the amino acid tryptophan (sweet dreams), and provides a healthy serving of both selenium and vitamin B-12.
Unless you have an allergy (or an aversion, like yours truly), I highly recommend incorporating shrimp into your dinners.
Related recipes:
These easy shrimp meals are readers' favorites:
Liked this recipe? Leave a ⭐⭐⭐⭐⭐ rating in the recipe card below and/or a review in the comments section. Your feedback is always appreciated! Stay in touch through Pinterest, Instagram, and Facebook! Don't forget to sign up for my email list below too!
Quick and Easy Shrimp Risotto
This shrimp risotto is a chef-level recipe that you make any night of the week because it's just that easy.
EQUIPMENT
large cast-iron skillet or non-stick pan
Ingredients
½

cup

rice

,

uncooked

2

tablespoons

olive oil

¼

cup

chopped onion

1

garlic clove

,

minced

1

small to medium size zucchini

,

sliced

⅓

cup

dry white wine

12

oz

shrimp

,

peeled and deveined

Salt and pepper to taste

Fresh parsley leaves for garnish
Instructions
Cook ½ cup rice according to package directions. Set aside.

Meanwhile, warm 2 tablespoon olive oil in a large cast-iron skillet or non-stick pan over medium heat. Add ¼ cup chopped onions, 1 clove minced garlic, and sliced small zucchini and saute for 5 minutes.

Stir in ⅓ cup wine and 12 oz. shrimp. Cover and simmer until zucchini is tender but still slightly crisp, about 5-10 minutes. Remove from the heat.

Add cooked rice and mix gently to combine. Season with salt and pepper to taste and garnish with chopped parsley if you wish. Enjoy!
Notes
Remove shrimp tails before cooking if you prefer.
See additional info on ingredients in the post above.
Nutrition information is approximate and meant as a guideline only.
Nutrition
Calories:
522
kcal
(26%)
|
Carbohydrates:
43
g
(14%)
|
Protein:
40
g
(80%)
|
Fat:
17
g
(26%)
|
Saturated Fat:
2
g
(10%)
|
Cholesterol:
429
mg
(143%)
|
Sodium:
1335
mg
(56%)
|
Potassium:
503
mg
(14%)
|
Fiber:
2
g
(8%)
|
Sugar:
4
g
(4%)
|
Vitamin A:
196
IU
(4%)
|
Vitamin C:
26
mg
(32%)
|
Calcium:
275
mg
(28%)
|
Iron:
4
mg
(22%)