Looking for a quick bite that is packed with flavor? Try this flatbread goat cheese portobello pizza and your taste buds will thank you!
Finally, it is here! A recipe for the best damn (sorry, I got excited) darn pizza I ever had. Back in September while I was in Portland, OR at a blogging convention, they served us this flatbread pizza among other goodies. One bite and I was smitten.
Although I have never met her before, Leslie of From Play Dates to Parties and I bonded over its delectable flavor. For a while, we were oblivious to our surroundings and focused on guessing the ingredients.
We could obviously see the mushrooms and shaved parmesan and our taste buds soon discovered garlic, but what was in the "sauce"? Ricotta? Sour cream? Nope.
Eventually, after some trial and error, we came up with goat cheese. However, there was another distinct flavor we just couldn't identify.
We ruthlessly sent a busy server to the kitchen asking the chef his secret to this amazing pizza base. You won't believe what it is. It's a spice I use in most of my home country's traditional dishes.
Yet I failed to recognize it. I'm ashamed of my abilities. I'm a sorry excuse for a foodie. 🙁
The secret ingredient is smoked paprika! Duh!
Ever since then, I've been making this flatbread goat cheese portobello pizza recipe at least once a week. We can't get enough of it.
If you're thinking ew, goat cheese - think again. I've served this pizza to people who dislike goat cheese without telling them what they're eating (I know, I'm so mean) and they loved it.
Even my granddaughters thought it was yummy, especially the two-year-old. A small amount of goat cheese mixed with garlic and smoked paprika gives an incredible flavor. It's simply da bomb!
You can use any type of flatbread for this recipe but I always use naan bread for my pizza crust. We love playing with toppings and among other favorites are pear and prosciutto pizza and the German-style pizza aka Flammkuchen.
Naan flatbread is a perfect size for one and cut into squares it becomes a favorite appetizer or a snack.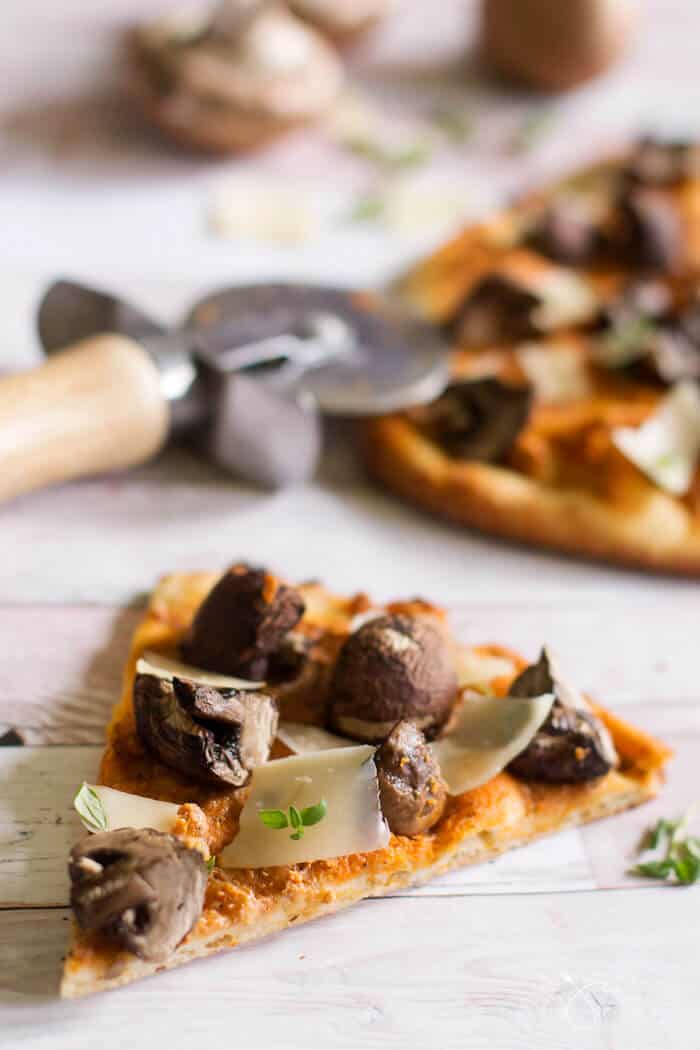 Ingredients:
naan flatbreads
creamy goat cheese
smoked paprika
garlic
baby portobello (baby bella, crimini) mushrooms
Shaved parmesan cheese
Thyme or basil leaves for garnish (optional)
Directions:
Preheat oven to 400 degrees Fahrenheit
Place flatbread on a pizza stone or cookie sheet and brush edges with some of the olive oil.
In a small bowl, mix together goat cheese, smoked paprika, garlic, and pepper.
Spread the cheese mixture evenly over naan flatbread.
Top with portobello mushrooms and drizzle with the remainder of the olive oil.
Bake for 5 minutes or until edges are slightly browned.
Remove from the oven and sprinkle with parmesan shavings.
Garnish with thyme or basil leaves if using.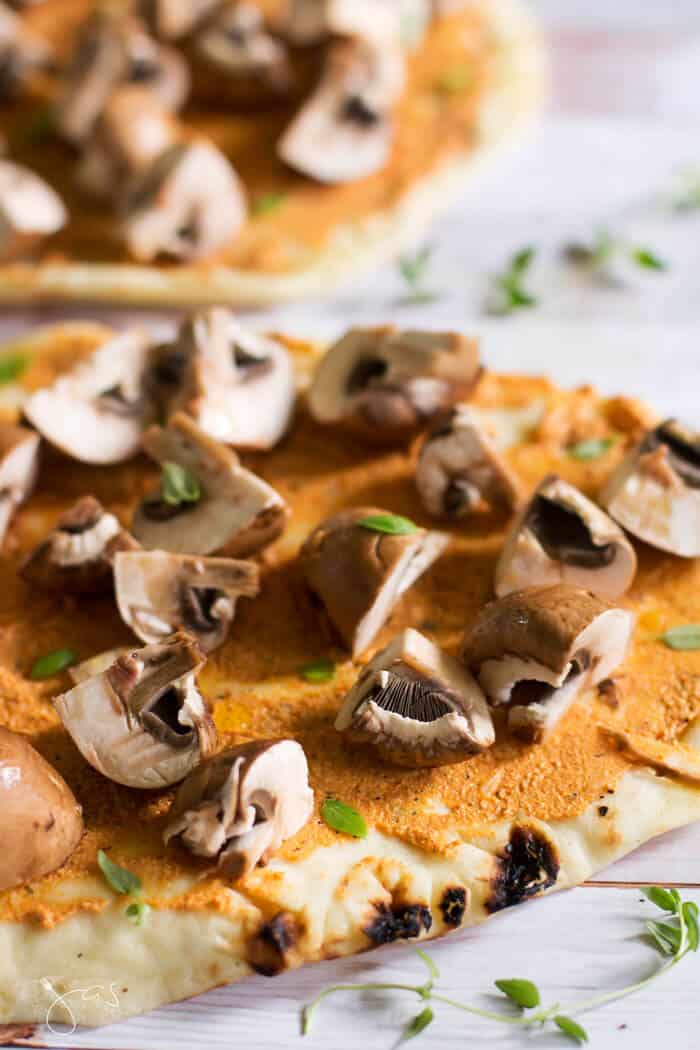 Flatbread Goat Cheese Portobello Pizza
This flavor-packed flatbread pizza with goat cheese and portobello mushrooms is perfect for a light lunch, a snack or an appetizer.
Ingredients
2

original naan flatbreads

1

tablespoon

olive oil

4

tablespoons

3-4 oz. creamy goat cheese

1

teaspoon

smoked paprika

1

garlic clove

,

minced

¼

ground black pepper

4

oz

baby portobello

,

baby bella, crimini mushrooms, cleaned and quartered

Shaved parmesan cheese

Thyme or basil leaves for garnish

,

(optional)
Instructions
Preheat oven to 400 degrees Fahrenheit

Place flatbread on a pizza stone or cookie sheet and brush edges with some of the olive oil.

In a small bowl, mix together goat cheese, smoked paprika, garlic, and pepper.

Spread the cheese mixture evenly over naan flatbread.

Top with portobello mushrooms and drizzle with the remainder of the olive oil.

Bake for 5 minutes or until edges are slightly browned.

Remove from the oven and sprinkle with parmesan shavings.

Garnish with thyme or basil leaves if using
Nutrition
Calories:
538
kcal
(27%)
|
Carbohydrates:
62
g
(21%)
|
Protein:
18
g
(36%)
|
Fat:
24
g
(37%)
|
Saturated Fat:
7
g
(35%)
|
Cholesterol:
25
mg
(8%)
|
Sodium:
994
mg
(41%)
|
Potassium:
203
mg
(6%)
|
Fiber:
3
g
(12%)
|
Sugar:
5
g
(6%)
|
Vitamin A:
782
IU
(16%)
|
Vitamin C:
2
mg
(2%)
|
Calcium:
148
mg
(15%)
|
Iron:
1
mg
(6%)