This easy Macedonian recipe for gluten-free beef and feta rissoles is perfect for dinner, cocktails, or just as a snack. Best of all, it is gluten-free, made with simple ingredients, and global. It is known in one form or the other and loved all around the world.

Gluten-Free Macedonian Rissoles with Ajvar Gravy
Back when eating was a detested chore (pun intended), I looked forward to rissoles. All the solid food I'd consider eating was first slowly deconstructed (at my parents' disapproval) in order to remove suspicious-looking substance and soups were strained through a double gauze.
Even the tiniest speckle of ground pepper floating in my soup was a red flag and my appetite (if I had any to begin with) would be extinguished.
However, rissoles were OK. I can't explain it even if I try really hard to crawl back into the mindset of my seven-year-old self. Why a piece of baked plain chicken breast didn't pass my detailed test but rissoles were OK.
There were onions, parsley, garlic, milk-soaked bread, Vegeta (with bits of dried vegetables, yuck! - which I now use in everything), etc., but for whatever reason, my stomach tolerated rissoles.
Most of the recipes from my childhood I follow religiously, without questioning the process or the ingredients. I honestly thought mom was adding bread to the ground beef to stretch the meal. It was cheaper than buying more beef.
All my young life I watched her soak a slice of bread or a day-old bun in milk and then give it a gentle squeeze before mixing it with meat. I never asked why.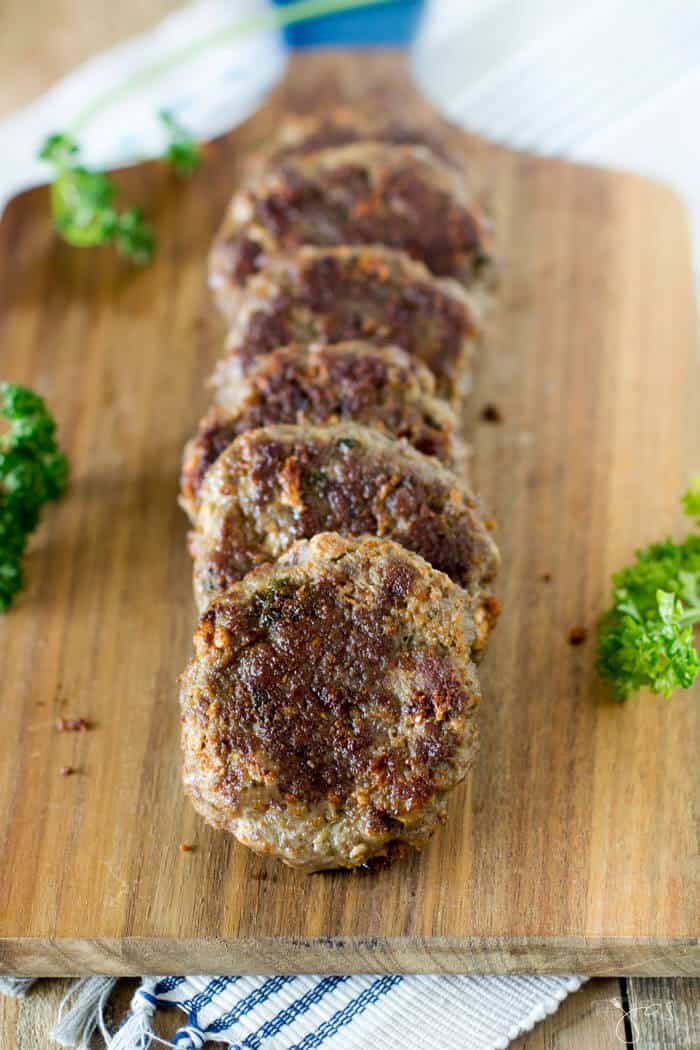 Macedonian Gluten-Free Beef & Feta Rissoles - Koftinja
When I found out that everyone is using bread or breadcrumbs in rissoles, I thought it must be to keep them from falling apart. Still, I didn't confirm. That was the way of making the patties and so it must be. Following mom's recipe, I also used to roll them into flour before frying.
Much later in my life while Macedonia, as well as Bosnia, still belonged to former Yugoslavia, I discovered koftinja. To my surprise, their rissoles are made without the onions, garlic, Vegeta, and bread. I was even more surprised when they didn't fall apart while frying. What is keeping them together, I do not know. I know only that they are deliciously perfect. Nothing else matters much.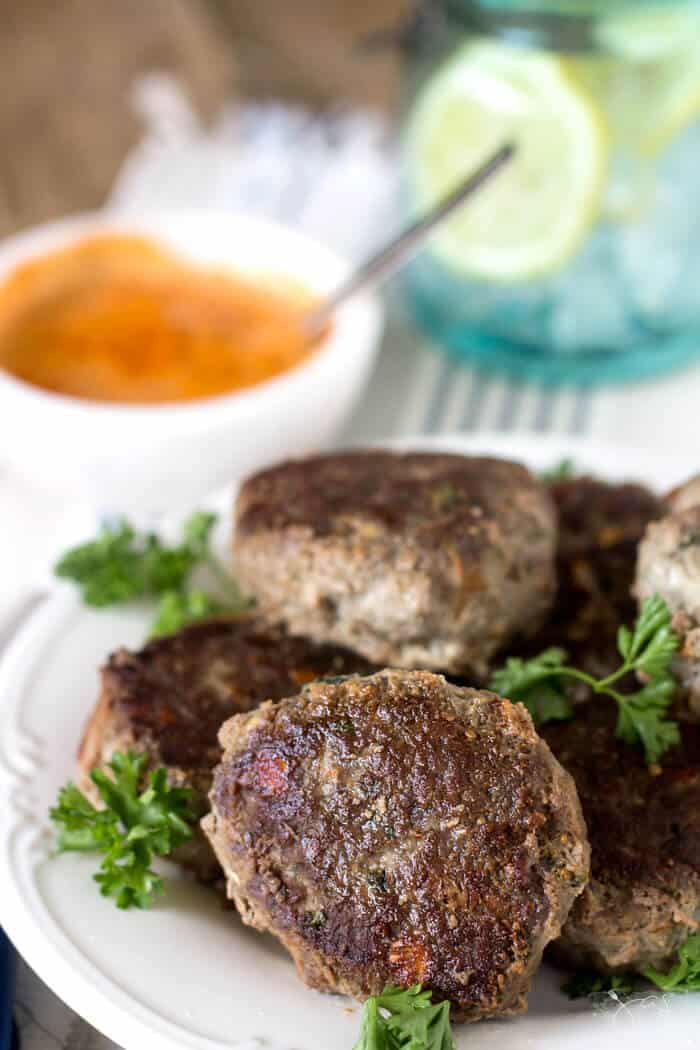 The star ingredient in these gluten-free beef rissoles is feta cheese and the gravy is the icing on the cake. Made with ajvar, my favorite spread in the whole world, this gravy is also gluten-free and an ideal condiment for the meat patties (you can use tomato paste instead).
Ajvar is a pepper-based condiment made principally from red peppers and contains eggplant, garlic, and sometimes hot peppers for a spicy version. My mom's recipe for ajvar is the best! To make it though, it takes almost a whole day. Luckily, Macedonian brand Biljana makes ajvar (ajver) that tastes almost like mom's (see ESSENTIALS box below).
Although I'm no longer an anorexic picky eater and I still love rissoles the way mom makes them, this gluten-free Macedonian recipe is much more agreeable with my attempt to eat healthier. Serve them with a side of oven-roasted cabbage wedges or boiled potatoes.
[bctt tweet="Deliciously perfect, Macedonian beef #rissoles with #feta and #ajvar gravy are gluten-free and ideal for dinner, cocktail, or as an afternoon #snack. #glutenfree #recipeoftheday" username="via all_thats_jas"]
ESSENTIALS
for Beef and Feta Rissoles with Gravy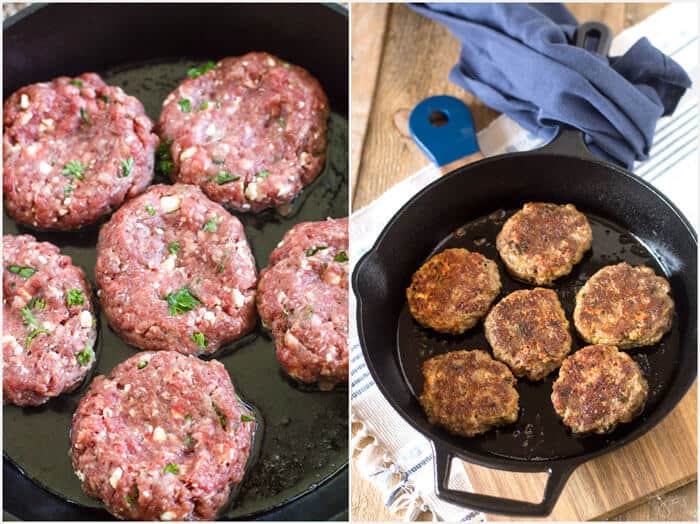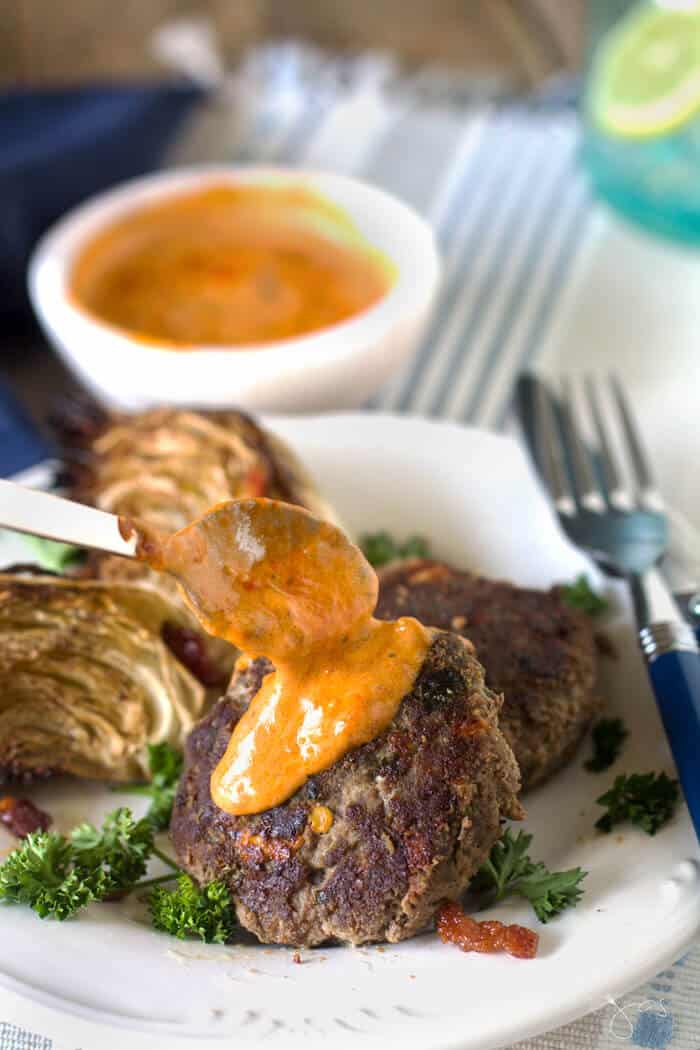 Macedonian beef rissoles with feta and ajvar gravy
Deliciously perfect, Macedonian beef rissoles with feta and ajvar gravy are gluten-free and ideal for dinner, cocktail, or as an afternoon snack.
Print
Rate
Ingredients
For Rissoles
1

pound

ground beef

1

egg

2

oz.

crumbled feta cheese

½

teaspoon

salt

¼

teaspoon

ground black pepper

2

tablespoons

finely chopped fresh parsley

1

tablespoon

olive oil
For the Gravy
¾

cup

heavy cream

1

tablespoon

chopped fresh parsley

coarsely chopped

2

tablespoons

Macedonian-style ajvar relish

substitute with tomato paste

salt and pepper to taste
Instructions
In a large mixing bowl, add all ingredients for the rissoles. Blend it with your clean hands or using a wooden spoon. Don't over mix, it'll make your rissoles tough. Use wet hands to form six patties.

Heat the oil in a frying pan over medium-high heat. Add rissoles. Cook for 4 to 5 minutes on each side or until cooked through. Flip them a few times for even cooking.

Transfer the rissoles to a plate and cover with aluminum foil to keep warm. To the pan, add the ajvar or tomato paste and whipping cream. Stir and let simmer for a few minutes. Season with salt and pepper to taste.

Sprinkle with chopped parsley before serving.
Notes
~ Free Tip ~ You could bake the rissoles in an oven for even healthier version, however, the gravy will taste better when made with the brown bits of fried rissoles.
Nutrition
Calories:
351
kcal
|
Carbohydrates:
1
g
|
Protein:
16
g
|
Fat:
31
g
|
Saturated Fat:
15
g
|
Cholesterol:
130
mg
|
Sodium:
372
mg
|
Potassium:
237
mg
|
Sugar:
1
g
|
Vitamin A:
573
IU
|
Vitamin C:
1
mg
|
Calcium:
84
mg
|
Iron:
2
mg