This creamy Oaxacan Mexican Hot Chocolate is a tasty drink that's perfect hot or cold. Xocolatl is made with real chocolate, almond meal, and a dash of cinnamon, like a cozy hug in a mug – so rich and satisfying!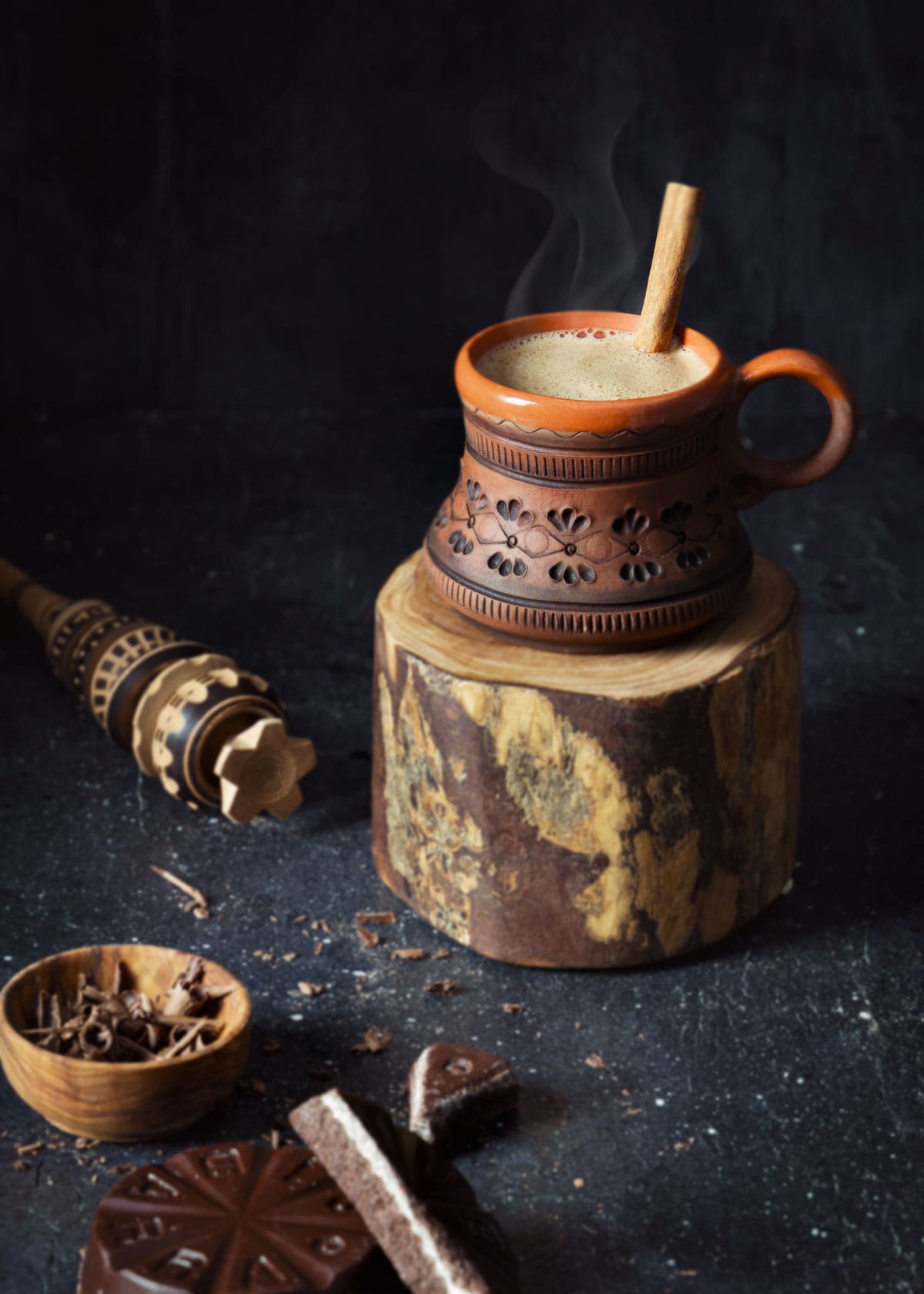 You will love to cozy up with a cup of drinking chocolate on a cold day - no wonder the Aztecs and Maya (terms "Mayas" or "Mayans" are incorrect) people adored it, presumably just as much as I do!
You can recreate the flavors of traditional xocolatl at home with our easy-to-make recipe. Sip on it within minutes in just a few simple steps and with minimal ingredients.
What is Xocolatl?
Xocolatl, pronounced "choco-latl," is an ancient (pre-Hispanic) Mesoamerican beverage that predates modern chocolate.
The word "xocolatl," which originated from the Nahuatl language, translates to "bitter water" or "bitter drink." No worries, this modern xocolatl is not bitter at all!
The Aztecs consumed it for its stimulating properties; it gave them energy and strength for battle.
The richness didn't come from dairy but from finely ground nuts! Now, that's a flavor adventure worth getting excited about!
Is Oaxacan hot chocolate the same as Mexican?
Oaxaca hot chocolate contains no cayenne or chili pepper that you will typically find in the Mexican version.
🛒 Ingredients and Notes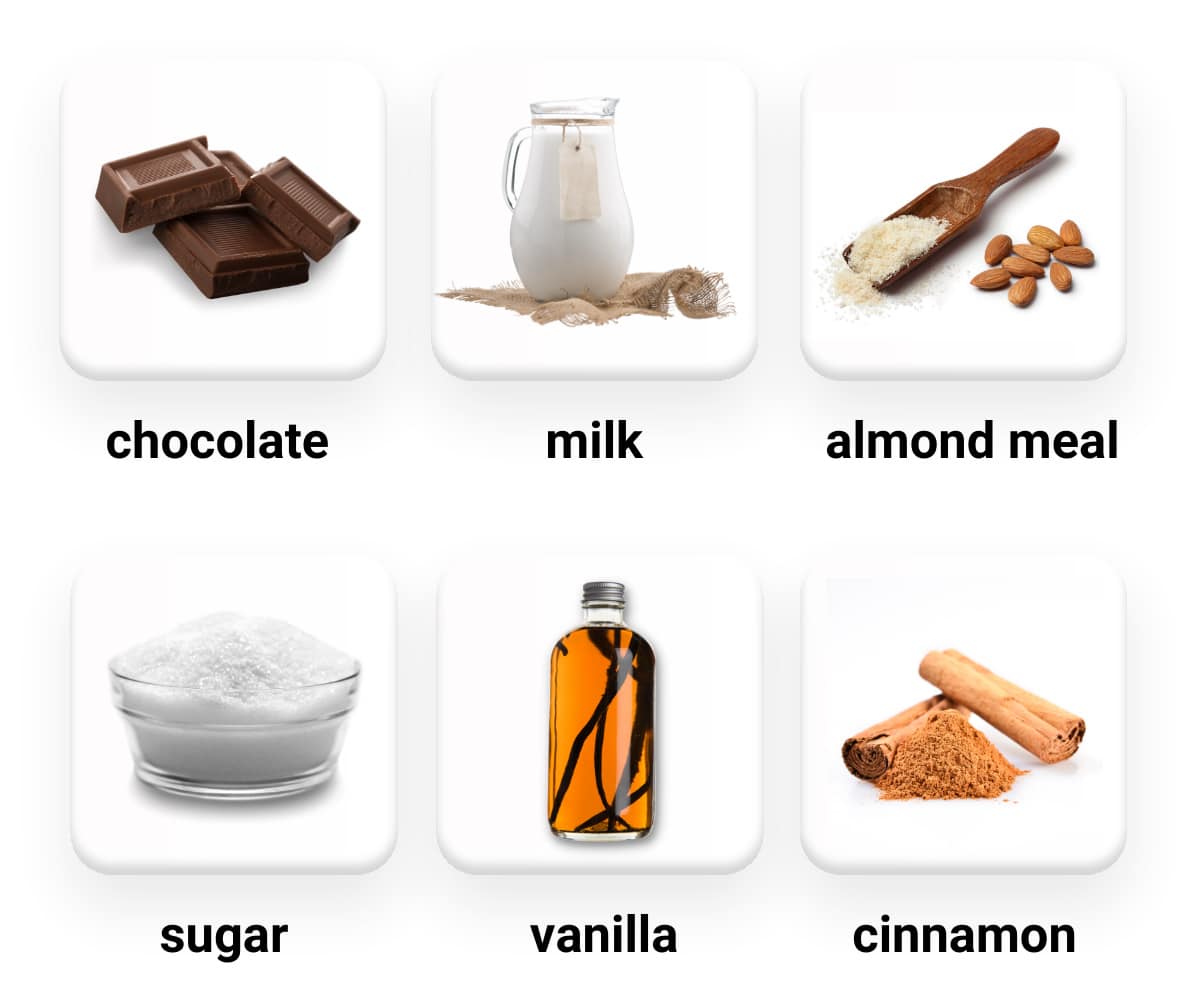 ✔️ Chocolate 🍫: In my experience, a good quality chocolate bar makes a big difference. I don't recommend using chocolate chips. We like bittersweet, like Ghirardelli, but any of these will work:
Milk chocolate (*see Expert Tips below)
Dark
Semi-sweet
✔️ Almond meal: Trust me, you don't want to omit this ingredient. It might sound weird to add it to your chocolate drink, but it works! If you can't find almond meal (raw, unpeeled almonds), you can use a food processor to grind them finely. If you absolutely must, use almond flour (blanched, peeled almonds).
✔️ Milk: For a rich, creamy texture, use whole milk.
✔️ Sugar: You can omit the sugar if you like it less sweetened or use your favorite sugar alternative.
✔️ Cinnamon: You can use ground or sticks (*see Expert Tips below).
How to make Oaxacan Xocolatl from scratch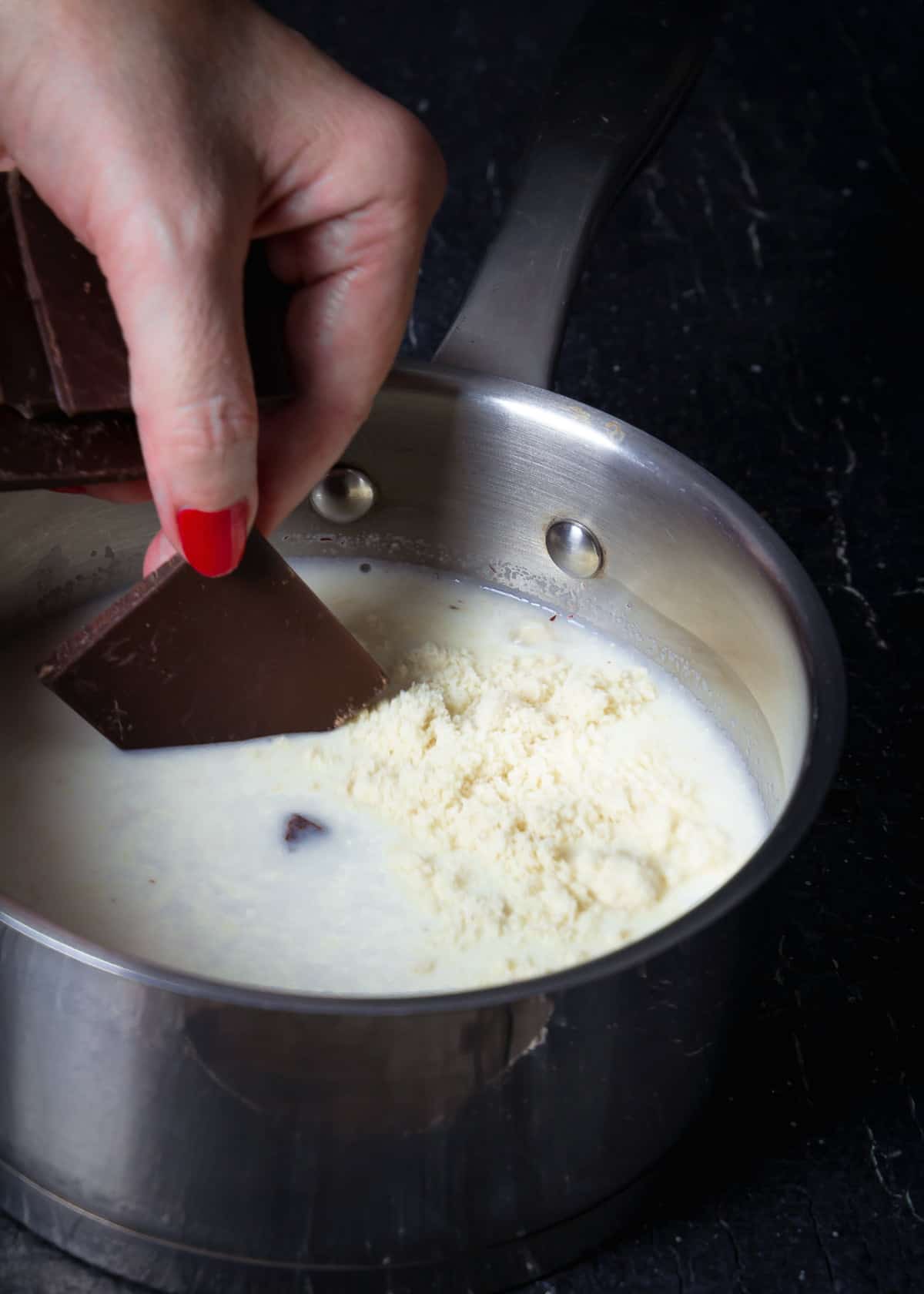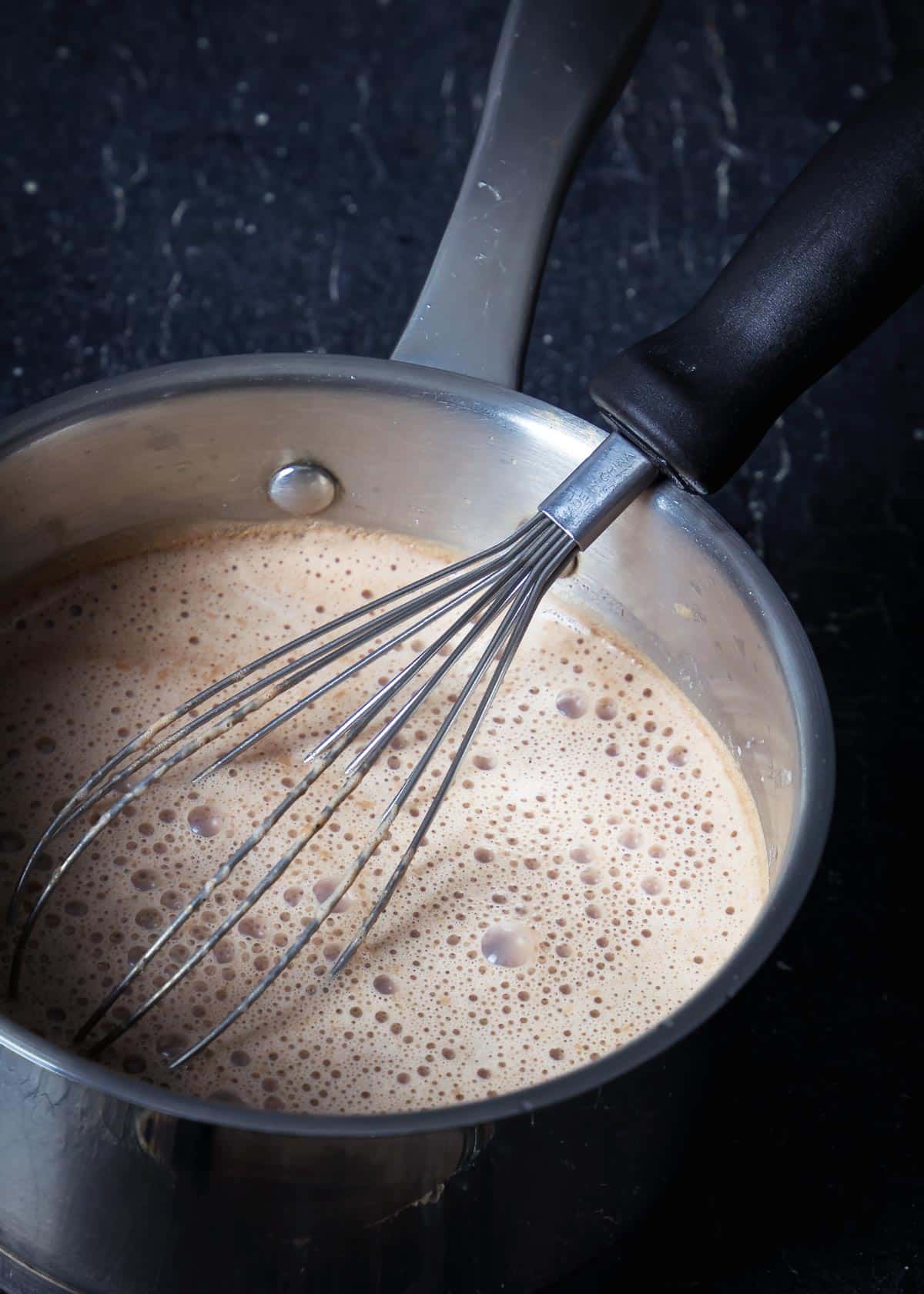 Pour the milk into a saucepan. Add vanilla, sugar, and cinnamon. Heat over medium-high heat, then lower the heat and add almond meal and chocolate.
Whisk the mixture continuously over medium heat until the chocolate is fully melted and incorporated into the liquid. You should have a smooth and velvety drink.
📝 NOTE: Looking for the FULL recipe to print? You can find it below in the recipe card!
How to froth xocolatl using molinillo?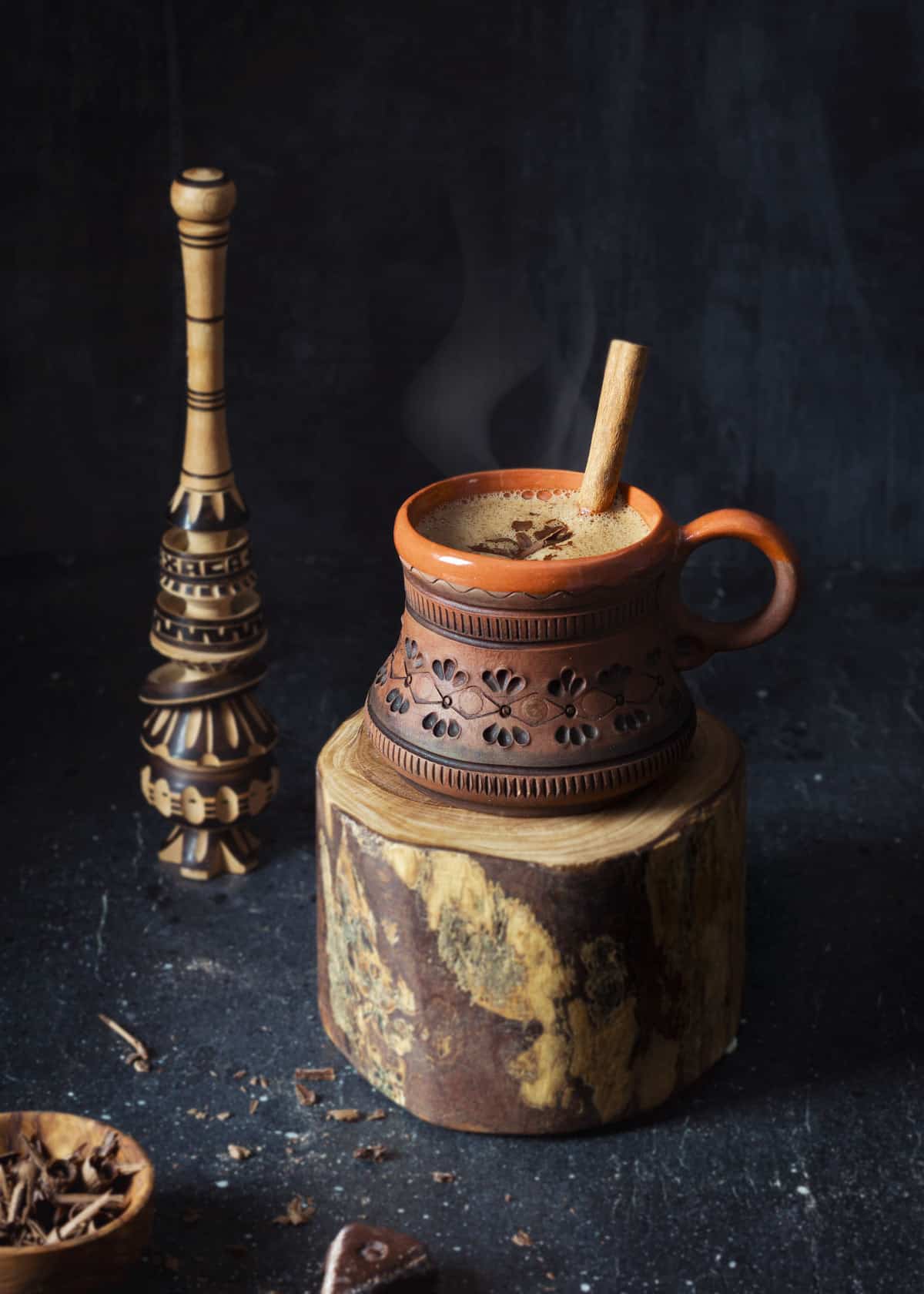 Hold the whisk between both palms and roll back and forth vigorously.
The rings on the bottom spin and the cut-outs in the wood convey the liquid through molinillo, helping to whip it into foam.
I've got my Molinillo in San Antonio, TX, while visiting. You can purchase it on Amazon here or use an immersion blender or an electric frother. A simple whisk works, too, with a little more elbow grease. 😉
👩‍🍳 Expert Tips
Chop your chocolate finely so that it melts evenly.
If you're using milk chocolate, avoid sugar, as the result will be too sweet.
If your drink is too sweet, add a pinch of salt to cut the sweetness.
Don't substitute ground cinnamon for cinnamon sticks because the drink isn't simmered long enough for the sticks to release their flavor. Use the sticks as garnish.
You can add a few drops of almond extract for a more authentic and nutty flavor.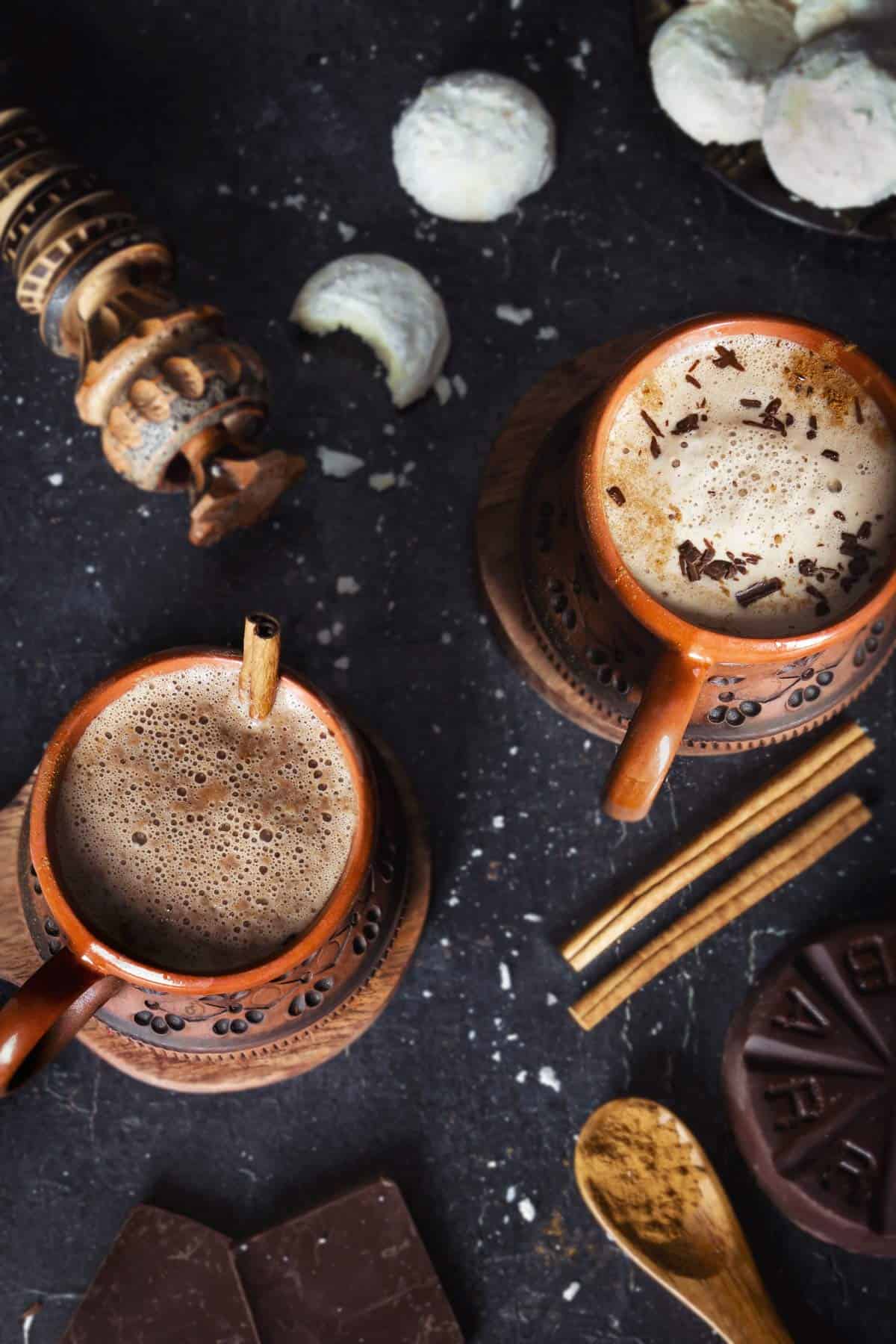 👉 Variations
1. Want this hot beverage even quicker?
For the "dump and stir" version, replace all ingredients except milk with Mexican hot chocolate tablets or discs, like Ibarra (you can see them in some of my images) or Abuelita. Make it using package directions.
In Oaxaca, they typically reserve milk for special occasions like holidays, funerals, or weddings when making this hot drink; otherwise, they use water.
2. Feeling bold? Spice it up with these unique flavors:
Nutmeg
Ginger
Ancho chili
Chipotle
Cardamom
Cayenne pepper
Or spike it with vodka and rum
☕ How to serve Oaxacan Mexican Hot Chocolate?
Get extra points by serving it in a clay mug!
Top with chocolate shavings - my personal favorite!
Add whipped cream.
Toss in a few marshmallows if you must, but it's not traditional.
Sprinkle with more cinnamon or some flaky sea salt.
Garnish with a cinnamon stick and use it for stirring.
Pair it with Mexican-style cookies or Dia de los Muertos Sugar Cookies, especially on the Day of the Dead, when the hot chocolate is set on altars to entice the spirits of loved ones back into the living world.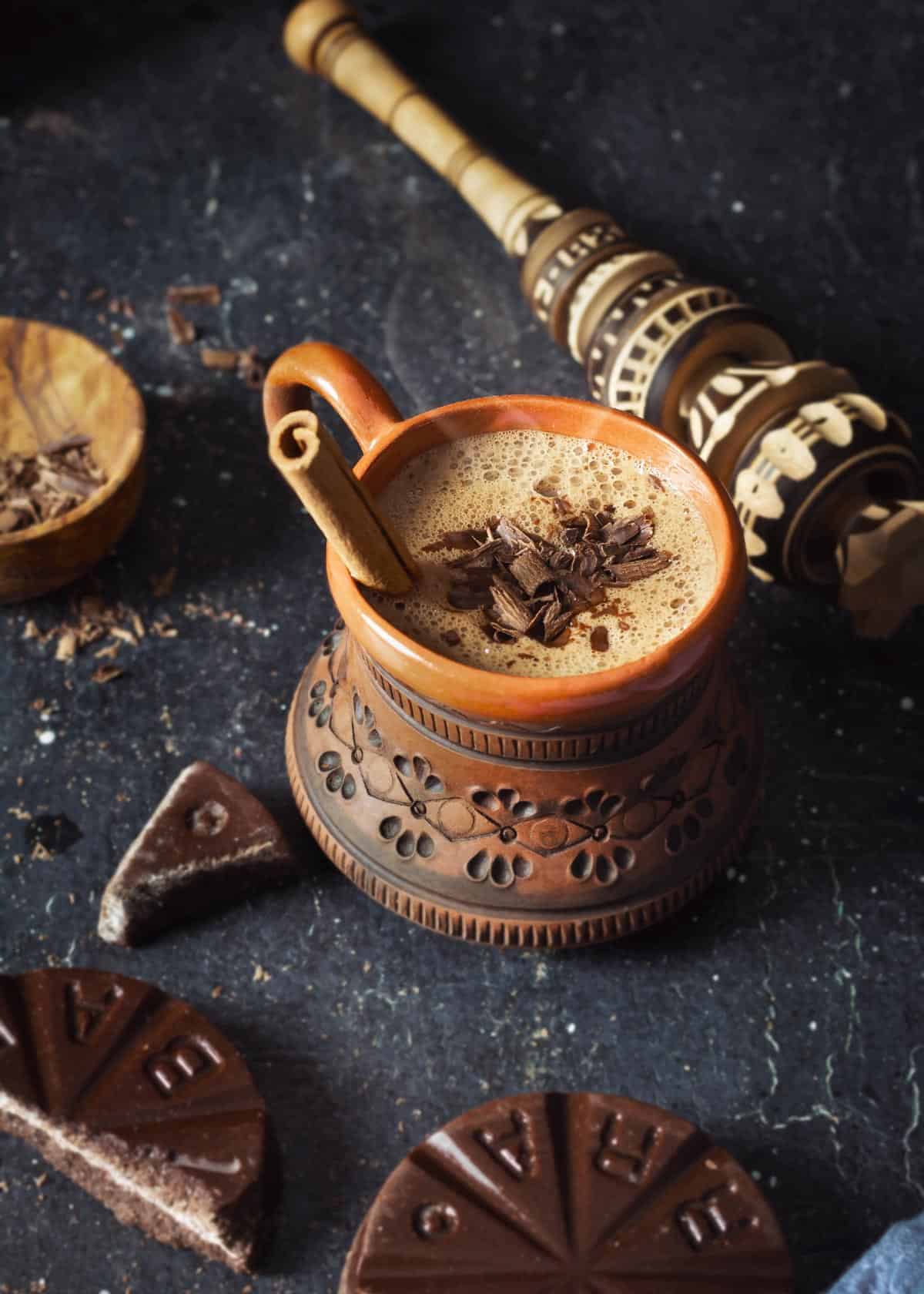 ❓Frequently Asked Questions
What does Oaxacan hot chocolate taste like?
Sipping on it is like having a delicious cinnamon-scented chocolate dessert in a cup. It is wonderfully rich, frothy, and a tad textured from the almond meal.
Do I have to use milk?
Preparing Xocolatl with milk makes it creamier. Use water, like the ancient Maya, if you wish. As long as you add enough chocolate, it's still very rich and delicious.
Can I make it vegan?
Yes. If you don't want to use water, the best plant-based milk substitute for this recipe is cashew milk. It retains its thickness and creaminess. Oat and almond milk are less creamy but also a good choice.
Can I make it in advance?
Yes. Once the Xocolatl cools down to room temperature, store it sealed in a refrigerator.
Can I reheat it?
To warm up leftover hot chocolate, gently heat it over medium heat, giving it an occasional stir until it's steaming but not boiling. Alternatively, you can microwave it for about 30 seconds.
How long does homemade hot chocolate last?
If stored correctly, it should be consumed within 3-4 days.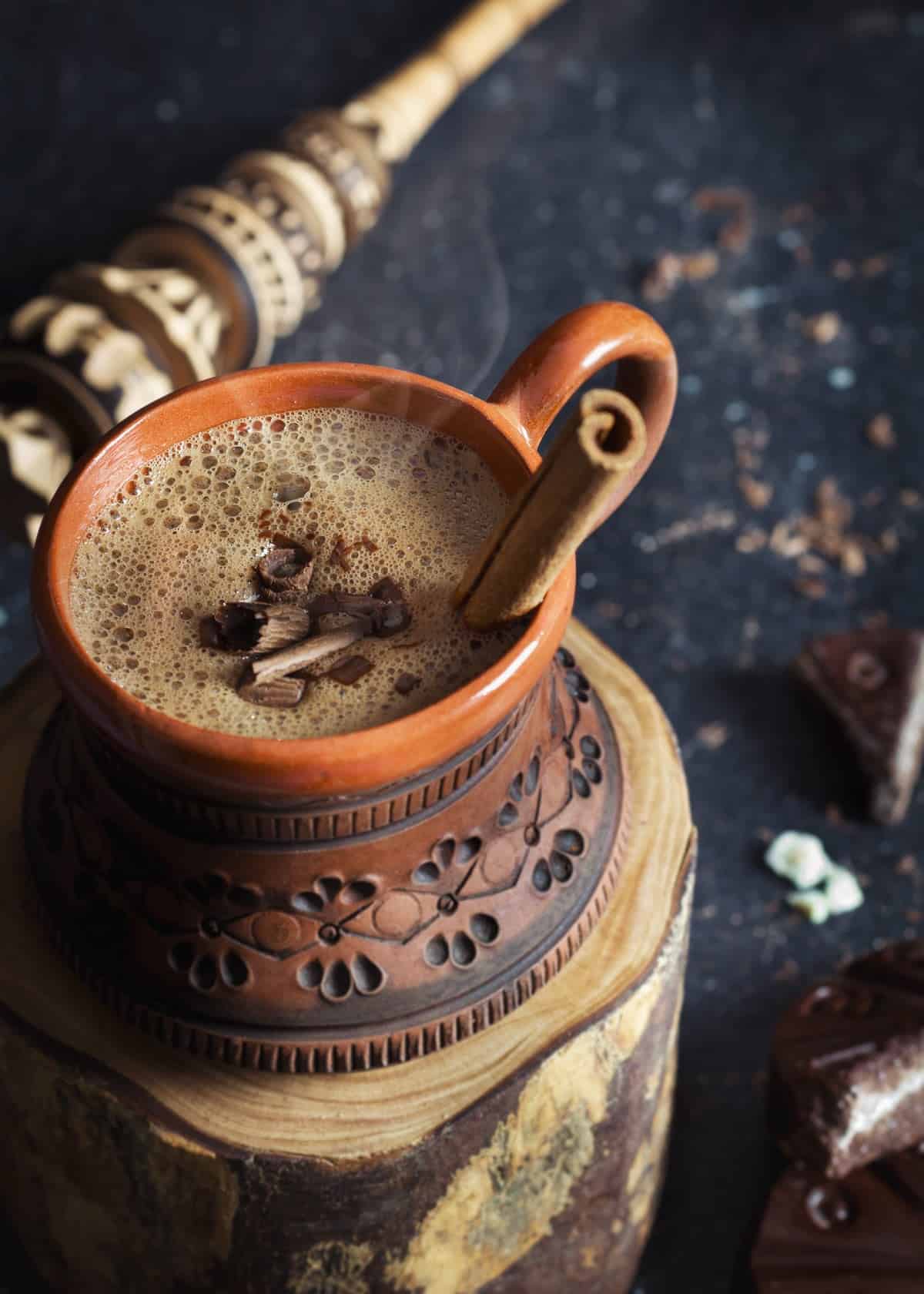 🧡 LIKED THIS RECIPE? Leave a ⭐⭐⭐⭐⭐ rating and/or a review in the comments section. 😋 HUNGRY FOR MORE? Subscribe to my Newsletter and follow along on Facebook, Pinterest, and Instagram for the latest updates.
📖 Recipe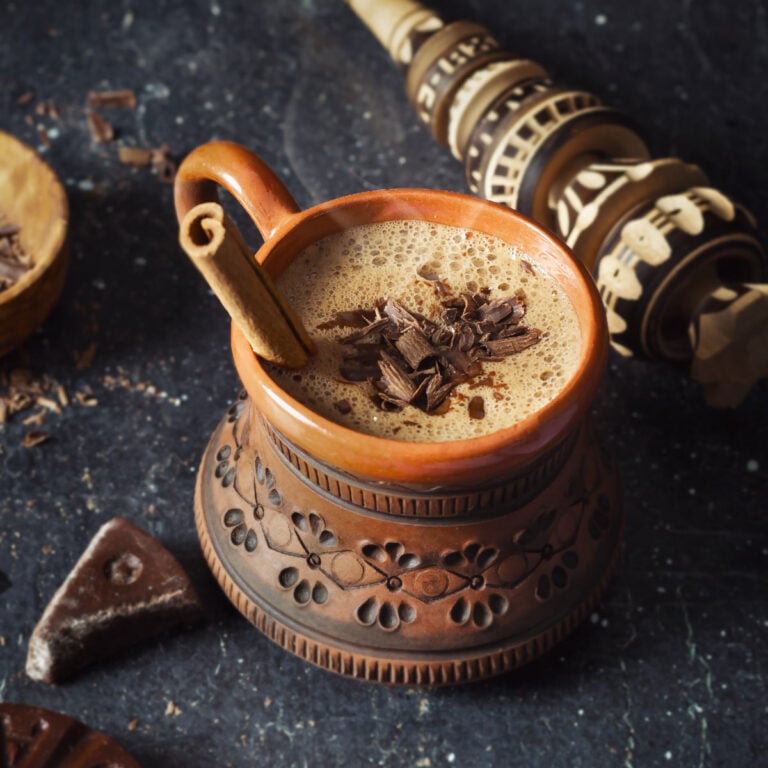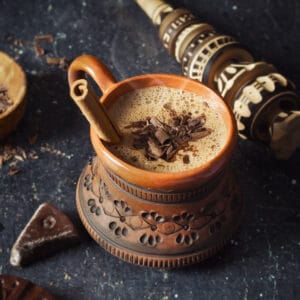 Easy Oaxacan Mexican Hot Chocolate - Xocolatl
Get cozy with Xocolatl, an authentic Oaxaca Mexican hot chocolate made with real chocolate. It's the ultimate comforting treat!
EQUIPMENT
molinillo, an immersion blender, or a whisk
Ingredients
2

cups

milk

4

ounces

bittersweet chocolate

,

such as Ghirardelli

½

teaspoon

ground cinnamon

1

teaspoon

vanilla extract

4

tablespoons

almond meal

,

or finely ground almonds

2

tablespoons

sugar

,

more or less to taste
Instructions
In a saucepan over medium-high heat, add milk, cinnamon, vanilla extract, and sugar - heat until simmering, but don't let the milk boil.

Lower the heat, add the almond meal and chopped chocolate, and whisk gently until the chocolate is completely melted and blended. Give it a taste to check for sweetness and spiciness.

For a smooth and frothy consistency, blend the mixture with a molinillo, a whisk, or an immersion blender.

Pour the Xocolatl directly into mugs. Serve hot (*scroll up to see my serving suggestions).
Notes
Chop your chocolate finely

so that it melts evenly.

If you're using milk chocolate

, avoid sugar, as the result will be too sweet.

If your drink is too sweet

, add a pinch of salt to cut the sweetness.

Don't substitute ground cinnamon

for cinnamon sticks because the drink isn't simmered long enough for the sticks to release their flavor. Use the sticks as garnish and for stirring.

For a quick version, use Mexican chocolate disks, like Ibarra, Abuelita, or Mayordomo.
If you're using chocolate disks, you will only need milk or water - it already contains all the other ingredients - but what's the fun in that?
You don't have to froth Xocolatl, but it's traditionally done using molinillo (*scroll up for directions on how to use it). You can also froth it with an immersion blender, frother wand, or a whisk.
Nutrition information is approximate and meant as a guideline only.
Storage:
Store leftovers refrigerated in an airtight container for up up 4 days.
Reheat in a saucepan over medium heat until steaming but not boiling, or in a microwave.
Nutrition
Calories:
618
kcal
(31%)
|
Carbohydrates:
59
g
(20%)
|
Protein:
14
g
(28%)
|
Fat:
37
g
(57%)
|
Saturated Fat:
18
g
(90%)
|
Polyunsaturated Fat:
1
g
|
Monounsaturated Fat:
8
g
|
Trans Fat:
0.04
g
|
Cholesterol:
33
mg
(11%)
|
Sodium:
99
mg
(4%)
|
Potassium:
693
mg
(20%)
|
Fiber:
6
g
(24%)
|
Sugar:
48
g
(53%)
|
Vitamin A:
425
IU
(9%)
|
Vitamin C:
0.02
mg
|
Calcium:
370
mg
(37%)
|
Iron:
4
mg
(22%)