Wheat Berry Pudding is a decadent, simple dessert of cooked grain, walnuts, and sugar, with a warming aroma of cinnamon and nutmeg spice. It's one of the most iconic dishes in Serbian culture and cuisine.
Serbian traditions are often centered around wheat, known as Zito (Zhito) or Koljivo, from Easter to the Orthodox Christmas (Bozic).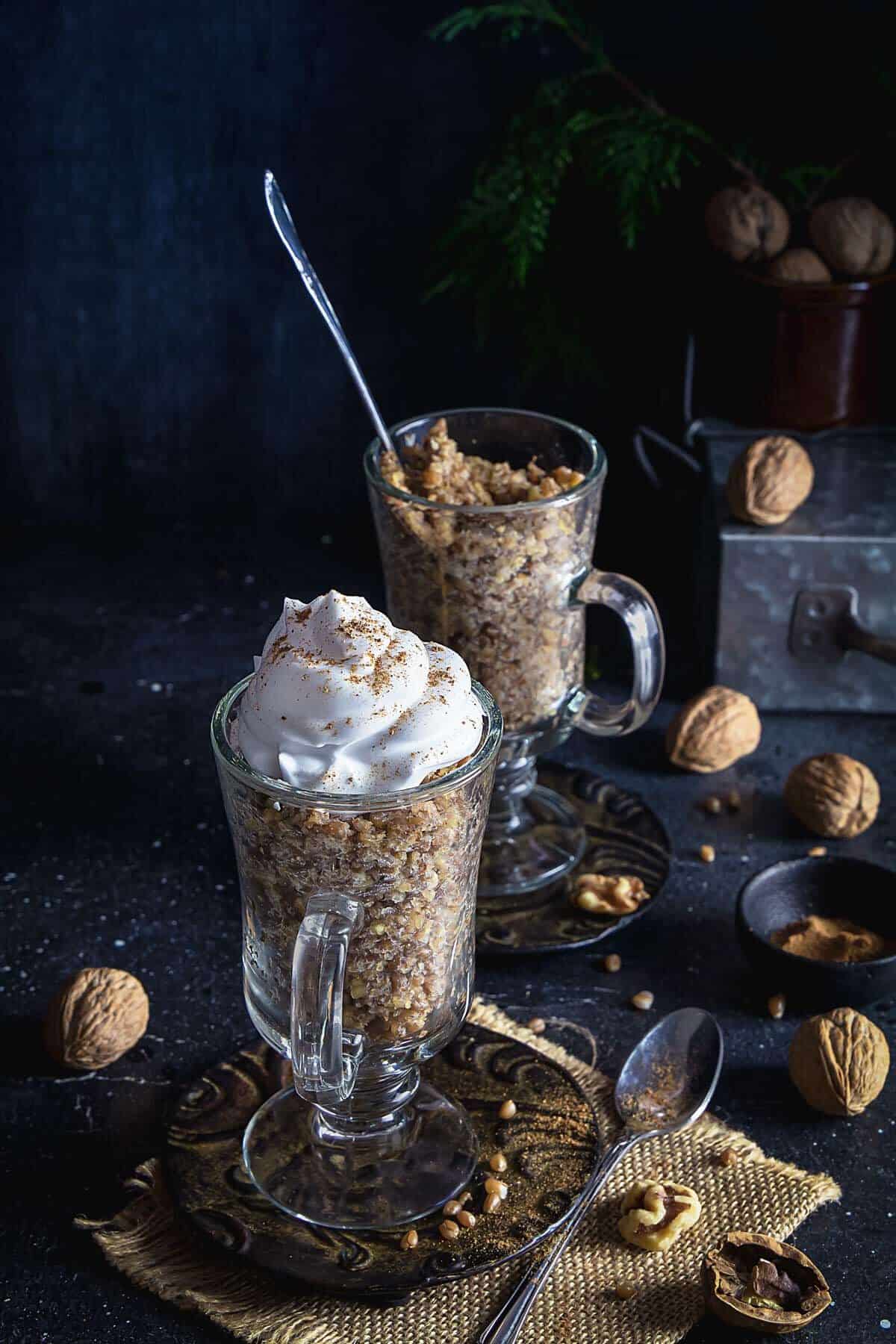 The wheat symbolizes resurrection and eternal life. Thus, the wheatberry pudding is consumed among Orthodox Christians at funerals when holding memorials to honor those who've passed away and for Slava.
The Slava is an annual family event in which they pay tribute to their patron saint.
In addition to having a spiritual value for the family and guests of the celebration, the glorious wheat should be delicious to satisfy and obtain material and spiritual blessings.
Please see the recipe card at the end of this post for the complete list of ingredients and detailed instructions. However, there's important stuff to know before you scroll down.
What are Wheat Berries?
Wheat berries are a high-fiber whole grain containing bran and germ. They take longer to cook because they're not refined like flour or cereal grains such as rice stripped of their outer layer.
They pair well for sweet treats. Cooked berries have a chewy bite and a faint earthy, nutty flavor that will delight any palate.
This grain is filling and a great alternative to rice, quinoa, barley, and other grains in many recipes, including soups, stews, salads, and stir-fries.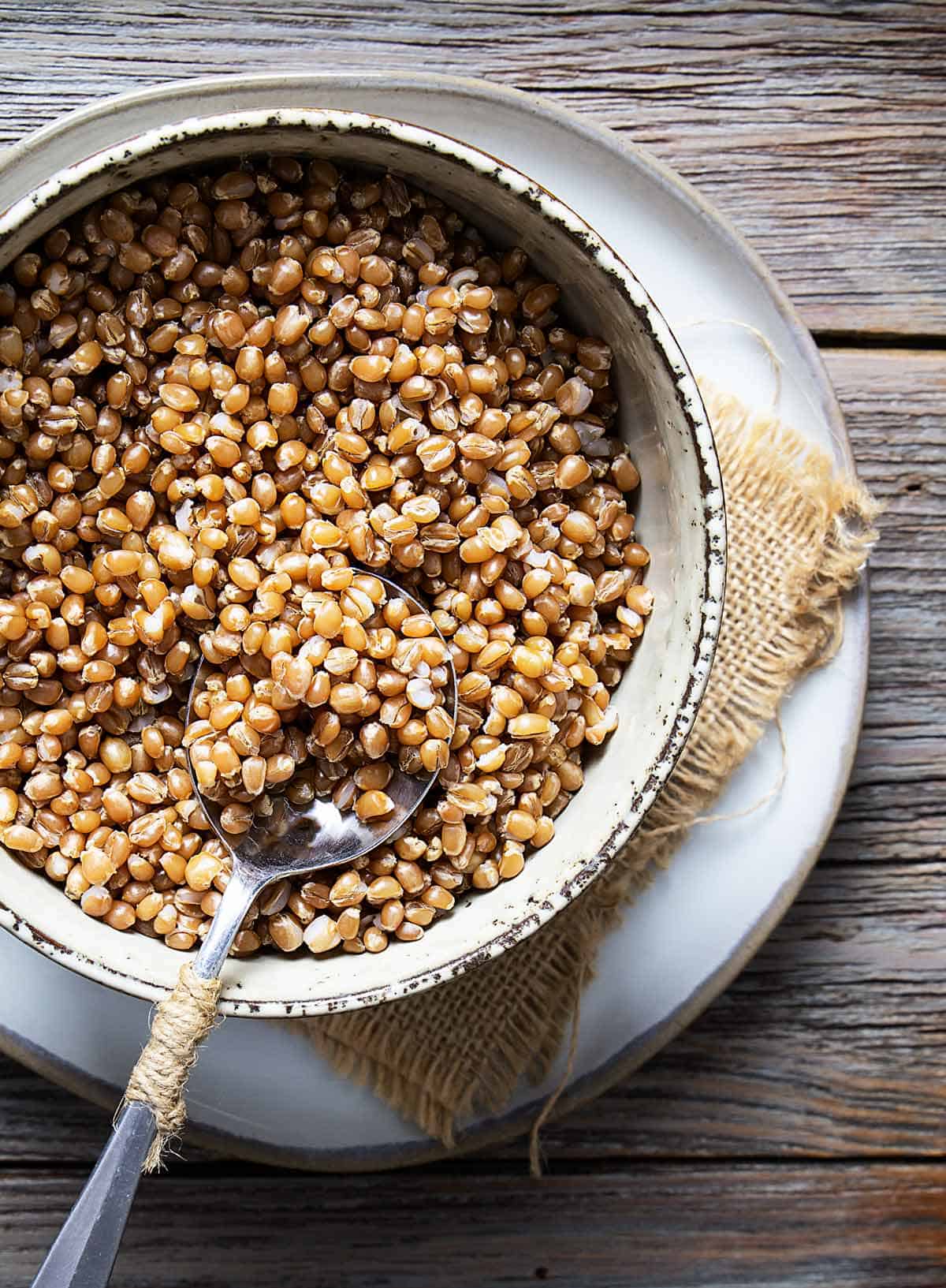 Health Benefits
Wheat berries are a delicious and healthy way to get more protein, fiber, iron, and vitamin E. They're also rich in magnesium which can help you maintain strong bones and muscles!
Enjoy your serving size by the tablespoonful inside small serving dishes like custard cups, ice cream bowls, mason jars, or glasses. Don't forget some whipped cream too!
🛒 Ingredients and Notes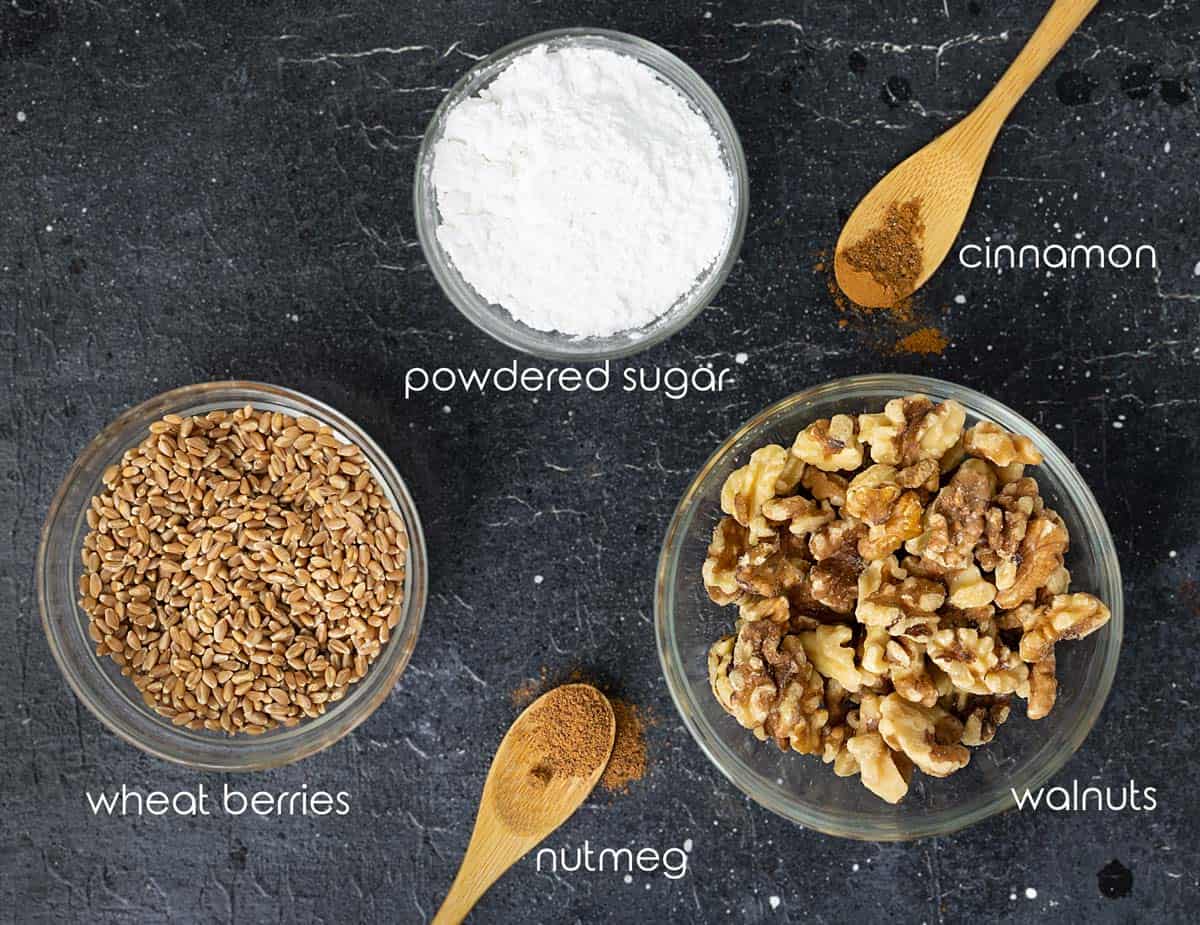 Wheat Berries - any variety (hard, soft, red, white, spring, or winter) can be used interchangeably. Some recipes instruct soaking overnight, but it is not necessary. You can use cracked wheat or kamut berries instead. For gluten-free version, use buckwheat.
Walnuts - halves or chopped; they will be ground either way.
Powdered sugar - regular sugar works as well. Replace with coconut or sugar substitutes if you wish.
Nutmeg and cinnamon. Some versions include ground cloves too.
👉 Variations
Use different nuts: ground almonds, pecans, or cashews.
You can sweeten the wheat with honey or maple syrup.
Mix in orange zest or peel.
Add dried fruits like raisins, sultanas, and chopped figs or apricots.
More modern versions include chocolate chips or crushed candy.
A pinch of ground cloves will intensify the cozy and warm essence of this sweet pudding.
You can add a splash of vanilla extract or even spiced rum.
Serve with a generous amount of whipped cream or ice cream, except during the lent.
🔪 Instructions
Rinse the berries with warm water.
In a saucepan, bring wheat berries, water, and salt to a boil. Reduce the heat and simmer until tender, about 1 hour.
In a food processor, grind the wheat, sugar, walnuts, nutmeg, and cinnamon until combined.
Instant Pot Instructions:
The Instant Pot is an innovative, easy-to-use device that cooks food quickly and efficiently with the touch of one button.
Rinse the berries with warm water and drain.
In your pressure cooker, combine the berries, salt, and water. Close the lid, set the valve on "sealing," and cook on high pressure for 30 minutes.
Do quick-release by turning the steam release handle from "Sealing" to the "Venting" position.
Proceed with steps 4-7 of the recipe card below.
You can also cook them in your slow cooker/crockpot on high for 4 hours.
Wheat berry pudding dessert is also a tradition in other cultures worldwide:
For example, Russian Christmas porridge is called kolivo or sochivo, sometimes served warm and sometimes chilled.
Ukraine and Poland have kutya or kutia. Polish version includes poppy seeds, which symbolize abundance and fertility.
In Greek tradition, the wheat (kollyva or koulevo) is often dusted with powdered sugar or ground nuts and decorated with pomegranate berries, sunflower kernels, sesame seeds, or whole nuts like pistachios, cashews, and almonds.
Other countries with various alternate spellings include Romania - coliva, Lithuania - kucia, Bulgaria - koliva, and Slovakia - koljivo.
Besides being popular across Eastern Europe and Slavic countries of the Balkan Peninsula, wheat dessert is loved as Kahmieh in the Middle East, Ashora in Egypt, and anoushabour in Armenia.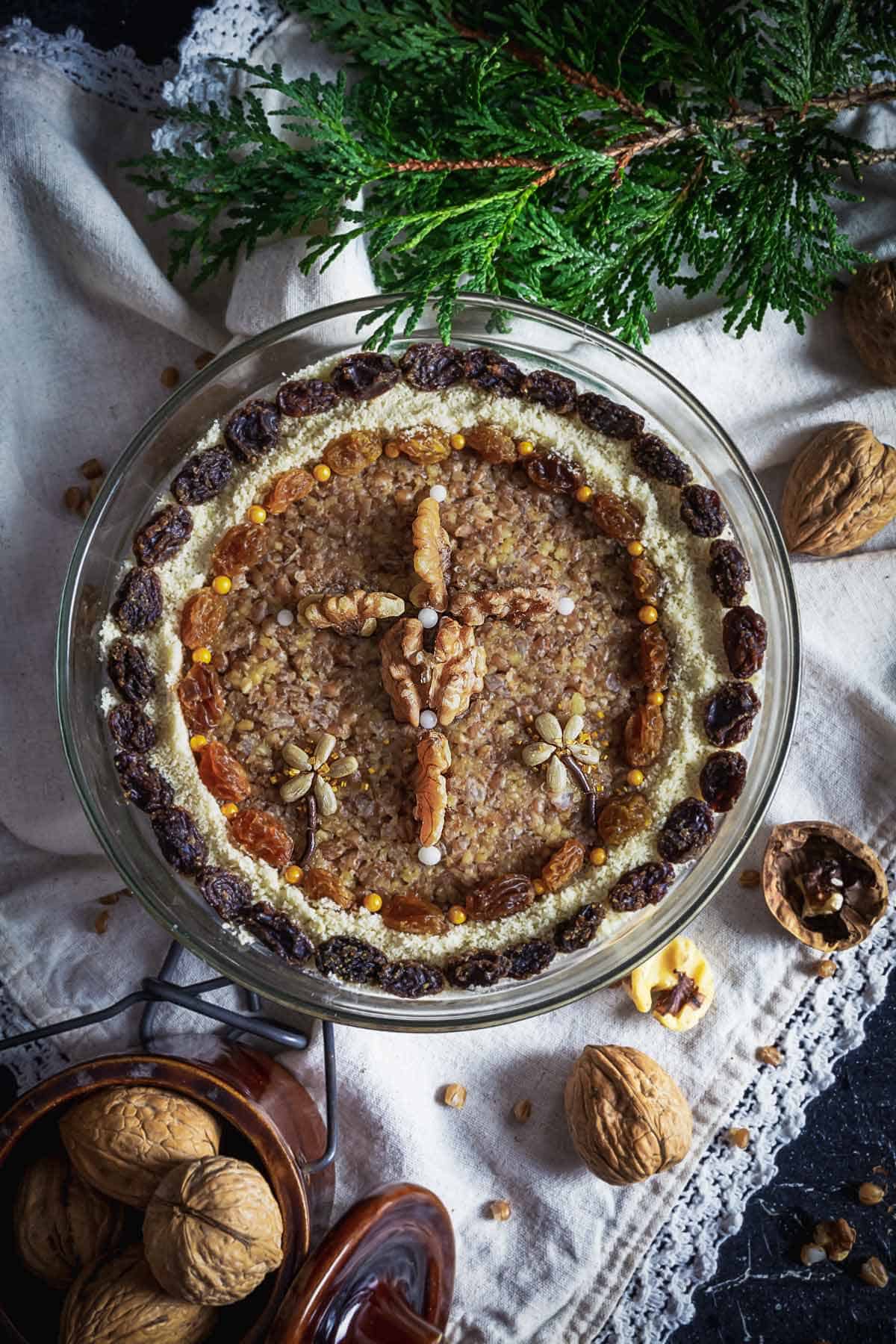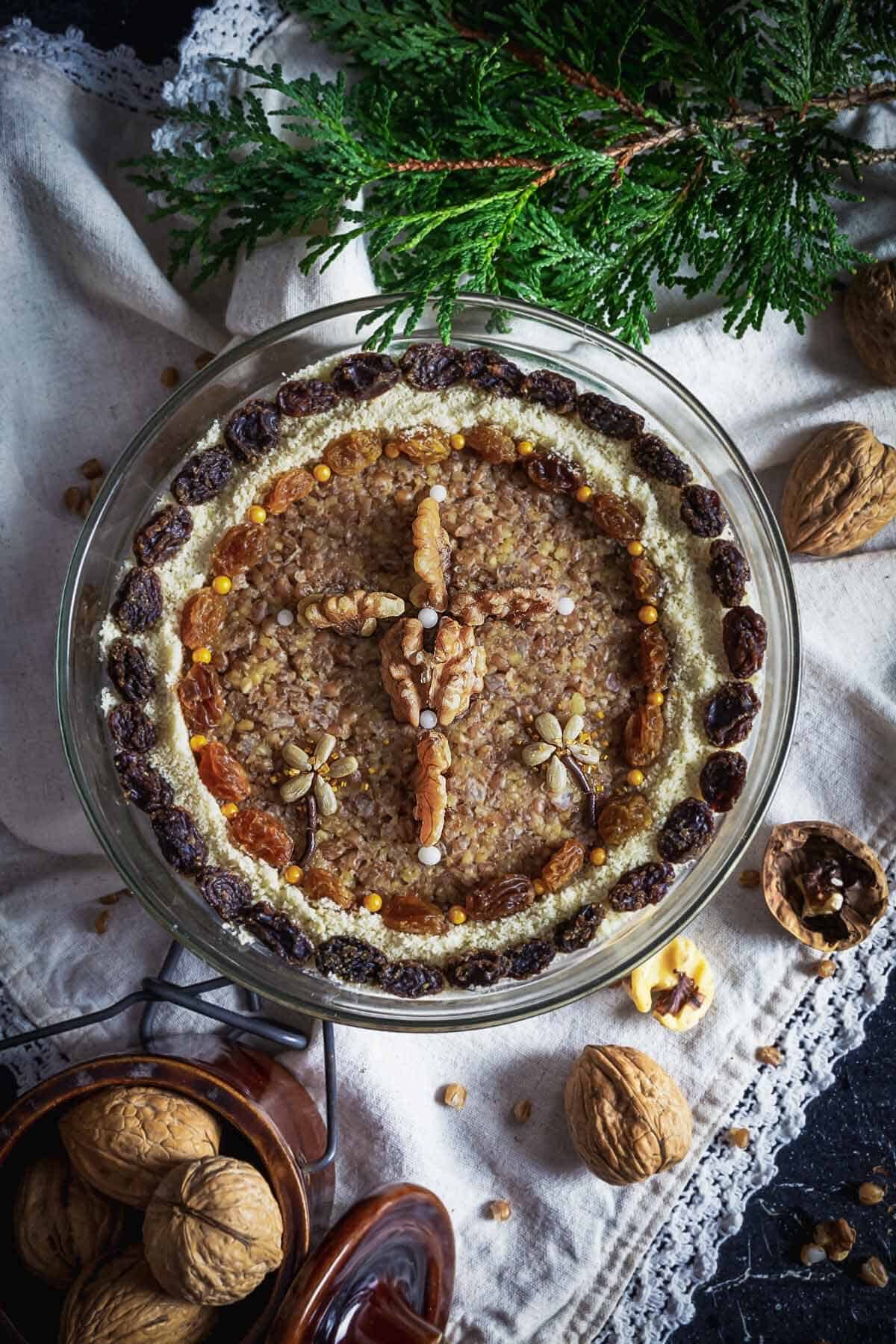 🍽 How To Serve It
Here are some ways to enjoy prepared wheat berries:
Breakfast: Mix warm wheat grains with honey, brown sugar, dried fruits, and nuts, and spoon over with vanilla yogurt or some milk.
Side dish: A delicious side dish dressed with olive oil, salt, and pepper and infused with garlic, dried sage, and thyme.
Soup: Cook into a hearty chicken soup instead of barley.
Main dish: Simply replace the rice in your recipes with the cooked wheat berries.
Salad: Top leafy salad with cold or warm berries and add fresh herbs and vegetables. Sub the quinoa with wheat berries in this Grek salad.
Meal Prep Tip:
The easy way to get a healthy and tasty meal on the table in minutes is with whole grains. You can prep them ahead, add them as toppings for salads and bowls.
Cook them in other foods like soups, or serve them at breakfast time! They're delicious with some milk, honey, and cinnamon.
❓ Frequently Asked Questions
Do I need to rinse the wheat berries before cooking them?
Yes, it's best to give them a quick rinse to wash away the remaining impurities.
Can I eat them hot or cold?
You can eat hot wheat berries prepped for breakfast, side, or salad topping. The wheat pudding is best to eat cold, although you can eat it at room temperature as well.
How do you know when wheat is fully cooked?
The texture should be chewy but not tough. If you're not sure, add extra time to the cooking process. Be sure to check the berries every 5 minutes for doneness.
How much does 1 cup of wheat berries yield?
From one cup of uncooked grain, you will get about three cups of cooked.
How long do they last?
Uncooked wheat berries will keep for up to six months in a cool, dry place or up to a year in the freezer. You can freeze cooked berries for up to three months.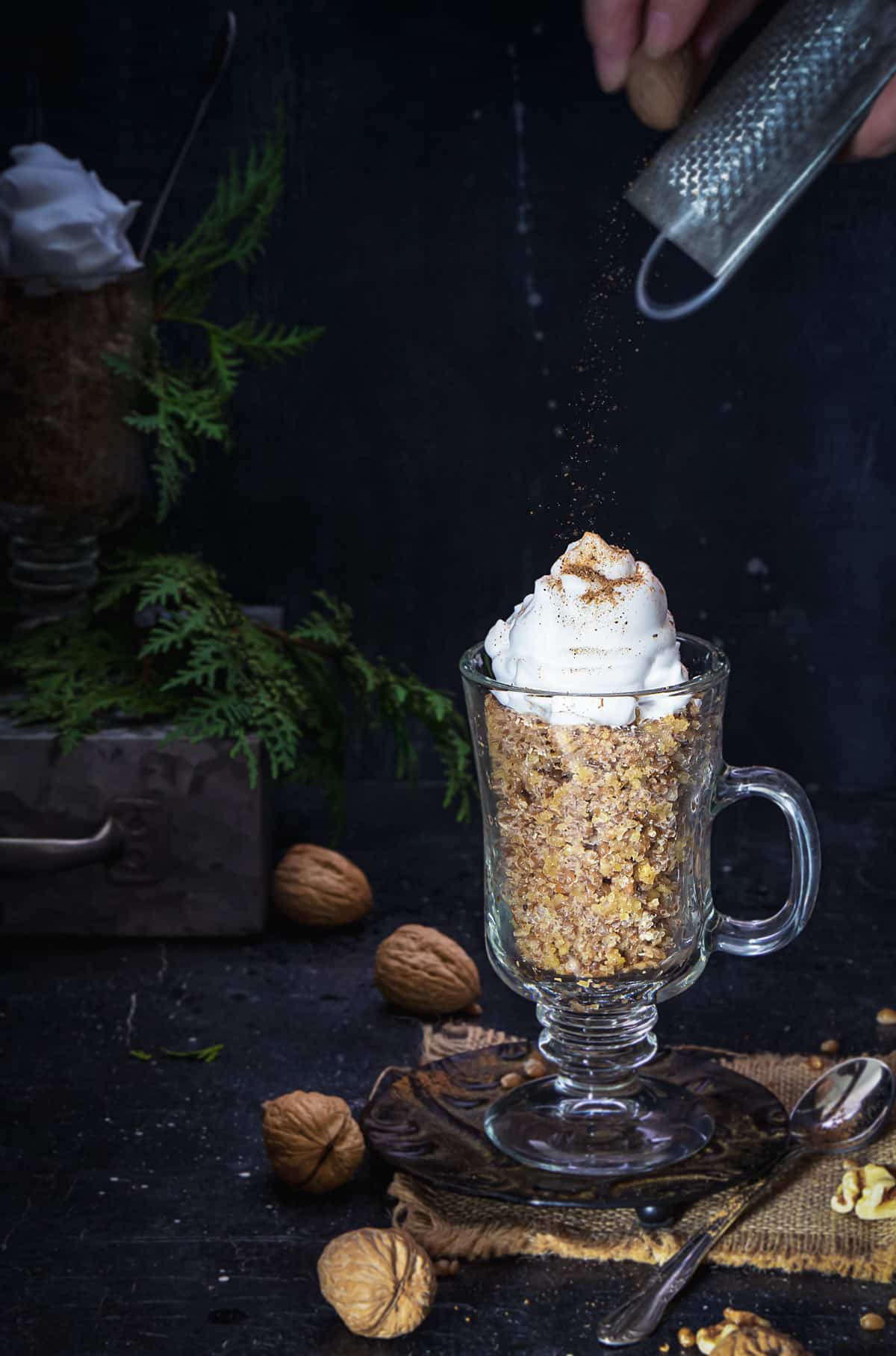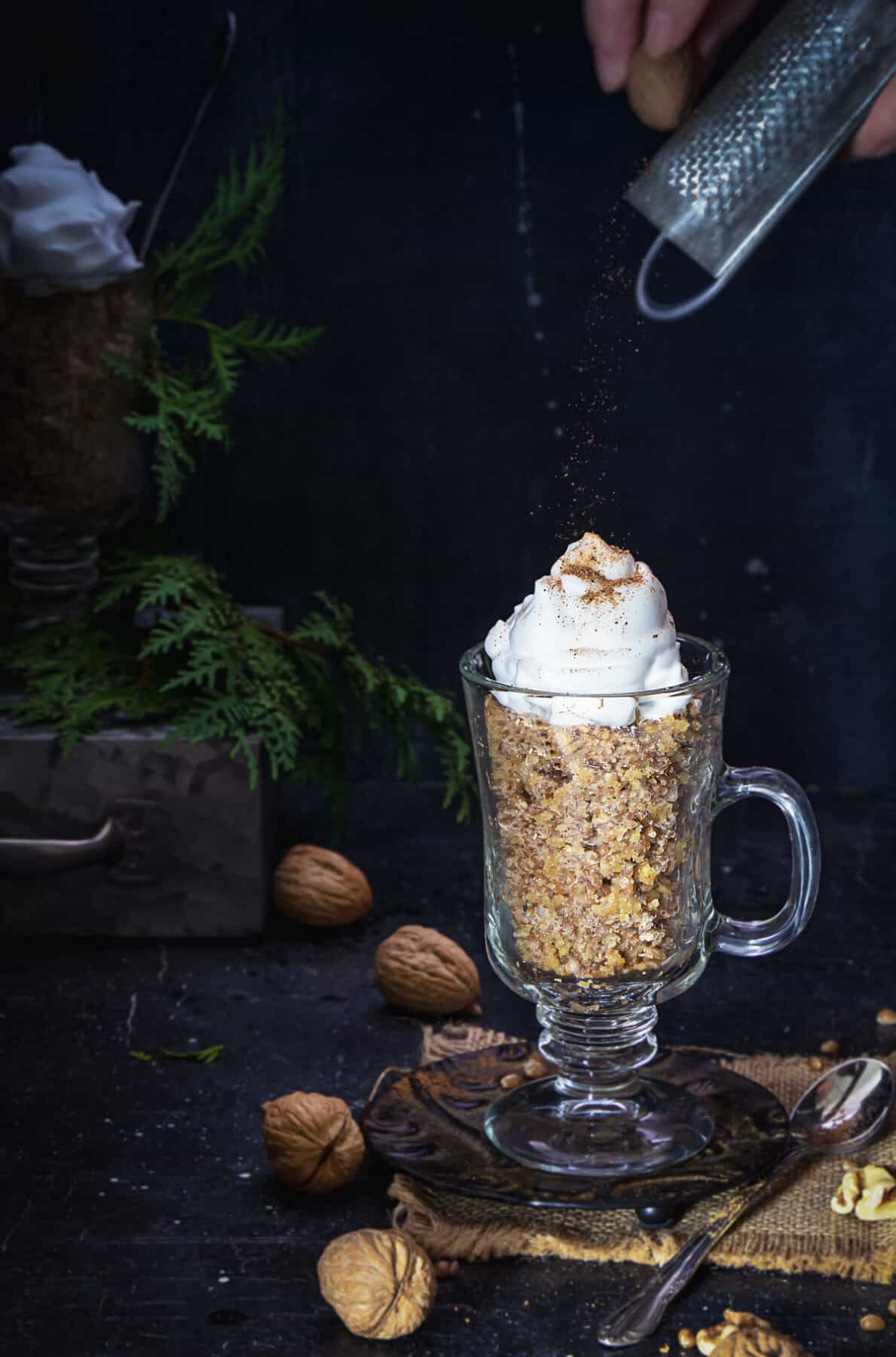 Liked this recipe? Leave a ⭐⭐⭐⭐⭐ rating in the recipe card below and/or a review in the comments section. Your feedback is always appreciated! Stay in touch through Pinterest, Instagram, and Facebook! Don't forget to sign up for my email list below too!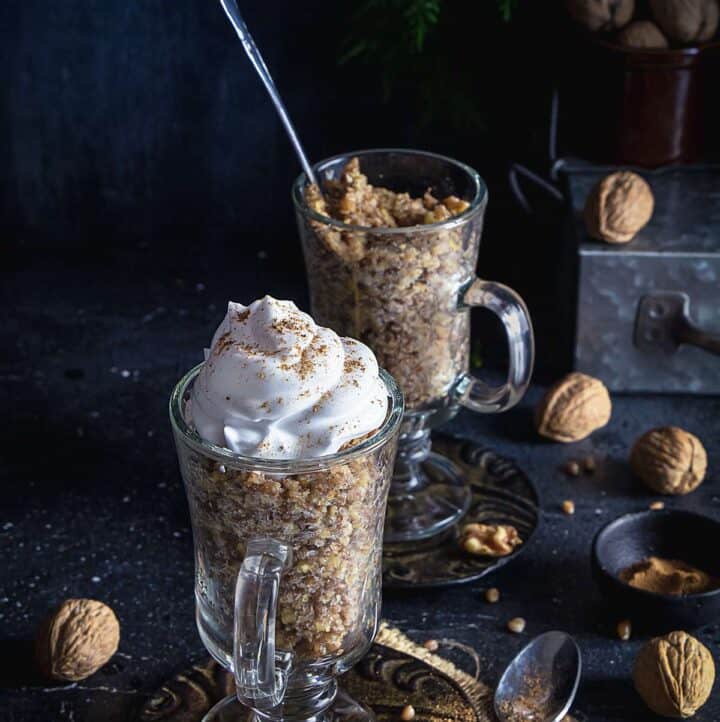 Serbian Wheat Berry Pudding with Walnuts
Koljivo, a Serbian-style wheat pudding, is sticky and sweet. This festive dessert with a nutty flavor gets amped up even more with cinnamon and nutmeg. Try this recipe!
Ingredients
1

cup

white wheat berries

4

cups

water

⅛

teaspoon

salt

2

cup

walnuts

⅔

cup

powdered Sugar

¼

teaspoon

Nutmeg

¼

teaspoon

Cinnamon
Instructions
Rinse wheat berries with warm water and drain. Place the wheat berries in a large saucepan or small pot with enough water to cover them 2-3 inches (about 4 cups). Add salt and bring to a rolling boil over high heat.

Reduce the heat and simmer, partially covered, for about 1 hour (less if you're using soft white or cracked wheat) or until tender.

Drain the cooked wheat in a sieve and rinse the excess gluten off with hot water. Let drain in the sieve for 30 minutes or overnight.

Skip this step if drained overnight; otherwise: Line a large baking sheet with paper towels. Spread the wheat berries over towels and pat dry with more paper towels to remove as much moisture as possible.

Using a food processor or a meat grinder, grind the wheat, sugar, walnuts, nutmeg, and cinnamon until combined. Don't over-process it; you want some texture, not a paste. You might need to do this in batches.

Serve the pudding in small dishes topped with whipped cream and sprinkle with a pinch of nutmeg or cinnamon.
Notes
You should use cold water over the wheat because it helps the grain slowly heat and open up during cooking.
The cooking time for wheat berries can vary depending on the variety (hard, soft, red, white, spring, or winter). They will be ready when most of the water has been absorbed, and they're tender but still have a bit of chew to them!
Cooked wheat must be at room temperature before adding sugar; otherwise, it will melt and create a syrup that makes the wheat mass runny.
If you don't have a food processor, use a blender and blend in small batches.
Make it vegan (posno) - serve without the whipped cream or use a plant-based version.
Chill for at least 4 hours before serving.
See additional info and FAQs in the post above.
Nutrition information is based on a ½-cup serving (this dessert is quite filling) and meant as a guideline only.
Storing:
Store cooled wheat berry pudding in a sealed container in the fridge for up to 4 days.
Freezer Directions:
Let the cooked berries drain and cool completely.

Transfer them to an airtight, freezer-safe container or freezer bag and seal. Then, flatten out the wheat berries inside the bag so that the bag can lay flat.

Freeze for up to three months.

The next time you're ready to make the pudding, thaw in the fridge overnight.
Nutrition
Calories:
185
kcal
(9%)
|
Carbohydrates:
11
g
(4%)
|
Protein:
4
g
(8%)
|
Fat:
15
g
(23%)
|
Saturated Fat:
1
g
(5%)
|
Polyunsaturated Fat:
11
g
|
Monounsaturated Fat:
2
g
|
Sodium:
34
mg
(1%)
|
Potassium:
104
mg
(3%)
|
Fiber:
2
g
(8%)
|
Sugar:
8
g
(9%)
|
Vitamin A:
5
IU
|
Vitamin C:
1
mg
(1%)
|
Calcium:
26
mg
(3%)
|
Iron:
1
mg
(6%)