Who doesn't love playing with their food? I always encourage it because it's fun! It's time for you to break the mold of the cookie-cutter, and try this fun German gingerbread cookie village! Fill your house with the best-ever aroma with these spicy gingerbread cookies.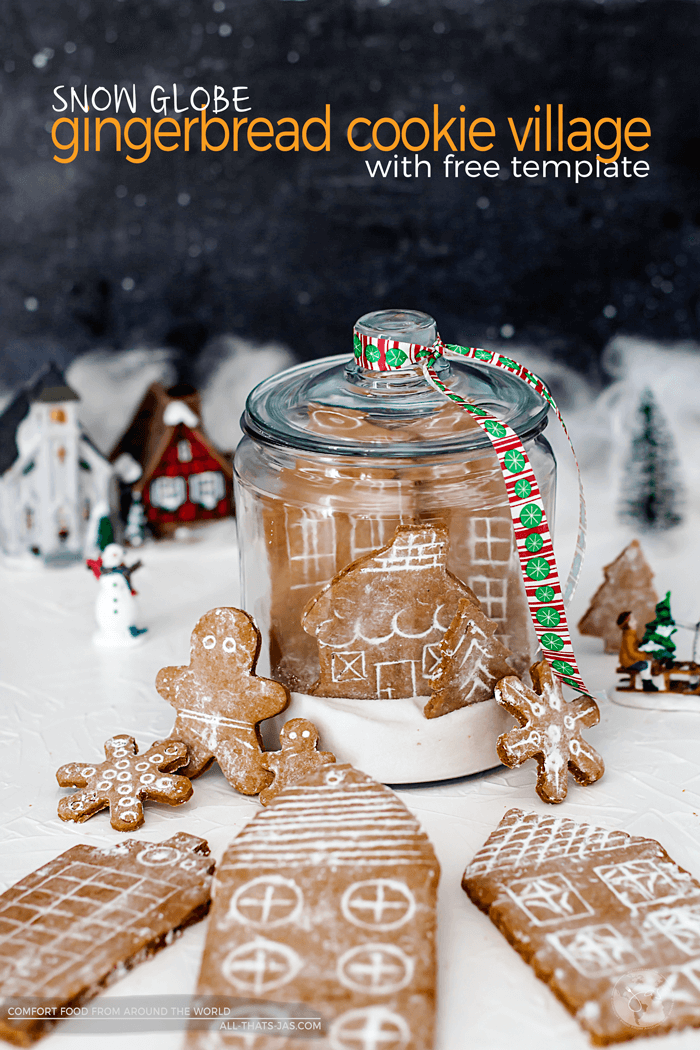 Gingerbread is an absolute must for the holidays. The warm, cozy scent of gingerbread drifting through my kitchen and the whole house is enough to make even the Grinch sing Christmas carols.
The recipe for German gingerbread cookies, or Lebkuchen, is a cannot-fail recipe. The touch of almond extract adds a beautiful flavor and aroma to the cookies.
This sweet cookie village makes a giant snow globe when placed in a jar and makes the perfect Christmas gift.
Trust me, these will be some of the best tasting gingerbread cookies you will ever make. Note: the recipe is adapted from BHG magazine.
You can cut the shapes in little houses, people, reindeer, and more to create your scenery, and then cut some into snowflakes for your snow. It's your chance to be creative and make a little art with your cookies. Download the FREE TEMPLATE for the village and decorate as desired.
Lebkuchen
Lebkuchen, or Pfefferkuchen, is a traditional German Christmas treat resembling Gingerbread. German Lebkuchen is usually soft, but a harder type of Lebkuchen is used to produce Lebkuchen hearts (found on German fairs) which are usually inscribed with affectionate, sarcastic, or obscene messages in icing.
I don't think anyone eats them though. They're like a souvenir and I had my fair share of Lebkuchenherzen when I lived there.
Kids love helping out in the kitchen, especially when it comes to baking, so this recipe is perfect for your little helpers to get involved!
Making edible houses if fun! Each one will be completely unique too, a little something for each kid to show off as their own.
I do find, however, that kids will love creating gingerbread cookies and decorating them, but oftentimes won't eat them. I know ginger is an acquired taste for some, but it just warms you up and gets you in the spirit.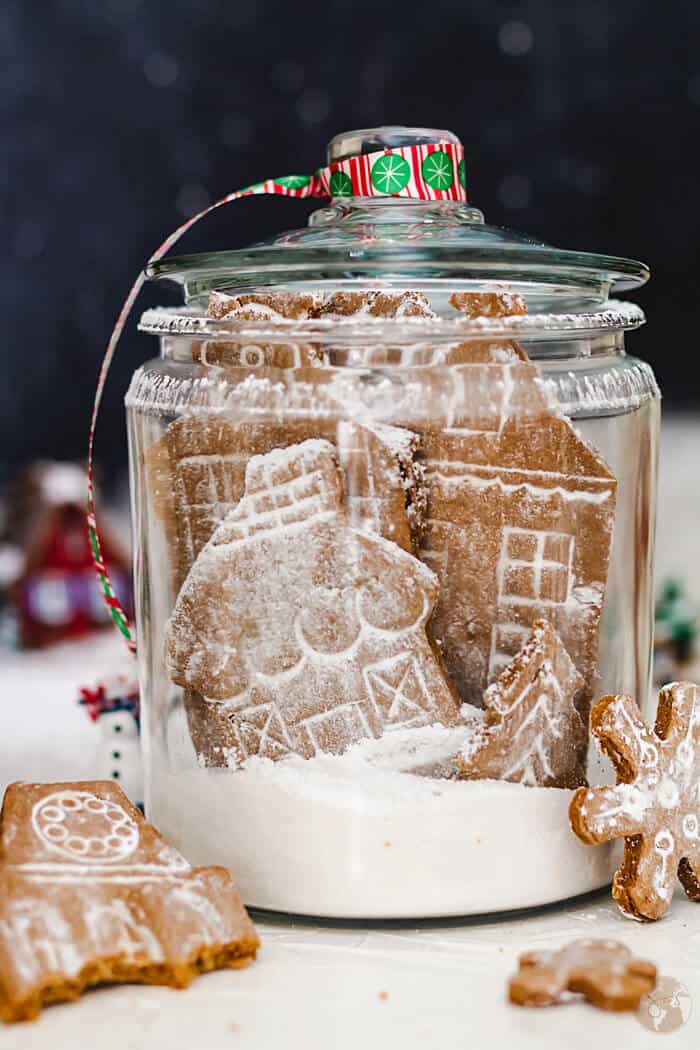 Variations:
If you want to get even more creative, feel free to use some decorative icing on your gingerbread buildings, people, animals, and trees. I usually just engrave little drawings onto them and use some powdered sugar, but that choice is entirely yours!
If you're trying to get in the Christmas spirit, it's time to create some of these snow globe Lebkuchen!
I also highly recommend you accompany this recipe with some holiday tunes, the good company of family, and your favorite holiday drink.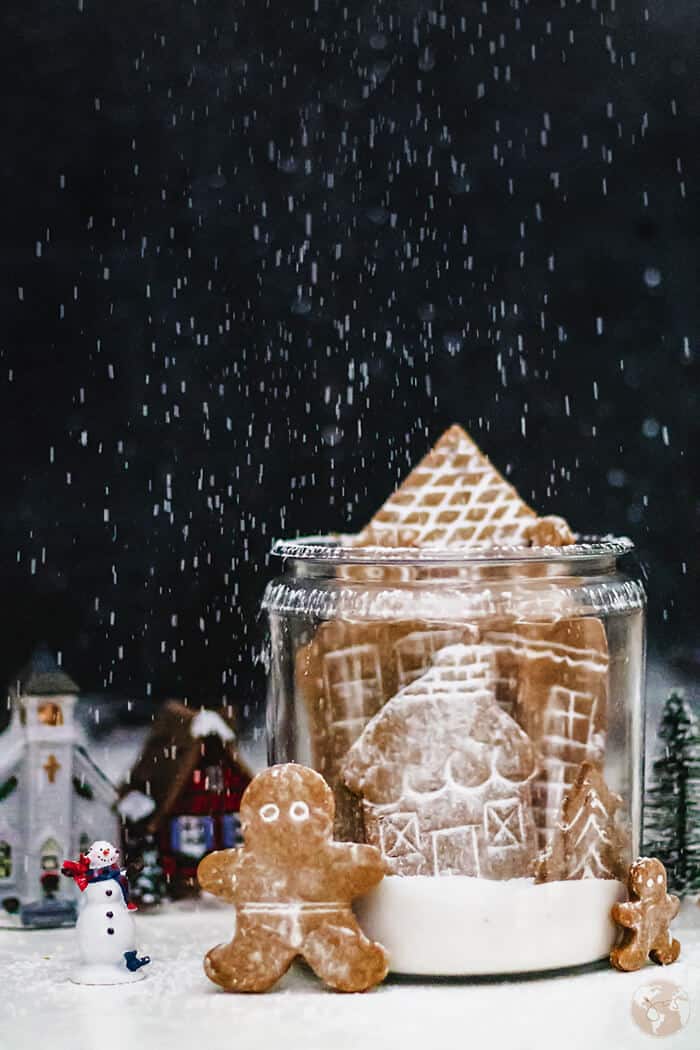 Other edible gifts you will love: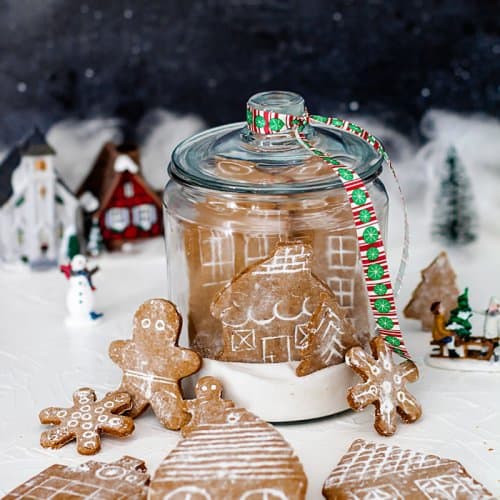 Snow Globe German Gingerbread Cookie Village
Ginger and spice-flavored cookies are perfect for building a German gingerbread snow globe village and make the perfect edible gift.
EQUIPMENT
Cookie cutter

Cookie sheet
Ingredients
5

cups

all-purpose flour

1

teaspoon

baking powder

1

teaspoon

salt

1

teaspoon

ground white pepper

1

tablespoon

ground ginger

1

teaspoon

ground nutmeg

1

teaspoon

ground cinnamon

2

sticks butter

,

1 cup

1

cup

dark brown sugar

,

packed

½

cup

molasses

1

egg

½

cup

milk

Powdered sugar for dusting
Instructions
In a bowl, whisk all the dry ingredients except sugar, until well combined.

Next, with an electric mixer on high speed, beat the butter, brown sugar, and molasses in a large bowl until light and fluffy. Add egg and beat until smooth.

Knead the dough until smooth: divide in half. Wrap each dough half in plastic wrap and chill for 30 minutes.

Preheat oven to 350 degrees Fahrenheit.

Meanwhile, roll each dough half on parchment paper into a rectangle, about 15x10-inch. Using the village template (or free-hand)and a sharp knife, score shapes on each sheet of dough, without cutting completely through the dough (this will help separate cookies after baking). Using a cookie cutter, cut out trees and other shapes as desired from the extra dough.

Transfer each parchment sheet of dough to a 15x10-inch baking sheet (or do in two batches, keeping the other half of dough refrigerated until ready to use). Remove excess dough scraps. Add decorative detailing like brick and windows, using a sharp edge of a dough scraper or a knife, without cutting all the way through the dough.

Bake 10 minutes. Remove from the oven and carefully cut along scored lines of the buildings and roof shapes. Bake 10 more minutes, or until firm. Cool completely on a wire rack before separating gingerbread pieces.

Sprinkle cookies with powdered sugar, and gently rub it in. Cover with waxed paper and let stand for at least 30 minutes. Arrange cookies in a large glass jar filled with granulated sugar up to 2-3 inches. Enjoy!
Notes
To imprint round shapes into the dough, use a straw, small bottle cap, or a small melon baller.
Nutrition
Calories:
316
kcal
(16%)
|
Carbohydrates:
70
g
(23%)
|
Protein:
6
g
(12%)
|
Fat:
1
g
(2%)
|
Saturated Fat:
1
g
(5%)
|
Cholesterol:
15
mg
(5%)
|
Sodium:
216
mg
(9%)
|
Potassium:
343
mg
(10%)
|
Fiber:
2
g
(8%)
|
Sugar:
29
g
(32%)
|
Vitamin A:
36
IU
(1%)
|
Calcium:
81
mg
(8%)
|
Iron:
3
mg
(17%)